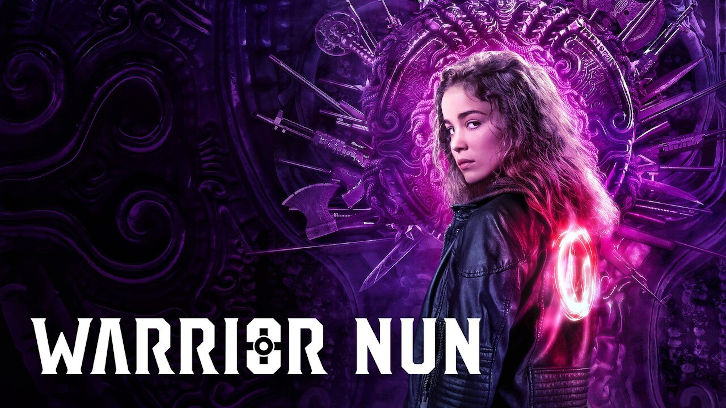 A show cheesily called Warrior Nun, loosely based off a 1994 comic "Warrior Nun Areala,' has no right to be as good as this Netflix supernatural thriller turned out to be.

Warrior Nun revolves around Ava (Alba Baptisa in her first English language role), a teenager who died by mysterious circumstances brought to life by a halo embedded in her back. Ava becomes the next Warrior Nun, following the death of the previous Warrior Nun and protagonist of the comic, Sister Shannon. With the power of the halo, Ava has the ability to hunt and slay demons.

After a forgettable first two episodes, which focused way too much on Ava and her new, annoying and unnecessary 'friends,' Warrior Nun truly kicked off in episode 3, 'Ephesian 6:11,' set entirely in the monastery where Ava meets the sister nuns and Father Vincent.

The episode introduced us to the very rich mythos of the Warrior Nun world, while also building the relationship between Ava and the sisters. Baptista's strong chemistry with Kristina Tonteri-Young's Beatrice was especially felt upon their first meeting, and each of their scenes afterwards really shone.

While Tonteri-Young stood out in her quieter scenes with Ava, her character also kicked serious ass as we first saw in episode 4 when she fought the guards at Arqtech. This was just one example of some of the amazing choreography on display in action scenes that were smartly plotted throughout the show, never feeling overdone, as I would have expected in a show called Warrior Nun.

However, through all of its action scenes, what made Warrior Nun stand out was its quieter moments.

Episode 6 was the high point of this first season, where Ava and a wounded Sister Mary (Toya Turner) travel to a town once overrun by demons and saved by the OCS. The episode was a meditation on the preciousness of life and how appreciative we should be when given a second chance at living. The scene when Ava joined the townpeople to watch the sunrise and her ensuing talk with Mateo was especially resonant. It was a turning point for Ava when Mateo told her that the search for oneself is a journey of a lifetime and that life is what happens in between. In other words, we are constantly in search of oneself, but in focusing too much on that search we often miss out on the important parts of life. Sometimes we simply just have to live and take the opportunities that are given to us and forget all the questions of self-identity that flood our mind.

Ava's growth was superbly portrayed by Baptista, who was able to humorously express the snark of the playful teenager, while also convincingly going to some very deep and emotional places in the scenes when Ava is confronted with her darker side.

After Ava accepted her destiny and joined the sisters, the season closed off with some very thrilling and smartly plotted episodes as the team carried out their plan to retrieve the bones of Adriel before Cardinal Duretti got his hands on them. All of the ensuing twists that occurred I never saw coming, but it all made sense in perspective, which speaks to the genius storytelling of Warrior Nun - there was nothing predictable at all.

Season 1 left us at a crazy cliffhanger, and due to all the Ava soul searching that the first season focused on, it feels like things are only just beginning. Give us Season 2 now!

Overall, though Warrior Nun doesn't offer anything new to the monster-slaying genre, its rich mythos and world building, thoughtful writing, captivating scenery, well-choreographed fight scenes, and strong character development and chemistry between its cast make 'Warrior Nun' must-watch TV.

What stopped this series from reaching perfection was its pacing and lack of focus in the first half. A couple episodes could easily have been cut with many of the scenes involving Ava's friends not necessary at all. In fact, it would have been preferable to see Ava's past before she died. Actually seeing the torment Ava endured as a lonely, paraplegic orphan would have added more context and emotion to her situation in present-day.

Regardless, Warrior Nun is still a more than recommendable genre tv show, which hopefully will get a second season.

8/10

Stray Notes:

*Did anyone else get Ellie from The Last of Us vibes with Baptista's Ava? In certain angles, the actress looks like the famous video game character, and both her snark and darker moments really felt like watching Ellie growing up.

*Mother Superion's growth as a character was one highlight of this season. She ended up becoming more than just a hard ass nun, but also a mother-like figure who genuinely cared for the sisters. The reveal that she was a former Warrior Nun before the halo rejected her was certainly an interesting reveal and one of the storylines I look forward to finding out more in Season 2.

*Another interesting character is Sister Lillith. What the living hell is she having returned from Hell with those retractable nails and a shady new personality?

*Hopefully if there is a second season Ava's boyfriend does not return. That dude was stiff as hell and completely unnecessary. All of his scenes was groan-inducing. More Ava and Beatrice instead, please! Their chemistry was fire.

*I never got around to talking about Shotgun Mary, who was another highlight character. She essentially was the heart and soul of the team, and it was her chemistry with Ava that really elevated that remarkable episode 6.

What did you guys and girls think? Leave a comment a below and discuss!