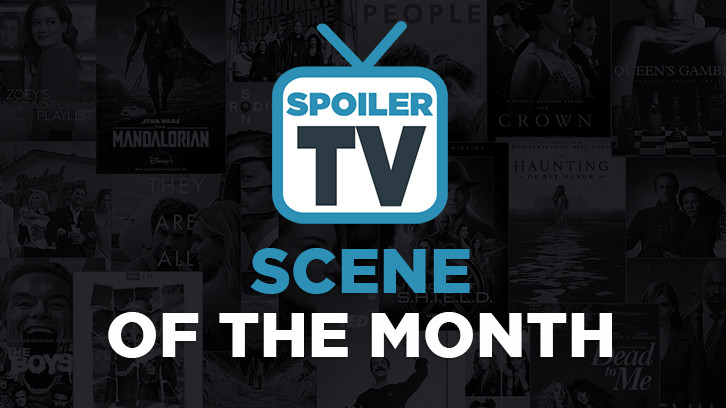 A monthly feature in which we're trying to find the most compelling, best acted, written, directed and just generally great, memorable scenes that we've seen in the past month on TV.

13 REASONS WHY, "Graduation", June 5, 2020, Actors: Dylan Minnette, Alisha Boe and more, The Scene: Clay and Jessica give graduation speeches
Luana: There were so many memorable moments in this season, and with flaws and all this show has portrayed some of the most pressing issues for young generations today. You could never say this show went unnoticed and there's a reason so many felt touched by it. In their speeches, Clay and Jessica talked about love and loss and tried to give everyone a push to keep moving forward, no matter what, even when it all seems like it's too much. This felt like it was a perfect goodbye for this groundbreaking show.

AGENTS OF SHIELD, "Out of the Past", June 17, 2020, Actors: Clark Gregg, Enver Gjokaj and more, The Scene: Coulson welcomes Sousa to life after death
Justyna: Introducing Agent Daniel Sousa on the show has certainly been one of the highlights of the season. I really enjoyed his character on "Agent Carter" but I'm already loving his addition to the SHIELD team. I used to think that Daniel and Peggy got their happy ending after the interrupted run of her series. To learn that his fate was to become the first fallen Agent of SHIELD was such a sad surprise. It did make all the sense in the world, though. Agent Sousa has proved to be one of the best spies and agents on both shows, so the fact that he discovered the truth about Hydra decades before everyone else, only proves his talent and skills. I'm so glad that Mack and the rest of the team made the decision to save him. He never gets a chance to say goodbye to his loved ones, he finds himself in a different time and surrounded by strangers, but he's alive. And he takes the news as well as he possibly could. I liked how open Coulson was with his introduction to this new reality. "Life after death" is of course something he's very familiar with and this time he gets to be there for someone else going through an impossible experience. Welcome to the team, Agent Sousa! Glad to have you here.

BROKE, "The Test", June 18, 2020, Actors: Natasha Leggero, Pauley Perrette, The Scene: Lizzie humiliates herself to help Jackie get a job
Dahne: Lizzie is forced between choosing to humiliate herself on Facebook for a creepy ex's vanity or keeping Jackie from getting a needed job. What I love about this scene is that Lizzie starts by explaining to Jackie about how the only thing she has left is her dignity. She's pleading her case but for once Jackie is very understanding and agrees that Lizzie should not humiliate herself. It's this understanding that forces Lizzie to realize that none of the people on Facebook are worth as much to her as a sister. For only having 13 episodes, the character of Lizzie has had a great arc and has become one of my favorite new characters.

COUNCIL OF DADS, "Heart Medicine", June 4, 2020, Actors: Thalia Tran, Sarah Wayne Callies and more
The Scene: Charlotte comes out at the ashes ceremony
Luana: This scene was so heartwarming, not only because of how much love there is here but also because of how it made Oliver feel as well. He was so happy that Charlotte felt safe to come out to her family so young when it took him so much more time. It was all absolutely adorable.

DOOM PATROL, "Tyme Patrol", June 25, 2020, Actors: Matt Bomer, Matthew Zuk, The Scene: Larry finds mementos of him kept by his son
Justyna: This is one of the craziest (if not the craziest) shows that I've ever seen. I caught up with the series in between seasons and it's still hard to believe even half of the things that happened to its main characters so far. But underneath all the insanity this show is filled with tragic stories and painful past of every single member of Doom Patrol. In the season premiere, Negative Spirit shows Larry a vision of his son, Gary. He's now an older man, but he still misses his father and doubts whether he was ever proud of his kids. Larry tries to reach out to him but it's far too late as he realizes that Gary is taking his own life and there's nothing he could do about it. The vision stops and later Larry checks the news to confirm his fears. Gary is gone. After attending his funeral from the distance Larry meets with his other son and eventually finds his way to Gary's house, or rather a barn next to the house. Inside there's a number of mementos of Larry kept by his son throughout all these years. He never stopped believing that his father has survived the crash, he looked for him decades later and never truly moved on. The realization that he wasn't there for his kids, not before or after his personal tragedy, hurts Larry to the core. He breaks down after finding a letter from young Gary addressed to him, asking him to come back. It's an absolutely heartbreaking and very memorable moment.

HIGHTOWN, "The White Whale", June 21, 2020, Actors: Monica Raymund, Amaury Nolasco
The Scene: Jackie confronts Frankie
Folie-lex: It's been no secret I've had my issues with Jackie all season, but she truly came into her own in this scene. Frankie is the reason Sherry was killed. And finding her on that beach is what haunts Jackie and has accelerated this downward spiral she can't get herself out of. Coming face to face with him and finding some purpose in that was cathartic for the character and gave her arc some proper direction and intent. Not to mention Monica killed it.

IN THE DARK, "The Last Dance", June 18, 2020, Actors: Perry Mattfeld, Brooke Markham, Nicki Micheaux, The Scene: Jess shoots Nia
Beth: Jess came through in the nick of time to save Murphy's life even though their friendship was at a breaking point. It showed that while the two may be strained, Jess will always be Murphy's person. It was also such a shocking moment that it would be Jess, who saved Nia earlier in the season, to pull the trigger.

LOVE LIFE, "Sara Yang", June 11, 2020, Actors: Anna Kendrick, Zoë Chao
The Scene: Darby breaks up with her best friend
Luana: This scene was heartbreaking, Darby kept trying to help Sara and she thought she had gotten through to her, but when she realized it was all going to stay the same she decided to make a choice, a very hard one. You can see how much pain she's in but she knows there's no other way. This show was a very pleasant surprise and I love that they didn't just focus on romantic relationships but also those with family and friends.

SNOWPIERCER, "Without Their Maker", June 7, 2020, Actors: Jennifer Connelly, Kerry O'Malley, The Scene: Melanie wins the stand-off with Lilah
Dahne: There were a lot of great scenes in this intense, gamechanger episode. However, instead of one of the more epic scenes, it is this one that fascinated me. When Lilah demands to speak to Mr. Wilford, Melanie is seconds away from losing control. Instead, she bluffs magnificently. It's a power struggle in a way that only two very powerful women maneuver, with a tour de force performance from both actors. When Melanie offers the phone to Lilah with that penetrating stare, I had goosebumps. There is no doubt that Melanie is the ultimate power on this train and she doesn't need a weapon to prove it.

STARGIRL, "The Justice Society", June 22, 2020, Actors: Brec Bassinger, Neil Hopkins, Joy Osmanski and more, The Scene: New JSA vs. Sportsmaster and Tigress
Justyna: For a while I couldn't quite decide which scene to highlight from this show. It has turned out to be such a nice surprise and had many memorable moments that aired during this month, including Joey's death, a flashback to Yolanda's past and Rick learning the truth about his parents' death. In the end, I decided to highlight the first confrontation between the new JSA led by Courtney and two of the deadliest members of the ISA - Sportsmaster and Tigress. The teenagers were clearly not ready for this fight but it was such an impressive scene overall. All the individual battles were a great display of everyone's skills and possibilities. I really appreciate the extended shots without constant cuts and the wire work didn't bother me at all. Yolanda managed to survive her fight with Tigress with a little help from Beth. Rick was injured by Sportsmaster but saved by Stargirl who actually managed to hold her own against Sportsmaster, but couldn't take down the married duo fighting together. Just when the two teams are standing opposite each other, ready for another attack, S.T.R.I.P.E. shows up and the ISA leaves. I loved that we actually got to see the shot from Crisis on Infinite Earths. Kudos to the cast, stunt crew and everyone responsible for making this one memorable. I'm very interested to see how this new JSA will continue to grow and learn from each experience.

THE BOLD TYPE, "Lost", June 25, 2020, Actors: Melora Hardin, Meghann Fahy, Sam Page and more, The Scenes: Ian shows Jacqueline how he sees her & Sutton and Richard hug
Folie-lex: It was a toss up between this and Sutton's final breakdown, but we're far from done with the baby issue so I had to give this scene the edge. Jacqueline and Ian's marriage has spent most of S4 being on the fritz. And when they've had the whole episode expecting us for another backtrack in their relationship, we instead have Ian step up like it's nobody's business, not only swooping in with a big gesture, but making sure it's done under the right context. These two might actually make it. I sure hope they do!
Luana: This was a heartbreaking episode for Sutton, she's in so much pain and feels so much guilt. But it also killed me to see in Richard's face how much he wishes he could take her pain away and how heartbroken he is about being unable to do that. It was a small moment but the hug they shared said absolutely everything without many words.

WHAT WE DO IN THE SHADOWS, "Nouveau Théâtre des Vampires", June 10, 2020, Actors: Harvey Guillén and more, The Scene: Guillermo goes on a vampire slaughter spree at the theatre
Folie-lex: The whole season, I'd even argue the whole show, had been leading up to this moment... and it was exactly as EPIC as it was meant to be! Guillermo went full-on slayer, I'm sure Buffy herself would be impressed.

YOU ME HER, "Home Is Where the Flaming Heart Is", June 7, 2020, Actors: Melanie Papalia, Priscilla Faia and more, The Scene: The ending
Luana: This show was such a great surprise for me, so funny and heartfelt, and it brought me some of my favorite characters ever. Nina is my spirit animal and her friendship with Izzy was epic, so seeing them all together as a big happy family warmed my heart. They all managed to get over their preconceived ideas of what their lives should be and they found a way to be happy, and that's something that feels all the more essential every day.