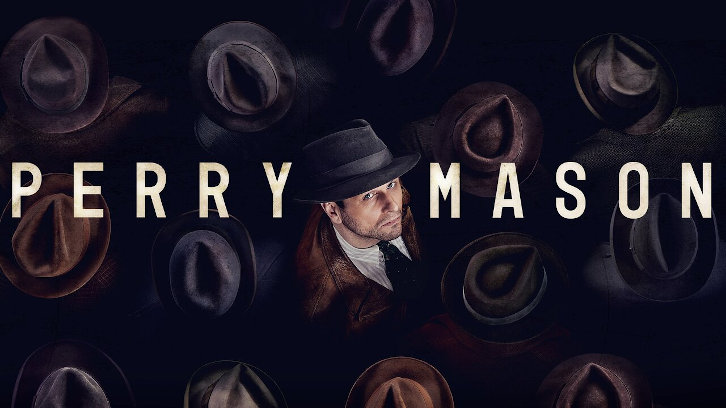 1.03 - "Chapter Three"
Written by Rolin Jones & Ron Fitzgerald
Directed by Tim Van Patten
Reviewed by KathM
Stranger and stranger.
An interesting episode that continues to slowly build up the story by giving us crumbs to help put things together led by an amazing cast.
Poor Emily Dodson has gone from a sympathetic woman to a murderous vixen in a second as soon as the letters she exchanged with deceased kidnapper George Gannon are made public by D.A. Barnes. He and E.B. hold simultaneous press conferences where they talk about the case and how they're going to win. D.A. Barnes cheerfully displays the letters between Emily and Geroge Gannon on a board so as to be sure they'll photograph well to the hungry press. They should be careful, however, as the letters are "not for the faint of heart". As for where the letters came from, Perry gave them to Barnes because it was the right thing to do. This does nothing to calm Della, who reminds him that Perry has withheld evidence any number of times.
Barnes is currently charging Emily with a murder that resulted in a kidnapping in which she was complicit (which I find confusing), but if they find that her needlepoint thread was used to sew up Charlie's eyes, he'll happily tap dance Emily all the way to her hanging. Barnes gets 10/10 for showmanship.
E.B.'s conference is quieter, making statements and answering questions while he's getting a shave. He's sure Emily didn't do anything, "she was conned by cons", but loses his temper for a minute or two when he can't remember what he was going to say. Della steps in, but E.B. is still a bit unsettled. I'll give E.B. an 8/10 for overall performance: he loses a few points due to foreshadowing.
It's unsurprising to see Emily go from Madonna to Whore in a second; it's an old story experienced by loads of women all over the world, then and now. She's been unmasked as a Bad Mother who seems to have been having an affair with Gannon, one of the purported kidnappers, and everyone turns against her, even her husband. Emily stood by him, but now that there's another man involved his love for his wife is shattered.
Perry doesn't understand why Emily pleaded guilty at first, so Della takes a few minutes to explain it to him. "If she's feeling guilty, it's because every man around her is saying she is" Della fumes at Perry "Matthew lied too, and no one cares because now he has money, and she's a slut," Her husband now thinks she killed Charlie, but her attorney (E.B.) thinks that he'll get her off, particularly with the Baggerly money behind him. But then Herman pulls his funding and Emily is left out to dry. With no money for PI's or the bribes they may need to use now and then to loosen a witness' mouth, all they can do is work with what they have and be grateful to Perry, who is going to soldier on regardless of the money (or maybe hoping to get some in the end).
Emily's one surprising "friend" in the justice system is Judge Wright, who won't lower her $25,000 bail but will require that a prison matron is with her at all times to keep her safe. The judge, by the way, is played by Matt Frewer, who looks as he would if he were playing Sigmund Freud.
This episode focuses largely on the women in our story: Emily, Della, Sister Alice, and, to a lesser degree, Paul's wife Clara, Lupe, Perry's on-again, off-again tryst, and Birdy. Della and Sister Alice are Emily's allies, both visiting her in prison and disgusted by the amount of her bail and the way she's being treated. I thought Sister Alice might pony up the cash, but no luck there. When Alice visits her and quietly sits beside Emily in a cell of women and whispers to her about how she understands Emily's situation, you get the feeling that she might understand it better than she's willing to admit. "I know what it's like to need someone... and be lied to," she quietly confides to Emily.
I wondered why, when the prisoners begin to shout at Emily as she admits that she feels guilty about Charlie, Sister Alice doesn't try to rally them to Emily's cause. But then I realized that Alice was there as a friend more than anything else, someone for Emily to talk to and feel safe with. Not as Sister Alice, just Alice. I have no idea what Alice's end game is, but if she isn't convinced of Emily's innocence then I'd be stunned.
Ennis and Holcomb continue to watch Perry and, by extension, Paul, whose refusal to tell Perry anything about his Dodson kidnapping report pleases the bent detectives. Paul's keeping his mouth shut, just like he should. When Ennis "happens" upon Paul and his wife, Clara, grocery shopping, he gives Paul a nice bit of cash "in appreciation" for keeping his mouth shut. He doesn't want to take it but when Ennis touches Clara's stomach and talks about how much money you need to raise a family, Clara convinces him to accept the cash.
The thing Perry finds out about Gannon is...nothing. He worked for the church as a bookkeeper, the Elders of the Radiant Assembly of God murmur, wishing Perry were somewhere else. Most of them won't meet his eye. Gannon was quiet and devout and largely invisible. His sterling references from the Lucky Lagoon Casino is what helped him win the job, and the Church is horrified by his actions. The end. Sister Alice wants to say more, but she's busy talking to Perry about the state of his nails while being fed "vitamins and Saline" through an IV due to her heavy work schedule. I'd like to see the two of them sit down alone and have a real conversation, I think they'd have a lot to say to one another.
Perry takes Lupe, his sometime fling, to the Lucky Lagoon to check out Gannon's references while having a bit of fun on the side. Lupe, a pilot whole business is right by the Mason family dairy farm, is more serious about the relationship with Perry than he is. She has Plans for the night, which happens to be New Year's Eve. Perry's all for it, but his eyes are constantly on the bartender, who he hopes will get him an interview with the Casino boss. Lupe wants to be the center of his attention, but I feel like he's using her to get to the Lucky Lagoon (she flies them in, but I don't know if it's required). Every time she asks him whether his trip is a trip for them to have fun he nods, but then excuses himself to go talk to the Casino owner. He, too, says that Gannon was a ghost, a guy who came in and did his job and was basically invisible. When he started spouting religion, though, he tells Perry, that's when the problems started and Gannon resigned. They sent him away with great references, which I guess he deserved. Nobody's sure, though. He was just some guy who came in, did his job well then left for the day. Oh, and he had these awful dentures, too.
Lupe wins big at the casino and gets a huge, passionate kiss from Perry before the midnight hour, but she's largely ignored by Mason. He could have told her what he wanted to do, then promise her a good time once they were done, but he didn't think she'd go for it. It seems like Della is the only one Perry can't lie to.
In Los Angeles we find Della coming to visit Emily under the guise of giving her some papers from her attorney, only to find her Matron reading in the waiting room with Emily nowhere in sight. When she forces her way into a broom cupboard she finds Ennis and a friend trying to beat a confession out of Emily. As Della pulls her away she promises that the detectives will be reported and made responsible for what they've done. We'll see about that.
Meanwhile Sister Alice is busy being Radiant, three shows today. As she's dressing Birdy tries to discourage Alice from having anything to do with Emily, that the Church needs to "distance themselves" from "the murderer". Alice is noncommittal as she dons her tricorn hat and a military jacket for today's show, where she springs out of the water in her boat to pull sinners from another boat and save them. But like a lot of her shows lately, Alice's performance doesn't go as planned. As she begins to rise from the carefully constructed waves she faints into what appears to be an epileptic fit. Birdy is there in a heartbeat, trying to wake her up and calling for the doctor. When Alice recovers from whatever happened she smiles at her mother and tells her everything will be alright: God has told her to resurrect Charlie Dodson. I call a front seat for this miracle.
Also:
The Gannon Mystery Deepens: Perry is pretty sure that an accountant would never burn cash, so he and his amazing friend and partner in crime (sometimes literally) Pete Strickland sneak into the morgue to see whether the dentures Paul gave Perry match George's. I love Pete, even though I don't really mention him. He's the guy who climbs over corpses to help find Gannon's in order to match the dentures and expenses a visit to a whorehouse. Hope he stays safe.
E.B. has something going on
, and I don't just mean that he's forgetful and acting out about it, but his former friends balk at helping him raise Emily's bail. More than one of them tells the attorney not to contact him again, and I have a feeling that we'll be finding out about E.B.'s medical and financial situation in the near future.
Herman seems to be connecting with Matthew in a strange way. While Herman and his son Matthew (who he's decided to embrace as some kind of Christian guilt project) reflect on his impulse to trust and marry Emily in the first place. "We have a weakness for degenerate femininity," he tells Matthew, who immediately defends his mother. "Degenerate femininity?" Right. Herman's now got a plan to make things up to Matthew and shows him the map of what appears to be a Christians-only town. He wants his son to help him build it, and Matthew agrees eagerly. This should be interesting: I've always wanted to know more about Charlie's father.
Does anyone else get a Mama Rose vibe from Birdy? Not an Ethel Merman one, a quieter version. She's cajoling but insistent at the same time. She tells Alice, a full-grown adult, what to do, and Alice does it, agreeing almost mechanically. And what do we think of the gigantic IV she had to endure? Perry needs to get some of that to Virgil to analyze. I continue to hope the show explores our mother/dynamic: it was interesting that when Alice was sharing a bit about her past she added that, "Mama was always there,". I need to know what that means, even though I have a pretty good idea.
Virgil must appear at least once in each episode, however briefly.