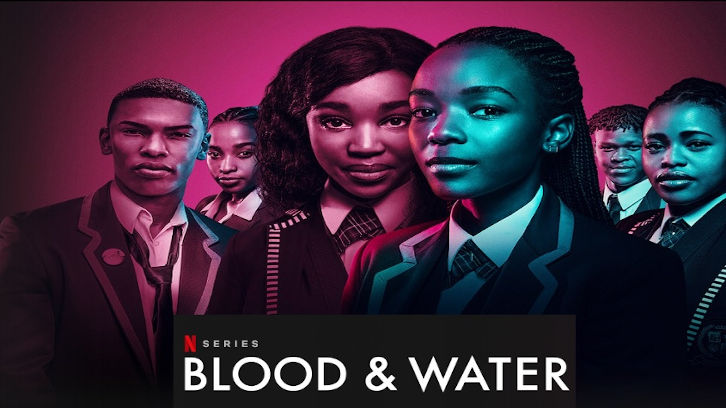 Meet Puleng Khumalo (Ama Qamata). She has just turned 17 years old, and she has been living with a ghost almost since her birth. Blood and Water begins at what should be a birthday celebration for Puleng, but it's mostly a memorial vigil for her twin sister Phume who was kidnapped shortly after their birth. Baby photos of Phume adorn every surface; the party decorations are even "baby shower pink." It's clear that Puleng has reached a point in her life where she feels she will never be as significant as her missing sister. She runs off to attend a party with her best friend Zama (Cindy Mahlangu) and meets several teenagers from the ultra posh Parkhurst High. The party is a bust for Puleng, left to drift from one awkward encounter to the next while Zama smushes face with one of the boys, with two small exceptions. First, she makes a new friend in Parkhurst photographer Wade (Dillon Windvogel), and she learns the party is also a birthday event being held for Parkhurst's charismatic golden girl Fikile Bhele (Khosi Ngema). When Wade remarks that there's something similar about Puleng and Fikile's faces, it doesn't take long for Puleng and us to speculate about whether the missing sister has been found.

Blood and Water
, created by Nosipho Dumisa, is inspired by a real-life story which increases the odds that Puleng's suspicions are accurate. The show, however, creates an unsettling feeling around Puleng's involvement. A rising star, Qamata quietly electrifies the claustrophobic space that her character occupies in these first two episodes. Nearly every scene is exclusively centered around Puleng, close-ups of her world and face and treasured possessions. Puleng has a wonderful bond with her younger brother Siya (Odwa Gwanya) that balances out her somewhat reckless obsession with getting close to Fikile. Still, a thick layer of unease covers just about everything Puleng does in these first two episodes, to the point it's a relief that someone catches her in the act at the conclusion of "The Interview." I also must point out that no one puts a top secret list on the first page of their journal. You hide that list somewhere in the middle. In Puleng's defense, it's easy to understand why she would be pursuing the truth and risking every relationship in her life to finally reckon with how her sister's disappearance has shaped her own existence. The show gives her another reason to investigate when her father is arrested, accused of working with an illegal human trafficking/adoption ring and selling daughter even before her birth. By the end of the second episode, Puleng's mother Thandeka (Gail Mabalane) has received a call from detectives who believe they have a lead on her missing daughter as well. The plot thickens.
Mystery aside,
Blood and Water
is also a high school drama. After getting into a locker room fight and her entire school witnessing her father's arrest, Puleng enrolls in Parkhurst High. (We spend the episode wondering how Thandeka is affording this, and apparently that's very much up in the air). Everyone meet is relatively calm on the surface. Fikile is a champion swimmer. Her three best friends are Chris (Arno Greeff) who is failing to follow her to swim team glory, Reece Van Rensburg (Greteli Fincham) who body shames another girl in front of their entire class and is possibly the worst, and her childhood pal/ex-boyfriend KB (Thabang Molaba). Puleng sets about getting into this posse by joining the school magazine society, run by activist Wendy (Natasha Thahane), who is decidedly not a Fikile and Friends fan. The interview is one of the best scenes in the first episodes, as Puleng recovers from the abrupt beginning questions shares a personal story with Fikile that results in the latter opening up about her childhood. Later, Puleng reveals to Wade that she made up the personal story. Ethical lines continue to be blurred as she tries to obtain Fikile's DNA.
The show's stakes don't feel particularly high up to this point, but we finally start to see that change by the end of the second episode. My favorite scene is the one where KB and Puleng bond over her writing, and he recites one of her poems back to her. It's the first time I felt the show allowed us to connect with Puleng's deeper feelings and let her voice her internal conflict. The building of this new friendship also means Puleng has something to lose, should her deception be revealed or one of her investigative tactics backfire. And we see Puleng risk burning two friendships with little thought, as she gets tunnel vision in her quest. It's also revealed that Fikile, of course, has a secret of her own, one that Puleng stumbles on. The possible sisters are now on collision course with each other; with the season being just six episodes, they might crash sooner rather than later. Sooner would be ideal. The show has all the right ingredients, including a potentially interesting love triangle, but it just needs a jolt of energy to cook them.
Other Notes:
The show name is sung over the title card, and I'm hoping it's part of a full song because it slaps.
KB and Puleng's scene together really had a magical spark.
Wendy is so far written in a somewhat stereotypical "social warrior" way, but points are made when she asks their white teacher why they are only learning about the Holocaust and not historical genocides that took place in Africa. "We have our own horror stories…"