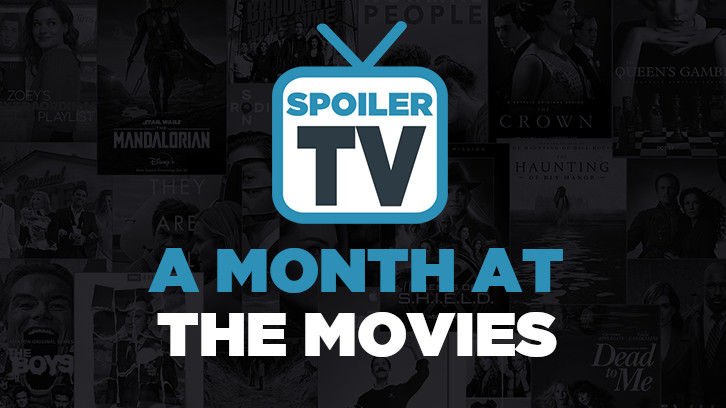 Another month has passed in 2020 as we reach the halfway mark of the year. As usual, nothing has changed from this format but just in case you're reading this for the first time, this is a monthly feature where I offer up paragraph by paragraph reviews of each film that I've seen in the previous month. This time out, in addition to watching my favourite and least favourite film of the year so far not long after another, it was very animated-heavy as I made a significant progress into my Studio Ghibli binge (if you're looking for a place to watch their films, I watched them on Netflix in the UK and they're available on HBO Max in the USA), and turned my attention to the
Star Trek: The Next Generation
movie franchise, with the four movies that followed the television series that had somewhat of a mixed success rate.
Coyote Lake (2019; Sara Seligman)
Camila Mendes finally gets her chance to shine outside of
Riverdale
in a perfectly serviceable thriller that feels leagues better than
Dangerous Lies
just based on how competent it is. The performances are impressive; helped by a strong supporting cast that includes Adriana Barraza and Andres Velez, anchoring a script that feels very Hitchcockian in nature, its influences from
Psycho
heavily felt to the point where it could almost be passed off as a remake – Barraza feeling suitably intimidating, manipulative and controlling as the mother-type figure to Mendes' Esther. Ultimately, whilst Sara Seligman brings nothing new to the table, you could do a lot worse than
Coyote Lake
which tackles some interesting ideas even if they're not always executed well.
C
Diary of a Country Priest (1951; Robert Bresson)
Robert Bresson's Crisis of Faith melodrama fits into the same category as films like Ingmar Bergman's
Winter Light
and Jean Pierre-Melville's
Leon Morin, Priest
. A contemplative, reflective character-centric film that opts for a significantly slower, but no-less effective pace. As someone who adored the hell out of those two films and loved the previous Bresson work that I saw,
Pickpocket
,
Diary of a Country Priest
clicked with me even if it felt like a step-down. A towering combination of actor and director working together in perfect synchronisation. Claude Laydu excels in the led role; and
Diary of a Country Priest
's influence stands the test of time, influencing everything up to and beyond Paul Schrader's masterwork,
First Reformed
.
B+
Opening Night (1977; John Cassavetes)
I love John Cassavetes. Everything he touches turns to gold – be it his unbeatable chemistry as an actor with Peter Falk in Elaine May's all-time classic gangster movie
Mikey & Nicky
or his direction that's led to such hits as
A Woman Under the Influence
,
Opening Night
sees him pair up with Gena Rowlands again after that film for the collaboration that's truly something special, something that can be told in the film's first half hour alone. Rowlands delivers an acting masterclass that transforms the film, making the most out of its on stage meta drama to tell a completely immersive, captivating story where you believe every second. As far as movies about the theatre go,
Opening Night
is utterly essential: everything
Birdman
wishes it could be.
A+
The Wind Rises (2013; Hayao Miyazaki)
Utterly majestic. Nobody realises characters' hopes and dreams like Miyazaki can.
The Wind Rises
is just a wonderful film with utterly perfect animation that has to be seen to believed, standing out as a movie that feels visually gorgeous from start to finish; a true testament to the brilliance of hand-drawn animation. The director's latest is one of his best – containing plenty of fantastical elements despite being essentially a period piece set in the build-up to the Second World War. The film has a sense of life, energy and soul that cannot be matched in even the best of Hollywood's animated films – the film is smart enough to fully understand its subject matter and tackle it gracefully and with respect and care that it needs to. It's not just the best animated film of the last decade; it's one of the best films of the last decade full stop.
A+
Cold Water (1994; Olivier Assayas)
I wish all coming of age movies were as stylish, effortlessly cool and had as a great party sequences as
Cold Water
, the way Assayas uses music in this drama about two teenagers embracing their own freedom and running away from restrictive upbringing in 70's France is marvellous, feeling at once both natural and romanticised in part due to its origins as an autobiographical piece. Roxy Music, Bob Dylan, Nico all blare on the soundtrack for this movie that reminded me just how awesome early Assayas is as a filmmaker, in one of his most ambitious combinations of music and storytelling to date that showcased his true potential -
Personal Shopper
is one of my all-time favourite movies and he's a director that I'm always keen on watching a new film by, with his latest,
Wasp Network
currently available on Netflix as an original for the service. For maximum effect, do a double bill with Agnès Varda's harsh and uncompromising
Vagabond
- one of the finest films of the 1980s - and thank me later.
A+
Pride & Prejudice (2005; Joe Wright)
I'm not too familiar with the source material for this one and Jane Austen in general – my first encounter with a proper Austen adaption was
Emma
, with Anya Taylor-Joy (I say proper because
Pride and Prejudice and Zombies
doesn't really count, does it?). This is a delight – its first half is stronger than its second but it's just a charming, electric romance propelled by Keira Knightley firing on all cylinders. The dialogue does feel a bit sped up in parts (especially in Mr. Darcy's proposal) and the frequent use of the camera zooming in can feel a bit overbearing; but what's there is mostly a really solid piece of filmmaking that is one of Joe Wright's better entries to his filmography. Not as good as
Hanna
, but in an entirely different league to the disasters that were
Darkest Hour
and
Pan
.
B-
Let the Sunshine In (2017; Claire Denis)
Sadly not quite as memorable as Claire Denis' genre-breaking
High-Life
of which it becomes clear this was only a trial run for,
Let the Sunshine In
is still a tour de force of an anti-romantic romantic film, aided as ever by an unforgettable core performance from Juliette Binoche, one of cinema's greatest actors. Agnès Godard's cinematography is always a treat no matter the context and it doesn't disappoint here - succeeding in bringing Denis' vision to life in a dialogue-heavy script that doesn't shy away casting light on its more intimate moments. Although the film has an insufferable feeling to it that it cannot shake it remains an important dissection of middle age love and romance in contemporary France.
B-
Our Little Sister (2015; Hirokazu Kore-eda)
I was first introduced to Kore-eda through his masterpiece
Shoplifters
back when it first came out in UK cinemas and it was only going to be a matter of time before I ended up returning to his work thanks to the streaming service Mubi.
Our Little Sister
is a less dramatic piece than that film, flowing more naturally with not as much agency to it, but as a slice of life character study it's an accomplishment, telling the story of a found family brought together and tested over its runtime that never gets any less than charming. For some it may be for too slow; but it was just what I needed when watching it.
B+
The Killing of a Chinese Bookie (1976; John Cassavetes)
So very much a John Cassavetes film,
The Killing of a Chinese Bookie
is just a tiny bit - only a tiny bit - below the level at
Opening Night
or
A Woman Under the Influence
, both of which were arguably perfection in cinematic form, but it's a deconstruction of the tropes of the genre in a nonchalant, stylish way that serves as an acting showcase for the legendary Ben Gazzara. Out of the two cuts available, I watched the longer version at 135 minutes and was hooked from start to finish, and the film left me eager to hunt down the other cut and see how the two compared.
A
Tomorrow Never Dies (1997; Roger Spottiswoode)
One of the most underrated James Bond movies that I've seen so far;
Tomorrow Never Dies
is pure fun, in a all the best ways possible. The action is engaging from start to finish; feeling straight out of a video game, the villain's plan is well-thought out and executed and it's a rare Bond film under two hours. The writing rivals
The Spy Who Loved Me
with its cheese-factor; striking a tone that is more akin to the heyday of Roger Moore than anything else - certainly a world removed from
Spyfall
and
Spectre
. Perhaps the real saving grace here however despite a good Timothy Dalton performance is Michelle Yeoh – who makes an excellent case for the fact that she should have been cast as Bond, rather than a just as a supporting actress, and is so good she deserved all of the spinoffs after this film with it such a pity that she never got any.
B-
Becoming (2020; Nadia Hallgren)
There isn't much here in this documentary of Michelle Obama's book tour following the end of her tenure of in The White House that you won't already know as
Becoming
can't shake its scripted feel (with Obama even pointing it out herself), but all the same, there's a lot to like about it. It's wholesome, inspiring and arguably has the potential to be life-changingingly so, leaving you longing for better times. The film never fails to remind you of just how good a person Michelle Obama is - and is the kind of welcoming documentary that allows for an easy but important watch.
B-
The Immigrant (2013; James Gray)
James Gray is one of the best filmmakers currently in the business and
The Immigrant
cements that status to perfection with a career-best performance by Marion Cotillard; criminally wasted in
The Dark Knight Rises
. It feels like a classic 1930s American novel adapted for the modern age in the style of 1950s or even early 60s filmmaking; easily viewed as bleak and emotionless but in reality, anything but. It's a true testament of against-all odds storytelling, with Joaquin Phoenix and Jeremy Renner shining in supporting roles. That final shot is masterful.
A+
Only You (2018; Harry Wootliff)
Only You
feels like what would happen if Richard Linklater wrote
Normal People
or
Blue Valentine
to give you an idea about what to expect from this. On New Year's Eve, a woman in her mid-30s falls in love with a man in his mid-20s when they get into a dispute about a Taxi home from a party giving way to a turbulent romance which Harry Wootliff writes and directs masterfully.
Only You
is at once both tenderly intimate and gut-punchingly heart-breaking standing out as one of the under-sung gems from 2018. A few drawbacks prevent it from being perfect: it can't shake its repetitive feel at times as the script runs around in circles a bit too often; but the warmth, intentions and atmosphere is always there. A film like this lives and dies on the chemistry of the leads, and Laia Costa and Josh O'Connor have that in spades; tricking you into a false sense of security as the film develops with its magnetic, hypnotising soundtrack (look out for Chromatics over the end credits) and its astounding cinematography. Wootliff is a filmmaker to keep an eye on.
B+
Da 5 Bloods (2020; Spike Lee)
Possibly the best film of the year so far – Spike Lee more than delivered with this intense war film that critiques American Imperialism, combining genres with a strong focus on treasure hunting at the film's core as a group of former Vietnam Veterans return to the country that they fought in to find the gold that they left behind, outright referencing
Apocaylpse Now
whilst at the same time feeling influenced by westerns like
The Treasure of Sierra Madre
. The performances are terrific across the board but standout praise has to be given to the impeccable Delroy Lindo – who deserves some kind of award for the work he puts in here and if he doesn't get some kind of Oscar recognition, it'll be an absolutely criminal offence. Jonathan Majors and Chadwick Boseman also deliver masterful supporting performances in a movie that displays clear love for its craft – with Lee taking the audience on an experience that takes us back to both the past and the present in style; utilising aspect ratio changes incredibly well to create a unique flashback feel. With its relevant themes that
Da 5 Bloods
adresses throughout, it feels like an incredibly timely and passionate experience that emerges instantly as one of Netflix's best original films.
A
Whisper of the Heart (1995; Yoshifumi Kondou)
Yoshifumi Kondou's
Whisper of the Heart
is an understated coming of age drama that feels really undervalued in comparison to the rest of the Studio Ghibli catalogue - standing up there as one of its best. It's a wonderfully animated passion project featuring one of Studio Ghibli's best ever scenes in the violin shop that is just full of heart and affection for its characters. In terms of Ghibli movies it's one of their most down-to-earth films yet, embracing a realistic outlook on life that will shatter children's dreams before rebuilding them, Finding a way to capture the same sense of wonder that all of the fantasy epics do.
Take Me Home, Country Roads
feels right at home in the film despite its rather odd inclusion at first, and Yoshifumi Kondou's drama has just the right amount of warmth and feel-good factor to it that makes it an utterly compelling watch.
A
Artemis Fowl (2020; Kenneth Branagh)
This is pure exposition: the movie. Kenneth Branagh's
Artemis Fowl
isn't faithful to its source material at all; in fact, its Wikipedia page could probably give you more information than this film and if
Da 5 Bloods
is the best film of the year so far, this is well and truly the worst. The adult cast is too overqualified to be in this film (seriously, what did Kenneth Branagh have on Colin Farrell and Judi Dench to get them in this movie?), and
Artemis Fowl
doesn't even do anything in the film to be a lead character – he has no agency, he has no character growth – he just has nothing. Everything we learn about Artemis the character is told through exposition, like everything else we learn about the world and the characters who inhabit it. Furthermore – the film's big poignant emotional moment doesn't even stick as it lacks any and all consequences whatesover leaving us to wonder just why this film happened in the first place: we don't know these characters well enough to care about them and its undone seconds later.
Artemis Fowl
is so bad that it almost makes
The Last Airbender
look like a good film, with the whole film feeling like a first act for a sequel that will never come.
E
She's Gotta Have It (1989; Spike Lee)
Aside from an uncomfortable third act that almost ruins the goodwill that
She's Gotta Have It
built up, it's a very promising debut film from Spike Lee. You learn more about the characters in this film than you do in most - Tracy Camilla Johns' Nola excels with Johns having real chemistry with all of the characters that Nola interacts with regardless of whether she's in a relationship with them or not. It's a powerful statement on sexuality that made a big impression on me throughout its runtime showing the power that Lee has both in front and behind the camera, taking on acting duties in the film itself. If you're a Lee fan - this is a must.
B+
Tales from Earthsea (2006; Gorō Miyazaki)
Tales from Earthsea
is the weakest Studio Ghibli film that I've seen yet; an overly safe fantasy adaption of Ursula K. Le Guin's classic novels that takes little in the way of risk or creativity, lacking the heart that usually comes from a Ghibli film. The characters feel cold and distant and it's just a supremely disappointing animation that has little to offer, as somehow - despite being one of Ghibli's most fantastical films feels largely safe even more mundane than its supposedly grounded films like
Whisper of the Heart
. One for the completists only.
D
The Royal Tenenbaums (2001; Wes Anderson)
Wes Anderson is a director who doesn't always click with me and
The Royal Tenenbaums
is something that unfortunately didn't as much as I wanted to be won over be it. Stylistically unparalleled with great performances from a strong ensemble that is the film's main saving grace, I couldn't help shake the repetitive feeling of this one that left me entirely cold and dissatisfied whilst watching it as it only really comes together in a third act, never shaking a hollow and emotionless tone to it rendering it unable to match the heart of some of Anderson's best films. However the fact that I watched this film so late may be part of the problem: I've come to the conclusion that the best films that I watched from the director were those that I watched when I was still new to his work, and I'm sure I would have loved this had I watched it sooner, before
Moonrise Kingdom
, before
Isle of Dogs
and before
Fantastic Mr. Fox
. I defiently need to revisit this with more time removed from the director's filmography, as I'm sure I'd like it more given time. It is at least, a significant improvement on
The Darjeeling Limited
.
D+
Bill & Ted's Excellent Adventure (1989; Stephen Harek)
Just a film that I can stick on no matter what mood I'm in and have a great time with,
Bill & Ted's Excellent Adventure
is an all-time favourite that still holds up. It's a time travel romp throughout history as slackers Bill & Ted have to collect a who's who of history's most recognisable faces and round them up for a history report that ends up having knock-on effects that will save the world, but only if they pass it. Keanu Reeves & Alex Winter's chemistry is excellent and really carries this film, and the penultimate set-piece in the shopping mall following the water park sequence has to be seen to be believed.
A+
A Field in England (2013; Ben Wheatley)
If you go in looking for plot or reason in
A Field in England
you will only be left disappointed, Wheatley deliberately avoids convention in a period drama that's unlike anything else before it. It's an eccentric anomaly in Wheatley's excellent filmography, and it's a truly bizarre tour-de-force that is one of the most unique experiences that I have had watching a film so far this year. Set in the English Civil War focusing on a group of men caught fleeing from battle and forced to join a hunt for trasure,
A Field in England
makes the most out of the drug-induced conflict between its lead characters; played brilliantly by the likes of Julian Barratt, Reece Shearsmith and Michael Smiley. If anything from what Wheatley has shown over the course of his career so far that ranges from
Kill List
to
Happy New Year, Colin Burstead
;
Tomb Raider 2
may be the most unique video game adaption yet.
B+
Grave of the Fireflies (1988; Isao Takahata)
Possibly the most soul-destroyingly uncomfortable film that I have seen all year,
Grave of the Fireflies
is one of the most visually stunning films ever made. Following a brother and younger sister struggling to survive the horrors of living in Japan during the height Word War II, Takahata's masterpiece will break your heart and then shatter it all over again. It's unquestionably one of the saddest films ever made; holding up as a textbook example how to pull off a film about characters growing up in a world that nobody deserves to grow up in.
A+
Cameraperson (2016; Kirsten Johnson)
A passionate documentary that approaches its subject with the right amount of care and empathy that few can match, Kirsten Johnson's
Cameraperson
explores her life as a non-fiction cinematographer told through shots from her films that she has covered in the past, acting almost like a travelogue as she journeys across the world never failing to respect her subject regardless of the context. You'd wish documentaries could all be as easy to watch and as wholly engrossing as this one, whilst managing to tackle plenty of important themes that it remains unafraid to shy away from.
A
From Up on Poppy Hill (2011; Gorō Miyazaki)
A much needed improvement on
Tales From Earthsea
this second film from Gorō Miyazaki can't quite feel original enough to stand as one of the all-time Studio Ghibli classics but its characters are likeable and engaging enough to care about even though the storyline, which focuses on a group of students trying to save a clubhouse from being shut down in the runup to the Tokyo Olympics of 1964 is rather uninspiring. But rather than go for convolution which was one of the main drawbacks of his last film; Miyazaki plays it safe and secure in a mostly well-meaning work even if the romance is decidedly uncomfortable even at the best of times.
C+
Star Trek: Generations (1994; David Carson)
For those who don't know, I've been binge-watching
Star Trek: The Next Generation
during lockdown and
Generations
felt like the next logical step for me once I wrapped up this run towards the end of the month. Unfortunately it feels largely like a missed opportunity that lacks the spark needed to thrill, feeling solely geared towards finding an excuse to get Kirk and Picard fighting the same bad guy. The villain doesn't justify a team-up and you feel like the Kirk parts could have been done just as easily with Riker, and this feels like a film that cares about little else which would be fine if it was good fanservice, but unfortunately it's not even good fanservice, taking far too long to get to where it's going and not giving audiences enough of a reason to care once it gets there.
D
Star Trek: First Contact (1996; Jonathan Frakes)
This was the breath of fresh air that
Star Trek: The Next Generation
needed after its clumsy, tepid start to the movie franchise.
First Contact
is made by Jonathan Frakes who understands these characters better than almost anyone and the film acts as a love-letter to the franchise featuring all the things about the series that makes it work as well as it does. It's the only instalment in the franchise to understand that
The Next Generation
is more than just the Jean-Luc Picard show (even having time for Lt. Barclay), and the crew gets plenty of time to shine pitted against Starfleet's greatest advisory, The Borg. The tension is paramount throughout and the film feels more sleek and energetic compared to what has come before it with plenty of thrills to boot. Ultimately, it is among the early signs that Trek is moving forward to a new age, with this movie feeling more in line with the likes of of
Deep Space Nine
and
Voyager
thematically whilst managing to capture the essence of its core series. All in all:
First Contact
is just a feel good fun film that captures the audience's imagination effortlessly, even featuring one of the best
Star Trek
music cues - that of Steppenwolf's
Magic Carpet Ride
, not bettered until that of
Star Trek: Beyond
and The Beastie Boys'
Sabotage
. On a rewatch, it more than delivers. If you're a Trek fan who hasn't seen this yet you're seriously missing out.
A+
Star Trek: Insurrection (1998; Jonathan Frakes)
Lacking the budget required to live up to the film's ambition and ultimately do it justice,
Insurrection
falls short with underwhelming villains and awkward humour that isn't quite as polished as
First Contact
with poorly drawn storytelling across the board in what effectively amounts to another two hours of Jean Luc Picard doing his thing and not much else. The crew of the Enterprise don't feature anywhere close to the same amount that they did in
First Contact
- Dr. Crusher is barely present, Worf's cool moments feel short lived without a proper character arc and Troi doesn't have much to do either. It's safe to say that the character development across the board is lacking in this one which, although is just about fun enough on a surface level to enjoy with some serviceable action sequences, it falls short in comparison to the better entries in the franchise and feels much more like a traditional episode of
The Next Generation
, which is not necessarily a bad thing - but it's missing that extra punch that elevates it to greatness like
First Contact
.
D
The Last Black Man in San Francisco (2019; Joe Talbot)
I've been wanting to revisit this one ever since I saw it for the first time at the London Film Festival last year and with no Blu-Ray or DVD release in the UK I ended up renting it from Amazon Prime, and I was so glad that I gave it another go as I just fell in love with it even more on a rewatch. Joe Talbot's debut is bold, risk-taking and utterly spectacular from start to finish featuring a commanding pair of central performances from Jonathan Majors and Jimmie Fails, both of whom excel in every frame. This film feels like a love-letter to San Francisco, capturing the heart and soul of the city as well as its ugly side and its imperfect world that the characters live in. Coupled with his performance in
Da 5 Bloods
at the start of the month, Majors announces his arrival as one of the best new actors in the game and I absolutely cannot wait to see what project he does next. Don't let this one pass you by - it's utterly rewarding.
A
Star Trek: Nemesis (2002; Stuart Baird)
If
Insurrection
had one strength, it was at least fun to watch, but
Nemesis
is as every bit the franchise-killer that its reputation suggests despite an early performance from Tom Hardy who has shades of his Bane role in
The Dark Knight Rises
if not yet fully formed. It feels like Trek on autopilot, lazy and soulless, feeling the closest Trek has ever felt to a traditional action movie blockbuster up to this point and not in a good way. Ditching Frakes behind the camera was not a good move as Baird is an entirely uninspiring replacement who plays it far too safe. Character send-offs feel robbed of authenticism and care, with
The Next Generation
movie franchise going out with a whimper rather than a bang that proves that these characters were entirely better suited to television. It's easily
Star Trek
's lowest point on the big screen, and the fact that
Star Trek: Picard
manages to turn this material into something good is a truly remarkable feat.
E
The Secret World of Arrietty (2010; Hiromasa Yonebayashi)
This incredibly tender animated adaption of
The Borrowers
is a pure gem from Studio Ghibli that feels bustling with vivid, lush and emotive detail in every scene that brings the two central characters to life in a way that is completely real despite the fantastical nature of the concept of a small family of little people borrowing food from a suburban house and its unaware occupants who inhabit it. Whilst it lacks the thrills of the large sale-Ghibli epics like
Princess Mononoke
, it doesn't need them - having plenty of heart and magic to it, coming alive with raw energy.
The Secret World of Arrietty
is one of the main reasons why it's so hard to rank Studio Ghibli films as they're all just consistently good masterpieces, time after time with a few exceptions.
A
Only Yesterday (1991; Isao Takahata)
Isao Takahata is one of the best animators in the game and
Only Yesterday
is a film that showcases the director once more at his absolute peak, having watched both
Grave of the Fireflies
and
The Tale of the Princess Kaguya
before this one. It's a heartfelt drama that weaves between the past and present looking back to the protagonist's childhood in Tokyo during the 1960s and all the ups and downs that come with it, showcasing the hustle and bustle of the inner city and the impact of change over time; utilising the The Beatles in a similiar way to that of John Denver in
Whisper of the Heart
.
Only Yesterday
feels like the most personal a Studio Ghibli film has ever gotten up to this point which is some accomplishment in its own right, living up to the potential of its character-driven focus and shining through as a result - this is one that you'll want to watch the end credits of as they are heartbreakingly perfect.
A+
Ocean Waves (1993; Tomomi Mochizuki)
As a made-for-TV Studio Ghibli co-production,
Ocean Waves
is unlike anything else the Studio has put out and not in a good way, it's stripped down, unimaginative and largely completely grounded eschewing the whimsical tone that even
From Up on Poppy Hill
(another low-tier Ghibli film) had to it. Its penchant for character growth is its biggest strength and its short runtime helps it to no end, but I could ultimately not bring myself to be invested in this one despite the good intentions that came with it as a film made to test the creative potential of the company's younger talent. However; like all of the Studio's films before it - I still found some value in
Ocean Waves
, and despite its low rating I am at the very least glad I gave it a chance.
D+
My favourite first time watches of June
:
Cold Water, The Wind Rises, Opening Night
and
Only Yesterday
.
What did you watch last month? What are your thoughts on the films that I've reviewed above, and what's your favourite film that you've watched that was released so far this year? Let me know in the comments section below.