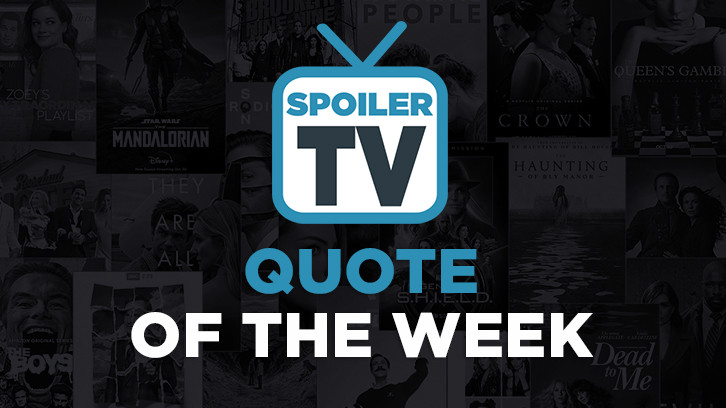 A weekly feature highlighting the best quotes on TV as picked by the SpoilerTV team. We'd love to hear your picks too so please sound off in the comments below.
Blindspot
-
1. Rich: "What is going on here? I'm the level-headed one all of a sudden, and you're the loose cannon? I don't like the dynamic shift. I don't like it one bit." (Prpleight)
The Bold Type
-
1. Kat: "Yeah, we're like emotional support dogs, except we're human." Sutton: "And we have snacks." Kat: "So many snacks, one snack." (Jamie)
2. Sutton: "We've had this conversation before. Tik Tok, Pete Davidson, here we are." Oliver: "Get off my lawn, Red." Sutton: "I'm just saying trust me, she's about to blow up." (Jamie and Folie-lex)
3. Sutton: "Did I get you kicked out?" Jane: "You got me noticed, which I actually...am kind of enjoying." (Jamie)
4. Olivia: "For someone who just got back from their honeymoon in St.Barts, you don't look very tan." Sutton: "Ah, well that's 'cause we spent the whole time in the hotel room. Just kidding. I, uh... I can't tan." (Folie-lex)
5. Jane, about her mastectomy and reconstruction: "I mean, these don't feel like me, I don't feel like me, and I...I just really wish I did." (Folie-lex)
Broke
-
1. Barry: "Listen, I know that I amigo-zoned you, but since it's Cinco, we can make an exception. Friends but with benefits?" Jackie: "Nope. Just like my job, this friendship has no benefits."
2. Lizzie: "Javi, come on. Pull yourself together." Javier: "Why? I have been rejected by my family." Lizzie: "Not your entire family. Not me, not Luis, not Sammy, not Jackie.
Come on, don't just feel sorry for yourself and give up. Is this what Generalisimo Zaragoza did at Puebla." Javier: "Are you saying I should challenge my father to a war? Because we already did that and look around. We're not winning." Lizzie: "No, I'm saying take action. Don't wait for them to do it for you. Buy a plane ticket and go visit your mother." Javier: "My love, we sneak hot dogs into the movie theatre. We can't afford a plane ticket." Lizzie: "Well, not yet." (They both look at the pepper eating challenge check.)
3. Barry: "You know, Cinco de Mayo's a big day for us. Remember, we first hooked up on Cinco de Mayo." Jackie: "Mostly, I remember Seis de Mayo being a day full of regret."
Man with a Plan
-
1. Adam: "Yeah but how do I know something she doesn't know I know? If I know it, she'll know I know, because she told me. It's the only way I know things." (Folie-lex)
2. Lowell: "I don't love RVs. It's like renting the world's worst hotel room that follows you everywhere." (Folie-lex)
3. Adam: "Are you sure brunch is enough? You're not gonna be disappointed?" Andi: "Disappointed? I'm having vodka and waffles. If we had a family crest, that would be on it." (Folie-lex)
Roswell, New Mexico
-
1. Liz: "You and Kyle are friends? What? After you two investigate, you can grab a beer with Diego and compare notes." (Jamie)
2. Maria: "You go, I'll wait here in case you pass out off that chair." Isobel: "I think that's the nicest thing you've ever said to me." Maria: "We just had the floors done." Jenna: "Pining after an Ortecho for years and years. It's so weird. Who does that?" (Jamie)
3. Liz: "I know you're on my side, but you don't get this. And that's not your fault, that's just the reality of our experiences. If I mess up, if I so much as roll through a stop sign, it reflects badly on any Mexican who came before me and it hurts any Mexican who comes after me." (Jamie)
Penny Dreadful: City of Angels
-
1. Tiago: "You ever been, in a place where there's no right answer? Everything you do is gonna be wrong. So you do something, and you know it's wrong, and you live with it. It's not a compromise, it's not a mistake. It's a sin." (Folie-lex)
2. Maria: "All families have their secrets. There's a reason windows have curtains." (Folie-lex)
3. Maria: "You are not welcome in this home. This is the Lord's house." Magda: "Oh, Mamacita. Spare me the invocations of a dusty faith in which you no longer believe. What is all this but wicked idolatry? And you worship her. She is the icy finger of death and yet you embrace her. I give mankind what it wants, and you hate me. Now where's the sense in that Maria?" Maria: "Why do you only break what others have built?" Magda: "All life comes from death." Maria: "What do you know of life? You should choke on the word. I've created life. I nurtured it here, inside me. What have you done? You hunt, you kill. There is no life in it." (Folie-lex)
Snowpiercer
-
1. Melanie: "You figured it out, Layton. I know you did." Layton: "A myth's a powerful thing." Melanie: "Pray you never know the weight of it." (Folie-lex)
Stargirl
-
1. Courtney: "I said it wrong. It's not you who needs my help. It's me who needs your help." (Folie-lex)
2. Courtney: "I think you're really freakin' brave coming back here day after day. I mean, I don't know if I'd be strong enough." Yolanda: "I never should have send him those." Courtney: "He never should've shared them."
3. Yolanda: "How long have you been doing this?" Courtney: "Uh... I don't know. Like a week?" Yolanda: "And how long did your dad train you?" Courtney: "Technically... he didn't." Yolanda: "Well then, why am I listening to you?" (Folie-lex)
4. Yolanda: "When those photos got around I was ashamed to be Yolanda Montez. I didn't want to be me. But the truth is I need to get my own life back before I put on a costume and be someone else." (Folie-lex)
What We Do in the Shadows
-
1. Colin: "Well don't look at me. This seems like one of those things you guys all did together and didn't include me." (Folie-lex)
Nadja: "I am sorry but when I dance the ocean parts. She has absolutely no rhythm whatsoever." Nandor: "This is your hot take? That you have a problem with the choreography?" (Folie-lex)