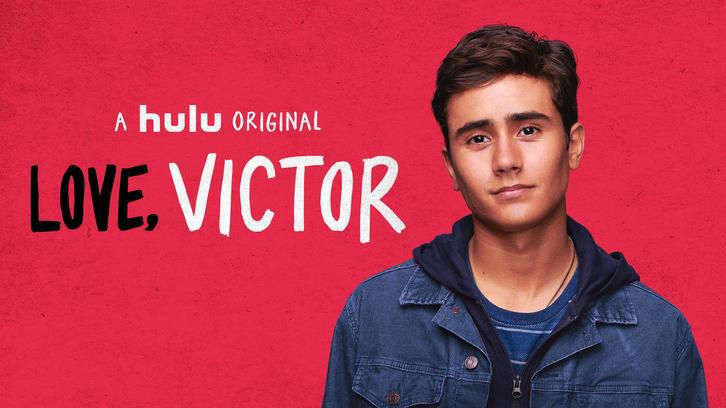 Just in time for Pride Month, Hulu has released all 10 episodes of Love, Victor. It's the follow-up series to Love, Simon (2018), a movie based on Becky Albertalli's Simon vs. The Homo Sapiens Agenda (2015). Both, the novel and the movie, tell the story of a gay high school student, Simon Spier, who is denied coming out on his own terms, but love prevails and he gets his happily ever after. Love, Victor is telling a different story. Let's dive into Episode 1.

The Salazar family has just moved from their small Texas town to a suburb of Atlanta. Our titular character, Victor Salazar (Michael Cimino), hopes that coming to the big city will bring greater acceptance because he has some things to figure out about himself. His old home town barely tolerated differences, so acceptance was definitely off the table.

When we first meet Victor, he is sending Simon (Nick Robinson) a DM on Instagram. He is the opposite of polite. In fact, he resents Simon and the seemingly easy time he had with being gay and coming out to his friends and family. Much of Victor's hurt and anger stems from his less than stellar first day at Creekwood High. A day that started off with a meet cute and lust at first sight ended with humiliation.

When Victor first steps into the hallways of Creekwood High, everything seems to be going well. His self-appointed best friend, Felix (Anthony Turpel), shows him around school and gives him the low down on the major players, including popular girl Mia (Rachel Hilson). She's sweet, friendly, and clearly into Victor, but plays it cool in that quiet-almost-shy way—lots of looking up at him through her eyelashes, which is incredibly flirtatious when done right. Mia does it well. She's the opposite of her BFF, Lake (Bebe Wood), who is not quiet and extremely bold. Felix also points out Benji (George Sear), but Victor has already noticed him. The viewer is treated to Benji's slow motion montage. We're looking through Victor's eyes as Benji walks into school, drinks from the water fountain, and runs his hand through his hair. Thanks to Felix, we know Benji is gay. And just like that friends, we have the makings of a high school love triangle. We know from the show's promo that Victor isn't sure what he likes: guys, girls, or both. You can practically hear the romantic collision course that's on the horizon.
Later, Victor dazzles the basketball coach during gym class and is awarded a spot on the varsity team. Who knew it was that easy. I had to try out. Must be nice, Victor. Alas, it isn't nice. Victor's moves on the court draw the attention and ire of Andrew (Mason Gooding). At this point, Andrew is a stereotypical mustache twirling bully, so here's hoping he evolves. When Victor is surprised by the $500 cost of joining varsity, Andrew spots a weakness and exploits it. Andrew has definitely read
The Art of War
. Playing the faux humanitarian card, he starts a GoFundMe to help Victor raise the money he needs, but really he's just exposing the Salazar's family socio-economic status to the mostly wealthy student body of Creekwood High.
All of this is why Victor unleashes on Simon. What he wasn't expecting was a response. Simon's response rejuvenates Victor, and he heads to the Winter Carnival with a new lease on life. It is fortuitous and a plot contrivance that Victor's story begins where Simon's ended, at the Winter Carnival. Parallels are the true workhorse of writers and show runners toolkits. Fans of the book and/or movie will know the significance. For those outside of the
Simonverse
, it's where Simon kisses Bram and they begin their forever love story. Digression, the Ferris wheel kiss was too cute, but I prefer the book's close quarters first kiss. Anyway, Victor's beginning is less a love story and more a "let's see where this goes."
Even as he makes his way toward Benji with ride tickets in hand, we all know that it's too soon for that. Instead Victor asks Mia to ride the Ferris wheel with him. He's testing the waters and beginning with what he feels easiest. I was going to make an allusion to Skittles, but I'll refrain. It's clear
Love, Victor
is going to be a coming of age, as well as a coming out story. So far, I'm enjoying it.
We aren't just treated to Victor's struggles. His parents, Armando (James Martinez) and Isabel (Ana Ortiz), along with younger sister, Pilar, are feeling this move. There are cracks in the Salazar marriage and Victor is put in a position no child should ever occupy, peacemaker. There is definitely more to this story of marital discord. They've been fighting for months and this move seems to be part of the problem and part of the story. Pilar (Isabella Ferreira) is angry. Incredibly angry. We know this because she dresses like a revolutionary from the 1950s. No judgment, my Docs are well-worn. The youngest child, Adrian (Mateo Fernandez), is cute. That's all we get from him in this episode because he's too young to be part of the high school drama and just young enough that Armando and Isabel don't think he's being hurt by their arguing.
So, Love, Victor is the story of family and friends, but above all it's the story of a boy trying to figure out who he is and who he loves. Overall, I found this episode incredibly charming. There were no deep dives into the characters, but we got some breadcrumbs that should pay off over the next nine episodes. Here's hoping.
What I Loved:
We didn't get subtitles translating the Spanish.
Ms. Albright (Natasha Rothwell), the former Creekwood drama teacher and current VP, showing up in a brief cameo.
Burning Questions:
Who invented the too cool for school, hot boy slow motion?
So what did you think of Episode 1? Was it what you were expecting? Let me know in the comments.