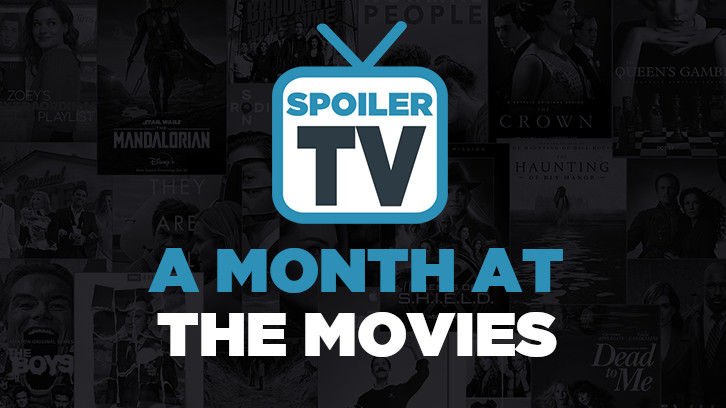 The first full month with no theatrical releases in the United Kingdom due to the mass closure of cinemas under the current lockdown rules has increased my viewing count dramatically, so this is another month where you can expect more films featured than normal, simply because well, I've got more free time on my hands given that I can't go outside anymore. Instead; I've taken a deep dive into the filmography of Brian De Palma, closing the month with four films watched by the director. I also spent time with Disney+ and watched a new release as well as some older films like Treasure Planet that I should have seen by now - allowing for a real mixed bag of content in a month where streaming services and physical releases are kings. Perhaps the most violent features of the month involve two out of the three entries in Park Chan-Wook's Vengeance trilogy, but there's no surprises there, and as usual, there's the obligatory Ingmar Bergman movies that are becoming a regular entry on this feature thanks to Mubi.

I'd like to say that there is any theme or organisation to what I watch each month but more often than not - it's random, unless certain pairings like Batman Returns and Batman Forever come to mind, or my De Palma quartet, and usually it's dependent on what films come up on Mubi's website as I tend to watch stuff on their streaming service the most. This leads me onto a question that I'd like to ask here - what streaming service do you use the most from the ones available in your country? Criterion Channel feels like something I'd use more often if it was available in the UK, but alas it's not - thankfully Mubi is a more than adequate replacement. In additon to Mubi, lots of my picks come from Disney+, Netflix and Amazon - but I'm interested to see which services you regularly haunt, in addition to the films that you watched last month! Give me all your new watches - good or bad, in the comments below - did you discover a new favourite? Or were you so repulsed by a film that you're never going to see it again?

That's all from me for this month, in terms of an introduction. The show must go on, after all.


The Proposition (2005; John Hillcoat)
The Proposition
is a mean film and it wants everybody to know that it's a mean film, full of grit, wear and tear, Christmas has come in Australia but it won't be a happy one. With a script from the legendary Nick Cave (who is on double duties with the soundtrack)
The Proposition
follows Charlie Burns' quest to save his captured brother by killing his other brother, who is the gang leader of the group Charlie used to ride with. Brutal, intense and delivering a stark commentary on British colonialism of Australia akin to Jennifer Kent's
The Nightingale
,
The Proposition
is perfect for those wanting a darker western. Across the board, the performances are stellar: Guy Pearce, Emily Watson & Danny Huston all excel with Ray Winstone putting in a strong shift as the film's primary antagonist, delivering what is arguably a career-best performance for him.
A
Stargirl (2020; Julia Hart)
Fast Color
(available to watch on Netflix now) was one of my favourite movies of 2019 so it's always good to see another Julia Hart movie, and it turns out that despite its flaws and the fact that there are so many clichés in this movie it feels like its objective is ticking boxes,
Stargirl
is proof that Disney+'s film content does have some life after all after an underwhelming start with
Lady and the Tramp
. Helped by quirky, charming and likeable characters with a strong cast – among the standout of them being Grace VanderWaal who delivers a performance that makes the film, aided by the always reliable Giancarlo Esposito in a supporting role whilst Graham Verchere does a solid enough job as the lead -
Stargirl
has plenty of warmth and a feel-good factor to it that makes it ideal comfort viewing with the family.
C
Hanna (2011; Joe Wright)
One of the best action movies of the 2010s,
Hanna
is brilliantly choreographed from start to finish as it takes the coming of age drama and spins it on its head. Here, Saoirse Ronan plays a Jason Bourne-like teenager, skilled with combat and a veteran of multiple languages but has little real world experience: when she's on the run she blurts out her whole fake history to a tourist like she's reading a Wikipedia page and when she's asked what happened to her mother her response is that she was on the wrong end of three bullets. Ronan's performance is committed and Joe Wright guides the action remarkably well, utilising quick cuts in a very Paul Greengrass-esque way. The fairy-tale element at the film's core in addition to the theme of innocence lost is absolutely vital in making Hanna stand out from the crowd of Bourne copycats though, and it's something that the Amazon TV series sadly lacks with the show unable to capture the heart of the original film, which should have stayed on its own and been left untouched. That said; I wouldn't turn down to another Saoirse Ronan action vehicle, or just more films with Ronan in them. She's one of the best actresses working today.
A+
Sympathy for Mr. Vengeance (2002; Park Chan-Wook)
Whisper it carefully,
Sympathy for Mr. Vengeance
, the opening chapter in Park Chan-Wook's acclaimed Vengeance trilogy, surpasses its most famous entry:
Oldboy
. It's that good. Rare has hyper stylised violence been executed so well that it doesn't drag the story down – it's a film that remembers that characters are just as important as the action. Everybody has their own arc and you get a sense of their desperation or their desires for revenge, because in this film, the circle of violence and revenge takes everyone in the end. Cinematographer Kim Byeong-il is utterly incredible delivering some instantly memorable shots, and the marvellous trio of Song Kang-ho, Shin Ha-yun and Bae Doo-na either put in performances that are up there with their best work or are their best work. Absolutely unmissable.
A+
The Hunt (2012; Thomas Vinterberg)
The film that made Mads Mikkelsen a star in the US before his turn in
Hannibal
,
The Hunt
is a gritty Danish thriller about a man who is wrongly accused of a horrific crime and is forced to watch everyone that he knows turn against him without proof, trusting the words of children and little else even though the evidence itself doesn't add up. Vinterberg makes no mistake in tackling a difficult subject, not creating a sense of ambiguity about
The Hunt
at all. Instead right from the start his intentions are clear and the film shines because of it. Mikkelsen puts in such a brilliant performance you can't help but feel all his emotions, and by the time the movie finishes it'll be impossible not to have a sense of boiling, righteous anger.
B+
The Rite (1969; Ingmar Bergman)
A largely dialogue heavy film taking place over acts split up through text on screen. I utterly adore most of everything Ingmar Bergman does but there are the odd movies that don't quite work for me for the director and
The Rite
is unfortunately, much like
Cries and Whispers
and
The Virgin Spring
, another one of them. It's good, don't get me wrong, but not the usual masterpiece status that I've come to expect from a director who I've seen over 15 films by. It's a passionate film that almost feels like Bergman delivering an essay on censorship rather than anything else, aided as ever by brilliant performances by his regulars that keep the film feeling wholly dry.
C+
The Fugitive (1993; Andrew Davis)
Talk about a tense game of cat and mouse;
The Fugitive
is one of those classic movies I've heard lots of talk about, but never seen before – there's always one or two of those that just fall under your radar and for me this was one of them – a staple of the action genre. It's formulaic but it executes its formula to perfection, utilising Chicago as a backdrop for a movie that starts off with a bang (those first 20 minutes or so are really concise and tell you everything you need to know) and it doesn't let up from there. Harrison Ford is an action star to beat all action stars; and Tommy Lee Jones more than brings his A-Game to the table.
A-
The Skin I Live In (2011; Pedro Almodóvar)
A darkly twisted, almost otherworldly horror movie. Pedro Almodóvar captures a sense of the surreal – rare have I seen horror films employ a such vivid colour palette as
The Skin I Live In
, and it deals with a plastic surgeon seeking revenge in a dark and disturbing way. The film itself is beautiful as it is horrific, and it's best gone into as blind as possible as there's just so much going on here. It's a classy horror that comes across with Almodóvar's fearless attitude to sex – unafraid to tackle subjects that most directors would shy away from. I prefer
All About My Mother
and
Pain and Glory
, the two other Almodóvar films that I've seen so far, but
The Skin I Live In
is a versatile outing from an accomplished director.
B+
A Countess from Hong Kong (1967; Charlie Chaplin)
Watching a film in colour feels almost odds when it's a Charlie Chaplin movie. I've grown so accustomed to classics like
Modern Times
or
City Lights
it's no wonder that
A Countess from Hong Kong
feels like such a different experience. But it's an exciting one – helped by star performances from an against-type Marlon Brando and an impressive Sophia Loren. But the film itself feels dragged once the stars move out of their cabin on the boat that occupies most of the runtime and the film becomes more sprawling – Chaplin gets a lot of mileage out of people knocking on the cabin doors and the unpredictable nature of the sea, and whilst the comedy doesn't always land there's a lot of heart here. It's by no means a classic, but at the end of the day, it's still Charlie Chaplin and it's still immensely watchable, helped by its almost self-contextual critique in parts of slapstick comedy, acting almost as a personal career retrospective for one of cinema's most iconic directors.
C-
Domains (2019; Natsuka Kusano)
This arthouse experiment should have been something that appealed to me but
Domains
never quite sticks the landing – unfortunately it's far too long to work. The idea of actors reading off scripts being shown in the film in conjunction with different takes being repeated to showcase the idea of spontaneity and help recapture that feeling of finding something new in something that you love on a second viewing is unique – I don't think I've seen anything quite like
Domains
, but at 150 minutes it never does enough to justify its lengthy runtime and falls flat as a result. But it has me interested in checking out more of Natsuka Kusamo's filmography.
D+
Cool Hand Luke (1967; Stuart Rosenberg)
An all-time classic for a reason, this first viewing of Stuart Rosenberg's
Cool Hand Luke
is well overdue. Following the adventures of prisoner Luke Johnson, the film tests his limits and his spirit and how far he'll get pushed before he eventually snaps, but not before becoming a symbol of hope to the other inmates. It's a powerful tale that's separated from the rest of the standard prisoner escape dramas because it's just so character-centric, acting as a study of Luke's character over the course of the film. It's got Paul Newman's best performance; rivalled by George Kennedy in a supporting role. And no film that has both Harry Dean Stanton and Dennis Hopper in it can be bad.
A
Local Hero (1983; Bill Forsyth)
Absolutely wonderful.
Local Hero
is just a charming, feel-good movie that follows Americans going to a small Scottish town to try and buy the land from the residents for their oil refinery, but the townsfolk are a lot wiser than that Americans and try to con them out of their cash. It's a tug of war with an endless source of comedic moment after comedic moment, and Local Hero just constantly ups its game as the film goes on. It's easy to watch and works great as a comfort film, featuring an early performance from the incredibly talented Peter Capaldi. Charmingly delightful,
Local Hero
is an absolute must watch – the rare perfect film and easily my favourite first viewing of the month.
A+
The Tale of the Princess Kaguya (2013; Isao Takahata)
Breathlessly animated with a stunning watercolour palette;
The Tale of the Princess Kaguya
is on of Studio Ghibili's most unique films, featuring a fairy-tale like narrative built out of folklore origins. The story comes to a tipping point in its emotionally devastating climax; but the high point here is the art – the painting is just on another level. I hate to use the old cliché about every shot being a painting; but with the case of
The Tale of the Princess Kaguya
, it very much rings true.
A-
Long Shot (2019; Jonathan Levine)
Jonathan Levine's
Long Shot
may be a romantic comedy that treads well-trodden ground aided by likeable performances by Charlize Theron and Seth Rogen but it proves you don't always need to reinvent the wheel. It's hard not to like the characters – which is the film's biggest strength – and the comedy earns a few laughs which is more than most mainstream comedies tend to. The soundtrack is eccentric but well crafted; featuring a wide variety of talented artists: Robyn! Frank Ocean! Bruce Springsteen! The Crystals! DMX! The Cure! Big Thief! Blondie! And whilst
Long Shot
eventually wears out its welcome with its repetitive laughter and ticks all the boxes that you'd expect from an R-Rated Seth Rogen comedy, it's one of his better ones, even if it doesn't meet
This is The End
or
Neighbors
standards.
C-
Hostiles (2017; Scott Cooper)
Scott Cooper's hopelessly bland modern western
Hostiles
was everything that I was worried
The Proposition
would be; dull, lifeless and a waste of an all-star cast full of big names and A-List talent. It also has the most random Timothée Chalamet cameo ever – and I didn't realise he was in this at all going ins. Few in the supporting cast are convincing; all are out-acted by Christian Bale who gives one of his best performances yet - possibly even his best one, which is a real shame that it's being delivered in one of the worst films that he's ever been in. But neither Bale, Max Richter (in surprisingly rare below-par form) or Masanobu Takayanagi's stunning cinematography can save this one - which is a shame, because there are elements here individually that are outstanding - it's just when put together to make a whole,
Hostiles
kind of falls apart. It's nowhere near as smart as it's trying to be – and the ending doesn't have the heavy punch that it wants to feeling completely unearned.
D-
Public Enemies (2009; Michael Mann)
Public Enemies
is a powerhouse of a film! Focused on one of America's most famous bank robbers, John Dilliger, and the dogged pursuit of the men sent out to track him down; Michael Mann delivers an arthouse-inspired take on the cat and mouse game that led up to his capture. It's a long, hard watch, and ends on a devastating note – but Mann's always been good with those endings. Well produced with some of the best gunfights that I've seen in a 1930s period piece –
Public Enemies
left a distinct impression on me as one of the best crime dramas of the last decade. An absolute must-watch – wouldn't it be amazing to see a Michael Mann-directed series of
Peaky Blinders
one day?
A
Birds of Passage (2019; Ciro Guerra, Cristina Gallego)
2019 was a shockingly good year for foreign movies. (
Portrait of a Lady on Fire
!
Monos
!
Parasite
!
Pain and Glory
!
Transit
!
Long Day's Journey Into Night
!) and
Birds of Passage
might just be one of the best. Someone give Ciro Guerra and Cristina Gallego ALL THE AWARDS. They're responsible for two of my favourite films of the past decade – and deliver a more than worthy follow up to Embrace the Serpent with this ambitious Shakespearean take on the origins of Columbian Drug trafficking that makes
Narcos
and its spinoff
Narcos: Mexico
look like student projects in comparison. It's wonderfully shot from start to finish – aided by great performances and a strong vision from unparalleled directors. One of my favourites that I've seen whilst self-isolating so far, without a doubt. The cinematography took my breath away – the film is remarkably well structured, well-paced and just quite simply, good at everything. If you like your crime movies with a sense of epicness about them; then you'll like
Birds of Passage
, which keeps things refreshingly tight at 125 minutes.
A
The Invitation (2015; Karyn Kusama)
I was slightly underwhelmed by my first encounter with Karyn Kusama's filmography;
Destroyer
which I saw back at LFF 2018 – but was keen to try out her earlier work,
The Invitation
, a dinner party gone wrong home invasion movie with a dark twist that nails the constant building of suspense over the film. It's tightly plotted and tense right the way through with just the perfect amount of foreshadowing – building up to a certain moment when everything goes to hell and
The Invitation
hits you like a freight train. Going to even darker places than I was initially expecting, it's one of the hidden gems from 2015 that deserves your attention especially if you're a horror fan.
B+
Bacurau (2019; Kleber Mendonça Filho and Juliano Dornelles)
I watched and loved Kleber Mendonça Filho's
Aquarius
last month and was very keen to see another film from the director, and
Bacurau
more than lived up to my expectations that I had going in after early glowing reviews from the festival circuit last year. This is a movie where the best character in
Bacurau
is the small titular village itself, although that isn't a bad thing – it's an amazingly well-defined backdrop where audiences get a clear sense of location. Things start to go wrong in the town almost from the get go: it vanishes from being shown on Google Maps, its water supply is cut off – and what follows is an increasingly wild and genre-bending movie that refuses to be tied down to an easy description, including just the right amount of John Carpenter influences in its runtime. A true highlight of the year so far, rich with well-studied and intelligent social commentary that help elevate it above your standard grindhouse fare (which really shouldn't be a surprise to anyone who's seen
Aquarius
). It's best watched going in as blind as possible.
A
Lady Vengeance (2005; Park Chan-Wook)
The concluding chapter in the Park Chan-Wook Vengeance trilogy is good. It's very good. Yet I couldn't quite fall in love with it the same way that I did
Sympathy for Mr. Vengeance
or
Oldboy
. Stepping back once more into the loosely connected trilogy, we spend time with Lee Guem-ja, who sets out to seek revenge on the man who was responsible for the kidnap and murder of a 6-year-old boy whose abduction was blamed on her. It's brutal, hyper stylised and unashamedly violent throughout and a great example of South Korean cinema at its best, bringing back the themes from the previous two films under one banner – even if it feels more open and not quite as well refined.
A-
Doctor Sleep (2019; Mike Flanagan)
I watched the extended director's cut this time – making it almost three hours long split over two nights - having since the theatrical twice in cinemas previously, and was a very big fan of it. A chance to view it on home video was something that I couldn't possibly turn down –
Doctor Sleep
really excelled as Flanagan more than stepped up to the table for a continuation of Stanley Kubrick's legendary masterpiece
The Shining
. Bringing the world of the Overlook Hotel once more to life in a faithful recreation featuring a memorable performance from Rebecca Ferguson as Rose the Hat,
Doctor Sleep
confirms Mike Flanagan's status as one of the best horror directors working today – I can't wait for season two of
The Haunting of Hill House
. Like
Blade Runner 2049
it may have been ignored upon release in cinemas – but will hopefully join it in eventually being regarded as the epic that it deserves to be known for.
A-
Autumn Sonata (1978; Ingmar Bergman)
I've only seen one Ingmar Bergman movie that came out in the 1970s before and that was
Cries and Whispers
, aka my least favourite Bergman – so I was curious to see what another dip into the decade would do for the prolific filmmaker, and
Autumn Sonata
didn't disappoint. I've seen enough Bergman to know that whenever you put Ingrid Bergman & Liv Ullmann in the same movie you're going to be in for a treat – and they more than deliver putting in some of the greatest performances in cinematic history in a storyline that lives and dies on their delivery of realistic dialogue. It's uncomfortable to watch at times thanks to a strong subject matter; but it's richly rewarding.
A+
Treasure Planet (2002; John Musker & Ron Clements)
I've been meaning to watch more on Disney+ than just endless episodes of
The Simpsons
and
Star Wars
content (both
The Clone Wars
and
The Mandalorian
are my jam at the moment); so I turned to
Treasure Planet
and was pleasantly surprised with what I got – a steampunk remake of
Treasure Island
. It feels very early 2000s but with its striking animation and familiar storyline, I liked it. There's plenty of likeable characters that are fun enough to enjoy with villains that are easy to hate culminating in an epic conclusion that never fails to dissapoint. It's arguably the most underrated Disney film of the early 2000s - or at least, standing alongside the flawless
Atlantis: The Lost Empire
.
B+
The Daughters of Fire (2018; Albertina Carri)
This road trip film
The Daughters of Fire
explores a group of two lovers hitting the road across Patagonia with a third woman after getting involved in a fight against homophobes. It's a road movie free from the male gaze; rejecting the patriarchal concept entirely in favour of an exploration of polyamorous relationships that – as the titular
Daughters of Fire
- avoid the sense of possession and pain. It's a film that explores sexuality and representation with a quiet sense of anger and radicalisation running underneath it that couldn't be felt more clearly.
C+
Collateral (2004; Michael Mann)
Nobody should be allowed to do scenes on subway cars again because they'll never be as good as the ending to Michael Mann's
Collateral
, which builds upon the foreshadowing laid down at the beginning of the film and closes the loop in a grand, memorable style that establishes the director as one of the action movie genre's best auteurs. Like watching
Public Enemies
earlier this month; Mann delivers a sucker punch of an ending that only makes an already good film even better, and furthermore, he's managed to get a better performance out of Tom Cruise than any other director did in their career so far. An essential staple of the action genre.
A
Batman Returns (1992; Tim Burton)
I've missed watching a good Tim Burton film – and make no mistake about it,
Batman Returns
IS a Tim Burton film – possibly moreso than a Batman film – but in a good way. Batman Returns expands on Tim Burton's vision of Gotham City that we were introduced to in Batman, featuring Michael Keaton reprising the role as the Caped Crusader. This time we get Catwoman and Penguin thrown into the mix as well for Bruce to contend with, and the results are exciting as they come, with a sheer creativity in the film's set-pieces that most modern films have failed to match. The villains are what elevate
Batman Returns
above all else though; Michelle Pfeiffer's Catwoman is brilliant (how we went from this to Halle Berry's Catwoman is a tragedy), and Danny DeVito is more than fun replacement for Joker – and speaking of Joker, how rare is a Batman movie without Joker in it these days? It felt as refreshing as they come. I was never once bored watching this, and it captures a unique vision of Batman that has not been recreated since, echoing the scope of an opera brought to life.
A
Batman Forever (1995; Joel Schumacher)
Campy, cartoonish, yet not entirely a significant departure from the visions of
Batman Returns
– that would come with Schumacher's next entry,
Batman & Robin
–
Batman Forever
is surprisingly lots of fun helped by the sheer insanity that Schumacher brings to the table, much like Returns, it's never dull, and I think low expectations helped this movie a lot as well as the fact that there's nothing formulaic about it in the slightest. Although Val Kilmer's Batman is dull – and would be the worst were it not for George Clooney in
Batman & Robin
(and I couldn't care about Robin here either)–
Batman Forever
's main strength lies in its cheesy, over-the-top villains – Tommy Lee Jones and Jim Carrey are having the times of their lives as Two-Face and Riddler. It's not quite Batman's finest hour – far from it, but the film does have its moments here and there even if it hasn't aged especially well.
C
Contagion (2011; Steven Soderbergh)
It's a Steven Soderbergh movie so that means it's always going to be good - if not a great film. Full of an all-star list of cast names that includes Matt Damon, Laurence Fishburne, Kate Winslet and more among its number, the smartest thing that
Contagion
did was make sure that we know from the very first minutes of the film that not a single one of them is safe from the outbreak which claims its first victim and her son in the opening act; setting a dark precedent for what was to follow. Like all Soderbergh movies,
Contagion
is meticulously well researched to the point of perfection – and tightly paced keeping itself short and sweet from start to finish. It's a film that succeeds in making you as paranoid as possible, and it's no wonder in the current era that it has suddenly found a new degree of relevance and importance.
B+
Tron: Legacy (2010; Joseph Kosinski)
Part
Blade Runner 2049
, part
Ready Player One
and a whole lot of fun;
Tron: Legacy
is one of the best Disney movies of the last ten years or so and looks a whole lot more unique than most of them. It's a sequel that not only builds on its poorly aged predecessor but improves on it tenfold - there's no debate about it,
Tron: Legacy
looks stylish, ultra-cool and as stunning today as when it first came out a decade ago. This is a film that I deeply regret not getting to see at the big screen. The soundtrack, featuring a memorable score from Daft Punk is one of the all-time greats, electric and pulsating with energy from start to finish, and it's a rare all-CGI world that looks and feels completely believable and authentic. One of my favourite first watches of self-isolation so far; this was a film that I felt like rewinding to the beginning and hitting play as soon as I finished.
A+
Sisters (1972; Brian De Palma)
An Alfred Hitchcock homage from Alfred Hitchcock's biggest fan,
Sisters
is a brilliant mystery that's aided by a stellar dual performance by Margot Kidder as two Siamese twins, Dominque and Danielle. Alluding to plenty of Giallo classics, Sisters has a brilliantly crafted
Rear Window
-inspired set-piece as it hurtles towards its conclusion. Whilst most of the film is something that I really dug – I do have issues with it. The big reveal is hinted at too heavily in the opening act, and in addition to that,
Sisters
needed to iron out its pacing as it's a bit too messy in places.
B+
Blow Out (1981; Brian De Palma)
Blow Out
is a remake – but not a direct copy - of Michelangelo Antonioni's
Blow Up
mixed in with plenty of Hitchcockian influences as one would expect, starring John Travolta in the lead role as a sound guy for bad B-movies who, whilst out recording sounds, witnesses the murder of a man running for President and finds himself caught in the middle of a conspiracy that has life threatening consequences. Travolta's performance is up there with his best in the lead role (and it's easy to see why he would have gotten the nod for
Pulp Fiction
after something like this) – and the atmosphere of the film is once again brilliantly crafted by De Palma. Easily an improvement on
Sisters
, coming out just under a decade later –
Blow Out
is a finely tuned thriller with an ending that packs a powerful punch.
A
Carlito's Way (1993; Brian De Palma)
I liked this even more than
Scarface
(which personally, isn't my favourite De Palma).
Carlito's Way
is possibly the director's magnum opus; the best film of his that I've seen and the best kind of gangster epic. Like all of De Palma's endings – the finale has enough tension to leave you in constant suspense with an all-timer of a set-piece at a train station. Full of a brilliant usage of colours, music and sense of location and style;
Carlito's Way
arguably features the best performance of Al Pacino's entire career – giving the film a more empathetic and poignant touch as he gets into the head of ex-con Carlito looking to go clean after five years in prison. It's a powerful character study that will leave an impression long after you've seen it.
A+
Raising Cain (1992; Brian De Palma)
Made a year before
Carlito's Way
,
Raising Cain
is a considerably weirder horror film that whilst not quite being at the level of the former is still a fun romp helped by John Lithgow's performance in a proto-James McAvoy in
Split
-type role as a man with multiple personalities. With well-timed, smart jump scares that are actually scary and De Palma's unrivalled ability to escalate a situation in a matter of seconds from something otherwise ordinary to a life and death scenario;
Raising Cain
pulls you in from the get go and makes the most out of its more constrained runtime to turn a below average script into something that's more than watchable and incredibly thrilling.
B-
The Best First Viewings of the Month:
Local Hero
,
Tron: Legacy
,
Carlito's Way
&
Sympathy for Mr. Vengeance