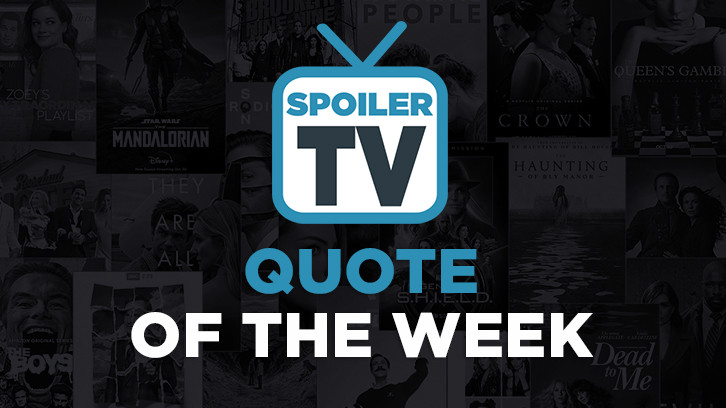 A weekly feature highlighting the best quotes on TV as picked by the Spoiler TV team. We'd love to hear your picks too so please sound off in the comments below.


1. Jack: "Plus Mason doesn't know kung-fu. And I'm a little racist for assuming that he did."
2. Josh: "You didn't just tell the truth. You punched her heart in the crotch." Dre: "What?" Stevens: "Since when do you listen to us about marriage? I've been divorced seven times, Josh has only been with a blow-up doll and Charlie is Charlie." Charlie: "He's right Dre. I'm Charlie."
3. Dre: "In a sucessful, loving marriage you get to know the other person so well, so intimately that you have the weapons to destroy them. Which is why you don't go there. Because it's mutually assured destruction." (Folie-lex)
1. Mike: "Honey you know, guys like Beau, the only way they can share their feelings with other men is if they are either completely drunk or about to die." Rio: "That sounds healthy." Mike: "You know, that gives me an idea. I know that after-prom is supposed to be a really sober event but maybe, I sneak in a little flask." Rio: "I think that is a good idea in some ways, but that's only if you're like super jazzed for Kay to just murder you." Mike: "I just feel like it's my duty as his friend to get him as drunk as possible so he can feel some feelings. Take our friendship to the next level. I just feel like if this moment slips away then I have to wait until he has a heart attack, or a stroke or something, maybe kidney failure."
2. Kay: "'Cause you speak the same language?" Rio: "Yeah!" Kay: "You were a New York slutbag, so that makes sense." Rio: "Well..." Kay: "And, I mean that with great respect." Rio: "Sure." Kay: "That couldn't have been easy." Rio: "Well..." Kay: "Unlike you." Rio: "Yes, yeah."
3. Constance: "Rudy!? Are you... are you online dating." Rudy: "I'm online. Once I agree to the terms and services the dating will follow." (Folie-lex)
1. Lauren: "So..um, how are you doing? Coming along?" Dottie: "What the stroke? Oh, don't worry about that. Half of my body doesn't work but all of it resents you."
2. Douglas: "That's good. You do not want to say rara to my sister. She does not respond well to rara." Kofu: "What happens?" Douglas: "Rara makes her a little cray-cray."
3. Gloria: "Oh yeah, that's a white person thing. They're always trying to find closure. You know how you find closure? Go down to the boxing gym. Talk to the husband of the woman your husband is screwing. Tell him where they're shacking up. Now that's closure." Kemi: "I love a story with a happy ending." (Dahne)
1. Javier: "Your sister projects onto the dog when she's feeling emotional. That is why Bijou and I went to couples therapy in Vienna."
2. Luis: "Do you want to hear what you want to hear, or do you want to hear the truth?" Jackie: "The truth. But... say it in a way that I want to hear."
3. Javier: "If you don't mind me asking..." Jackie: "I do. I have boundaries." Javier: "Apologies. Rhetorical device. I was trained in classical debate." (Folie-lex)
1. Charles: "Jake and Holt are the '92 dream team." Amy: "I know you're not talking about sports. So who do you think the '92 dream team was?" Charles: "Aladdin and Abu." Amy: "Right."
2. Jake: "I'll have you know that a dog's butt is cleaner than a human's mouth." Terry: "That can't be true." Jake: "Well a dog's mouth is cleaner than a human's mouth, and dog mouths lick dog butts, so you tell me where my theory is wrong." Terry: "..." Holt: "He has no comeback."
3. Charles: "The filling cabinet has more wins that me?" Amy: "Yeah that's how that works." Jake: "Yes, obviously." Holt: "As it should." Terry: "Guys, stop it. We're supposed to be celebrating Rosa here, not fighting." Rosa: "No, no keep fighting. It's why I did this." (Folie-lex)
Charmed -
1. Macy: "Growing up, as you know, I was alone a lot. So I had to learn to take care of myself, protect myself. So I pulled up walls, I am talking triple-layered solid granite barriers. To any kind of feeling whatsoever. I guess I thought it would make me feel safe. But now I realize I was just lonely... So then you came along. With your tea and cardigans and your relentless loyalty. And that little wrinkle in your forehead when yo

u're thinking really hard. I've tried, I've really tried to ignore how you make me feel. The way I feel every time I look at you- but I cant ignore it anymore, because the truth is you just didn't break through those walls, you'

ve melted them. And I am almost finished I promise. What I am trying to say, I've got so good at not needing anyone, I forgot what it was like to want someone. But I do, I want you, Harry Greenwood." (Marko Pekic)
Chicago Fire -
1. Stella: "Otis would not want you raising hell on his account." Cruz: "Actually, I think he would." Stella [considers this]: "I know." (KathM)
1. Annalise: "They want to come after me, call me an arsonist? Well, they better get ready because we're gonna burn every last one of those motherf*ckers down" (ABC bleeped it but it didn't make the scene less iconic. Everyone lost their mind in front of the TV. Annalise is ready to fight for her life! Thank God she can always count on Bonnie and Frank, especially since "the little bitches turned". We were so blessed to have Viola Davis on this perfect show weekly for 6 years. - Lip)
2. Ophelia: "That S.O.B.!" (Her outraged reaction when she overheard that Nate sold Annalise out to cut his own deal with the FBI was adorably funny. Ophelia shared some beautiful and even more meaningful moments with Annalise in this episode, but that moment was just priceless. No one can hurt her Anna Mae. - Lip)
3. Asher: "[...] You've all lost who you are. I can say that because it happened to me, too. We all got caught up in something much bigger than us. But you all still have good in you. [...] I just want you to move past this and get the future that you deserve... The future we all deserve... And the future we came to law school for, the future where we get to be the people that make the world a better place. Because I still think you can all be those good people [...]" (

Asher's been a huge part of the show since the beginning and even though I didn't like what he did, he was one of the few good people on the show and he didn't deserve to die. Things are getting heavier and more intense with every episode, the show is taking us to its grand finale and I'm not ready, AT ALL. - Lip)
1. Higgins: "You couldn't have chosen a different vehicle?" Magnum: "It was the closest one!" Higgins: "You know that isn't true. Robin's going to know if it's driven." Magnum: "Don't worry. I'll reverse the mileage like in Ferris Bueller." Higgins: "From what I remember from American cinema, that didn't end very well."
2. Magnum: "Look, just trust us on this one, alright? Haven't we earned that after the past couple of years?" Katsumoto: "At best, she has. Maybe." Higgins: "For the record Magnum actually wanted to call you as soon as we heard from Kumu. I was the one that talked him out of it."
3. Magnum: "It's working!" Higgins: "Really?" Magnum: "No, but this thing drives great in reverse."

Higgins: "How many more miles have you put on the odometer?"

Magnum: "Uh... Six...?" Higgins: "Six? Put the toy away Magnum. Playtime is over." (Folie-lex)
1. Adam: "Marriage is a marathon. And the lies are the bananas they give you every couple of miles. Without them, you'll never make it to the finish line." Joe: "I just came very close to hugging you."
2. Andi: "Okay what's the worst room in a hotel?" Marcy: "Ground floor, parking lot view. It's what we always get." Don: "I don't need an ocean view, when I got a Marcy view." Marcy: "Aw, that's sweet. I thought you were just cheap." Don: "It's a little of both."
3. Adam: "You just keep letting her take advantage of you Lowell and I can't stand it! Okay, I care about you, you are part of this family! And DAMN IT! WE LOVE YOU!" Andi: "Aw you did it. You yelled it, but you did it!" (Folie-lex)
1. Harrison: "Look, you guys always complain about the police. But be honest: if somebody broke in here and stole all your headbands you'd call the cops." Pauk: "Nope. They're just headbands. I can always weave more."
2. Paul: "I know you're not saying that..." Alicia: "That I might know a little more than you about this? Mhm! So let me handle it." Paul: "No. No way. If I don't understand something then teach me. But you don't get to tell me to not parent my son." (While I completely understood where Alicia was coming from with this, and I don't disagree that her wanting to take the lead was for the best, I do think her excluding Paul wasn't called for, and I'm glad he took a stand. - Folie-lex)
Modern Family -