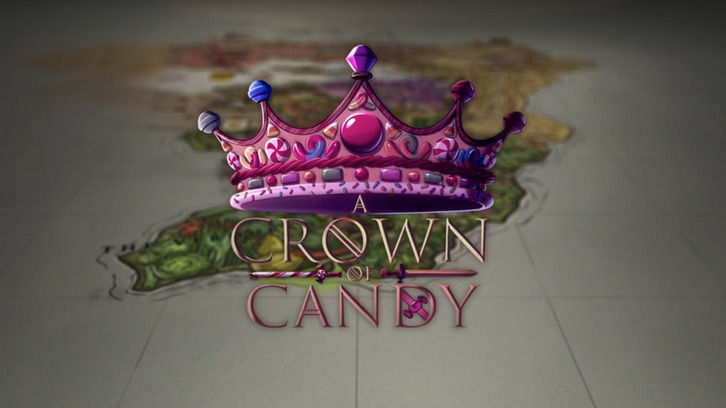 "Wind sweeps over vast plains and rolling hills of chocolate chip cookie fields. Here, in a vast realm of sweet things and peppermint forests, high in the distance, the northern peaks of the Great Stone Candy Mountains as swirling snowstorms of ice cream winds peel over the horizon."
It's a strange, fantastic visual, like what you might dream about as a 5-year-old. But to Dimension 20 fans, it's not just a fantasy - it's exactly what we've been waiting for.
"Spiring towers of sweet frosting and hard rock candy, the fortresses and battlements of ancient empires," Game Master Brennan Lee Mulligan continues. He's created this world, and the narrative inside it, and now he eagerly bestows it upon all of us.
This is Dimension 20 (D20 for short), the Dungeons and Dragons roleplay show on CollegeHumor's streaming service Dropout. It's wild, unlike anything you've seen before - certainly unlike anything we've covered here on SpoilerTV before - and it's wonderful.
"A Crown of Candy" is D20's 5th season, and the cast (in addition to Mulligan) is composed of show vets Lou Wilson, Emily Axford, Siobhan Thompson, Brian Murphy, Ally Beardsley, and Zac Oyama. This is no one's first go-round, which means that even in the face of candy castles and ice cream mountains, no one is out of their element. It also allows for us to be dropped directly into the plot and action of this season with minimal exposition, something which is helpful so as not to bog us down with heavy lore from the get-go.

While D20 seasons have previously shied away from the stereotypical medieval fantasy setting, "A Crown of Candy" departs from that pattern by being set in what is in most respects a surprisingly standard medieval high fantasy world. It's by far the closest universe to what is generally associated with D&D, but it could be argued that it is still in many ways the most creative premise this show has tackled.
The first episode begins by introducing us to the land of Calorum. Calorum, as described, is composed of six different food-themed kingdoms including The Meatlands and The Dairy Islands; names which inspire immediate curiosity, and, if I'm being honest, hunger pangs. However, our story is set in the realm of Candia - a sugary-sweet literal Candyland in the heart of Calorum. The citizens of Candia are also made of various confections, from a cake-man who acts as the King's right-hand, to a goofy band of SweetTart royal guards. This setting is where the D20 cast gets to play with the rules (as they are wont to do) and create something unique.
Speaking of unique, another thing different from previous seasons of D20 is that the main characters all not only know each other at the start of the story (something mostly novel to the full-season campaigns), but are closely and integrally related. Wilson plays as King Amethar Rocks, reluctant king of Candia, with Axford and Thompson playing his twin daughters, Jet and Ruby Rocks, respectively. Oyama plays the twins' prim, droning tutor, Lapin Cadbury, Beardlsey's character, Liam Wilhelmina, is a ward of the King and Queen and Murphy rounds out the cast as Sir Theobald Gumbar, Captain of the Tart Guard.
This difference is key to the viewer, because you can sense early on - and aptly so, as the season is being described as "Game of Thrones" meets "Candyland" - that there will be rife deception and betrayal in this season, and it will be savage. We don't get a ton of that juicy "Thrones" drama in the first few episodes, but even just the taste of it we do get is a promise of jaw-dropping moments to come.
That doesn't mean the beginning of "Crown of Candy" is in any way boring, however. Dimension 20 is great at delivering some of the most shocking plot twists I've seen in TV, period, and going in for it early (see: "Fantasy High" episode 2). There are certainly some edge-of-your-seat moments in "Crown of Candy;" the nature of which I have been sworn to secrecy, but would never elaborate on to begin with, because as seasoned fans know, the only appropriate way to watch a new episode is to go in blind.
Those aforementioned seasoned fans will be glad to know that the Non-Player Characters in this season are supreme; Mulligan was obviously (and pardon my pun) a kid in a candy store creating the world surrounding our central group of saccharine adventurers. There are an abundance of fun side characters here, and some of my favorite moments from the first two episodes come from the main characters' interactions with them. I have no doubts that many will become new fandom favorites, and am currently placing personal bets on which.

As fun as the story itself is, however, the largest round of applause must be set aside for director Michael Schaubach, production designer Richard Perry and the rest of the show's production team. The extensive detailwork of the entire team is a crucial and prevalent part of the allure of the world of "Candy," and the show would in no way be the same without it. "Vibes" are a major factor in every season of D20, and this season they are daresay perfect, thanks to the behind-the-scenes crew.

To close on a more personal note, It feels like a gift to get to write about a show that you can tell was made with this level of passion; everyone involved clearly loves doing what they're doing. In addition, the storytelling presented in D20 is a paradise for lovers of good narrative: always organized and executed excellently; allowing the improvisational elements of the show to flow naturally from the written ones. It's this that places this show (and others like it) in a fascinating gray area; not a reality show, not fully a scripted series; allowing for a creator-audience connection that feels one-of-a-kind.
Part of the genius of Dimension 20 is that the cast is composed of professional writers; they both know how to make and are completely dedicated to creating a good story. We are watching them write and enact a story in real time, and their comedic backgrounds allow them to be quick to come up with dynamic ideas, and comfortable running with them. The only thing I can liken it to is witnessing a sitcom writer's room roundtable as it's hurtling down a racetrack at 500 MPH. Everyone on screen is whip-smart, understands how to spin a tale, and is just as invested in the result as we are. In a very real way, D20 is storytelling in its barest form. Now can you tell why I love this so much?
Dimension 20 Season 5 premieres this Wednesday, April 8th at 7pm EST / 4pm PST on DROPOUT.tv and the Dimension 20 Youtube Channel. Episodes will be available after they premiere exclusively on Dropout. For more on "A Crown of Candy," you can watch the official season trailer below, or follow Dimension 20 (@dimension20show) on Twitter, Instagram and Facebook.
What are you looking forward to in this season? Any predictions? Let me know down in the comments!
And here's a few vague "spoilers" to get you through the next few days:

Ally keeps their head about them.
"Theobald, I order you to dance!"
Blackmail is briefly involved.
"Go off, Dippins!"