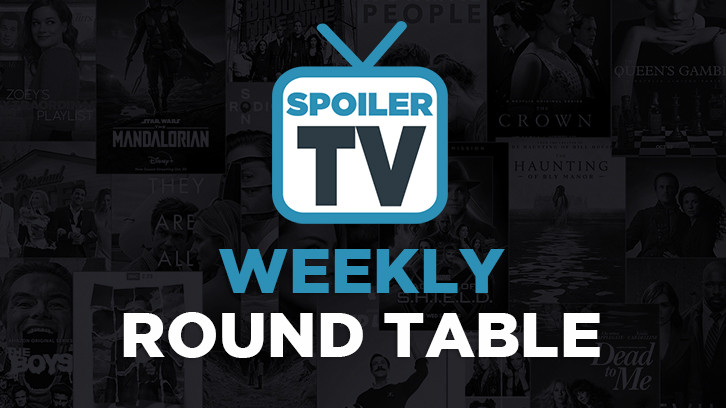 Hello and welcome to a new edition of SpoilerTV's Weekly Round Table! Joining us this week is DarkUFO, Beth Whitley (BW), Milo M-J (MJ), Dahne (DH), Katherine Meusey (KM), Alejandra Molina (AJ), Lisa Macklem (LM), Giulia Del Buono (GB), Cecile (CL), Abby Crofton (AC), Jamie Coudeville (JC), Bex W (BX), SarahR (SR), Prpleight (JH), María Sol (SO), and myself (ZF). You just have to sit back enjoy the read and join the discussion in the comment section down below.

DarkUFO:
LOST
The first show I ever binged. Downloaded the whole first season and burnt on DVD. Me and the wife binged the whole season 1 less than a week! Still my favourite ever show.
Beth:
Prison Break
for sure. It has so many twists and turns that you just have to keep watching.
Milo:
Going to recommend something different here; the 80s computer drama
Halt and Catch Fire
which grows from its
Mad Men
influences into becoming something wholly original - and arguably superior - it's much more than just a simple office drama. Casting an often unseen look on the lives of women protagonists in the tech industry and boasting memorable performances by Mackenzie Davis and Kerry Bishé,
Halt and Catch Fire
shines. An unexpected highlight is its carefully curated soundtrack, full of legitimate BOPS from the era. This show goes from strength to strength, culminating in an emotionally heartbreaking final season. The cast across the board - beyond just Davis and Bische, also excel, with Lee Pace, Toby Huss and Scoot McNairy impressing.
Dahne:
Battlestar Galactica
is the most binge-able show I have ever seen. It is perfectly laid out for binging because the end of one episode leaves you hanging on for the next one. It is seriously addicting.
Alejandra:
It's Always Sunny in Philadelphia
. The episodes are 20-22 minutes each, the seasons are short and it's the perfect chaotic comedy to watch, I watched the entire show in a week while I was in college and it's just perfect for binge-watching.
Lisa:
12 Monkeys, Downton Abbey, Game of Thrones
- wait? Was I only supposed to pick one?
Giulia:
I would say
Euphoria
. It's the show that caught my attention the most. I have only good things to say about it, I couldn't find any flaw while I was watching it. The cast is incredible and the writing is top-notch. I highly recommend it.
Cecile:
I've been (re)watching
Gossip Girl
on Netflix, and honestly, it holds up? Maybe it's because I don't have to wait a week between episodes this time, and I do have to suspend disbelief on a lot of storylines and how they are written (honestly, they fall in love with different people every week), but it's been a good distraction to escape reality. I'm now quite excited about the remake.
Abby:
Galavant
, which I just saw is on Netflix. Two seasons of musical absurdity.
Jamie:
I'm not really a binge person so this is a tough one for me. If it's mainly about the shows that I couldn't get enough of it would be:
12 Monkeys, The Vampire Diaries
(followed by
The Originals
),
Looking For Alaska, Agent Carter, One Tree Hill
, ...
Bex:
Timeless
is an easy 28 episodes of history, social issues, and sci-fi, with a satisfying conclusion. I'm finding myself revisiting 90s sci-fi and getting caught in the 'just one more episode' trap with SG-1, X-Files, Farscape, and Voyager.
Sarah:
I do like binge-watching shows, my only problem is that I'll binge almost an entire show and then suddenly stop and start another show. I'd say
White Collar, Criminal Minds, Leverage
, and
Lie To Me
are the ones that really hooked me. There are loads more I could suggest but it would take too long to list them all!
Prpleight:
I've been responding to this kind of question with the shows I recently binged (
Eureka
and
Teen Wolf
), but peeking at a few other writers responses I'm going to change my answer to a couple of shows they're inspiring me to binge.
Battlestar Galactica
and
Lost
.
María:
Once Upon a Time
. Even when at first it hadn't caught my attention and it took me to start it a couple of times, once I watch a few episodes I couldn't stop, so if you like some fantasy and adventure mixed with romance and (mostly) happy endings, this show could be a good option for you in this times of uncertainty. Other shows that I find worth binge-watching are
The 100, Agents of SHIELD, Lucifer, Macgyver
, and
Magnum P.I
.
Zoé:
Doctor Who
, no doubt. It's fun and endless. Once you get through the 12 series of the revival, there are 26 seasons of the classic show, endless comics, audiobooks, novels, etc. Once you get into it, you'll be endlessly entertained.
Beth:
I would argue that model is better. When fan reactions carry too much weight into a show's decisions, it is a slippery slope.
Milo:
It ties down the cast and actors to a series and guarantees that you have something to work with in the future in the case of a writer's strike or any major event that might delay new series being filmed. It keeps actors and writers under contract and happy - knowing that they have a second season ahead. Whilst it loses fan input over directions that series could take, fan input is always a mixed bag and there's a danger of listening to them too much, which is the trap that
The Rise of Skywalker
fell into, along with
Arrow
to a certain extent. I would prefer ultimately that the writers remain true to their original vision whilst taking on new ideas here and there, but becoming totally beholden to fans is never a good thing.
Dahne:
To be honest, I'd rather see less catering to the loudest social media fans when writing TV. It tends to hurt a show more than help it. However, from a business standpoint, the more you shoot before gaging the ratings, the riskier it is.
Alejandra:
The pros of shooting a new season would be that you can plan bigger character and plot arcs and continue them from the past season without waiting to be in the bubble for renewal, but one of the cons is that sometimes some things don't work well within the show so fan response sometimes is good to hear to see if you can maybe change it or not.
Lisa:
The pros of shooting seasons back to back allows productions to save money and ensure they can keep their cast. It also allows actors to stay in character more easily. You often see actors struggle a bit in the first episode or 2 after a lengthy hiatus to recapture the character. I think it's a benefit to writers not to listen too closely to fans sometimes. I think it's more likely that they will also be able to keep the spark going that fans fall in love with in season 1 without a lot of nit-picking...
Giulia:
I think that the biggest pro is the chance to have more time to plan the following season.
Cecile:
More than fan opinion, which is too subjective, I'd wager it's dangerous to shoot too much too soon before you get critical reactions.
His Dark Materials
shot 2 seasons and season 1, um... left a lot to be desired. While I'd rather the writers, of course, maintain their vision instead of being influenced by fandom (
Glee
...) there's no way to course-correct if you shoot several seasons in complete autarky.
Jamie:
I guess it depends on where they are when it comes to shooting. If they're still shooting, I think it's cheaper to go right into the next season. But, I don't know, I think sometimes it can backfire on the network if the show doesn't do as well as they'd hoped.
Sarah:
There are good things about silently renewing shows but also really bad cons. Streaming shows possibly have the money to make lots of seasons but it's becoming a massive waste if the audience don't like or want to watch the show. On the other hand, it means that if you enjoy the show then there isn't a massive gap in between seasons.
Prpleight:
A hard lesson I learned, during the early days of digital fan bases, is that the loud majority isn't the majority of viewers. Every time I've seen a show bend to the will of those loud fans rather than follow their instincts as the creators, the show has suffered. I prefer that, even if I may not agree with story choices, the writers do not give up control over their creation. I don't believe the show's creators should be collaborating with the audience. Having a season in the can before it airs guarantees the writer's vision is what the audience enjoys.
Renewing a show too soon isn't always a great thing. There have been a couple that have seen their audience erode after 3 or 4 episodes have aired. That doesn't seem to bode well for the money-making aspect of season 2. I suppose the financial gamble is worth it for them to keep taking that chance.
And, with all of that said, we've suddenly found ourselves in a situation where some shows don't have new episodes ready for broadcast because of the effect that Stay-At-Home orders have had on post-production. This certainly makes having the full season in the can an advantage.
María:
I think it could be a bit risky to renew a show without knowing how the audience will react to the story, characters or production in general, cause if there's more seasons already made, there wouldn't be a lot of room to make big adjustments, beyond fan service.
Zoé:
I think there's a point where listening to fans could be a good idea. Sometimes, there's something that just isn't clicking with the general public. But, it is important for the writers not to be swayed by petty opinions, which could occasionally happen. I think the writer's initial vision is important.
DarkUFO:
No. I think it's next to impossible to see how.
Beth:
I want to be positive but I just can't see how they can pull it off especially when a bulk of it is show panels and presentations. How can they do it when everything is in limbo? Pilots were not able to shoot and show's didn't finish production. There isn't really a way to have a fulfilling con with huge pieces missing.
Milo:
I don't think so, sadly, although I want to be optimistic. The UK has just lost a lot of music festivals in May and June - All Points East and Lovebox among them, which I was due to go to, and with SDCC taking place in July cancellation will almost certainly be unavoidable.
Dahne:
Not unless it is postponed until Christmas. I think Com-Con is another victim of the coronavirus.
Katherine:
I don't think there is any possible way for Comic-Con to go on this year. It's such a huge event and people are squished in like sardines. The organizers may want to consider some pay-per-view things for people to watch, or some shows could have virtual panels where "attendees" could ask questions. I strongly suspect we won't see Dragon Con, either.
Alejandra:
As of how things are looking I think SDCC will be cancelled or postponed this year. They wouldn't benefit from doing virtual panels, and it wouldn't adhere to the safety instructions of social distancing either way.
Lisa:
Not a chance.
Giulia:
No, it won't. It won't be postponed either. It would be too much of a risk, too many people, too many crowded places. The most difficult part is when the virus will be under control; we'll all have to change our way of living.
Cecile:
I think after the IOC finally decided to postpone the Olympics, it pressured a lot of other big events to follow suit because it's increasingly difficult to justify a "wait and see" stance for events happening before August now, even if I understand wanting to maintain because of the sheer cost and impact of postponing/cancelling. SDCC can't happen the way it's currently planned, and I don't think it can be postponed a few months, either. The fall calendar is already pretty full with movie festivals and other cons (if they can happen, that is...), so likely July 2021 for now.
Abby:
No, the US hasn't even reached the worst of the pandemic yet according to experts. Sponsors will start dropping out and they'll cancel.
Jamie:
Not a chance. If the Olympics are getting postponed than this one is also not happening. But I'm assuming that like the summer festivals here in my country, the organisers will try to wait as long as they can before they cancel it.
Sarah:
Unlikely, but it'll depend on what the virus does in America but if it follows the same path as China and/or Europe then it definitely won't happen.
Prpleight:
From what I've read about countries like China and their approach to returning to normal. It's not a matter of one day we're on lockdown and the next day we're free. Right now, I doubt that, by July everything in the world will be back to normal. Especially considering how difficult it has been to get some people to cooperate. So NO, I don't think there will be a Comic-Con this year.
María:
The best-case scenario would be to reschedule the event to a later date, but most likely it will be postponed till next year. TBH, even if the pandemic gets controlled over the next couple of months, it will take a bit longer for most people to feel safe out there and in the middle of big crowds.
Zoé:
I had hope until the Olympics got cancelled.
Home Before Dark (AppleTV) : 2020-04-03
Tales From the Loop (Amazon) : 2020-04-03
Run (HBO) : 2020-04-12
The Baker and the Beauty (ABC) : 2020-04-13
Mrs America (HULU) : 2020-04-15
Outer Banks (NETFLIX) : 2020-04-15
Defending Jacob (AppleTV) : 2020-04-24
Penny Dreadful: City of Angels (Showtime) : 2020-04-26
I Know This Much is True (HBO) : 2020-04-27
Trying (AppleTV) : 2020-05-01
Hollywood (NETFLIX) : 2020-05-01
Betty (HBO) : 2020-05-01
The Eddy (NETFLIX) : 2020-05-08
The Undoing (HBO) : 2020-05-10
The Great (Hulu) : 2020-05-15
Hightown (Starz) : 2020-05-17
Stargirl (DC, CW) : 2020-05-19
Snowpiercer (TNT) : 2020-05-31
DarkUFO:
I'll be checking out
I Know This Much is True, Penny Dreadful COA, The Undoing
, and
Showpiercer
.
Beth:
I will be checking out
Baker and the Beauty
,
Defending Jacob
and
Hightown
.
Milo:
Bong Joon-Ho's
Snowpiercer
is a favourite film of mine so I'm down for a re-imagining - I strongly urge anyone thinking of watching the series to check out the film first before they check out the series though. Likewise, I'm a massive fan of Damien Chazelle, so I'm totally here for
The Eddy
and now that we're all sitting at home doing nothing those longer episode numbers look positively IDEAL. HBO's
Run
has my attention too, featuring Phoebe Waller-Bridge as an executive producer and the all-star collaboration of Merritt Wever and Domhnall Gleeson makes this show an absolute must-watch. I'm very interested to see Chris Evans' post-Captain America turn in
Defending Jacob
(hopefully better than Robert Downey Jr's post-Iron Man venture in Dolittle) as Apple+ have a good grasp on quality control at the moment and
Stargirl
looks like it could be a blast - hopefully more in line with
Legends of Tomorrow
than the grounded, down-to-earth shows like
Arrow
and
Batwoman
. And given how good
Penny Dreadful
was,
City of Angels
has had me on board from the word go.
Dahne:
I will check out the new network shows but that's probably it. I don't have legal access to most of the others.
Alejandra:
I will be checking out
Defending Jacob
because the trailer interested me, I love some good crime and mystery stories, and I'm also curious because of Chris Evans and Jaeden Martell's acting skills. I feel like this miniseries has a lot of potential and I'm interested to see how it plays out.
Lisa:
I'm reviewing
Broke
- and love Jaime Camil. Definitely like the looks of the new
Penny Dreadful
. And I'm sorry to admit that I've been so busy that I'm not even sure about anything else coming up - but I will say that
Stargirl
looks terrible and given that the movie of
Snowpiercer
was dreadful, I won't be checking that out either.
Giulia:
Mrs. America, Mrs. America, Mrs. America
. I mean... that cast!!! I'm also pretty curious to check out
Run
.
Cecile:
Run
(PWB!!!) and
Mrs. America
.
Abby:
Just
Tales From the Loop
(Amazon) for me. Looks like it could be really good or really boring.
Jamie:
Just
Stargirl
for me. I was kind of hoping
Shadow and Bone
would be coming soon since you can already find it on Netflix (without a date or anything else) but no release date yet.
Sarah:
I don't recognise most of the shows on the list but I'll try and watch
Defending Jacob, Penny Dreadful
spin off,
Stargirl
and maybe
Snowpiercer
.
Prpleight:
Nothing on the list is screaming at me. I have a friend who, if she has showtime, will be checking out
Penny Dreadful: City of Angels
. I will probably checkout
Stargirl
. I
might
checkout
Tales from the Loop
.
María:
I haven't heard about most of the shows listed, but I'm thinking of checking
Broke
, since Jaime Camil is in it and I kind of liked the trailer;
The Baker and the Beauty
, though I didn't like the trailer that much; and
Snowpiercer
, even if haven't watched the movie but I've heard good things about it.
That wraps up another round table! Feel free to drop your thoughts in the comments below. See you next week!