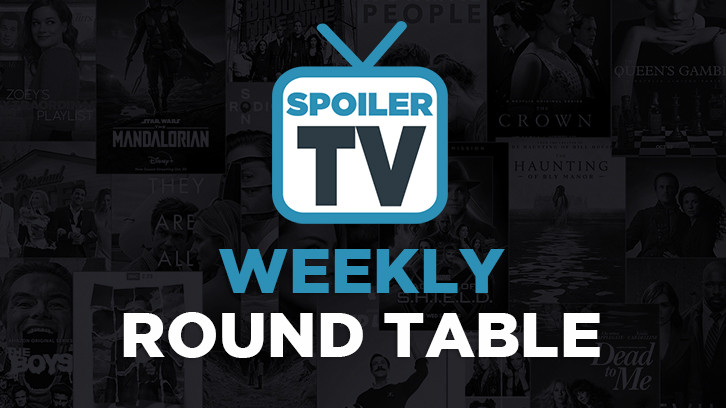 Hello and welcome to a new edition of SpoilerTV's Weekly Round Table! Joining us this week is Prpleight (JH), Vaughan Grey, Eve (EV), Milo M-J (MJ), Jamie Coudeville (JC), Abby Crofton (AC), Alejandra Molina (AJ), Giulia Del Buono (GB), María Sol García (SO), and myself (ZF). You just have to sit back enjoy the read and join the discussion in the comment section down below.
What shows have you been watching during your social distancing?
Prpleight:
Mostly, I've been catching up on my regular network shows. They've been stacking up as I work on my reviews. I've also been watching a lot of stuff on Netflix and Amazon Prime. Amazon Prime has a lot of classic shows...great for watching while I'm working. I can focus on work and just listen to the show.
Chuck
,
Eureka
,
Bedlam
,
Detective Anna
. High on my list has been
Scooby Doo!: Mystery Incorporated
. I watched the original and the bulk of the newer versions missed that subtle thing that made it what it was. This one nails it.
As I'm writing my answers to this week's questions I started playing
Ragnorok
. Ep 1 just finished and I'm hooked.
Vaughan:
I am finally starting to catch up with the multitude of series and features on Netflix, Apple TV + and Hulu. Highlights include the 3rd season of
Castlevania
,
Bloodride
,
Ares
,
Luna Negra
,
Devs
,
Ragnarok
,
October Faction
,
Servant
,
For All Mankind
, and
Medical Police
.
Eve:
I can't really say I have a lot more time on my hands to watch shows as I'm working from home now for 8 hours a day. Dinner dates, cinema nights, visiting friends and family are no longer an option at the moment so this frees up some time in the evenings and weekends.
In these stressing times I needed something lighthearted that doesn't require a lot of thinking so I binge-watched Netflix's
The Circle
, a reality show that is very current right now. 6 people are in a building, separated in their own apartments. They only communicate through chat with online profiles. It's kind of an online popularity contest. Some people are catfishes, they are pretending to be someone else.
I'm also using this time to catch up on
Outlander
, I left off at the beginning of season 3. Trying to catch up quick so I can watch in real-time.
To feed my more intelligent part of the brain I'm very happy that HBO's
My Brilliant Friend
returned for season 2. The first episode of
The Plot Against America
was promising and I will continue. I can't wait for
Ozark
season 3 which is arriving this week on Netflix. It will probably be binged in a weekend. I also watch a lot of documentaries on Netflix, last weekend I saw
The Pharmacist
and
Tiger King
.
Milo:
Some of the highlights for me have been weeklies as well as streaming. Three of my weeklies -
Race Across the World
,
My Brilliant Friend
, and
Westworld
have returned to be as gripping as ever -
Race Across the World
in particular is especially entertaining for a reality show: think a travelogue by way of
The Amazing Race
. BBC's new young adult drama
Noughts and Crosses
is proving to fill that fantasy void, and
Star Trek: Picard
is excelling week after week. That's before we even get into the shows I'm binge-watching like
Star Wars: The Clone Wars
&
Star Trek: The Next Generation
.
Jamie:
Well, since I'm still working 8 hours a day (from home) and I never had much of a social life in the first place, it hasn't exactly given me that much more time. Aside from my weekly shows, I'm currently trying to get through
Elite
S03 and
On My Block
S03, after that, I'm doing
Altered Carbon
S02. I want to start
The Witcher
and
The Morning Show
as well in the next few weeks. I should be unemployed in about 6 weeks and since I can't exactly go out on interviews for a new job, it seems like I'll have plenty of time of my hands then. So, ask me again in 6 weeks. It's a shame Disney+ isn't available yet in my country.
Abby:
I'm watching Netflix's
Lost in Space
- the Robinson's are the ultimate social distancers. My Hulu connection has been a little spotty so I'm also watching some over the air stuff,
Price is Right
and
Strongman Champions League
are two things I normally wouldn't watch.
Alejandra:
I have been watching
Silicon Valley
and it's really funny so far, every episode leaves me laughing so much my face hurts. I also have been catching up with my weekly TV shows, mostly comedies.
Giulia:
Chilling Adventures Of Sabrina
Part 3. I had started watching it when it came out, but then stopped. I am really enjoying it so far. It's taken a new direction and I am liking it so far. Plus, I needed my daily dose of Zelda Spellman to make my days better.
María:
I've just started doing home office this week so I haven't had the time to watch many more shows than I normally do (nor that I will have many time since I'm going to still be working from home). Right now I'm just catching up with
MacGyver
since I have stopped watching it around half of season 2, and I'm also catching up with
God Friended Me
. If I have some extra time these days I'm planning to start watching
Hawaii 5-0
and
The Witcher
and maybe some other show that crosses my path.
Zoé:
I've been really enjoying
Prodigal Son
the past week. It's been on my watch-list for ages, but I've been ridiculously busy for nearly a year now. I'm finally able to work down my list!
As predicted last week, the cinemas have moved online! Anyone can watch Onward online for $20. Do you plan on using these kinds of services? How do you think it'll impact the way audiences consume movies?
Prpleight:
Probably won't. I haven't been to a regular theatre, without someone insisting I go, for years. The home theatre phenomenon has resulted in far too many rude people. So, when I wanted to go by myself I would go to a Sunday morning matinee when there would be only 10 people there. Now, I'd rather sleep in. Then ticket prices started going up.
Vaughan:
I was lucky enough to see
Onward
in an AMC theater the day before the theaters shut down (it ended up being a private screening since no one else dared to show up when I did). I wasn't surprised that the current crop of non-Amazon backed features ended up on...well, Amazon Video a few days later since their theatrical runs were cut short, but $20 to watch the new
Invisible Man
remake when it was #1 at the domestic BO for its 1st two weeks was a little shrewd. I kind of get that Disney would automatically price
Onward
on VOD for roughly the same price parents would pay for one evening IMAX 3D ticket since #1: the film's opening got screwed over by the initial virus panic, #2: their legion of family entertainment seekers will pay virtually anything to keep their kids amused for a few hours and $20 is a bargain to view multiple times for 48 hours for everyone in the house compared to what any first-rate theater will charge, and #3: they wisely know that their audience wouldn't dare wait an extra month for a Pixar feature on their streaming service, even if they already saw it in the theater before they were shut down. This was a smart move on Disney's part (even if they didn't really have a say in the matter) since they need reasons to continue to condition their audience that watching first-rate features at home on streaming is not something to be avoided. Doing this will allow features like
The Hunt
and the new adaptation of
Emma
that normally would be forgotten at the B.O. to be appreciated by the internet/social media crowd earlier than usual. I've never understood why those people wait for so long to discover those niche types of films, almost like they purposefully avoid them in the theaters. Now, they will not be defined by B.O. gross and, instead, be remembered as martyrs of the Corona era. I have been using Amazon to view indie horror films that are in theaters on streaming for years now. $20 is actually cheaper for most since they won't be spending more on parking and concessions (plus, no more rude people texting, talking, and running in and out of the auditorium). The stigma of straight to VOD will probably be permanently extinct once the Academy has to rule that this year's features qualify for awards even if they didn't play in a cinema in LA, and that is what appears to be happening in the foreseeable future.
Milo:
Don't think so, people will still want to watch movies on the big screen if and when things go back to normal, speaking as someone who works at a cinema. $20 is still too expensive if just one person wants to rent a film - this is only really beneficial if you're watching it in a large number. People will still want to watch films like
Black Widow
,
Wonder Woman 84
,
No Time To Die
, etc on the big screen and films also can't go purely digital - studios would make too much of a loss that way. It also opens the risk of films being pirated a lot easier. The best thing to come out of films being made available to stream instantly is that those who live in remote locations will potentially be able to access films sooner that aren't necessarily playing in their local cinemas, but we'll see how that plays out and whether the smaller films are released as quickly as the bigger ones.
Case in point: I'm still waiting to watch
Misbehaviour & Fantasy Island
so I wish companies would hurry up and make those available online - and hopefully this leads to companies making their films come out in different countries at the same time too... the wait for my most anticipated film of 2020,
Kelly Reichardt's First Cow
, is going to take even longer at this rate.
Jamie:
I wasn't even aware of this. The only thing I noticed was that
Onward
did indeed pop up online. I'm not sure what the options for that are in my country but if I can watch
Black Widow
on my couch without having to deal with other loud and annoying people, I'm all for it. I do think it'll have an impact, especially if these lockdowns last a few months. Once people get used to something, it'll be hard to take it away again once everything goes back to normal.
Abby:
There are too many things on the subscription streaming services to watch, so I'm not quite at the point of paying extra for movies.
Giulia:
I would really like to see Emma. It was supposed to come out in March here in Italy. So I think I would use it for that. But it's true, there are a lot of streaming services out there with too many shows and movies. And Disney+ arrives tomorrow in Italy, so... hello,
Captain Marvel
!
María:
I'm still not sure if this is going to apply in my country, but I'll certainly check it out. Anyhow, is not like I go that often to the movies, and also I think there's already a lot of options out there in the streaming services I already have access to, so maybe I'm more inclined to catch up in some movies that I've missed in the past months. Though, I think this will definitely have an impact on the audiences and maybe in the future will all have the option to watch a new release from our homes.
Disney+ and AppleTV+ have been defying the binge-watching culture that Netflix created. Which method of TV consumption do you prefer and why?
Prpleight:
DC Universe uses the same paradigm. I thought I would be a gung-ho 'everyone upload a full season' superfan but I think I'm good with the mix. Having to wait for the conclusion of a cliffhanger episode can be frustrating, for a couple of minutes, but I enjoy the anticipation. On the other hand, binging a season in two days then having to wait a year or more for the next season comes with its own frustration. It's nice to be able to take 6 to 22 weeks to enjoy a show rather than slurp it up in just a few days and be done.
Vaughan:
I used to say I prefer binge-watching the whole season like a novel since it allows me to decide when to watch and put the whole season down (if at all), but lately we have been so inundated with streaming shows that I cannot help by just limit myself to one episode per show per week just to be able to keep my sanity while keeping up with the latest series. I actually only am watching one or two episodes of certain new Netflix shows just b/c I want to also check out whatever Apple + or Hulu or Amazon is putting out literally the same day. There are only so many hours in the day/night. Plus, they are also releasing all of the feature films now, so brevity might be the soul of streaming for the time being (ask us again in six months when all of the networks start having to reschedule their releases b/c they are rapidly running out of material due to Corona-pocalypse delaying their latest productions).
Eve:
I prefer to have my shows released online in one go. Just drop the whole season and let me decide in what speed I want to watch. This doesn't necessarily mean I will watch it all in one go. It took me about 3 to 4 weeks to watch Apple TV's The Morning Show. Sometimes you watch 3 episodes in a row and then you leave it for a week before you continue. If there is one week between each episode I tend to forget things that happened. It makes it a bit harder to catch up on where the storyline ended a week ago. And let's be honest, I don't want to wait a whole week when an episode ends on a cliffhanger, I'm not that patient.
Milo:
I prefer the weekly episodes - it keeps shows in the conversation for longer - people were talking about
The Mandalorian
for months in comparison to even shows like Netflix's
Stranger Things
where the conversation is over in a few weeks and people have moved onto the next show. It means that we don't risk falling behind on new content and makes it more manageable - and whilst I do think it works for some shows rather than others; for example, I think a week's wait for a new
Dickinson
episode would kill me,
For All Mankind
feels perfectly paced and it's all about finding the right balance.
Jamie:
I prefer weekly, because I've never been good at binging. Especially not in the middle of the regular TV season. How do you guys find the time? And it always bothers me how quickly people start posting spoilers for 13-episode-seasons. Give people the time to watch it. Some of us have jobs, you know. With weekly, you only have one episode a week to catch up on which is much easier. Plus I feel like it's better when it comes to creating a fandom. There's more buzz, I believe, between the episodes than that there would ever be with a binge release. Just look at how long people talked about
The Mandalorian
. Do you really think it would've lasted as long if the episodes had been released all at once?
Abby:
I always liked the anticipation of waiting an entire week for a new episode of a show, especially if there was a cliffhanger. I think an entire industry developed around talking about the next episode of
Lost
back in the olden days.
Alejandra:
I love Netflix's method of dropping the entire season at once, mainly because I feel like that way you really focus on the plot and don't forget some details like in weekly shows.
Giulia:
I have always been a fan of weekly episodes. I don't mind the anticipation. I am also not complaining when it comes to binge-watching. It probably depends on the show. For example,
Mrs. America with Cate Blanchett
is coming soon, and I would love for them to drop every episode, but I know that will not happen and that's okay.
María:
I think I don't have a special preference here. I'm ok with watching a weekly episode like we got used to with "normal" TV, because that gives you more expectation of what's coming but I also like to have the option to watch as many episodes as I can.
Zoé:
I think it really depends on the show. Overall, I prefer weekly, because a big part of my love for shows involves the community around it. The weekly schedule gets everything thinking and talking while waiting for the new episode. There's threads about a little glimpse of a promo, etc. And, as mentioned above, it keeps the show buzz going for so much longer. But on the other hand, I think some storylines are better fit for the binge-structure.
Stranger Things
, for example, is structured to be more of an 8-hour movie than a TV show.
A big worry with both weekly and binge-structured shows is online spoilers. Some say that live-tweeting is their way of expressing their love for the shows and that people who haven't seen it yet should not go online if they want to avoid spoilers. Others say that they should be able to go online without the constant fear of being spoiled for a show they haven't had time to watch. Which side do you fall upon and why?
Prpleight:
I am firmly on the side of spoiler warnings. I think the real issue here isn't to spoil or not to spoil. It saddens and annoys me that there are people whose intention is to spoil people's fun. Spoiler warnings let everyone enjoy it. If you like spoilers, read them. I generally love them myself. I will go looking for them. But my cousin and best friend hate them. I do them the courtesy of not telling them any spoilers.
Giving people a little warning is a way for everyone to be happy. If you don't want spoilers you can skip live-tweeting or save posts to read after you've watched. If you do enjoy them then read away.
Vaughan:
I personally don't care if an episode is spoiled for me (I know I'm in the minority on that one). I am more interested in watching the performances, editing, production design, writing, directing, how the episode feels, basically what leads up to the aforementioned spoiler. I do not live-tweet because I cannot stand reading strangers' vapid thoughts that are different than my own. It manipulates my own reactions and sometimes makes me think like I am on a different wavelength than everyone else (TV viewers say some of the dumbest things live without thinking about what they are typing and some are seriously prejudiced and closed-minded). Plus, I am on the west coast and the east coast people's reactions are already several hours old by the time the episode airs, which is kind of like finding a trail of used condoms by a cemetery. It was something I discovered when I was covering
Under the Dome
all those years ago for another blog I was on and not much has changed since, sadly. So, I guess live-tweeting will always be an acquired taste and online spoilers aren't going away anytime soon, so matter what side of the coin you fall on, so I guess become more well-rounded and less reactionary if you dare go online for any news at any time. Seriously, it's not like everyone who watches shows go online anyway.
Eve:
You can't prevent people from discussing a show on social media they've already seen. It's their right. I think it's just a risk you have to live with if you haven't had the time to watch something immediately when it is released. If you don't actively look for info on a show you can prevent yourself from seeing major spoilers. Just be careful when checking your Twitter timeline and ask your friends nicely to be careful when discussing a show.
The world will not wait for you, it goes on and on. Keep up!
Jamie:
You know, there used to be an unspoken rule that you had to wait at least 12 hours after the release before you could post spoilers. Not sure what happened to that. When the show is released at 2am my local time, I'm asleep and then I have to go to work and I can't watch it until 7pm my local time. That's 17 hours later. And it would be great if I didn't have to avoid any and all social media during those 17 hours. At least tag your spoilers or post a warning.
Abby:
No sympathy if people are on social media or entertainment sites if they haven't seen an episode. I wait a few days to watch shows and as soon as I see any mention of a show I haven't watch I click away. But I'm not a big social media person, so it's probably easier for me to avoid spoilers that way.
Alejandra:
I fall on the live-tweeting side, if it's on Twitter people usually tag their live tweets with the show tag so people who don't want to see it can just mute the word. But I feel like live-tweeting is a way of engaging with other people who watch the show, and if something interesting happens, of course, people have the right to freak out over something in their social media.
Giulia:
I once logged on Twitter and accidentally read a spoiler about one of
The Hunger Games
movies. That was the only time that happened. I don't really mind if it happens, I just try to be careful. Live-tweeting is a fun way to be engaged and maybe meet other people who love the same things you do.
María:
Since I don't live in the US and I don't have the chance to watch most shows live so I tend to get spoiled if I go online, and though I like to keep the mystery as much as possible, I've learned to live being spoiled sometimes. Though, if it is a show that I'm really invested in and want to discover myself the unfolding of the stories, then I try to stay away from the internet and social media where I know I could get more info than I want to.
Zoé:
I'm absolutely terrible at this myself. I can't stay off social media, even when I'm avoiding spoilers. I never live-tweet myself, but the lurking urge is damning. I don't blame anyone but myself on that one. As long as people make an effort to tag so people can blacklist, so be it.
That wraps up another round table! Feel free to drop your thoughts in the comments below. See you next week!