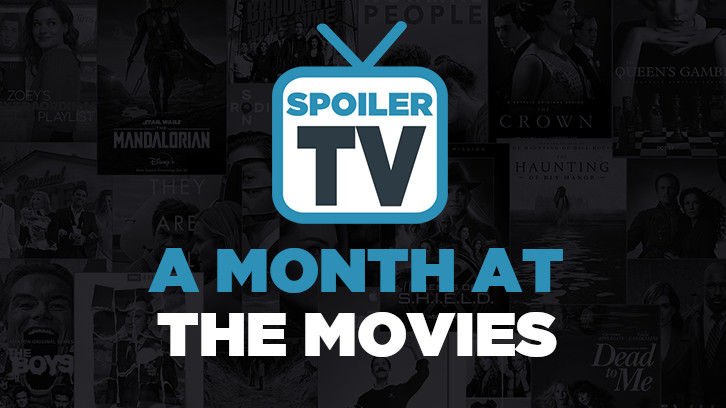 Castle in the Sky (1986; Hayao Myazaki)
Studio Ghibli. What more needs to be said? Hayao Myazaki delivers a masterpiece of pure imaginative wonder, with a simplistic yet deeply layered storyline that tackles themes like environmental change against the backdrop of one of the most brilliantly developed worlds in animation, full of richly contextualized landscapes that play host to one excellent set-piece after another. The start of Studio Ghibli's catalogue being added to Netflix Worldwide (outside of the USA and Canada) is proving to be a good one.
A
River of Grass (1994; Kelly Reichardt)
We don't deserve Kelly Reichardt. She's never made a bad film,
River of Grass
is kind of a mix of the French New Wave cool, infused with 70s Americana films like
Badlands
, and given a healthy dose of the give-no-shit attitude of the 90s to create one of the most unique 70-minute movies that I've seen. Reichardt is full of style, confidence, and has there been a better director currently working? I'd wager no – this is a fantastic debut.
A
Bad Boys (1995; Michael Bay)
Bayhem started right here, transforming into the over-saturated, macho-fantasy that we know it as today with Michael Bay arriving on the scene as a fully-formed director. This movie hits most of the cop movie tropes, has plenty of explosions and has breakneck pacing that never slows down. It feels like a big budget TV show pilot, in tune with the campy 90s movies of the era. It's Bay at his most constrained and reigned in – and therefore, Bay at his best.
C+
The Rhythm Section (2020; Reed Morano)
Morano offers her own spin on the espionage thriller and avoids falling into the trap of this movie being another James Bond or Jason Bourne film despite the fact that the trainer of Blake Lively's Stephanie is named "B" as a homage to "M". The director of the first few episodes of The Handmaid's Tale brings a unique mixtape to the table to provide a skilful backing track to this film – I'll never not say no to more Velvet Underground, but the whole thing – despite its arthouse trappings and claustrophobic action sequences that remain incredibly tightly plotted – feels largely like a misfire.
D+
A Beautiful Day in the Neighborhood (2019; Marielle Heller)
Can You Ever Forgive Me?
Was a sheer delight of a film and
A Beautiful Day in the Neighborhood
is no different, a heart-warming wholesome film with a brilliant supportive performance from Tom Hanks. It would have been a mistake to put Mr. Rogers front and centre and keeping him in the supportive role showing his influence over certain people and how he can change their lives is incredibly effective. Avoiding the confines of a normal biopic and featuring a strong lead performance by Matthew Rhys, Heller proves that she's here to stay, and robbed of an Oscar nomination - I can't wait to see what film she comes up with next.
A-
The Gentlemen (2020; Guy Ritchie)
Guy Ritchie's long-awaited return to the gangster genre feels like it's all over the place, trying too hard to be cool, clever and funny, offensively bad in places and very scattershot. The cast have a great time – it's a joy to watch Hugh Grant delivering a cockney accent and Colin Farrell looks like he's stepped straight out of In Bruges – but Henry Golding and Michelle Dockery are largely wasted in this gangster drama that shows the audience, perhaps more than anything else, that the biggest surprise here is that Guy Ritchie still remembers his best Hollywood movie:
The Man From UNCLE
.
D+
Birds of Prey (2020; Cathy Yan)
I saw and loved Cathy Yan's
Dead Pigs
when it aired back at the London Film Festival in 2018 and was eager to see what she would do next: she felt like the perfect choice to helm this movie and I'm glad to say that I very much had a good time with
Birds of Prey
, which wipes all the bad taste of Suicide Squad, a trainwreck of a film from my mouth. It's bonkers fun from start to finish, Margot Robbie is Harley Quinn the same way Robert Downey Jr. is Iron Man, and the soundtrack is full of bops from start to finish. The film has one of the most creative final acts in a comic book that I've seen in recent memory, and the smaller stakes feel keeps it refreshing even if it's a bit messy at times and the constant flashbacks to get the audience up to speed kill the tension at times. But it's still a good time to be had at the movies, and I can't wait to see more of these characters as the film proves it's not just a Harley Quinn movie: Mary Elizabeth Winstead's deadpan performance as Huntress proves she should do more comedy, Rosie Perez is ace as Renee Montoya, and Jurnee Smollett-Bell steals every scene she's in as Black Canary, which is a relief considering how poorly the Arrow writers room handled the character.
B+

Parasite (2019; Bong Joon-Ho)
Deservedly the best picture winner. The second and third viewings for me held up just as well as the first, a real masterclass of a film that gets almost everything right. From one of the best all-round performances of the year with an impeccable cast lead by a powerhouse performance by Song Kang-Ho in particular. It's one of those rare delights where a third viewing feels just as refreshing and as unpredictable as the first.
A+
Dolittle (2020; Stephen Gaghan)
Just when you thought a film couldn't be weirder than
Cats
,
Dolittle
comes along. What went wrong with this one? What was meant to be Robert Downey Jr's big crowd-pleasing post-Marvel home run hit turned out to be a disaster that's messier and more nonsensical than the messiest and most nonsensical movie of 2019 – Cats, which has barely left cinemas. The CGI is awful, the characters are threadbare clichés, the final act is one of the weirdest final acts that I've ever seen (and not in a good way), and
Dolittle
just filters out pretty quickly, making a wrong choice at every turn. Downey Jr. may be a good actor, and he may have a lot of mates who are also good actors in the voice cast, but he cannot do a Welsh accent to save his life. And this movie is just a trainwreck that sets the bar high for the worst film of 2020 so far.
F
Underwater (2020; William Eubank)
Old school
Alien
-style horror, William Eubank's
Underwater
is fine. It's not bad, it's not great, it's just there, and sometimes that's okay. Kristen Stewart single-handedly makes the movie watchable on her own – the rest of the cast are just there and casting T.J. Miller is unforgivable, but between
Underwater
and
Charlie's Angels
, Stewart has proved that she's got more than what it takes to be a good action star, she just needs better material. There are plenty of claustrophobic tense scenes in this movie which has a few killer shots in it, keeping its cards close to its chest and not going all-out until the final act, but on the whole, this film sinks before it can swim and is only worth watching if you've got nothing better to do, and that's all before we even address another problematic part of the film: even before mentioning the male gaze of the camerawork which feels uncomfortable at the best of times, and is super off-putting which is a shame as there was clearly, potential here.
D
Judy (2019; Rupert Goold)
I missed this film during its theatrical run as I was too busy with work at the time, but after Renee Zellweger's Oscar win for best lead actress, I thought I'd check it out and was fairly underwhelmed. Don't get me wrong, Rupert Gold's Judy is not a bad movie. It's just a perfectly serviceable one that feels like the safest pick of them all, of course a biopic about Judy Garland will get Oscar recognition, of course it will – all Goold had to do was turn up and rely on the strength of Zellweger's near flawless performance. It's enough to keep you invested in the movie even when its at its most trapped with in the confines of the genre, but in a year when the two best performances of 2019, Lupita Nyong'o (
Us
) and Awkwafina (
The Farewell
) didn't even earn any nominations at all, it's hard not to argue that the Academy could – and should have done better.
C-
1917 (2019; Sam Mendes)
My brother hadn't seen this one yet and the first time I watched this film I watched it on a smaller screen, so I was hoping a bigger screen would have an even better effect on me than the first time around but unfortunately the film did not hold up on a rewatch at all, it feels kind of empty at times and soulless, and I never found myself able to care about the characters as much as I should have on a rewatch. It's a technical accomplishment, that much is certain, and it's far from a bad movie, but all the praise for this should rightly go to Roger Deakins.
B
Smiles of a Summer Night (1955; Ingmar Bergman)
Mubi are still putting out Bergman film after Bergman film on their service and it's proved to be an endless source of delight for me. I've loved almost every film of his that I've been able to watch by the director (granted, I have missed a few due to work), but
Smiles of a Summer Night
plays out like
A Midsummer Nights' Dream
, a grand, operatic melodrama of the highest order. It may not be Bergman's best, but then his best is what most could never dream of matching, and it's a film that truly soars in its final act. Probably my favourite melodramatic Bergman that I've seen so far, apart from maybe
Summer with Monika
.
A-
All About My Mother (1999; Pedro Almodóvar)
I was utterly transfixed by the masterpiece that was
Pain and Glory
, so I knew I had to hunt down more of Pedro Almodóvar's films which led me to the utterly brilliant
All About My Mother
, a heartfelt tribute to women drawing from influences in the director's life. Much like
Pain and Glory
the film feels personal, blending together comedy and melodrama as though it were second nature. The characters are full of nuanced complexity that really help make them stand out from the crowd, helped by excellent performances by Cecila Roth and the always brilliant Penélope Cruz.
A+

Clockers (1995; Spike Lee)
Spike Lee movies always hit hard and Clockers is no different, it packs a punch more powerful than most. The richly drawn characters leave an impact with you, and Lee's mastery of the soundtrack help set the tone. Performances by Mekhi Phifer, in his first movie role, Harvey Keitel, John Turturro and Delroy Lindo excel in supportive roles that prove this is an ensemble that's as fine as they come. It's a shame it's swept under the radar as it's one of the best films of the 1990s.
A
Bad Boys II (2003; Michael Bay)
Drenched in excess (did we really need to see that rat scene?)
Bad Boys II
is a testament to Bay's worst qualities, the film is offensively bad, messy and about forty-five minutes too long. It's everything that the first and third films aren't – and coasts by primarily on the fact that somehow, somehow it manages to keep its entertainment factor against all odds, relying primarily on wanton destruction and the chemistry of Will Smith and Martin Lawrence to work its magic.
D+
Bad Boys For Life (2020; Adil El Arbi, Bilall Fallah)
Just like
Bumblebee
being the breath of fresh air that the Transformers franchise needed, Bad Boys for Life is prove that a franchise can improve tenfold if Michael Bay is removed from the equation. Bad Boys for Life is less offensive, more entertaining and more personal, taking the Fast Five approach and ramping up the themes of family in order to weave a breakneck film that is nothing but pure, mindless entertainment, and sometimes that's a good thing. There are no surprises here but sometimes you don't need them.
C+
The Devil's Eye (1960; Ingmar Bergman)
Bergman comedies don't always work but when they do, they're instant must-watches and that was very much the case with
The Devil's Eye
, a film with witty, self-aware dialogue that pokes fun at love, romance, and addresses middle class attitudes to sin and morality though the viewpoint of 60's attitude towards marriage. Bergman will always be at his best with his more existential films, but The Devil's Eye is no slouch.
B+
I Don't Feel at Home in this World Anymore (2017; Macon Blair)
Blair's Netflix original feels like a Jeremy Saulnier movie without Jeremy Saulnier. It's well-directed, features a killer Echo and the Bunnymen needle drop and reminds audiences of all the best Coen Brothers movies. Its nihilistic, "everyone is an asshole" attitude to the world and the people that live in it doesn't feel too overbearing and the quirkiness never feels grating. Thanks to strong performances by Melanie Lynskey and Elijah Wood –
I Don't Feel at Home in this World Anymore
is the rare Netflix original film that holds up, even if there are a few creases that need to be ironed out there are promising signs here for Macon Blair's future films.
C+
Safe (1995; Todd Haynes)
Between Julianne Moore's character in
Safe
and the 2015 film, Todd Haynes has a fascination with the name Carol. Here, Carol is an ordinary housewife in the South, who starts to develop a disease that nobody can explain and nobody can cure. It's horrifying to watch unfold – Carol is torn apart from her everyday life and placed in a place where she becomes more and more dependent on others as time progresses, losing her momentum and self-belief that she had. It's a hard, unnerving watch where Haynes manages to dial the paranoia and suspense up to eleven, leading to a memorable ending for one of the most overlooked movies of the 1990s.
A
Call of the Wild (1935; William A. Wellman)
A rather mundane affair that lacks the heart and soul that one would expect from an old-school 30s epic, Clark Gable has more chemistry with the dog than he does with Loretta Young in this adaption of Jack London's classic novel – that coincidentally preceded the merger of 20th Century with 20th Century Fox, much like
Call of the Wild
– out this year, preceded the merger of 20th Century Fox and Disney. Gable turns up the charm in this, but aside from the behind the scenes drama between Gable and Young that led to the birth of Judy Lewis and the elaborate cover-up that followed,
Call of the Wild
is entirely forgettable.
D+
Emma (2020; Autumn de Wilde
)
A stuffy, uptight period drama is something that I was fully expecting
Emma
to be and while it's not quite as revisionist as
Little Women
it's still a bit of a drag in places, with this Jane Austen adaption only becoming more interesting in the second act when the lead, Anya Taylor-Joy's Emma, a well-intention-ed but manipulative character, finds out that everything isn't going her way. Because as interesting as manipulative characters are, they're more interesting when they're backed into a corner - and Taylor-Joy does a brilliant job in the lead role, fully committed to her central performance. Once again, Mia Goth is excellent in a supporting role and the cast I think carries this one.
C+
The Call of the Wild (2020; Chris Sanders)
This film feels fake - artificial from beginning to end and the very product of studio micromanaging, Harrison Ford is just about watchable and puts in a more than paycheck worthy performance but that's about it and you'd expect nothing less from Ford. The dog is so badly CGI'd in it ruins the immersion - I'm not expecting them to use a real dog but at least make the CGI more believable. Sanders' remake lacks any kind of heart and soul and feels like an overproduced disaster that never fully hits the ground running, leading me to forget most of the events in the movie by the time I'd got home which is not a good sign at all - I watched this back to back with
Emma
at the cinema and still remember far more about the former than the latter.
D-
The Invisible Man (2020; Leigh Whannell)
Universal Monsters finally get a good reboot, updating the Invisible Man mythology for a modern audience, full of smart and unpredictable jump scares set against tense and unnerving atmosphere that stays with you right from the start. Elisabeth Moss puts in one of the best performances of 2020 so far as the protagonist Cecila, showcasing the character's vulnerabilities and her paranoia really well. Whannell never breaks the rules of his own film no matter the sci-fi trappings, and the many set-pieces employed in this film get increasingly more creative as they go along.
B+
La Vita Nuova (2020; Colin Solal Cardo)
Christine and the Queens are one of my favourite bands - I saw them perform live at All Points East last year, so any new material is going to be something that I'm going to listen to immediately. The fifteen minute short film is available to watch on YouTube now - free of charge - and
People, I've Been Sad
is the song to beat for 2020 right now. A surprise collaboration with Caroline Polacheck is welcome as ever, with both artists sharing impeccable chemistry from start to finish. Available free to watch on YouTube now it's more than worth your time.
A
Number 37 (2018; Nosipho Dumisa)
Nosipho Dumisa's
Rear Window
reimagining is an impressive exercise in tension, albeit a flawed one that requires characters to make one too many bad decisions for the plot to work. Irshaad Ally is good, but the lack of a sympathetic character hurts this one even if Dumisa impresses behind the camera.
C
Films Watched at the Cinema This Month:
11
Best Film of the Month:
All About My Mother