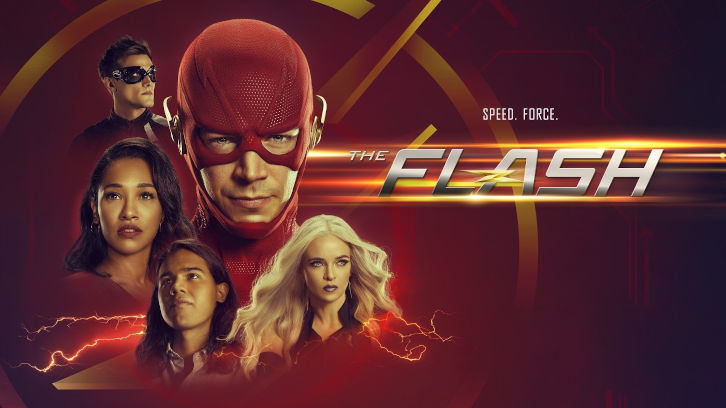 I'm an 80s music fanatic so "Love is a Battlefield" had me at hello. With the mirror version of Iris, WestAllen wholesomeness, and some quirky villain antics, this episode felt a little like Valentine filler, but it worked for the most part. Let's discuss.


Iris/Not Iris?

Sometimes mirrors capture us entirely, but sometimes they don't. Sometimes there are things about us that the mirror fails to capture or that we miss when we are taking a look.The Iris that returned from that mirror-like dimension mirrors the real Iris West-Allen in lots of ways, but there are some ways she is very different. Real Iris can't cook, but mirror Iris makes a mean breakfast spread. Real Iris is Barry Allen's biggest supporter. Mirror Iris isn't too keen on hanging back to give pep talks to The Flash. Apparently, mirror Iris speaks Italian pretty well; we've never known the real Iris to do so. Those differences are pretty stark, but the similarities are as well.

Both Iris' are fearless reporters. Ones willing to risk it all to expose threats and save the people they love. Both Iris' have a growing problem with feeling like they need to be saved. Real Iris was pretty vague when she left in the middle of the night to follow up on a story because she didn't want Barry thinking he had to come to the rescue. Mirror Iris made her feelings about being her own person and her own hero very clear. Both versions of Iris have a deep love for Barry Allen. We know the depths that the real Iris has gone to save Barry, and the other Iris reminds Barry that she'd do anything for him. The smile, the soft eyes, the willingness to forgive- maybe those are markers of any version of Iris.

Barry's realization that the wife he knew has become more of herself was a nice turning point. Whether mirror Iris turns out to be a high definition version of herself, a psycho or some version of a body snatched monster, the lesson he learned should stick. Iris has changed. She has had to rely on herself more. She has surprised herself in wonderful ways. She's been a mom, and that alone could make her braver than she ever thought she could be.

West-Allen

For a while it has seemed like their relationship was on hold. Barry articulating that feeling, even though he was just thinking about that moment, really resonated with me as a viewer. It seemed to acknowledge that something has been missing between them. The panic and pain on his face when he described feeling that rift is exactly what I have missed-their connection or the longing for the connection. Neither of them has seemed to miss that as much as their fans until now. Between Nora and Crisis, they were both preoccupied with weighty issues that took away from their center. They felt the need to take care of other things before taking care of each other, and now it's time to get back to that. Joe really nailed that with his tree metaphor.

Date night, investigating together, and the final sigh of relief once they fell into that deep hug would seem to put their relationship back on the right trajectory. ( I know Barry's patching things up with the "wrong" Iris, but somehow, I think many of their realizations will stick.)

Amunet Black/Gold Finger

Amunet is an interesting villain. She does lots of shady things to Team Flash, yet she is able to black mail them at the drop of a hat. I guess her crimes aren't serious enough to risk being outed. Though she's one of the strangest adversaries, her presence often makes for interesting girl-power moments. Gold Finger seriously provides high comedy with his rogue antics. Them together was just foolishness. Nothing more can be said.

Frost/Allegra/Nash

Frost seems to have become Ralph's life coach protege. There is so much wrong with this. How can someone who is barely in connection with her humanity, teach someone else to connect to theirs? I wonder if Frost ever got to sample those 31 flavors? Maybe that's something she can do with her new buddy Allegra. And Nash. Why creep around Allegra? Just show her the picture. Everyone knows there was once a multiverse so the suspense is for what purpose exactly?


Other Things I Was Thinking As I Watched

*If there is a mirror Iris and a real Iris, were there two Evas at one point? Are there still?

*Has mirror Iris been there the whole time wanting Iris' life? Has she been looking back throughout her entire life? Mirror Iris didn't skip a beat so she's got all of Iris' memories, ambitions, feelings- everything!

*They need to find Frost something to do ASAP.

*Poor Barry. That dewy eyed look when Iris gave him a piece of her mind was so sad. He thought it was the beginning of the end.

*Yeah, kisses are nice, but what's so special about West-Allen is that their connection lights up the screen. A look, a smile, a hug-that's all it takes to be drawn back into loving them.

*The onesie line took me out for a minute. Barry's little hurt feelings about it made it even funnier.

*The writers were so foul for Amunet and Goldfinger talking about some Radiohead and NWA! And their fight was so cheesy. Whew...

*Why does Goldfinger looked like a jacked Chris Tucker from Friday?

Silly villain high jinks, a fierce version of Iris, and some pseudo West-Allen sweetness (not to forget a killer 80s throwback) made "Love is a Battlefield" a Valentine's treat. What did you think? Sound off below and as always, thanks for reading!

You can catch The Flash on Tuesdays on the CW.