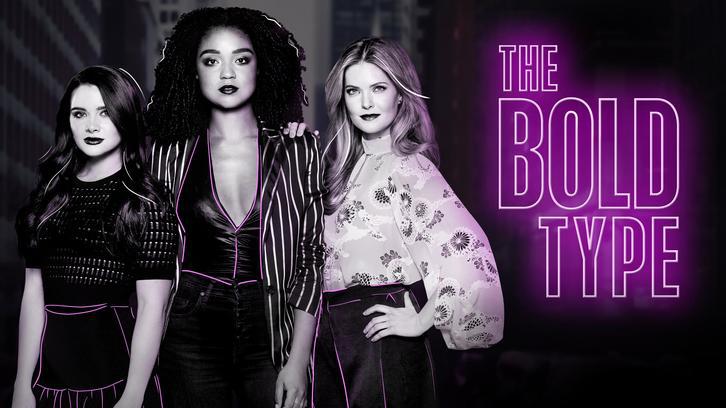 This week on The Bold Type, Sutton and Richard get engaged right before Richard moves to San Francisco to start a new job. Jane has her first mammogram and is nervous about the results. She has weird dreams and realizes it's because she no longer trusts Ryan after what happened last season. Kat deals with the guilt of not helping a young artist come out of the closet back in the day when she interviews her again and realizes she still hasn't come out. Jacquelin's husband takes a job abroad, clearly unhappy that Jacqueline is once again working so much.

Trust is everything: This is something that I feared last season for Jane and Ryan. Her forgiveness of what he'd done came too easily. TV shows never wrap something like this up that quickly. I knew something else was going to come up. And it makes sense for Jane to have trust issues now, especially given Ryan's history. Trust, like love, is something you have no control over. You either feel it for someone or you don't. And once it's lost, it's so difficult to regain. Once I realized that Jane no longer trusts Ryan, I considered their relationship as doomed. I don't see how they're going to move past this. Especially if Jane won't tell him what she's feeling. She can't force herself to move past this and trust him again, which I'm assuming is what she's trying to do. I'm afraid this might be the end of them.

What's the plan? A relationship that is going much better is the one of Sutton and Richard. Yay, we're getting a wedding. I'm so pissed that I saw the proposal online before getting a chance to watch the episode. Doesn't everyone know you can't post spoilers of an episode in the first 12 hours after it has aired? Not everyone lives in the US, you know. Some of us have to wait until the next night after we get home from work on the other side of the planet. Anyway, I'm so happy for them. They really have come a long way. However, despite getting engaged, they will soon be on different sides of the country. And now that Richard has had to quit his job, the move might become permanent. And then what happens? One of them will have to compromise. Either Richard leaves his dream job and comes back to New York, or Sutton leaves behind her dream job and her friends to move to San Francisco. Unless Richard can find a similar job closer to New York?
Regrets: Kat had kind of a rough week. Everyone has things in their past that they regret. And she was confronted with one of those this week. But I actually don't think Kat did anything wrong back then. I get that Kat wanted to stand up for Bella but she was in no position to do so. It could've cost Bella her career and Kat's as well since she didn't have as much influence as she does now. Besides, at the end of the day, you can't come out for someone. It's something they have to do themselves. I think Kat saw a lot of herself in Bella, especially with wanting to come out because of a relationship. If not for Adena, Kat might still think of herself as straight. That reminds me, when will we be seeing Adena again?
Hidden depths: Last week I said I wanted to see more of the side characters, boy did the writers deliver. You see, this is why I wanted to learn more about Andrew. He's so much more than Jacqueline's fun assistant. At first, I was a bit worried that the girls were outing him against his will, I hope they checked with him first before bringing it up with Jacqueline. I can't wait to see more of him. Now I want to know what Sage might be hiding.
Cracks are showing: I predicted it last week that Jacqueline's marriage would start to suffer but I didn't expect it to happen this quickly. Her husband has taken a job abroad leaving her with not that many options. I mean, he could've at least discussed it with her first rather than just announcing it after he's already taken the job. She'll have to split her focus even more now between her job and her family. But isn't this what nannies are for? I mean, I get not wanting your kids to be raised by strangers but in this case, I feel like it's necessary. Or grandparents, you know? If they're still alive and already retired they could watch the kids when Jacqueline can't. It's okay to ask for help. There's a reason why people say "It takes a village".
Best quotes: Kat: "Okay, there's no way a woman invented that machine." Sutton: "Yeah, I wanna see how guys get their balls scanned."
Sutton: "Boobs first."
Jacqueline: "Also, we launch digital with a party on Friday. I'd like to reveal the first cover then. So… no pressure."
Kat: "We don't need Sutton." Jane: "Yeah."
Kat: "Sometimes I wonder if I'd never met Adena, would I have ever…" Sutton: "Gone yodeling in the canyon?" Kat: "Excuse me." Sutton: "You know, girl diving." Jane: "Whispering to Venus. Low calorie snacking." Sutton: "Dinner under the bridge." Kat: "How long have you guys been coming up with this list?" Jane: "Smiling sideways."
Sutton: "Oh, thank God, I still got it."
That's it for this week. Check in again next week for an all-new review and let me know in the comments what you thought of this week's episode.
Please be respectful in the comments, any unnecessary rudeness isn't welcome.