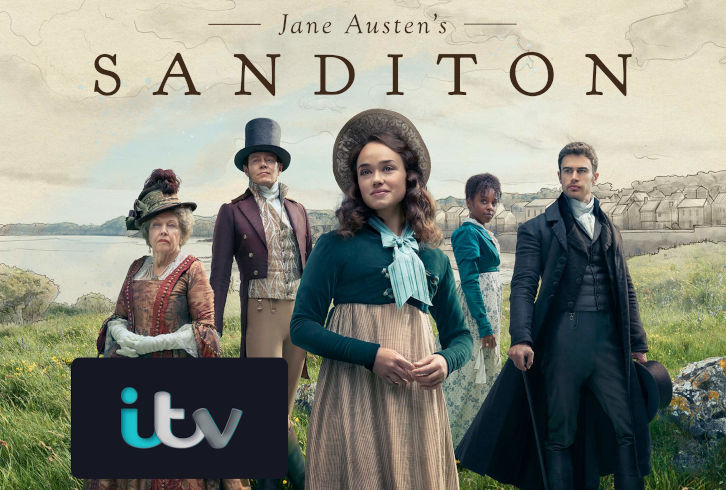 Toted by Uk Vogue as one of the best Autumn (2019) shows to watch, Andrew Davies' adaption of Jane Austen's final unfinished novel, Sanditon is now at great risk in also becoming an unfinished TV series, when iTV canceled the show this past December following complaints of the first season's cliffhanger ending and amidst some backlash from it's sexual content, although the network insists that it was due to low viewership.


The cancellation came ahead of the series' American debut in January with PBS Masterpiece Theater.
Sanditon
is just about to finish it's American first season run with the sixth episode having just aired this past Sunday!
But since the cancellation many fans from around the globe have rallied together through social media to try and save the unconventional seaside resort romantic melodrama set during the British Regency era, believing
Sanditon
was canceled too soon with an understanding, even suggested by
Davies
himself, that
Sanditon
intentionally ended on a cliffhanger in hopes for a second season, while also bringing more controversial Georgian societal issues often left in subtext in Jane Austen's other works, more ardently to the surface.
Andrew Davies too has suggested, despite the cancellation, that PBS (or another outlet) could still save the series, if American viewership proves viable! So as a fan, I'm here to ask for your help in trying to get PBS Masterpiece Theater to pick up
Sanditon
for a second season so that it can finish it's story!!
Here's what you can do to help!
1. Watch Sanditon!!!!!
If you live in the United States,
Sanditon
is currently airing Sundays at 9 PM (ET) on local PBS stations apart of Masterpiece Theater anthology. You can also watch previous airing episodes online for free at PBS Masterpiece Theater's
site
. (
But hurry, there is a limited time availability!
) And you might be able to catch re-runs, but will have to check your local PBS stations for times.
If you're a
PBS Passport
member, then you already have access to
Sanditon's
full season!
2. Share on Social Media!
Twitter is often the go to in order to get the message out! You can follow and tweet to PBS Masterpiece Theater (@masterpiecepbs), PBS Distribution (@PBSdistribution), or iTV (@itv) with the hashtag #SaveSanditon and feel free to also link the petition (see #4)!
There is a chance Amazon Prime Video could also save the series, so it might not hurt to hashtag either the UK or American versions @primevideouk, @primevideo. Other possibilities are AcornTV (@ AcornTV) Apple (@AppleTV), Netflix (@Netflix or @NetflixUK), HBO (@HBO), Starz (@Starz), and Showtime (@Showtime).
You can also discuss
Sanditon
on Facebook whether you go to PBS Masterpiece Theater's
page
to "like" and tell others about Saving Sanditon or join a Facebook group like
Sanditon
to discuss the series. There is also the group, #SanditonSisterhood which is making quite splash across many social media platforms!
3. Write PBS Masterpieces Theater and tell them to Save Sanditon!
E-mail address: masterpiece_feedback@wgbh.org
Remember to be polite in your request and take a little time to explain what you like about the series and why you think they should save it!
4. Sign the Petition(s)!
Currently the biggest petition out there is
Give us Sanditon series 2
from Change.org
Remember to keep posting the petition link to your social media accounts and to PBS Masterpiece related social media pages to make others aware!
#5. Share Statistics, Not Just Emotion!
Sanditon fans have now also made
visual images with statistics
and "cited sources" to share with PBS Masterpiece, Amazon Prime Video, Acorn, Netflx, etc. It might be useful to show them just how MUCH we love the series with numbers, and not just our hearts! Download these and post them to your social media sites and social media sites of these outlets!
I'll leave a few of them here, check out the link for the rest.
I Haven't Seen It. Why Should I Watch It?
And for those of you have yet to see
Sanditon
and are wondering if you should, let me give a some reasons why you might want to check it out.
Jane Austen began to write the first 11 chapters of the novel on her death bed, and despite that no one knows exactly how she might of finished it (although others have tried), it has a unique premise being set on the sands of a former fishing village transformed into
an up and coming
seaside resort, giving readers a window into a situation not often written about during the Regency Era. Jane Austen also introduces a set of more enthusiastically wild characters that are a familiar and yet different from her other characters, while metaphorically using the nature of the seaside-living to convey the changing social norms of the time.
Andrew Davies with Red Planet Productions has taken up the task at expanding and finishing the novel. Davies is known for other great British Period pieces such the Colin Firth & Jennifer Ehle-led adaption of
Pride and Prejudice (1995)
or Elizabeth Gaskell's
Wives and Daughters.
And while it's true that Davies has taken some great liberties with the source material, the novel truly lends itself to something more whimsical than the traditional Austen fare.
In addition there are lots of allusions to Austen's of other works too, most noticeably cinematic adaptations of various novels. It's hard at the end of the first episode for instance, where Charlotte and Sydney are at a ball, to not think about Mr. Knightley ferociously scolding Emma Woodhouse when Sydney does the same to Charlotte, but in the same breath Charlotte Heywood is not childish like Emma and has a good sense of practicality to her countenance despite some innocent ignorance, and where Sydney Parker is also a deep brooder, occasionally misunderstood, and bit unconventional like Mr. Darcy.
The cast and characters are another thing to delight in. Some might recall Theo James from his
Downton Abbey
stint as the Turkish diplomat Kemal Pamuk, who suddenly died in Lady Mary's arms during sex! Here James plays the enigmatic Sydney Parker and one of Charlotte's two potential love interests. Charlotte is played by newcomer Rose Williams, is a country girl who finds herself swept up by the Parker family, as Sydney's brother Tom is trying to make Sanditon the new destination for the wealthy to vacation and rest on Holiday.
The series is also done a bit episodically, which does make for some repetitious plots in terms of
on again, off again
romances, but also like
Downton Abbey's Holiday Specials
, it allows for unique insights into the period with each episode highlighting something novel, such as how men and women bathed in the sea, architectural designs being implemented & constructed, cricket matches on the beach, or gleaming the first German hot water bath-shower machine for the home!
The story lines also delve into a toxic relationship between two non-blood related characters, Esther (Charlotte Spencer) and Edward Denham (Jack Frost), whom are brother and sister by their parents' marriage. They are also competing for the affections of their scrupulous aunt, Lady Denham (Anne Reid), who resides at the extremely lavish Sanditon House and has taken on another relation, Clara Bereten (Lily Sacofsky) for daily assistance, --all of whom are hoping Lady Denham will leave them her fortune. Lady Denham is also pretty much Tom Parker's biggest Sanditon investor and the series explores what happens when Tom runs out of money and can't pay the workers, one of which, Mr. Stringer (a newly invented character), is Charlotte's other gentile love interest reminiscent of the humble Edward Ferrars or the well-intended Mr. Knightley.
There is also Sydney Parker's ward, Miss Georgiana Lamb (Crystal Clarke), a West Indian heiress who has a runaway romance with a man named Otis, which allows the series to have a dark-skinned female protagonist right along side Charlotte give new perspective to navigate through the story by showing how racial discrimination played a role in Georgian society. Sydney also has a couple of friends who occasionally come to pay him a visit. One of which, Lord Babbington is seriously attracted to the scornful Esther Denham, who has a hard time getting out from under Edward's control. Oh, and did a mention Sydney and Tom's other hypochondriac siblings that come to stay at Sanditon too? They provide the most charming comical relief to the series' more darker elements.
In all honestly there is just so much to offer if you're already a Jane Austen fan looking for exuberant fluffy melodramatic intrigue with unique female protagonists vs someone who maybe also wanted to see Jane Austen's work delve a little deeper and a little wilder into the reality she often wrote about.
Everything Davies has done so far has been a delicious celebration of Jane Austen like never before! It's also a great series for someone looking for an unusual British Period Piece in general, due to it's captivating setting with gorgeous filming locations (
mostly Somerset
), darker sexual, racial, and financial related plots, and with a great and memorable ensemble cast! It may not be as forward leaning as say,
Gentleman Jack
, but it's still one of the best new British Period Pieces to come out in years! It's only real problem is that it's unfinished! So PLEASE take a chance and help by giving it a shot and then join us on our campaign to #SaveSanditon! Thank you!!!!!
Also if anyone has any other resources or recommendations to help get the word out, please feel free to drop the information in comments section. I will do my best to update the article with pertinent information.