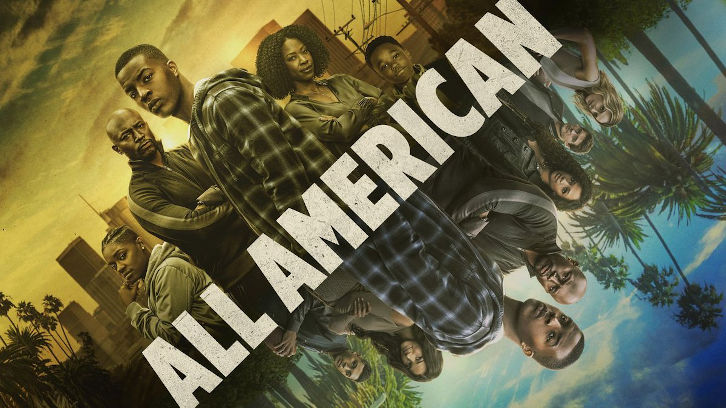 We're only a few episodes away from the season finale of All American, and this show just keeps getting more intense. "The Art of Peer Pressure" was crazy from start to finish with most of our favorite characters either in danger or facing major life changes.

First up in the "making bad decisions" category is Asher. While on his romantic date with Olivia, she asks him about the steroids. I'm glad he didn't lie to her, and while I love Asher and Olivia's relationship, I'm glad she put herself first by saying she can't be around someone who uses drugs. He told her he would quit, but I knew it wouldn't be that easy especially since he wants to impress the recruiter from Coastal Carolina. After the scrimmage he has blurry vision, and I thought he was going to pass out. Liv notices this, and later decides to tell her dad about Asher's drug use.
I definitely think she made the right decision. Asher needs help, and I hope Coach Baker can get him to stop using. I hope he doesn't lose his spot on the team, and I hope he doesn't get upset at Olivia for telling Billy. Between Asher and Spencer's problems it's really amazing that Coach Baker doesn't lose his mind.
Up next with bad decisions: Spencer. Listen, I know he desperately wants to play football again, but playing when his shoulder is not 100 percent not only puts himself in danger but also his teammates. I was scared when he went down on the field, but luckily the feeling in his arm returned. Like I discussed last week, Spencer needs to slow down and wait until his shoulder is completely healed before playing football. Billy didn't seem too happy with Spencer for not being truthful with him. I am glad that Spencer apologized to his teammates for returning before he was completely ready.
And finally: we have Coop. While I don't think she shot Tyrone (it would be too obvious in my opinion and it looks like Preach set things in motion in prison), she definitely looks guilty. And why did Patience throw the gun in the river? Does she think Coop's guilty or does she have another reason? I know I probably shouldn't be happy that someone is dead, but this is a television show and not real life so I'm think I'm okay for expressing my joy in the fact that Tyrone is gone! Hopefully everyone can move on with their lives now.
Other Thoughts:
- Laura impressed me with how she handled her opponent. She took the high road, and she ended up winning! I look forward to seeing Laura in her new role, and I think this could be a good story for her.
- While Jordan had good intentions with helping Simone, maybe he should have thought things through before moving Simone into his house. I don't know if his parents are going to be okay with this. But at least Jordan's back to being a good guy, and he's a good friend.
- Chris is back, and I have mixed feelings about it. I don't want him to take Darnell's spot on Crenshaw's team, but I'm glad that he's recovered, and he was a good friend to Spencer.

What did you think of "The Art of Peer Pressure"? Discuss below!