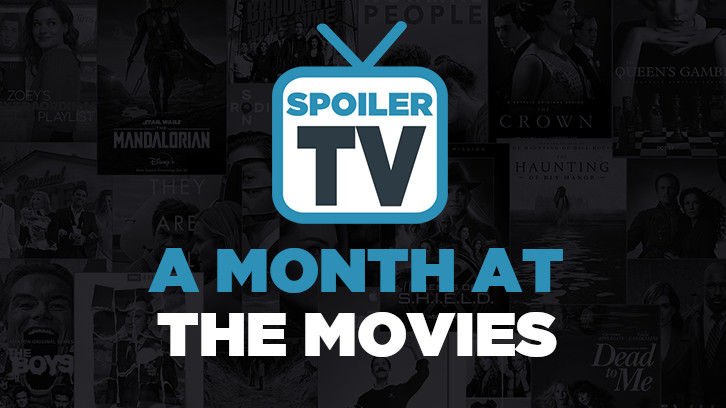 The first month of the year gets underway with a lot of holdovers from last year - Oscar nominated films like
Parasite
took their time in getting to the UK but now they're here I'm really glad that they are. I saw Bong Joon-Ho's film at a preview screening and I was really glad I did, it's a masterclass that's my favourite of the best picture nominees even if I don't think it'll win best picture overall. Either way, I caught up on a lot of 2019 releases that I wasn't able to see last year so this was a very good month, even if it had a couple of stinkers as usual.
As usual, let me know what you watched in January and what you think of the films I've seen in the comments below, and be sure to come back again in March when I'll be looking at what I watched in February.
Hellboy (2019; Neil Marshall)
What went wrong with this one? It's a disaster, an edgy, try-hard mess of unqualified proportions that's quite simply the worst film of 2019 without question. The cast is full of talented people who I wish nothing but the best (Ian McShane, Stephen Graham (who had an otherwise excellent 2019), Sasha Lane, David Harbour), but when you pass over Guillermo Del Toro's third
Hellboy
movie you better have something good up your sleeve and unfortunately, this was anything but. A tired, formulaic and dull movie that tries to copy the Marvel formula but never manages to excite or entertain.
F
Transit (2019; Christian Petzold)
A masterclass of a film. I liked Petzold's Phoenix a lot and his follow-up, Transit, is one of the best films of last year. It calls back to the tense filmmaking of Jean-Pierre Melville, set in occupied France and adapting a book set during WW2 but move the setting to the present day. It's a clash of eras that works brilliantly and feels depressingly timelier with every passing day. I'll always love a movie with both football and The Talking Heads, but this film was excellent even without them – and the understated performances by Franz Rogowski and Paula Beer are absolutely terrific.
A
Pain and Glory (2019; Pedro Almodovar)
Like
Transit, Pain and Glory
was one of the best films of last year, an excellent effort from the mastermind that is Pedro Almodovar with an incredibly personal, powerful look into the late career of a legendary film director. It's reflective, poignant and has one of the most bittersweet endings of the year, which is saying something considering how many god-tier endings we've had this year. Antonio Banderas puts in the best performance of 2019 with an excellent supporting cast. Like
Portrait of a Lady on Fire
, every frame in
Pain and Glory
feels like a painting.
A+
Bombshell (2019; Jay Roach)
At least it's better than Vice. Far too muddled in ideology and never doing enough to remind the audience that Fox News are the bad guys right now if there ever was one, Bombshell relies purely on the strength of its memorable leading trio of incredibly talented actors, Charlize Theron, Nicole Kidman and Margot Robbie. Sadly, there's nothing more to it than what you'd find in a Wikipedia article, the movie doesn't go into as much depth as it deserves and is largely a misfire even if it's entertaining in parts.
E+
Uncut Gems (2019; The Safdie Brothers)
Stress: the movie. Adam Sandler puts in a career best performance (that should be a favourite for best actor) as an unhinged, unlikeable con artist and gambler trying to hoodwink everyone and make the best deal for himself whilst screwing everyone over. The Safdie Brothers create one of the tensest films of the 2010s in a film that lives up to the hype and then some, working as an excellent follow up to
Good Time
, not their debut movie but a breakout film regardless.
A
1917 (2019; Sam Mendes)
Talk about a film made for the big screen,
1917
is a rollercoaster that captures a feel of a video game surprisingly well. There's no escaping the one-take experience that cinematographer Roger Deakins masterfully creates, echoing films like
Birdman
or the even more ambitious masterpiece
Russian Ark
, and with a group of strong ensemble performances spearheaded by breakout stars George Mackay and Dean-Charles Chapman, Sam Mendes builds on his experiment from the opening scene of an otherwise disappointing Spectre and ends up giving us one of the best war films of the decade. It's a gimmick movie, sure, there's no getting around that but a *good* gimmick movie.
A-
Two-Lane Blacktop (2019; Monte Hellman)
I love a good 1970s American road movie. Films like
Vanishing Point, Smokey & the Bandit, Zabriskie Point
etc are all among my favourite movies of all times so it was only natural that I would love Two-Lane Blacktop, a movie that follows a mechanic and a driver across Route 66 picking up hitchhikers as they go and getting caught in a rivalry with a GTO driver who agrees to race them to New York with their car on the line. It's a simple plot yet is executed brilliantly, with actors like Warren Oates, Laurie Bird and Dennis Wilson putting in legendary performances. The film itself is simple, echoing directors like Robert Bresson in its approach, feeling like a lonely movie weaving a lonely tale of the open road…
A+
To Joy (1950; Ingmar Bergman)
Another monthly column, another Ingmar Bergman movie.
To Joy
is a melodrama that came before the classics like The Seventh Seal and Persona but it's a good early effort from the director that feels like it has a heavy personal touch which helps it a soar. It's a character study of that explores an unhinged and ugly relationship where Stig Olin and Maj-Britt Nilsson are at each others' throats. You can feel the impact of what Bergman has experienced through his life presented on this film, and proves that the director can never truly escape a crushing sense of despair.
B
Parasite (2019; Bong Joon-Ho)
I wrote about how great
Parasite
was in my best movies of 2019 article that can be found
here
where it was only beaten by
Portrait of a Lady on Fire
. But regardless of where it was placed, it's something that captivated my attention from beginning to end, released so late in the UK that I only got to see in January as part of a preview screening ahead of its theatrical release later next month. It's a bon-a-fide grade A masterclass of a movie, that has the best ensemble of 2019 and what makes it even more remarkable is that it isn't even the best film that Bong Joon-Ho has made – I'm looking at you,
Memories of Murder
.
A+
Long Day's Journey Into Night (2019; Bi Gan)
Another film I wrote about for my best movies of 2019 article, this film is one of the most stylish of the year, an exercise in sheer creative brilliance. Wong Kar-Wai and
Twin Peaks: The Return
both – as I've mentioned before when talking about this film, play a large part in influencing this film which is why in part I loved it so much, but Gan doesn't let his influences stop him from casting a sheer masterpiece of a film that is one of the most bold and breathtaking movies of the 2010s.
A+
Shadow (2019; Zhang Yimou)
Dropping in the UK with little fanfare and no cinematic release at all, Zhang Yimou delivers a creative visual feast of an action-packed movie, where blade umbrellas are the weapon of choice and courtroom drama is mixed with out and out warfare. It's funny at times and incredibly violent at others, and although it cannot reach the heights of Yimou's masterpiece
Hero
, one of the best films of the 21st century thus so far, it left a resounding impression on me.
B
Weathering With You (2019; Makoto Shinkai)
Your Name
is one of the best films of the 2010s, and whilst Shinkai's follow up,
Weathering With You
, can't quite match the highs of that film it's still a masterpiece with utterly breathtaking artwork, bringing an always-raining Tokyo to life in a world where Hina, a "Sunshine Girl" has the power to restore sun to the city in only short spaces of time. Her relationship with runaway Hodaka does echo
Your Name
in places and it treads over familiar ground especially with that ending, but it's still an effectively powerful watch.
B
Just Mercy (2019; Destin Daniel Cretton)
Just Mercy
is a movie that relishes in its familiarity, it's formulaic and by the numbers – if you've seen one law movie you've seen them all, but at least this one is self-aware of its tropes, it's set in the town where the author of
To Kill A Mockingbird
was born and constant references to that are made clear. Michael B. Jordan and Jaime Foxx carry this film – their performances are excellent and although the film is too long and has a pacing problem, it rewards those who are willing to watch it with an emotionally charged finale.
C+
Wuthering Heights (2011; Andrea Arnold)
Andrea Arnold's
Fish Tank
and
American Honey
established her as a director to keep an eye out for, and
Wuthering Heights
is another hit, and unconventional, bleak and hostile take on the classic novel that eschews familiarity in favour of a sense of the unknown. Kaya Scodelario and James Northcote excel in this film of unlikeable characters that you can't help but get behind.
B+
Holy Motors (2012; Leos Carax)
24 hours in the life of a being moving from life to life is a novelty premise which Leos Carax executes with all the right arthouse touches required. Holy Motors is an eccentric experiment that will confuse most and make no sense to others, but it's Carax in fine form aided by a strong performance from the talented Denis Lavant. Those more familiar with different genres of film (including a musical number) will find themselves at home with the nods on display here and it's easy to see why it's a critics darling. Carax has never really hit off with me – I wasn't blown away by
Mauvais Sang
, but
Holy Motors
might be the film that changed that and makes me a fan of his filmography.
B+
The Host (2006; Bong Joon-Ho)
A perfect horror movie that upends the traditions of the monster movie genre by not being afraid to show the monster, it's legitimately terrifying and does a complete switch from humour to terror in a matter of minutes, instantly reminiscent of
Jaws
in its set-up, with Bong Joon-Ho proving that he can do no wrong.
A+
Sound & Fury (2019; Michael Arias, Masaru Matsumoto, Jumpei Mizusaki, Kôji Morimoto, Elsa Nakamichi, Henry Thurlow)
Sturgill Simpson and anime were not two things that I was expecting to combine in 2019, but they did, and the results are gloriously wild. I watched this before going to a Sturgill Simpson concert in Kentish Town (which I loved) and was blown away by the sheer uniqueness of this purely creative Netflix original that succeeds in telling a gripping post-apocalyptic, Mad Max-inspired dystopian nightmare set to one of last year's best albums that is a real visual treat.
B+
Little Women (2019; Greta Grewig)
I laughed, I cheered, I came close to crying,
Little Women
is an emotional heavy hitter that showcases just why Greta Gerwig is one of the most promising directors in the business and it's a crying shame this film isn't a best picture front-runner. Without question, one of the best period dramas in an age, and it never feels dull or boring. Like the first viewing, I left this movie wanting to rewatch it – this time for a third viewing.
A+
Films Watched at the Cinema in January: 9
Best Film of the Month:
Parasite