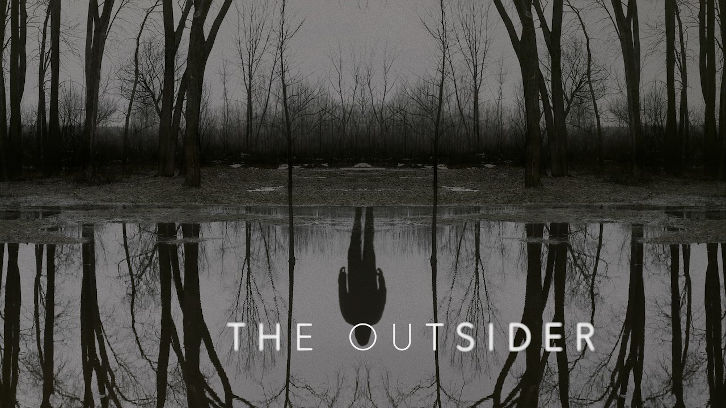 If episodes one and two were about building momentum and establishing who the characters were, Dark Uncle slowed down the pace and followed on from HBO's Watchmen in favour of spending much of the third episode focused on an entirely new character that makes a game-changing entry to the show. For Watchmen it was Jean Smart's Laurie Blake, the best new TV character of 2019. And now for The Outsider, it's Cynthia Erivo, recently Oscar nominated for her role in Harriet, playing an unorthodox Private Investigator PI Holly Gibney.

Gibney is who Ralph and GBI detective Yunis Sablo turn to when they're out of leads – Ralph may have been placed on paid leave but he's still chewing away at the case, determined to get justice for both families harmed in the incident when Terry Maitland might not have been the main suspect any longer. He does all the things that Detectives do when they're told to get off the case, this isn't a new thing to crime shows: Ralph gets drunk and involved in bar fights, and his wife is worried about his dedication to a case that he is no longer on, it's a testament to the brilliance of Ben Mendelsohn that once again we're completely invested in the character and it's a joy to watch both him and Erivo on screen.

The affect that Terry's very public arrest and execution has on the Maitland family is telling, his grieving widow is advised to transfer schools under threat of expulsion for the kids. It's very much an episode of poking at the flaws of the system, and how the family shouldn't be blamed for the crimes of the victim, even when the Maitland family is entirely innocent if Terry's story is to be believed. And there's that lurking figure in the background of Terry's daughters' room, who may be far more instrumental to the plot than first appeared. He's appeared twice now, one time inkier than the first and is so far, the only significant lead that Ralph and company have and are aware of.

I've read the first book in the Bill Hodges trilogy but haven't watched the Mr. Mercedes trilogy, so it's interesting to see this interpretation of Holly Gibney and what makes her different from her appearance in that series. Stephen King fans know that the writer is no stranger to making his storylines cross path, and it's easy to see why Holly was kept for episode three rather than being introduced into the pilot, after establishing all the characters around her, we're now ready to see more supernatural elements come to life. After all, in the words of Sherlock Holmes "when you have eliminated the impossible, whatever remains, however improbable, must be the truth?" It isn't a Stephen King story without some kind of horror element to it. Ralph is dismissive of the otherworldly almost from the get go: "I have no tolerance for the unexplainable", he says. Yet this episode is making a convert out of someone who isn't one, with Holly being brought on as an eccentric genius, who has trouble remembering some ordinary every day things but can reveal more than what anyone would ever know. Her investigation leads her to a nursing home where Terry visited at the same time as the murder, and finds out that Terry might still be alive. It turns out a young man was arrested and convicted of killing two girls around the same time Terry visited Dayton, in a remarkably similar case. He doesn't have much better luck than Terry – opting to kill himself in prison rather than be slain by other inmates. Things are looking bleaker and bleaker, with Terry being the only thread that connects both murders, no matter how implausible. The cut he got when visiting his father points towards an answer, but we're no closer to finding out the truth. Could we be looking at a doppelgänger? And if so – where is the shapeshifter now? Surely it's only a matter of time before it escalates.

The attention may rightly be on Ben Mendelsohn and Cynthia Erivo but Marc Menchaca is great in this show as the often drunk, always despicable Jack Hoskins. He's the one who found the barn with the abandoned clothes and unknown fluids. Jack arrives back at the barn in the dark which means, as anyone who's watched anything in the horror genre before, that some dark stuff is about to go down especially when he's there alone and without backup, and the first thing that he does when he gets to the barn is piss on the floor. The discovery of the unknown fluids leads to a remarkable find: the DNA on the belt matched Terry's prints, but others have faded, and could have only been left by a 90 year old man, and the last time I checked, Terry wasn't 90.

The first thing Jack sees of the danger is also the last, at least for now: he shines a light on a shadow of a man which vanishes in the blink of an eye, and it's most likely someone who we've met before at the Peterson home and outside the Courthouse. We see something stab Jack in the back of the neck, and he gets a radiation burn later on that gets progressively worse, eventually leading him to do anything to remove it, even offering to do whatever the mysterious figure wants. Could he be gaining followers, ala the cult in Castle Rock Season 2? Or could he be going down the approach that Pennywise used in It, and recruit a human figure like Henry in order to keep Ralph on his toes and keep him distracted. This is reinforced by the message that Jessa gives to Ralph from the strange man: Ralph needs to stop. To Glory it's a dream, but to Ralph? Ralph is starting to believe. Laying down a challenge to the mysterious man, he tells Jessa that the man can come and see Ralph himself, and that Jessa shouldn't be scared. But Jessa wasn't scared by the man, she tells him, and if anyone's scared: it should be Ralph.

The Outsider was a tell-tale sign that this show will have some filler episodes if it wants to pad out to reach its episode count and not everything will move the plot along significantly. Yet so far, if episode three can be classified as filler, it was very good filler, with new characters and plot details being introduced all the while even if we're still pretty close to where we started in the mystery. Director Andrew Bernstein has done a good job in the first episode not to be directed by Jason Bateman, capturing the same mood and atmosphere of the show, reinforced by the strong cinematography provided by Rasmus Heise. It's certainly a show that knows what it wants to be, and is giving CBS' Evil a run for its money in the crime-scene with an otherworldly twist investigating department. Both shows would make a good double bill.

The Outsider episode 4, "Que Viene el Coco" airs tonight on HBO.