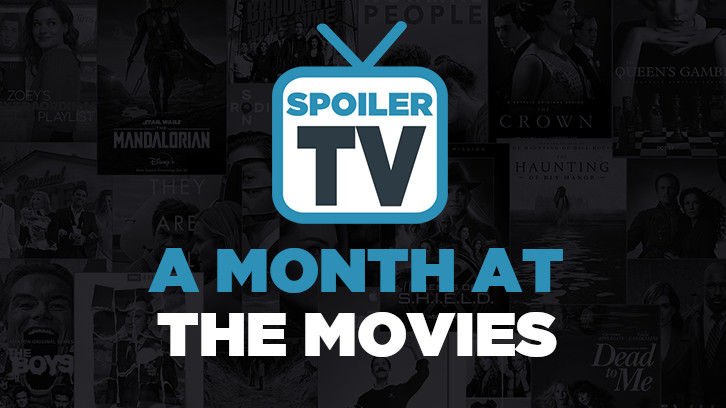 In what turned out to be a busy holiday month, I revisited (almost) the entirety of the Star Wars saga, watched a few new favourite movies and some abominations in the process. In other words, it's a usual recap of what I watched in the previous month. As usual, remember to leave what you watched last month in the comments section below and let me know your thoughts on the films featured here, and do you agree with my take on
The Rise of Skywalker
or not? Either way; you can expect to see my favourite movies of the year article posted on this site in the next few days.
Her (2013; Spike Jonze)
One of the most unconventional conventional love stories with a brilliant performance from Joaquin Phoenix, this Spike Jonze masterwork presents a compelling case for one of the best romances of the decade; between a man honing his skills as a poet and his operating system, which has the voice of Scarlett Johannsson, who displays a fantastic command of voice acting over the course of the film as the chemistry between the two actors comes alive.
A
Port of Call (1948; Ingmar Bergman)
Ingmar Bergman is one of my favourite directors; and it says something that even an early career 'good' film can't match up to cinema-defining best work like
The Seventh Seal. Port of Call
is a melodrama, albeit one that surprisingly still holds up well, addressing relevant issues such as abortion. Both Nine-Christine Jönsson and Bengt Eklund help keep this film anchored down, and really deliver in their respective roles.
B+
Honey Boy (2019; Alma Har'el)
Featuring a knockout performance by Shia Labeouf with a revolutionary role for Noah Jupe, Alma Har'el's
Honey Boy
wrecked me. It's sincere, beautiful and melancholic from start to finish, completely committed and completely invested in making you care. Labeouf's screenwriting is on point and I can't wait to see another film written by him, and I very much hope he has one in store. FKA Twigs fans will want to see this one, as she's great in a supporting role.
A
Lucy in the Sky (2019; Noah Hawley)
Noah Hawley at his most self-indulgent, Lucy in the Sky is a messy, cluttered waste of potential and cast in favour of a film where the aspect ratio is the real star, distracting your attention from everything else at play. This is a textbook case of style over substance and whilst Hawley's television work remains some of the best of the medium (Fargo in particular), Lucy in the Sky is sadly the most disappointing misfire of 2019 so far.
F
Inception (2010; Christopher Nolan)
70mm. IMAX. I've seen this film four times now but it gets better every viewing, an awe-inspiring spectacle that's truly one for the ages and watching this in possibly the biggest screen in the UK (The BFI IMAX) was a one of a kind experience. Put it this way – it's one of the best blockbuster movies of the decade, and although it isn't Nolan's best (I will defend
The Prestige
to the end), it just shows you of how good a director he is that I can give this film a perfect score and say, yes – there is something better out there.
A+
Atlantics (2019; Mati Diop)
Bold, risk-taking, confident and sincere, Atlantics continues the mostly-stellar second half of the year for Netflix as Mati Diop brings her A-Game to the table. The film is a ghost story, told unlike any other that you've seen before, it's refreshingly unconventional and incredibly poetic. It's one of the best of the genre, filled with beautiful cinematography and guided forward by compelling, understated performances by leads Ibrahima Troare and Mame Bineta Sane. You'd be doing yourself a disservice if you didn't watch this one, between
Atlantics
and
Portrait of a Lady on Fire
Claire Mathon is easily the best cinematographer of the year.
A
Rocky Balboa (2006; Sylvester Stallone)
I was in a hotel and there wasn't much in the way of other things to do, so it was either this,
Captain America: Civil War
or
Guns of the Magnificent Seven
that was showing on television - so naturally the main question for me was whether I watched this or GotMS, and in the end,
Rocky Balboa
won out – I'd seen it before, but it's still arguably the most underrated of the franchise, an enjoyable nostalgia trip that sees Stallone's Rocky return for a final bout well past his prime looking to exercise some past demons. Some rough mid-2000s editing could have been improved on but this is mostly a knockout – but this is a solid entry to the Rocky canon that would have been a perfect swan song had the Creed films not been so damn good.
B+
Rough Night (2017; Lucia Aniello)
This wasn't a masterpiece but neither was it bad; it's just fine. Nothing more, nothing less – anchored strongly by a great cast that are clearly having the times of their lives. It's rare that Scarlett Johansson ends up in mainstream studio comedies so it was so fun to see her against type here. Kate McKinnon and Zoe Kravitz are great, and of course, Ilana Glazer steals the whole damn thing, and director Lucia Aniello juggles the talent really well. This needed another rewrite though to make the pace smoother and the jokes funnier, as when everything comes together this film really shines, it's just that it's not often enough to make a lasting impression.
C
The Piano Teacher (2001; Michael Haneke)
I've only seen one Michael Haneke film so far and that was the brilliant
Code Unknown
, so it would be only a matter of time before I check out his most highly regarded work and The Piano Teacher didn't disappoint at all, it's a brilliant film with a fantastic performance by Isabelle Huppert that cements her reputation as one of the greatest actresses working. It's rough and uncomfortable viewing, but essential.
A
Charlie's Angels (2019; Elizabeth Banks)
Elizabeth Banks' continuation of the Charlie's Angels franchise unfortunately goes down as a completely by the numbers spy film that never lives up to its potential, utilising a completely generic plot and relying largely on the charm of its actors to get by, and to its credit, the actors do a fantastic job, you should already be aware that Kristen Stewart is a comedic legend and shouldn't need this film to tell you that, but Ella Balinska gets a badass scene where she shoots a man whilst sliding down a conveyer belt, but both Naomi Scott and Patrick Stewart are just there and don't really add much to the film itself. For all its flaws it can't help but be entertaining even at its most formulaic, and I wouldn't say no to a sequel or two.
C
Last Year at Marienbad (1961; Alain Resnais)
This film influenced Stanley Kubrick so much it couldn't be any clearer to see the shadow of
Last Year at Marienbad
lingering over both
The Shining
and
Barry Lyndon
, and it left an impression on me, an ambitious, ambiguity-heavy mystery that doesn't go out of its way to please its audience, leaving multiple threads unanswered yet in a way that will satisfy its audience. Memory is the key here, and just like in real life it isn't always accurate.
B+
Star Wars Episode II: Attack of the Clones (2002; George Lucas)
There's a good idea lingering under the surface of
Attack of the Clones
, it's just executed very, very poorly. The writing is downright painful at times and the chemistry between Hayden Christensen and Natalie Portman is virtually non-existent. It's one of the only few Star Wars movies that I actively dislike, and even though the set-pieces like the Coruscant speeder chase and the final act are where the film is at its most entertaining, it can't salvage this one at all.
E
Star Wars Episode III: Revenge of the Sith (2005; George Lucas)
The best film of the prequels is operatic, awe-inspiring and nothing short of a sheer spectacle. Whilst there's no improvement on the Anakin/Padme romance, Anakin's storyline is one full of tragedy as the film sets up the fall of the republic and the ascendancy of the Empire in an emotional, action-packed way. Lucas saved his best for last, and he more than delivered.
B+
Once Upon A Time in Hollywood (2019; Quentin Tarantino)
One of Tarantino's best films,
Once Upon A Time in Hollywood
is a raw and very good look into 1960s Los Angeles and works as a tribute to the Golden Age of Hollywood. It's not without its issues, the treatment of Bruce Lee is unforgivable and there's some pacing problems that could have been ironed out through an editor, but there's some stellar scenes here and the Spahn Ranch scene in particular is a highlight of the year. The entire cast knock it out of the park, with DiCaprio, Pitt and Robbie in particular being among the standouts of an all-star, all-talented cast.
A
Knives Out (2019; Rian Johnson)
Holds up even better on a rewatch and it's one of my favourites of the year, a delightful whodunit for the modern era that demands to be watched. The cast is terrific, standing up as one of this year's best ensembles, all the jokes land, and Ana De Armas deserves the best actor nomination for 2020, or at the very least, best supporting actor if the Academy goes the same route as the Globes.
A+
Solo: A Star Wars Story (2018; Ron Howard)
Unnecessary but nonetheless very fun, Solo may by a by the numbers checklist of things that were better off not shown to the audience, but helped by a strong group of ragged outlaws and a breakout character in Enfys Nest, this works better as a space western movie akin to
Firefly
rather than a
Star Wars
film.
C
Star Wars Episode IV: A New Hope (1977; George Lucas)
Without this film arguably there's a chance that my life could be entirely different,
Star Wars
was the film that got me into cinema and the reason why I'm a massive fan, so A New Hope has always played a key role in my life and everytime I rewatch it, it improves. It's exciting, full of bravado, and with a refreshingly simple plot it more than delivers on its execution.
A
Jumanji: The Next Level (2019; Jake Kasdan)
The Jumanji franchise never tries to be anything more than what it is, fun, enjoyable and a great crowd pleaser that coasts by on the strengths of the charisma of the actors who are purely there to have a good time. It's engaging, enjoyable and the cast have great chemistry together, and it's a joy to have these character back. Like with John Wick, I'd have been happy to have the series end after its most recent instalment prior to watching it, but the sequel hook pulled me in for the next movie completely.
C+
Rogue One: A Star Wars Story (2016; Gareth Edwards)
A gritty war movie masquerading as a
Star Wars
film, Gareth Edwards'
Rogue One
is a solid experiment that pushes the boundaries of the franchise whilst treading remarkably safe ground at the same time, it's tonally brilliant and even though the first two acts make it a slow starter the third more than delivers on its potential, culminating in an excellent set-piece that showcases the real struggle that the Rebels were up against. By putting boots on the ground Edwards makes a case for the ordinary soldier (before almost undoing it all with an unnecessary but cool Vader cameo) in a universe of lightsabers and space magic, and you can't help but have a good time with it.
B-
Black Christmas (2019; Sophia Takal)
A forgettable, dull and boring horror movie that takes little in the way of risks or rewards with cheap jump scares and cheap twists that never really stick the landing. Imogen Poots is the strongest of a largely forgettable cast that never really hits the ground running. At least it's better than
Countdown
.
E
Little Women (2019; Greta Gerwig)
Bursting full of life and energy, Greta Gerwig's
Little Women
is an unconventional period drama with heart and soul, boasting one of the best ensembles of the year. It's easily one of the best films of the year too, capable of sending the audience on a rollercoaster ride from start to finish, Florence Pugh is even better here than she is in
Midsommar
, and Saoirse Ronan puts in another Oscar worthy performance in the lead role. Unmissable, unforgettable, essential – you'll want to watch
Little Women
over and over again.
A+
Star Wars: Episode V: The Empire Strikes Back (1985; Lawrence Kasdan)
The ultimate Star Wars sequel, what more do I need to say about this one that hasn't already been said? It's the template for most sequels for good reason, expanding on the world, taking the characters in new directions and delivering on one of the best cliffhanger endings in science fiction history. It's not the best of the franchise, but it's up there for sure.
A+
Star Wars: Episode VI: Return of the Jedi (1983; Richard Marquand)
I like this one a lot, it retreads familiar ground but caps off the original trilogy on a satisfying note that wraps up major arcs for all of the characters and delivers a brilliant ending. It's impossible not to love the Ewoks, and I enjoyed the fun at the Battle of Endor so much more this time around.
B+
Star Wars Episode VII: The Force Awakens (2015; J.J. Abrams)
Nostalgia bait at its finest with the right amount of fun from start to finish, The Force Awakens captures the heart and soul of Star Wars, it's lively, the new cast give it their all, and with standout performances from Adam Driver, John Boyega, Daisy Ridley and Oscar Isaac,
The Force Awakens
is nothing short of a marvel.
A
Star Wars Episode VIII: The Last Jedi (2017; Rian Johnson)
It was a joy to watch this film again at the cinema as part of a triple bill of the trilogy and The Last Jedi more than delivered, it's a blast from start to finish and one of the best science fiction films of the last decade. Johnson is clearly a Star Wars fan and he relishes in deconstructing the saga providing several unforgettable sequences, that take the franchise in a bold new direction unlike anything we've ever seen before. The throne room fight is the icing on the cake, that sees Adam Driver turn Kylo Ren into the most complete villain the franchise has to offer, surpassing even Vader.
A+
Star Wars Episode IX: The Rise of Skywalker (2019; J.J. Abrams)
The Rise of Skywalker ends on a rough, uneven note that sets out with one mission objective: to be a crowd-pleaser, and it fails at that. I've watched good Star Wars films and I've watched bad Star Wars films, but never have I seen boring Star Wars films before, with even
Attack of the Clones
and
Solo
being more fun. This is dull, lifeless and fan-servicey at its worst, but would we expect anything less from Chris Terrio, the writer of the disasters that were
Batman v. Superman: Dawn of Justice
and
Justice League
?
F
The Two Popes (2019; Fernando Meirelles)
I wasn't expecting a movie about Two Popes to have as much football and ABBA as it did, but here we are, it's a surprisingly fun Netflix movie that's a remarkably easy watch even if it never reaches top tier. Much of Meirelles' film feels like a conversation piece, boasting plenty of entertaining back and forth dialogue between both Anthony Hopkins and Jonathan Pryce who largely carry the script. It's likeable if a tad slow at times.
C+
Cats (2019; Tom Hooper)
Already suffering from the consequences of bombing at the box office and being an Oscar Bait film that just had its Oscar campaign pulled,
Cats
is a pure disaster in every sense of the words, a complete madness of a film that is way too horny for its own good. James Corden as a cat still gives me daily nightmares, and whilst the production value and the music is impressive, everything else is not - the film is nonsensical and incredibly messy from start to finish, yet at the same time it still provided one of the most entertaining cinema experiences that I've had this year?
Cats
is the first film on this article that I've had no idea what to rank it.
???


Paterson (2016; Jim Jarmusch)
Who needs to watch Christmas movies on Christmas Day when there's a Jim Jarmusch film that you haven't seen that you could watch? I spent most of my Christmas watching
Paterson
, a truly remarkable film that showcases Adam Driver's strengths as an actor and cements his reputation as one of the best actors of the 2010s, if not the best. It's simple, telling the story about a bus driver who also happens to be a poet over the course of the week, and Jarmusch's understanding of what makes the plot and characters work so well leads to one of the best films of the decade.
A+
The Bling Ring (2013; Sofia Coppola)
Based on a true story about a real life gang that stole from the houses of Hollywood's elite (including Orlando Bloom and Paris Hilton), Sofia Coppola's film feels like it would make a great double bill with
Hustlers
. Energetic, risk-taking and fun as hell, feeling like a mid-2000s movie made in the early 2010s,
The Bling Ring
makes the most out of a solid cast with a good lead performance in particular by Emma Watson, who's at her manipulative best.
B+
Harlan County, USA (1976; Barbara Knopple)
What I know about Harlan County begins and ends with
Justified
, so learning more about the history of the area itself and the miners' strikes that showcased the strengths of unions was something that I was really keen to find out more about, which led me to this authentic, well-crafted documentary that gives an unfiltered and raw look into the lives of the Miners and their struggles during a time of great crisis. As documentaries go, this one's essential.
A
Zero Dark Thirty (2012; Kathryn Bigelow)
I've always been a fan of Kathryn Bigelow's earlier films (
Near Dark
is one of my ten favourite movies ever, and
Point Break
isn't far off), but her newer stuff has been a bit hit and miss.
The Hurt Locker
fell apart completely, even if
Detroit
stuck the landing.
Zero Dark Thirty
feels like a mixed bag, its final act feeling like a
Call of Duty
video game, and after watching The Report it feels far too much like a typical Hollywood blockbuster to be taken entirely seriously. Full credit to Bigelow for taking on a project as ambitious as this, and Jessica Chastain gives a memorable, entirely committed performance in the lead role.
C+


Night Moves (2013; Kelly Reichardt)
Kelly Reichardt is one of the best directors of the decade and this minimalist environmentalist thriller starring Jesse Eisenberg, Dakota Fanning and Peter Skarsgard is another excellent addition to her filmography, split around a decisive event in the middle of the film, it's the most conventional of her works to date and is every bit as worth the undertaking that its reputation suggests.
A+
The Nightingale (2019; Jennifer Kent)
I'm not going to watch this again but I'll be damned if this wasn't one of the best movies of 2019, a raw, uncompromising and brutal movie that is so messed up in more ways than one, I'm not going to forget it anytime soon. It's a revenge story set in colonial Australia that tackles the dark history of the British Empire and exposes colonialism for the atrocity that it is, featuring a brilliant performance by Aisling Franciosi who delivers a completely transformative role that should be in Oscar consideration.
A
Fast Color (2019; Julia Hart)
The spiritual successor to Jeff Nichols'
Midnight Special
,
Fast Color
is a bold and inventive superhero movie that unfortunately was buried under the radar on Netflix earlier this year. It's a fantastic film that's one of the better genre efforts of the last few years, Gugu Mbatha-Raw continues to show what a talented actress she is and the film avoids the usual problems that come with increased escalation in the third act of superhero films, making smart use of its budget to keep everything low key and entertaining. If you're a fan of superhero movies you should check this one out.
B+
Old Joy (2002; Kelly Reichardt)
There's a new Kelly Reichardt movie coming out later this year and I could not be more excited. She's one of the best directors of the 2010s and
Old Joy
shows she was one of the best directors of the 2000s too, a powerful, understated film a bout two friends reconnecting and finding out new things about themselves that they didn't know along the way. Quiet, reflective and powerful, silence is just as important as the spoken word here and characters saying nothing means just as much as them saying something. Yo La Tengo is never not good and reinforces the score brilliantly.
A+
Fish Tank (2009; Andrea Arnold)
Fish Tank
is a powerful, raw film that just blew me away. Andrea Arnold gets inside the mind of the hot tempered Mia Williams and lets Katie Jarvis shine in a role that calls back to the British Kitchen Sink style of filmmaking, echoing Ken Loach's best work. The music is great, and Michael Fassbender delivers an early career performance playing the boyfriend to Mia's mother brilliantly. Not as refined as Arnold's later works, but nonetheless an important British film all the same.
B+
Private Life (2018; Tamara Jenkins)
One of Netflix's best original films,
Private Life
is an honest and deadly funny look into the lives of an upper middle class couple living in New York. Paul Giamatti and Kathryn Hahn are both terrific, and the script is so smartly written it's one of my favourite screenplays of last year, and out of the decade as a whole.
A
Lemonade (2016; Beyoncé Knowles, Kahlil Joseph)
Beyoncé's second visual album that's also one of the best of the decade accomplishes more in its short runtime than most feature length movies do. It's raw, powerful and a clear passion project that brings the songs to screen in a brilliant way that cannot be ignored. Time and time again, Beyoncé sets the bar for every pop artist to follow and
Lemonade
is no exception.
A
Strange Days (1995; Kathryn Bigelow)
What a wonderful film to end the 2010s and 2019 on, a buddy cop movie with Ralph Fiennes playing a down on his luck connman being paired against Angela Bassett's all-round reliable action hero badass. This is Bigelow at her best, and when she's on her game nobody can do action quite as well as her. The film still holds up really well today with its strong, important themes - even given its cyberpunk trappings which can mistake you into thinking this film has aged poorly. It would make an excellent double bill with
The Nice Guys
.
A
Films Watched at the Cinema in December: 12
(inc. a
Star Wars
triple bill.)
Best Film of the Month:
Little Women, Night Moves, Old Joy, Paterson
(tie)