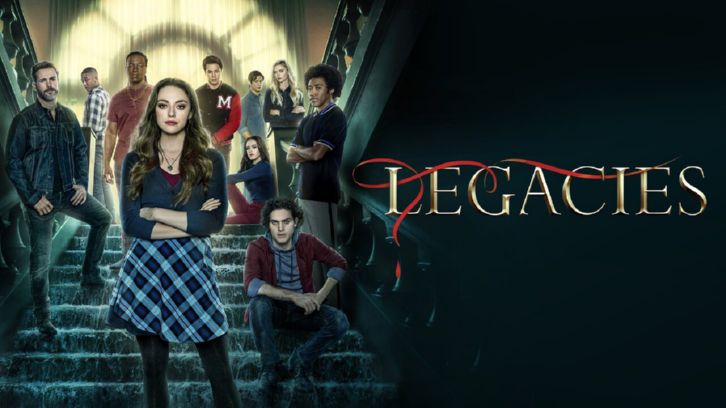 This week on Legacies we had Christmas in October to everyone's delight except for Hope. This week's monster was a Krampus, which was just a very ugly Santa. Real Santa showed up and defeated the Krampus. Honestly, that whole fight scene was just weird. Landon and Rafael went to find Rafael's dad. Rafael decided to stay while Landon was intercepted by Lizzie and Sebastian, who then took their relationship to the next level … right there. Upon returning to school, Landon quickly broke up with Josie saying things I'm pretty sure she did not want to hear (like that she's special and perfect) and then professed his love to Hope. They got back together. Alaric got his job back at the Salvatore school. Clarke was about ready to jump into the Malivore portal when the hooded figure decapitated him and then dropped him in the portal (what was the point of that?). The hooded figure is revealed to be the necromancer.

The Scrooge: I have to say, I absolutely loved Hope this week. This season it has usually been Lizzie who had the great one-liners but not this week. And, honestly, if everyone I knew suddenly started celebrating Christmas in October I'd probably have a similar reaction. But I guess that wasn't the only thing that bothered her. Has Hope ever had a Christmas with her whole family together? Correct me if I'm wrong, but I don't think so. At least not since she was a baby (and even then…). There's always been someone missing (most often Klaus). I think seeing everyone all happy and jolly just reminds her that she'll never have that with her family. At the end of the episode, Josie and Kaleb got their wishes from Santa. And sure, Hope got Landon but that wasn't really what she wanted though, was it? But even Santa can't bring her parents back.

That was fast: I was surprised by how quickly the romantic relationships progressed this week. Lizzie and Sebastian went from antagonizing each other to doing in in a car (with Landon's dead body somewhere around). I am starting to see a pattern here for Lizzie, though. Things went a similar route with Rafael, but I hope this will go better. I still don't quite know what to make of Sebastian. Still waiting for my flashback episode, I feel like that may be the only way to get a clearer picture of him. Right now I don't know if I should believe anything he says. And then there was the other relationship that progressed rapidly. Don't get me wrong, I hate dragged out love triangles. However, Landon literally sped up the stairs, broke up with Josie (while saying all the wrong things) and then ran back down to tell Hope he loved her and got back together with her. It was a little fast is all I'm saying.
Finally: Okay, the portal to Malivore is closed. Clarke is dead. That means we're done with Malivore, right? Please say yes. I've just about had it with this villain. Although I must say, I had hoped there would be a little more suspense and action involved in the resolution of Malivore. It's almost like it was a side note this week. I mean, if I had to describe this episode it would be "Christmas, relationship drama… oh and the portal to Malivore closed in the last 15 seconds of the episode". Unless we're not done with it. Side note, I was right about Landon getting more than just his memories about Hope back. He also remembers his mother and I would very much like to gloat about this.
Lame: Was anyone else disappointed by the reveal of the hooded figure? Because I sure was. I mean, anyone would've been better than the necromancer that was around for 2 episodes last season. Plus he was kind of annoying. But think of how many better options there could've been. Dorian, Kai, Maya, the new sheriff… even Pedro on stilts would've been better. I guess my expectations were just a tad higher.
Huh?
So, last week Rafael and Landon left the school to be safe from the monsters but Rafael is just fine with Landon going off on his own this week? This made zero sense. And what does it mean that Rafael has now found his dad? Is he going to stay there permanently? Is he leaving the show or is this just temporary until the writers figure out what to do with his character? This storyline just wasn't handled well this week.
Honorable mention: Kaleb's face when he got the car was absolutely priceless. I still can't believe he's become one of my favorite characters on the show.
Predictions: Alright, so now that we are on winter break I guess it's time to make some predictions about how the second half of the season will go. Obviously, the necromancer will cause some trouble. We'll be delving more into the Merge with Kai's appearance, despite the actual merge still being a few years away. Now that Josie is no longer tied to Landon, I think we might see more of her with dark magic. I don't quite think we're done with that storyline yet. It was just too easy. Hope and Landon will be in a honeymoon phase for a few episodes but we all know couples don't stay happy on tv shows so there will undoubtedly be so issue that comes up. (Anyone else getting Stelena vibes from them or is that just me?) I would be surprised if the Tribrid thing happened this season. I'm not expecting that until at least next season. There have been no hints to it either. But man, do I look forward to that storyline.
Best quotes: Hope: "Ah, yes. I did a spell to alter your appearance. Turn you into the most vile thing I could imagine." Clarke: "I just look like me." Hope: "Then I nailed it."

Kaleb: "Don't be a Scrooge, Hope. It's Christmas." Hope: "No. It's October."

Hope: "Ah, you're still a bitch. Thank God."

Hope: "I'm trying to work. So if you don't fa-la-la-la leave, I'm gonna give you all another piercing."

Kaleb: "Ho, ho, yeah!"




That's it for this week. Check in again next month for an all-new review and let me know in the comments what you thought of this week's episode.




Please be respectful in the comments, any unnecessary rudeness isn't welcome

.