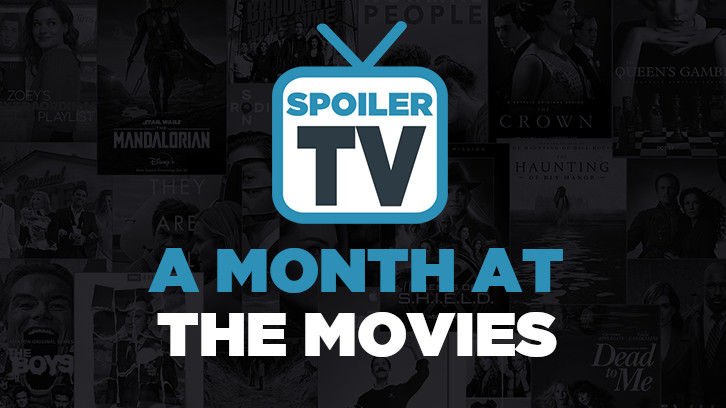 November sees normalcy return after a packed October with plenty of exciting films nonetheless, with a brief venture into the noir genre afoot to coincide with Noirvember 2019, with the goal to watch as many as possible in the 30 days available. Classics like Out of the Past and The Friends of Eddie Coyle are featured here; alongside a whole host of new releases ranging from Countdown to a film that was even (wrongly) banned in some UK cinemas, Blue Story. I also took the chance to revisit old guilty pleasures in the form of The Phantom Menace as I started my Star Wars: The Rise of Skywalker preparation, and ticked another film off my list from the filmography of the legendary Olivier Assayas, one of my all-time favourite filmmakers.

Let me know what you thought of the films featured in this month's recap if you've already seen them, and don't forget to post what films you watched in November in the comments section below. To coincide with watching an Assayas film this month I also thought I'd also take the opportunity to ask - who are your favourite directors and what are your favourite films by them?

Star Wars Episode I: The Phantom Menace (1991; George Lucas)
I… didn't hate this. There are problems, yes, but as the prequels go, it's not the worst. It always holds up well on a rewatch and I never fail to get excited by the podracing sequence and the Duel of the Fates respectively. I've seen this so many times that I know this – and most of the core Star Wars films line for line, and this was such a huge part of when I was younger that it's hard not to love at least… parts of it, flaws and all. C+


Out of the Past (1947; Jacques Tourner)
A journey into the noir began this month for me with the classic crime movie
Out of the Past
, my second Tourner after
Cat People
. Robert Mitchum is one of Hollywood's greatest actors, and hew as in fine form in this back and forth power play that establishes this film as a confident and well-conducted classic. Tourner has the atmosphere bleed through the screen, and even the dramatic moments don't feel as overwrought as they should, lending to a more subtle experience.
A
Doctor Sleep (2019; Mike Flanagan)
Did we really need
Doctor Sleep
? No. Did I really like it anyway? You bet. It reminded me a lot of Kathryn Bigelow's epic horror vampire western
Near Dark
(my favourite horror film ever), echoing the spirits of
The Shining
in all the best ways possible as a brilliant follow up. Rebecca Ferguson is in stellar form as one of the year's greatest villains – Rose the Hat, and it feels more Stephen King than Stanley Kubrick which – no matter how much I loved the movie, is a good thing. Mike Flanagan is a force to be reckoned with in the horror genre and I can't wait to see what he does next.
B+
The Good Liar (2019; Bill Condon)
A largely uninspiring but well-acted and entirely predictable crime thriller about an elderly conman trying to con a woman whom he meets on a dating site; this film is worth watching for the star power of Ian McKellen and Helen Mirren who carry every scene. Their back and forth is enough to elevate a rather by the numbers script that reminded me a lot of
The Aftermath
that aired earlier this year, and although like
The Aftermath
it lacks any staying power whatsoever and can be dry at times, it's a film that is inoffensive enough on its own, even if it can be billed as Ok, Boomer: The Movie, dismissively talking down to young people for cheap shots about
Inglourious Basterds
being a work of fiction.
C
Midway (2019; Roland Emmerich)
Midway
is a disaster. Just a big fat NO to this one. Every actor feels like they're in a different war movie and it borrows everything it can from something better. The characters aren't developed and they often feel like the blandest war movie characters ever (Stop me if you've heard this character description before: Ed Skrien is a hotshot fighter pilot who chews gum and isn't very good at taking orders and needs to learn to work as part of a team in order to succeed) and even Roland Emmerich's love of wanton CGI explosions can't save this atrocity. To give it credit; it does at least try to tell the tale of the war on both sides, and the biggest surprise is that the Japanese characters come out of
Midway
more developed and dignified than the cookie-cutter and hamfisted Americans.
F
John Wick: Chapter 3 – Parabellum (2019; David Leitch)
I rewatched this one as I'd only seen it once before in the cinema and it still holds up really well, those opening 30 minutes are among the best first acts in any action film, and the final showdown is one for the ages. Leitch weaves an epic continuation of the John Wick franchise that successfully made me invested in watching a fourth one even if I was happy to say goodbye to the series after the third entry; and Keanu Reeves is as awesome as ever. Halle Berry and her dogs deserve a mention, and their own spinoff – too.
B+
Countdown (2019; Justin Dec)
This film is so lazy it feels like they aren't even trying. It feels like a mid-season six or seven
Supernatural
episode trying to do
Black Mirror
when I'd rather it was just trying to be a
Black Mirror
episode; the involvement of the supernatural side of things completely killed my interest here and every jump scare was just so predictable. I forgot half of the characters' names and their roles before I even left the theatre, and rather than being a film that's so bad it's good –
Countdown
is just bad.
F
Kiss Me Deadly (1955; Robert Aldrich)
Kiss Me Deadly
is unquestionably one of the best films of its genre and has influenced both Steven Spielberg and Quentin Tarantino among many others with its chilling, genre-defying ending that subverts all kinds of expectations and still haunts me. It's daring, risk-taking and well-paced, tightly woven and inherently suspenseful. Aldrich commands the audiences' attention – and asks the ultimate question: What's in the box?
A+
The Hitch-Hiker (1953; Ida Lupino)
This film has zero filler. It's under 75 minutes long and shorter than some episodes of television. There are few films that I've seen with this much tension from start to finish, possibly only William Friedkin's
Sorcerer
(1977) was more nerve-wracking, but wow, what a film! Ida Lupino keeps you on a knife's edge the whole time, never letting up and only forcing you to take a breather when the credits are over.
A
Carlos (2010; Olivier Assayas)
Full confession: I watched the two-hour feature film cut of the five-hour television mini-series and as a result I'm sure any flaws I found in this film regarding to its messiness will be rectified in that - but holy crap – I need to watch the television series ASAP. Assayas'
Carlos
is stylish, suave and boasts a banging '80s soundtrack with plenty of Wire songs, so I instantly fell in love with it. Telling the story of the terrorist Ilich Ramirez Sanchez, a revolutionary who operated under the codename Carlos the Jackal, Assayas applies his trademark restraint and stylised touches to it to the film that help get the best out of Edgar Ramirez, making the film an all-round must watch experience that could quite feasibly end up on both my best of the decade list – for both film and television.
A
Zombieland: Double Tap (2019; Ruben Fleischer)
Much like with
Doctor Sleep
, I didn't really need this but unlike
Doctor Sleep
, I wasn't as keen on this one. The formula and jokes are all recycled and the cast are having fun but that's about it. Maybe it didn't help that Netflix's
Daybreak
came out so recently doing the same sort of thing and it impressed me so much that I was comparing it to that and it failed at almost every turn; as although Woody Harrelson and Emma Stone are as ever, among the standouts,
Zombieland: Double Tap
never really gets off the ground with the jokes feeling flat and already dated. Maybe hiring the team behind
Deadpool
and
Venom
probably wasn't the best idea after all.
C-
Ford v. Ferrari (2019; James Mangold)
James Mangold is the king of the biopic genre and
Walk the Line
is still one of my favourite films. Turning his attention within the genre from Johnny Cash to the 24 hours of Le Mans endurance racing depiction of the battle between Ford and Ferrari, it casts the duo of Matt Damon and Christian Bale for a crowd-pleasing, if a tad too formulaic and by the numbers approach. It lives and breathes coolness, and seems destined to be something that whenever you watch it on television in the next few years, you won't be able to change the channel until it's over, despite its length being on the longer side. A natural inheritor to the
Rush
crown,
Ford v. Ferrari
will make even those who don't care about racing invested.
B
The Aeronauts (2019; Tom Harper)
What went wrong with this one? Almost everything – the film plays fast and loose with history to tell an entirely predictable and boring storyline about two people in a hot air balloon. You know the balloon has to go up and come down and the momentum is completely robbed throughout the films' runtime because of punctuated flashbacks that kill any sort of tension whatsoever, and
The Aeronauts
would have been better off taking a similar approach to something like
Gravity
, which pulled me in and refused to let go. To her credit at least Felicity Jones tries to inject some life into this film, with Eddie Redmayne playing it about as straight and as dour as possible.
E
The Souvenir (2019; Joanna Hogg)
The Souvenir
is not a film that is trying to be liked and neither will you necessarily like it when you first watch it; it's a grower, a grower that warms on you days, even months after you see it and a rewatch is compulsory because of this, making it a second viewing for me. The more I thought about this film the more I fell in love, and it's safe to say that Honor Swinton-Bryne completely carries this drama about a toxic relationship between a young film student and an older man in the 1980s. It has one of the best soundtracks of the year; and it's worth the admission price for a Richard Ayoade cameo alone.
A
The Friends of Eddie Coyle (1973; Peter Yates)
Rough, raw and as hard as nails, this neo-noir classic would make an excellent double-bill with The French Connection if you want an example of the best the genre has to offer. An older Robert Mitchum puts in another performance that shows how versatile and how brilliant he is as a hood hoping to escape the rest of his life behind bars and in a world of double crossing, nobody can trust anyone. Peter Yates' bank robbery sequences are so good that even when Mitchum is not on screen
The Friends of Eddie Coyle
is invincible, and it earns one of my highest recommendations.
A+
Blue Story (2019; Andrew Onwubolo)
Anyone who has banned
Blue Story
clearly hasn't seen the film. It's a well-meaning passion project about how bad the life of crime and gang culture is, tearing down the endless cycle of death and destruction because of a post code and nothing more. Whilst the camerawork isn't always perfect and the script is clunky in the opening act,
Blue Story
overcomes its problems to be one of the more underrated films of the year so far - utilising a committed cast of new and experienced actors. Above all, the film feels real and honest - with Onwubolo having plenty of things to say. As expected, the soundtrack is excellent.
B-
21 Bridges (2019; Brian Kirk)
Chadwick Boseman's Andre Davis is a disgraced police officer given a shot at redemption when cop killers prompt the shutting down of Manhattan and the isolating of the island from the rest of the world until they are found in
21 Bridges
is a thriller that is full of tension and wears its Michael Mann influences on its sleeve. Whilst Davis shares characteristics with the likes of John Luther, Alex Cross and Raylan Givens – most of the characters are so cookie cutter even despite the big names playing them (J.K. Simmons is restrained in a supporting role along with an underdeveloped Sienna Miller), they would be even more forgettable than they already are. Surpassing Boseman, Stephen James and Taylor Kitsch come out of this the best - giving depth to their roles as Manhattan's most wanted.
C
Animal Kingdom (2010; David Michôd)
An unpredictable and dangerous crime film that isn't afraid to hit hard and heavy when it wants to, it's easy to see why Ben Mendelsohn was cast as the villain in every other major Hollywood movie since this one. He's just so chilling here and a look into this Australian crime family is required. Animal Kingdom defies convention in the best way possible.
B
Marriage Story (2019; Noah Baumbach)
Possibly even better than
Frances Ha
, this is Baumbach's best film to date and one of the best of 2019, and is rightly billed as the
Kramer v. Kramer
for the current generation. Found within are unstoppable performances - and potentially career best roles- from both Scarlett Johansson and Adam Driver, who would deserve their Oscar nominations were they selected. The script is excellent and both actors should be in Oscar contention for their roles here; elevating
Marriage Story
above the rest of the competition as it leaves an unforgettable impact with a particularly memorable supporting role for the gifted Laura Dern, who is clearly having a great time. Even though it is a Netflix original, much like with
The Irishman
, which I saw at the London Film Festival in October, If you can, watch it on the big screen.
A+
Brick (2005; Rian Johnson)
An ode to the noir classics of old, Rian Johnson's
Brick
is an early gem from one of the best directors working today. Joseph Gordon-Levitt and Nora Zehetner are among the standotus in this mid-2000s classic that plays everything as straight as possible and works so well because of it, somehow finding something fresh and original in two genres (noir and high school drama) that have been so underused. The young cast play everything straight and aside from a couple of roadbumps in the uneven pacing everything comes together for the most part spectacularly well, and it's something that looks only set to improve on rewatches. What a way to end a month!
A-
Best Film of the Month
:
Marriage Story
(2019; Noah Baumbach)
Films Watched at the Cinema in November
: 11 (
Doctor Sleep
x2)