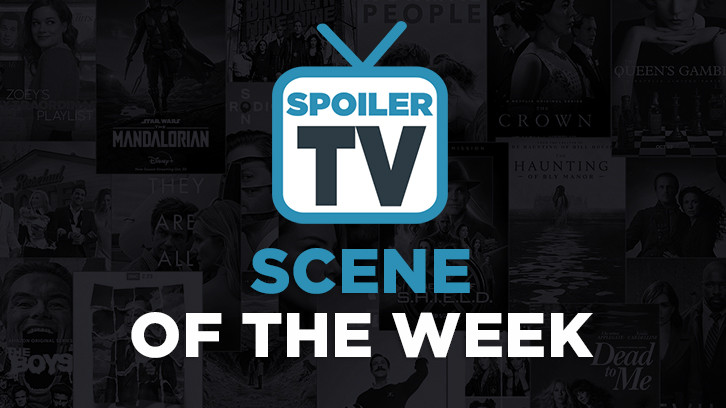 A weekly feature in which we're trying to find the most compelling, best acted, written, directed and just generally great, memorable scenes that we've seen in past seven days on TV.

9-1-1, "Monsters", October 28, 2019, Actors: Stephanie Lemelin and more, The Scene: A woman with brain injury drives through LA with a guy in her windshield
Prpleight: 9-1-1 does a great job with their thematic emergencies. I thought last Halloween's ghostly hiker was creepy. But this case surpassed that one as one of the creepiest images I can remember. A woman swerves to miss a bike rider and ends up hitting a pedestrian. The man went through her windshield and got stuck there. She hit her head so hard it left her completely unaware there was a man embedded in her windshield. She drove home, went to bed. When she emerged for work the next morning, with a huge knot on her forehead, I expected her to suddenly realize there was a man in her windshield and call 911. Nope. She gets in the car and heads for work. The most disturbing part about this was the driver's complete lack of awareness that there is a man embedded in the windshield of her car. No wonder people thought it was a Halloween decoration. She drove around like that for two days and only one person, who thought it was a gag until he saw the man move, called 911. Even then the police thought it was a prank. Far creepier than blood and gore.

AMERICAN HORROR STORY, "The Lady in White", October 30, 2019, Actors: John Carroll Lynch, Emma Roberts, Angelica Ross and more, The Scenes: Mother and Son reconcile & Brooke and Donna fight against a hitchhiker
Prpleight: Mother/Son reconciliation. It's gotta be a shock to realize your mother is the Uber Ghost that haunts the summer camp. After an earlier scene in which Benji's mother vents her hatred of her son she confesses that she pushed Margaret into becoming the monster that landed him in the mental hospital and made him Mr. Jingles. You can't have a family blowout like that without a moment of reconciliation. When Lavinia finds Benji sitting in the spot where Bobby dies she's ready to start another fight. But Benji isn't a little boy any more and Lavinia actually heard him when he confesses that he grieves for his little brother, Bobby. It seems as though he's finally got through to her when he tells her he's named his son after Bobby. As she lowers herself to sit next to her son, I was actually expecting a tender moment. Who am I kidding? This is Ryan Murphy. Their tender moment amounted to her suggesting he should kill himself. In context it's good advice....a way for him to improve his odds of killing Richard Ramirez. It was a Mother/Son reconciliation that could only work on AHS.
WK: Upon being held at gunpoint, Brooke finds herself at wits end as the deranged hitchhiker threatens to kill her if she doesn't drag Donna to her death. In an interesting reversal, Brooke regains control of the matter by shooting the hitchhiker, prompting Donna to strangle him with the very rope that nearly killed her. Rather than carry blood on their hands, the two women torture the psychopath by cutting his fingers off as retaliation for the torment he inflicted on them. I wasn't ready to see Angelica's character go so watching her and Emma come together felt invigorating, especially since they had fantastic chemistry. I absolutely loved the focus on women empowerment by making them take charge of their own fate, rather than seeing them helplessly fall prey to a man.

ARROW, "Leap of Faith", October 29, 2019, Actors: Stephen Amell, Katherine McNamara, Ben Lewis and more, The Scenes: The final scene & Oliver and Thea say goodbye
Justyna: It was such a short scene but it changed everything. As much as I enjoyed the entire episode this was a clear choice for Scene of the Week. In 2019 Oliver finds a reason to doubt Monitor's intentions and says goodbye to Thea. In the future new Team Arrow attacks JJ and his Deathstroke gang and loses Zoe as a result. They don't even have a chance to process their loss before they're suddenly moved back in time, to the present day bunker and Oliver, Diggle, Dinah and Rene. The sudden reappearance of Oliver in HQ would be confusing and unexpected enough, but the arrival of visitors from the future leaves everyone (especially the viewers) shocked and speechless. Though it's the reactions from Mia and William that hit me the most. They recognize their father immediately and I can't imagine what it must feel like for them to see him, decades "after" his death. For William it's a reunion that never happened, the one he was waiting for after he was forced to leave Oliver and Felicity as a kid. For Mia it's... well, everything. She has never met her father and for the first time she actually gets to see him. It's an impossible miracle and I can't wait to explore all the possibilities of this collision. Wonderful work by Katherine McNamara and Ben Lewis. This scene lasts less than a minute and yet the looks on their faces convey all the emotions their characters feel in this moment. I've rewatched this ending multiple times and it's as powerful now as it was the first time I saw it. Kudos! Can't wait to see what's going to happen next.
Milo: Mia, William and Connor arrive in the present day bunker. The colliding of the two timelines is something that's been suspected to happen for a long time and seeing Future Team Arrow come face to face with the current Team Arrow will never not be awesome. This season has hit high after high and that cliffhanger means for the first time in what feels like ages (not since S5) Arrow has been my most anticipated returning show airing new episodes the following week. I could not be more on board the hype for Crisis.
DJRiter: Mia, Connor, and William arrive in present day Arrow bunker from the future. It was a short scene with tremendous impact as Mia, Connor and William are transported to the present-day Star City by the Monitor. Mia and William come face to face with their father. This is a collation of the timelines as Oliver and Star City prepare for the Crisis.
Marko: And all of the sudden they've changed the whole game, once again. The second time in only three episodes the Arrow writers pulled an (at this point) unexpected twist out of their sleeves and everyone was left speechless. Connor, Mia and William were just heartbroken over the loss of Zoe just to find themselves in an unknown location seeing Oliver and the rest of Team Arrow in front of them. The tremble in Kat's voice was echoing in my ears as my heart was pounding at this new revelation.
Diana: Oliver and Thea say goodbye to each other with an emotional hug.

DAYBREAK, "FWASH-BOOOOOOOOOM!", October 24, 2019, Actors: Colin Ford, Alyvia Alyn Lind and more, The Scene: Josh and the gang team up to save the world
Milo: Josh and the gang arrive to save the world and rescue Angelica using music to get help from the Ghoulies. This show has shamelessly taken influence from Mad Max: Fury Road and it saved its most Mad Max inspired scene for the last episode; featuring the kids team up to stop a bomb, saving the world and Angelica - in epic fashion, using loud noise as bait to lure the Ghoulies so their army increased tenfold. It was insane, over the top and gloriously bonkers from start to finish - which is Daybreak summed up to perfection.

GREY'S ANATOMY, "Whistlin' Past the Graveyard", October 31, 2019, Actors: Justin Chambers, Camilla Luddington, The Scene: Alex and Jo get married again
Klutzy girl: I loved their first wedding but this was also sweet and so them.

MADAM SECRETARY, "Valor", October 27, 2019, Actors: Tim Daly, Téa Leoni and more, The Scene: Henry's testimony
Justyna: Very often it's the real-life tragedies that scare me the most. Not a ghost or a monster on the screen but the painful reality where people struggle every day and keep losing, far too many times. No matter the story, whether it's on a drama, a comedy, a superhero show, it's the people in these stories that make the biggest impact on me. This week on Madam Secretary we meet Major Brad Jenkins, a war hero, Medal of Honor recipient, a soldier suffering from PTSD. It wasn't the first time I've seen a similar story told, on a TV show, in a movie or on the news. Someone who served his country with honor and valor but was failed by other people and institutions after coming back home. The scene I wanted to mention from this memorable hour is near the end of the episode, when Henry is asked to speak in front of a committee, the decision makers for a proposed modernization bill, and he chooses to share Major Jenkins' words after his tragic death. The speech is meaningful, wonderfully said and written, the acknowledgement after is absolutely heartbreaking. So many painful, traumatic experiences happen every day. If there's a way to help people who suffer their consequences, every action counts. I'm glad to see another important issue highlighted on the show. I remain hopeful to see a real change outside of the TV world as well. Kudos to cast & crew for all their work.

NEW AMSTERDAM, "Righteous Right Hand", October 29, 2019, Actors: Ryan Eggold, April Matthis, The Scene: Kaye tells Max why she crashed the van
DJRiter: Kaye explains to Max why she crashed her van and how her faith in God made her do it. New Amsterdam is fast becoming my favorite drama on television. A great cast and great storylines like the one this week that featured April Matthis as a deeply religious woman who used her faith to help people she cared about get the medical treatment they couldn't get in their home state. This scene between Matthis and Eggold was especially effective as Kaye explains to Max how she let her faith guide her in making her decision to crash the van.

PERFECT HARMONY, "Halle-Boo-Yah", October 31, 2019, Actors: Anna Camp, Rizwan Manji, Tymberlee Hill and more, The Scene: Halloween Carols
Prpleight: The Second First Church of the Cumberlands choir decided to go house to house in town (to advertise for their Halloween event) and sing Halloween Carols. Um. I can't find the words. All I could do was gape with my chin on the floor.

SUPERGIRL, "In Plain Sight", October 27, 2019, Actors: Chyler Leigh, David Harewood, The Scene: Malefic-incepted Alex confronts J'onn on the balcony
DJRiter: A powerful scene that strikes at the core of the space family. Alex lashes out at J'onn for lying about being the cause of Malefic's anger. Again, Chyler Leigh and David Harewood prove why they are two of the MVP's of the Supergirl cast. The intensity, anger and pain they both displayed in this scene was off the charts. The depth and level of performance from Leigh and Harewood is always high whenever these two share a scene together but they took things to a whole new level of excellence. From Leigh's controlled fury to Harewood's guilt ridden pleas this was something very special and a highlight of the episode.

THE AFFAIR, "510", October 27, 2019, Actors: Dominic West, Maura Tierney
The Scene: Noah gets Helen angry in order to help her
Laura B: Noah gets Helen a little angry in order to help her down into the lower part of the canon. While most penultimate episodes of The Affair never disappoint, this was one the Affair's best episodes and the ultimate penultimate. I chose this scene, because it shows just how well Noah knows Helen, adding some humor to a pretty intense situation, and shows how much he's willing to risk to prove to her how much he still cares.

THE DEUCE, "Finish It", October 28, 2019, Actors: James Franco, Maggie Gyllenhaal, Margarita Levieva and more, The Scene: Flash-forward to 2019
Eve: Vince walks through Times Square and sees many characters from all seasons, Bobby, Candy/Eileen, Lori, CC, Ashley etc. The last character he sees is his murdered twin brother Frankie. They embrace and walk down into an underground station. The contemporary shot of Times Square continues and we see a 60+ Abby walking through the shot, dressed smart and on the phone. It's hinted that she's a 'corporate' lawyer (and still alive). This entire last scene with all the characters 'returning' can be seen as a bit cheesy but if you watched all 3 seasons and are a fan you can't help but fight back tears..

THE FLASH, "There Will Be Blood", October 29, 2019, Actors: Grant Gustin, Jesse L. Martin, The Scene: Barry and Joe talk at the end
Justyna: There's a famous quote written by F. Scott Fitzgerald that says "Show me a hero and I'll write you a tragedy." It's left for readers' interpretation but over the years I've seen it often used as a way to highlight just how many tragic backstories we get for every hero we meet on TV or a movie screen. Superhero shows and movies aren't for everyone, we all get to decide how we choose to see them, what's important for us. For me they've always meant more because, if done right, they were stories about real people in extraordinary worlds. Real, but also the best possible people, not just great, but genuinely good, the ones who try the most and are capable of making impossible choices, sacrifices that I could never imagine anyone being able to make. And I'm always waiting for a happy ending, even if there shouldn't be a chance for one, because if someone as good and wonderful as a hero doesn't get to have it, how could anyone else? It doesn't feel right or fair and I empathized with everything Joe said in this scene. It's beautiful how grateful Barry feels for all that he has, especially for Joe who showed him what it means to be a good person. "I learned all that from you." I'm definitely with Joe, though - not ready for this. It was such an emotional moment, beautifully portrayed by both actors. It actually felt bigger than The Flash for me. This one's for all the heroes. Kudos!
Diana: In the final scene, Barry and Joe talk about Barry's imminent death in Crisis. It's a heart to heart conversation which is very emotional because they're like father and son - I mean, Barry was raised into his home.

THE GOOD PLACE, "A Chip Driver Mystery", October 31, 2019, Actors: William Jackson Harper, Manny Jacinto, The Scene: Jason tries to help Chidi
Jennifer: This season of TGP has required Chidi to be emotionally separated from his friends, since he doesn't remember that they're his friends. Letting him in on Jason's "secret" has let the two bond all over again, which leads to a nice moment with Jason trying to help Chidi be more fun and spontaneous. I want to watch Harper and Jacinto dance to EDM music forever. It also ended with John finding out about Jason's "secret," which gives the gossip blogger a little more depth as he tries to measure his desire to help his friends (and learn a Magic Mike dance) against his natural inclination to blab. This week felt like the most we've seen of the new humans getting to have their own stories, and I hope that this is an indication we'll get more for John in particular. I also hope we get more dancing. That was awesome.

THIS IS US, "The Club", October 29, 2019, Actors: Milo Ventimiglia, Sterling K. Brown, Lonnie Chavis and more, The Scenes: Randall talks to Jack about isolation & Randall plays golf at the end
WK: In a flashback dating back to Randall's childhood, we see him engage in a moving conversation with Jack regarding isolation. Having vocalized the challenges surrounding his blackness within largely white spaces, Jack attempted to sympathize with Randall by drawing parallels to his own experiences related to classism. Such a comparison didn't bode well with the child as it took away from his experience, leading the patriarch to note that he doesn't "see" color only adding to the disconnect within the conversation. This scene captured the essence of privilege perfectly by conveying the dangers surrounding a colorblind mentality. While Jack meant well, it was important that Randall's perspective be taken into full consideration because it speaks to the personal plights us black folk endure. We can't escape the skin we live in and while it's important to acknowledge our humanity, our racial identity contributes to that very point.
Diana: The last scene with Randall playing golf. Through the episode we learn why Jack hated golf, and why Randall isn't a big fan of it. During flashback, we got to see father and son playing in the field, till the very last scene when Randall pays homage to his dad by one before aiming for the nearby pond: "This one's for you, pop." Such a cute scene. Tears overloaded.
Klutzy girl: Randall reveals he can actually play golf after misleading the other councilmen. "This one's for you, Pops" made me emotional, especially mixed in with the flashback to his day golfing with Jack.

WATCHMEN, "Martial Feats of Comanche Horsemanship", October 27, 2019, Actors: Jeremy Irons, Tom Mison, Sara Vickers, The Scene: The Watchmaker's Son is performed for an audience of one
Milo: This was the scene that showcased what sort of show Watchmen is - weird, not afraid to take risks and self-aware of what kind of genre it is. Jeremy Irons' Ozymandias is one of the characters with the most bizarre arcs this season - it's not clear how he fits into a larger puzzle, but I'm enjoying it a lot and seeing the play enacted by his willing subordinates was brilliant, and worked as a nice callback to the original source material.