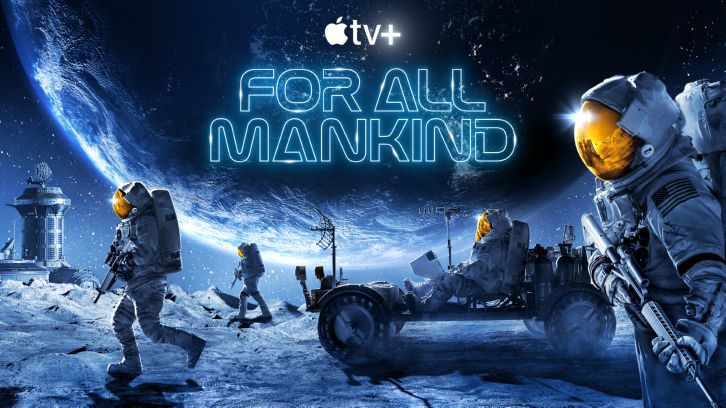 Not many shows do a good job at handling time jumps so it's always a risk to see a series try to pull something like this so early in the season, but
For All Mankind
picked up several years later with style allowing the narrative to jump forward – Jamestown base is firmly established, Ted Kennedy is in power in the White House having replaced Nixon and Ed, Danielle and Gordo are living in the Moon waiting to be relieved by a replacement team. Karen is expecting a safe return for Ed, Gordo and co – and so is everyone, having become too complacent and cocky in their victories, but right from the start, and the distinct lack of upbeat, happy 60s music that accompanies Michael Collins and his team to the spaceship, you get a sense of unease and dread. You know something's going to go wrong the way they're already bragging about pulling off a better moon landing than Neil Armstrong and Buzz Aldrin. And then – the rocket explodes, lighting up in flames before the shocked eyes of everybody watching. It's a chilling moment, and represents the first failure in a while for the USA, and the end of their winning streak.
Welcome to 1974, and eleven other men are killed – including Gene Kranz, who has even headed out to send the men on their mission. It's a chilling moment as although the astronauts were able to escape, through emergency launch, they still suffered the cost of injuries. Consequences and investigations must be launched as a consequence, and relief for Gordo, Danielle and Ed isn't coming anytime soon. Russian sabotage is NASA's primarily suspect which leads them to Larry, who has been in a relationship with Ellen without marrying her for too long for the Government not to notice something could be up, but for now, he's able to keep the fact that he's gay hidden from them even after an insider tip off. This plants Ellen in jeopardy as her life comes under scrutiny too – and her relationship with Pam has to be cut short for their careers' sake. Ellen and Pam's relationship isn't the only one that's becoming strained; s so too is Tracy and her son, with the two struggling to connect due to Tracy's dedication to the space program. Troubled relationships very much run right through this episode.
Margo is still bitter about being passed over for promotion and her wounds with Werner von Braun have not healed, yet he will only let her see his findings of what went wrong with Apollo 23 in face to face meeting at his home. Von Braun drops shocking truth after shocking truth; Margo's father worked on the creation of the Manhattan Project and changed his life forever, but also the destruction of Apollo 23 was not the fault of the Russians but of equipment that wasn't up to scratch from a district that Kennedy promised would get NASA manufacturing to in order to secure the Equal Rights Amendment. Margo is surprised and knows full well that NASA will classify this as top secret as soon as the findings are reported – but is able to use this as an advantage over her interrogator to leverage a promotion of her own.
For All Mankind
used the time-jump really cleverly, almost removing any kind of worries that I had with the episode and it's to the full credit of writer Stephanie Shannon that everything came together so well. There was plenty of significant after effects and it did a good job at placing the characters on the board right where they needed to be; Aledia has grown and is now at NASA making friends with Margo, who has passed on her slide rule that she got from Werner, with Margo finding herself in exactly the same role – complete with dark secrets of her own that Aledia could very well bring to light the more she learns about Margo. Promising to teach her to play the piano, an interesting new dynamic is built amongst the tearing apart of old ones. The series itself kept things grounded for most of the episode rarely taking off into orbit; but we did get a last look at the stranded astronauts holding down the fort – with Gordo going on one of his long walks by his lonesome, only to discover something sinister at the end in the distance on the moon after proclaiming loudly that he's the first person ever to walk on this particular terrain – it appears the Russians have landed, and things are about to get even more tense between the two global superpowers, especially with no relief in sight.