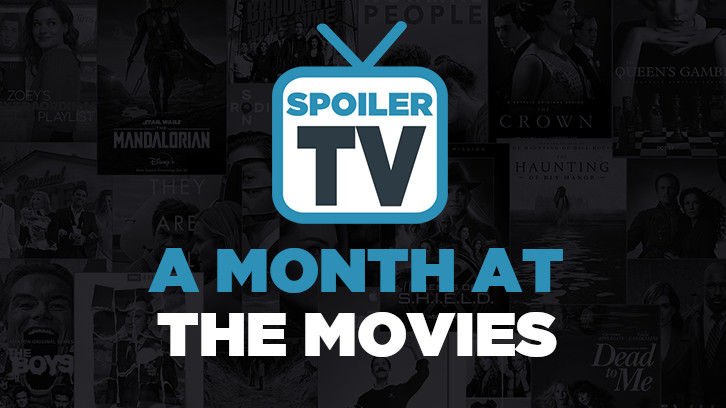 October saw one of the busiest few weeks of the year for me with the London Film Festival meaning that I saw a bunch of films in the space of two weeks alone, but after that things threatened to calm down before the onslaught of post Festival cinema releases. In addition to the festival films themselves, films like
Joker
and
Gemini Man
all feature here, alongside old-school horror films like
The Stepford Wives
and
Full Moon High
, and franchise legacy sequels in the form of
Terminator: Dark Fate
ensure that October was never going to be a quiet month for me.
As usual, let me know your favourite films that you saw last month and your opinions on the films that you have seen from those listed below.
Ready or Not
(2018; Matt Bettinelli-Olpin & Tyler Gillett)
A fun horror movie if not a great one, Ready Or Not kicks into gear in its third act, doubling down on its premise to tell a watchable, enjoyable affair with an unforgettable final shot set to a killer tune. The film itself may be a bit predictable, especially when it tries to be unpredictable, and although it doesn't bring anything new to the genre, the atmosphere is fantastic, the story is simple and easy to follow, and Samara Weaving is excellent.
B

The Personal History of David Copperfield
(2019; Armando Iannucci)
Armando Iannucci began the London Film Festival with an updated Dickens film for the modern age, with a great performance by a stacked ensemble cast. It's a brilliant odyssey that takes the audiences through the life of David Copperfield and although it's the least Iannucci film to date, it matches the tragicomedy of his previous work and more than holds up to them, sending the audience on a journey filled with a wide variety of emotions. I reviewed the film
here
.
B
Monos
(2019; Alejandro Landes)
This film.
This film
. It's so intense from start to finish and I felt like there was so much going on I had to see it again when it was on offer, and it more than delivered. The performances are great and the rollercoaster of a journey is absolutely unrivalled. The cinematography and effects are fantastic and it's just a wild ride from beginning to end. I reviewed it in September here.
A

Waves
(2019; Trey Edward Schults)
Schultz's indie darling It Comes at Night was not the film for me and Waves was very much an improvement, a film of two halves that looks at a brother and a sister in the same family and how their relationships are shaped; one destructive and one wholesome and inclusive. It's a film of two halves and although I liked the more optimistic but equally devastating second better than the first, Schults does enough to stick with me and establish it as one of the most beautiful and gut-wrenching films of the year, getting by on a cast full of both big names and breakout stars. My review can be found
here
.
B+


The Lighthouse
(2019; Robert Eggers)
Eggers'
The Witch
is one of my favourite movies of the decade so far and
The Lighthouse
is another tour-de-force, coasting by on the acting talents of Robert Pattinson and Willem Dafoe with a near career best performances for both actors involved. Shot in black and white and told in a way that echoes films like Stanley Kubrick's
The Shining
and David Lynch's
Eraserhead, The Lighthouse
is a visceral treat that commands your attention. Check out my review
here
.
A
Hope Gap
(2019; William Nicholson)
A very predictable drama about a breakdown in a marriage,
Hope Gap
is just about watchable thanks to its performances from Annette Bening, Bill Nighy and Josh O'Connor, who is capable of out acting them both at times. Bening's English accent is hit and miss and this film feels very much like a typical play, and director William Nicholson knows this too, careful to spread out scenes with idealistic, sweeping shots of the English countryside. A full review can be found
here
.
C-


Saint Maud
(2019; Rose Glass)
I've raved about this film to pretty much everyone who I've had the chance to speak to; the surprise of LFF for me,
Saint Maud
was a complete and utter revelation. Taxi Driver by way of The Exorcist, Morfydd Clark puts in one of the breakout performances of the year in an entirely committed role as a live-in carer hell-bent on redeeming her subject. Beautifully shot, Saint Maud makes the most out of its setting of a nameless coastal English town to take command of its atmosphere. Glass is a director to keep an eye on in one of the best films of the year, and a haunting final shot for the ages. Check out my review
here
.
A+

Jojo Rabbit
(2019; Taika Waititi)
Taika Waititi is one of the best comedic directors of his generation and Jojo Rabbit, his film about a 10 year old boy named Jojo – who lives in wartime Germany with Hitler as his imaginary friend, and it's a delightful comedy that brings up time and time again about how love, not hate is the most important message. Thomasin McKenzie puts in a brilliant turn as a Jewish girl living in the boy's attic under Jojo's mother's protection during World War 2, and the laughs come thick and fast before a darker turn in this film that in the third act that has echoes of
The Death of Stalin
– ironically, Taika Watiti made a more Armando Iannucci film than an actual Armando Iannucci film, with a great tragicomedy take on war that cannot be ignored. I reviewed
Jojo Rabbit
here
.
A


Rare Beasts
(2019; Billie Piper)
Billie Piper's directorial debut suits fans of Phoebe Waller-Bridge's Fleabag perfectly – and although this Paul Thomas Anderson-inspired look into a turbulent relationship between a career driven woman and her religious, nationalist love interest doesn't try to be likeable, it feels too raw and uneven to work, punching above its weight and although Piper clearly has promise as a director, and her acting talents need no introduction - she just needs a better script to work with, as the only time I found myself having fun with this film was when Lily James turned up for short cameo at an extended, sprawling wedding sequence during the film's mid-point. I reviewed
Rare Beasts
here
.
D-

The New World
(2005; Terrence Malick)
I wanted to watch as many unseen Malick movies as I could before I saw
A Hidden Life
at LFF and adored The New World, which is probably my favourite retelling of the Pocahontas story. Aesthetically brilliant and told with skilful precision that benefits from a brilliant cast and a naturalistic approach from Malick,
The New World
is an all-encompassing epic that feels justified in its ambitious length. It may not be the director's best, but it marks a turning point from his more traditional narrative work into his more experimental.
A


Portrait of a Lady on Fire
(2019; Céline Sciamma)
Arguably a perfect movie and my favourite of the year so far; few films can be described as "every frame is a painting" quite so accurately about this moving historical romance about a painter who is hired to discreetly paint her subject on a remote island in 1800s Brittany without her knowledge. From the director of the brilliant Girlhood, Céline Sciamma's
Portrait of a Lady on Fire
is a classical masterpiece that gets the best out of the flawless Noémie Merlant & Adèle Haenel, with respective career-best performances for both stars. Avoiding lazy comparisons to
Call Me By Your Name, Portrait of a Lady on Fire
instead echoes films like Olivier Assayas'
Personal Shopper
and Marcel Camus'
Black Orpheus
. I can't praise this truly special film highly enough, and my glowing review can be found
here
.
A+

Knives Out
(2019; Rian Johnson)
Rian Johnson's
Knives Out
is a brilliant update of the whodunit mystery drama to the modern age that is one of the most self-aware and brilliant comedy dramas of the year. Every beat lands, Daniel Craig gets to do an hilarious Southern accent, Chris Evans is having the most fun he's had in ages and Ana De Armas puts in what is legitimately one of the best performances of the year. It showcases Johnson's clear love for the genre, and cannot be missed under any circumstances. Find out why in my full review https://www.spoilertv.com/2019/10/movies-knives-out-lff-2019-review.html
here
.
A


Earthquake Bird
(2019; Wash Westmoreland)
Earthquake Bird
is probably the weakest Wash Westmoreland film that I've seen so far, a far too predictable and safe thriller that tries to be unreliable but is really not. Alicia Vikander, Riley Keough and Naoki Kobayashi are great and the cinematography is fantastic, but the whole film feels just like a misfire that never really clicks together.
Here's
my full review of one of this year's most underwhelming films.
E

To the Wonder
(2012; Terrence Malick)
Malick's most Malick film yet, if that makes any kind of sense at all. It's so unique but at the same time, so very Malick – at times too self-indulgent but risk-takingly experimental, and arguably, cinematographer Emmanuel Lubezki is the real star of this movie capturing every shot perfectly, with the actors Ben Affleck, Olga Kurylenko & Rachel McAdams all putting in remarkably restrained performances that showcases Malick's continued, post Tree of Life descent into abandonment of a traditional narrative.
B+


Western Stars
(2019; Thom Zimny & Bruce Springsteen)
One of the best-looking concert films ever made,
Western Stars
is a lowkey hangout film that feels shorter than it actually is, brilliantly capturing the laid-back feel of Springsteen's new album and exploring untold truths about the legendary artist, who casts himself as an ageing actor who has in been in one too many westerns, opting a simple yet romantic vision of his life that is perfect for the fans, and even if it's not quite as ground-breaking a concert film as say, Homecoming, it still is a must watch. I covered this film in full at
the link
.
A

A Hidden Life
(2019; Terrence Malick)
Terrence Malick's best film since The Tree of Life and his most conventional since
The New World, A Hidden Life
is a work of art; echoing Martin Scorsese's
Silence
as it follows the persecution of an Austrian farmer for his devotion to his faith during the final few years World War 2. There are still brilliant images of the beautiful landscape that Malick uses to his advantage but the reigned in yet expressive performances carry the film, with full credit to the brilliance of August Diehl and Valerie Pachner who help craft an emotional, three-hour journey that will leave you emotionally drained. My review is at
this link
.
A
Wasp Network
(2019; Olivier Assayas)
We are introduced to occupied Cuba, where a man bids his family goodbye, gets on a plane and then leaves for the United States, defecting from his nation. It's only the start of Assayas' ambitious, scattershot biopic of the Wasp Network, an anti-revolutionary organisation existing within the structure of the Cuban revolutionaries. At times the film tries to tackle too much in such a short runtime and not everything works, but even though it may be Assayas' messiest film yet, it's still a work of experience and precision that makes a brilliant usage of a song by The Five Americans,
Western Union
. My penultimate LFF review can be found
here
.
B+

The Irishman
(2019; Martin Scorsese)
See this on the big screen, please. The Irishman is an epic – a traditional Scorsese mob movie made in a way that feels reflective and clearly matured, with the director uniting Al Pacino and Robert DeNiro for a journey through the underbelly of history, following the lives of gangster Frank Sheeran, an hitman for the mob, and Jimmy Hoffa, a corrupt union worker whose real cause of death is still unknown even to this day, played by a de-aged DeNiro and Al Pacino spectacularly. Scorsese shines in one of his best films of the decade, and you can't help but admire something that – even if it's not – feels like a swan song for three legends of cinema. My review of the film that was the Closing Night Gala film at LFF can be found
here
, and I'm still not over the chance I had to be in the same room as Martin Scorsese, Al Pacino and Robert DeNiro during a key press conference at the Mayfair Hotel.
A+
Joker
(2019; Todd Phillips)
Joaquin Phoenix puts in one of the best performances of the decade in a film that is utterly wasted on its awful, bloated script that reminded me of a better film at every turn. There are less than subtle shades of
Taxi Driver, Fight Club, The King of Comedy
and Charlie Chaplin here and although the cinematography is amazing and to Lawrence Sher's credit, he does a fantastic job at capturing the grimy aesthetic of Gotham City – Joker takes every misstep possible and fails to even be interesting. It feels above everything else – just there, and despite all the talk, lacks anything truly original to say.
E
Possession
(1981; Andrzej Żuławski)
A horror movie for the ages, Possession is an iconic film that's incredibly chaotic from start to finish. Far more complex than a man's quest to find his wife who he believes has left him for another man, Possession gets by largely on not just masterful cinematography from Bruno Nuytten but also a once in a lifetime performance by Isabelle Adjani, who gets across what Anna is going through really well, with one unforgettable scene after another. I was blown away by a truly inspired metro sequence, and can't help but admire Żuławski's epic.
A
The Endless
(2017; Aaron Moorhead & Justin Benson)
Aaron Moorhead and Justin Benson star and direct this low-budget, creative film that doesn't feel like a traditional horror movie at all and more of a supernatural thriller. Taking risks at every turn in favour of an experience that reminded me a lot of Lost at its most confusing (but in a good way),
The Endless
is an experiment that's left watched as blind as possible. There are no easy answers and you're just left wanting more.
B+
Under the Shadow
(2016; Baba Anvari)
One of the best horror films not just of the year but of the decade, this under the radar Iranian horror film
Under the Shadow
comes in at a tight eighty-four minutes, taking the haunted house concept to extremes by giving it the backdrop of a real warzone. Narges Rashidi is impeccable as Shideh, who believes that cursed spirits have entered her home after a missile hits her building during the Iran-Iraq war, and will do anything to protect her daughter from harm even if it means going toe-to-toe to them herself.
A+
The Terminator
(1986; James Cameron)
It's easy to forget in the shadow of
Terminator 2: Judgement Day
just how good
The Terminator
really is. The plot is so simple, the Terminator itself is such an iconic villain and the technical effects to make this film look so good on such a small budget are impressive. As intimidating as Arnold Schwarzenegger is though, this is another reminder that James Cameron's
Terminator
franchise belongs to primarily Linda Hamilton. This is, more than anything else – the origin story of Sarah Connor, one of the greatest protagonists of an era. It's almost hard to believe it's only the second time I've watched this film, but with a new sequel to
Terminator 2
in town, a rewatch was deemed better late than never.
A-
Gemini Man
(2019; Ang Lee)
Will Smith get to throw a motorcycle at Will Smith, Mary Elizabeth Winstead rips a man's teeth out and Benedict Wong is clearly having the time of his life, what's not to love?
Gemini Man
is a blast, an old-school action science fiction thriller that feels very eighties and although its effects are hit and miss, I kind of dug it, and at the very least, had lots of fun with it. The action echoes
John Wick
and it's a rare, self-contained blockbuster without any kind of sequel set-up that is a miracle in its own right. Feel like this would have worked a lot better in 3D and I wouldn't be against a rewatch in the recommended format.
C+
The Stepford Wives
(1975; Bryan Forbes)
A creepy atmospheric horror film with an unforgettable ending that is still incredibly chilling,
The Stepford Wives
is an instantly iconic feminist masterpiece, boasting a legendary lead performance from Katherine Ross as photographer Joanna Eberhart, who begins to suspect that something is not quite right in her new town, a place that was meant to be an escape from all her troubles. The film feels like a callback to the 1950s despite addressing 1970s themes, and it's easy to see just how influential Bryan Forbes' most well-known work is after you've watched it.
A
Full Moon High
(1981; Larry Cohen)
Getting the mix between horror and comedy can at times be a difficult one to land – but thankfully in this comedy about a High School football player who goes to Transylvania and comes back a werewolf – is handled just right, and whilst the first half may be superior to the second you'll have left having a good time by all accounts, and even though this is one of Larry Cohen's less well regarded works it's still worth seeking out if you get the chance, boasting great performances by Adam Arkin and Ed McMahon in particular. The whole thing is currently free on YouTube to watch, and although it hasn't held up as well as one would like, it's worth every second.
C+
Terminator 2: Judgement Day
(1991; James Cameron)
Another month, another time this film appears on this list. Unquestionably one of the greatest sci-fi movies ever.
A+
Official Secrets
(2019; Gavin Hood)
Not much attempt is made to get Keira Knightley to look anything like her subject matter - Katherine Gun, a whistle-blower who exposed the illegal acts committed in the run-up to the Iraq invasion in 2003 by the USA and the UK, this film does a better job at getting its message across than
The Report
and does it in a convincing, engaging - if still formulaic - way.
B
Terminator: Dark Fate
(2019; Tim Miller)
Lacks enough of a soul to be something truly groundbreaking but this new instalment in the
Terminator
franchise is the best since the second one. The performances are excellent and it's so refreshing to see Linda Hamilton back, and this is another reminder that after
Black Mirror
and
Halt and Catch Fire
that this is Mackenzie Davis' world, and we're just living in it. I could do with a
Sarah Connor Chronicles
2.0 spinoff with Hamilton, Davis and Natalia Reyes - preferably one where David S. Goyer isn't attached because the biggest weakness here is his hamfisted script that makes the whole thing unforgettable.
C+
The Shining
(1980; Stanley Kubrick)
What more can be said about
The Shining
that hasn't been said already? It's a classic for a reason; watching the extended cut on the big screen was fantastic even though I'd already seen it before at the cinema on a seperate re-release and it was just what I needed to get all in on the hype for
Doctor Sleep
. Nicholson's performance is unrivalled as Kubrick proves he can do creepy, unnerving and atmospheric psychological horror films like no other.
A+
Total Movies Watched This Month:
30
Best Film of the Month
(and my favourite of the year so far): Celine Sciamma's
Portrait of a Lady on Fire
Runners Up
: Martin Scorsese's
The Irishman
Films Watched at the Cinema This Month
: 21