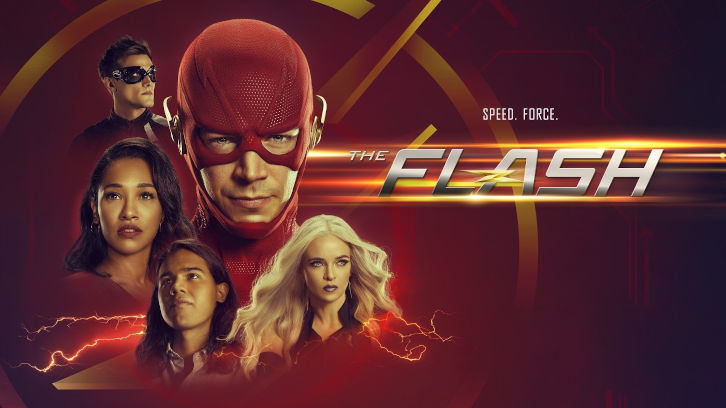 The Flash's fall premiere "Into the Void" was a heartfelt and energetic return to the DCTV line-up. With a new showrunner and set-up for its sixth season, hopes are very high for The Scarlet Speedster and Team Flash. Let's discuss how the first new episode went down.


Barry and Iris

We knew that the loss of Nora was going to leave a gaping hole in West-Allen world, and the show handled the weight of that loss really well. Barry and Iris try to keep up appearances for fear of falling completely "into the void", not realizing until later that it is only through facing their loss that they can begin the healing process.

Barry's high crime snatching rate and endless babbling are clear clues into his anxiety and pain about Nora, but it is Iris' quiet suffering, the pain of a mother, that cuts very deeply in this episode. Her pursuit of the purple jacket and anguished revelation that "for a moment she wanted the black hole to swallow her too" that remind us just how deep and dark the pain of loss can be.

Being the super couple that they are, Barry and Iris find a way to reconnect around Nora's loss. They finally speak honestly about their heart break and vow to support one another in a way that only they could do. This is why West-Allen remains such a favorite for fans. Having the foundation of their relationship be a rock solid friendship allows them to be open and vulnerable without judgement. Barry and Iris talks are always the best ones-the ones where one or both of them leaves feeling supported and more loved than ever. Of course, this couldn't last though- it wouldn't be The Flash without a monster sized monkey wrench.

With the loss of Nora just hanging in the background, Barry and Iris find themselves confronted with the acceleration of the Crisis timeline. Sigh...


Ramsey Rosso/Bloodwork
So, I don't normally put pics in my reviews, but this just had to be done. Ok, back to the task at hand.
Dr. Ramsey Rosso enters this episode as a grief-stricken friend who has lost him mom but very quickly reveals himself to be a maniac.
Sweetly buttering Caitlin up for the kill, he lures her into thinking he simply needs someone to talk to before pouncing on her with his true intentions.
Ramsey seems to secretly (well, not so secretly now) resent his mother for dying. His rage now propels him to believe he can cheat death. This type of grand thinking never ends well, but I'm down for the ride.
Seeing Ramsey reveal his villainy this early on is satisfying. In the past, these things have been pretty poorly drawn out, so cheers to setting this story in motion!
Caitlin Snow/Killer Frost
Every season, I come to
The Flash
with an open mind and crossed fingers that they'll get this story line right. So, Caitlin has seemed to decide that she'll take a back seat for a while and let Killer Frost have a life? Do I have that right? The track record with Caitlin has been abysmal. Maybe Killer Frost will get better- her fans certainly deserve more for the time they have invested in this character. Like Bloodwork's early reveal, maybe the early choice to be Killer Frost will lead to more complex stories and exciting scenes to explore without the back and forth/inner struggle story. It was really played out to be honest. Here's hoping.
Team Flash
The team seems to be thriving. Cisco and Kamilla are still cute as ever. Cisco being the tech geek full time is a win. He and Iris at the com-system is always a good laugh. Joe and Cecile are still weird with their ghost baby. That whole story line was just so.. I think the word I'm looking for is pointless. And Cecile's powers? Why does she still have them? Are they fading-shouldn't they be? Again, what's the point? I know Eric has to find smart ways to fix some of the things he may not have green lit, but this foolishness is a great place to start.
Ralph still manages to have some charm with his life coach gig and sometimes dim whitted ways. The addition of Sue has the potential to give his story some much needed heft.
Other Things I Was Thinking As I Watched
*I loved the void theme! The black hole/the hole in the lives of Barry and Iris. How you have to go deeper into the darkness to find your light! Loved, loved, loved it!
*Barry being a hero again! Chasing bad guys with Cisco and Kamilla cheering him on, saving the city, being Iris' hero! You better do it Eric!
*Barry and Iris' theme music. My heart just melted when they got to the time vault and their little theme came on. All their sweetest moments flooded my mind. Kisses, hugs, their new place. I was in West-Allen pieces.
*Did I say Ramsey was fine? Cuz I'm not sure if I did. You know he's fine when Killer Frost, who Caitlin couldn't pay to come out, jumped out at the touch of his hand! I know, I know, maybe she detected his craziness, but I'm just saying. He could make someone wanna live a life.
*Bloodwork's three minute screen time was better than ALL of the season five Cicada mess.
*Candice Patton's work is worthy of a shout out. She consistently and convincingly has poured her heart into her scenes-especially those that involve talking about or thinking about Nora. Confusion, heart break, anguish, unconditional love- she has given Iris the full depth of those feelings.
*Joe's "ain't nobody help clean up" after the barbecue. I was hollering!
*Speaking of said barbecue, now I'm not complaining because yams and collard greens are certainly better than Grandma Esther's noodles, but where was the potato salad? Baked beans? Maybe I missed them on the table.
*Why hasn't Cisco given Flash a banging hero song to hero to before now? I'll take it though.
*Chester. Lord, what is he gonna be doing at STAR Labs???
"Into the Void" was a solid start to the sixth season. It seems to have promise and the chance to be a reset for a series that started out strong but has since faded. What did you think of
The Flash's
season premiere? Share your thoughts down below! You can catch
The Flash
at 7pm on Tuesdays on the CW.
As always, thanks for reading!