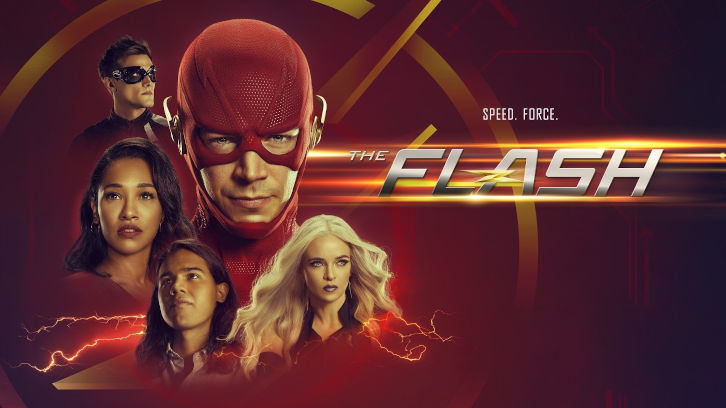 Two outta three isn't that bad. That's the pep talk I had to give myself after watching this week's episode of The Flash. Following two emotionally charged episodes with amazing performances from Candice Patton and Grant Gustin, we were kinda let down with the show's attempt at humanizing Killer Frost- excuse me, I forgot the name is now Frost. Let's break it down.

Frost

I meant what I said last week. I really didn't want to spend more time talking about why the story arcs of Caitlin/Frost are consistently the weakest aspects of the show, but alas here we are. So rather than simply drag the character- let me ask some sincere questions.Question one: Why is she behaving like a toddler? We just spent the entire last season bemoaning Nora's childish ways. It's hard to believe the creative team doesn't get that this is not a good look for a super villain or a genius level scientist. Caitlin's character has been lots of different things, and I do mean lots, but she has never been childish. Question two: Why can't the writers decide if Caitlin/Frost know and experience the same things or not? Frost has all of Caitlin's intellect, but she has just discovered Baskin Robbins and all its flavors. Sure, Jan.

Even if Frost was always lurking just beneath the surface of Caitlin's consciousness, she "watched" Caitlin live so she has some frame of reference for all things that Caitlin has done. When Ramsey asked to speak to Killer Cait (I about lost it when he said that), Frost said he could, which means Caitlin is hearing and experiencing what Frost does. So, I don't really know how to connect or invest in her character's growth because I don't understand her. And honestly if Frost was a real friend to Caitlin, wouldn't she want Caitlin to spend her last days with her best friends at STAR Labs? Just another question.

Finally, I have addressed this before and will again. Story lines can and do falter-that's the nature of writing sometimes, but what a poorly written story can't do, sometimes a talented actor can. What The Flash is trying to do with Frost is somewhat admirable. They are trying to make an irredeemable character one the audience can cheer for. They successfully did it with Ralph Dibney in one season. But with Killer Frost's character, they can't seem to get it right. I submit to you, it's partly because the actress who portrays the role lacks the range to pull off one character let alone two. Danielle Panabaker has been on okay Caitlin Snow and was a pretty good Killer Frost in very early seasons, but as they merged, the challenge of delivering the wildly different emotions and motivations of each character just seems to be too high of a bar. "It's my party, and I'll rage if I want to." Need I say more.


Barry and Ramsey

Scientist against scientist. It was awesome to watch as Barry and Ramsey challenged each other's will without using physical force. The things that they both have in common make for an exciting battle to come. Both have lost their mothers and both are facing imminent death. Both are afraid. Barry always seems to have some commonality with his nemesis; this gives his some well to tap into when trying to reach them. It will be interesting to see what he pulls on to reach Bloodwork.
It is just always so hard to watch Barry trust someone that he shouldn't. Him having that hunch about Ramsey should keep him on his toes.


Team Flash and The New Wells

I will admit, I didn't really get the Ralph and his mother thing at first. But, I am guessing it was to explain why he has clung so close to Team Flash and where he gets his shady personality bits from. His mom is basically a petty criminal and at first Ralph was a very despicable character. Understanding his streetwise mom and his abandonment issues makes his turnaround all the more satisfying.

Pairing Ralph and Cecile is usually pretty fun to watch. Though they were a bit boring this time, these two still have very good comic timing and chemistry when they are together.

Cisco and Iris and a delightful duo. From their stint against the Zombie Girder to their comms duty, they are always fun together. Add in Harrison Nash Wells and well, there we have a team. More team ups please.

Other Things I Was Thinking As I Watched

*I never thought I'd say this, but give me Caitlin Snow back. Please- I won't complain anymore. If you won't go full Killer Frost, I'll gladly take Dr. Snow over Baby Frost.

*Ramsey is fine as hell. Becoming more and more deranged but fine nevertheless. The close ups this episode-whew!

*I thought Ramsey and Barry were gonna throw down in STAR Labs. Ramsey raised that chin and told Barry he was NOT putting that dark matter back. Barry was like "I can make you." You go boy!

*Harrison Nash Wells. I'm kinda feelin' him. That lighter hair might be the thing. I should be tired of Wells, and I was, but I am willing to sit back and see what's up.

*Iris' jr. reporter got a little too big for her britches. A snitch or a liar- how about you're fired?

*Eternium. The alley. Iris. 30th century Iris? Or was she just standing in the alley over that man hole?

*West-Allen twirl- a glimpse, but we saw it.

Overall, this week's episode didn't hold a candle to the first two, but it set up Flash and Bloodwork, introduced us to the new Wells, and now Team Flash knows the real deal about Crisis- plus we got a little party time too. What did you think of "Dead Man Running"? Let me know in the comments. The Flash airs on the CW on Tuesdays at 7pm Central Time. As always, thanks for reading!