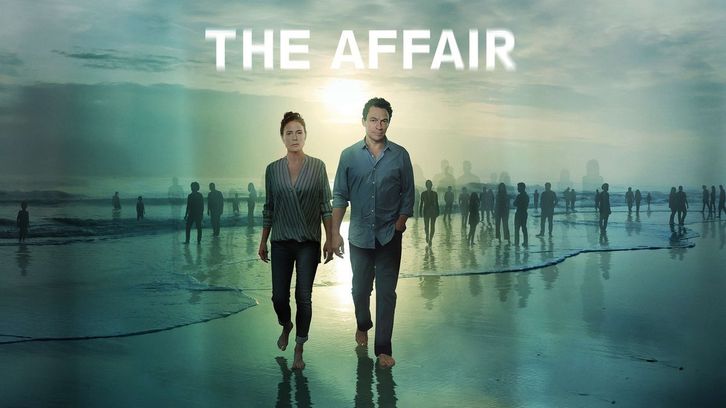 I hadn't realized, at first, that this week's
The Affair
was a supersized episode so I kept wondering why every time I checked, it seemed like I was still only half-way through while my own time seemed to be disappearing into a vortex. That's not to say that this episode wasn't good, or important though, and in that sense its runtime was warranted. The episode covers the fall out of Noah's behavior and various subsequent incidents with a number of women, but it is filmed from (arguably, or at least currently) two of the most important women in his life: Helen, and Whitney.
I'll admit, when the subject was first broached as Petra fact-checked her Vanity Fair article, I didn't think the show would have the guts to dive so deep into one of its lead character's complete and utter destruction. The glossy promotional article to hype his career? Forget it, it's a call out. The movie? He won't get credit as a screenwriter and his name will disappear from any and all material. His upcoming book? Dropped because of the allegations. His family? Torn asunder. His reputation? Over. It's not underserved, either, despite Helen's attempts to explain away his behavior. Noah has been trying for a while now to get back on track and do right by his family, at least. Unfortunately, as Whitney puts it when she finally comes to the realization that there is no going back, it's hard to forget just how far Noah actually went.
He did it to me. That night at Rodney Callahan's party. When you got in the hot tub, you didn't recognize me. But I saw the way you look at women.
Like they're prey.
Yep, the same party Noah went to while Alison was about to give birth, during a storm, no less. You can excuse away a lot of Noah's behavior, but when it comes down to it, and especially when the information we get is from his point of view... He had it coming. And the collateral dammage is astounding. Helen loses her job before even starting it, because the article completely shot her credibility since she's his exwife. Eden is interviewed on
Busy Tonight
(which still exists in
The Affair
world), where they team up to finish destroying Helen's attitude, deeming her from another generation and accusing her of worshipping Noah despite his actions. Busy doesn't even read out Helen's carefully put together statement in full, she conveniently focuses on the part where Helen says Noah is a good father, and forgets to mention Helen supports the women who came forward.
The children aren't spared either, Trevor ends up in a fight and Stacey finds out the internet is
not
a nice place. Whitney's future, like her mother's, is directly impacted by her father's actions, and her journey over the course of this episode is the most interesting. At first, unwilling to believe what the article purports, she downplays just how bad it is. But as she tries to get back to the West coast and finally ends up first at Furkat's place, where we're instantly reminded of how terrible he actually is, and second on the same flight as Audrey, the student Noah discredited when she showed him her writing, Whitney's world and beliefs slowly unravel until far from defending her father, she admits to believing the women.
One good thing to come out of this, however, is that I finally understand Colin's appeal! For so long he's just been
there
, in the background of her miserable life as she struggled to make things work both at work and with him and their green-card marriage, not helping her at all. As it turns out, he's just a very slow painter... who's also incredibly dedicated to her.
Jesus! Fucking Christ, Whitney, is that really what you think this is about? A green card? I hate this godforsaken country.
I'd love to go home. I'm not with you because I need a green card. I need a green card because I fucking want to be with you.

The episode ends with a distraught Helen asking Noah what Whitney is referring to when she mentions the Rodney Callahan party. Helen can excuse a lot of things, and it's true that Sasha sent the ball rolling because he wanted the sole screen-writing credit, which is despicable (Sasha sucks! I knew it!!). But with a scandal of this scale, sooner or later Noah's past would've caught up with him, and this last revelation seems to be the point where Helen finally breaks.
It seems like next week's episode will cover the showdown between Helen and Noah, so maybe she will finally get to hold him accountable for all the ways he's ruined her life ever since meeting Alison in that fateful diner.
What do you guys think? Should Noah's family have stood by him, or is the damage too deep to ever be forgiven?