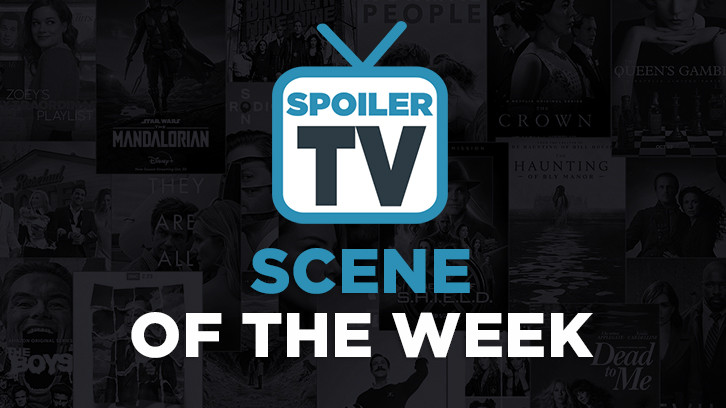 A weekly feature in which we're trying to find the most compelling, best acted, written, directed and just generally great, memorable scenes that we've seen in past seven days on TV.

9-1-1, "The Searchers", October 7, 2019, Actors: Oliver Stark, Ryan Guzman, Gavin McHugh and more, The Scenes: Christopher's safe return & Eddie tells Buck that he trusts him & Buck tells Eddie he lost Christopher
Justyna: There's something quite remarkable about the episodes that make you want to watch a specific TV show. I don't always start watching a series from day one and the pilot. Sometimes it's rather unexpected, after hearing a recommendation or just randomly changing a channel on the TV. That's exactly what happened to me this week with 9-1-1. I've never seen this show before but I found myself following the story with great interest and reflection, especially everything related to Buck's desperate search for Christopher. Despite not knowing much about these characters I spent the whole episode hoping and rooting for Christopher's safe return. Buck telling Eddie that he lost his son was absolutely heartbreaking but a moment later the most incredible thing happens - Christopher is revealed to be alive and safe, and he reunites with his worried father. The look on Buck's face was perfectly done. He was trying so hard to hold on throughout the entire hour, barely standing, worried and exhausted, but in this moment he feels the absolute relief and joy. And he finally lets go, collapsing into the arms of his friends as he watches the happy reunion between father and son. It was such a heartwarming scene, felt even more powerful and special when surrounded by the darkness and tragedy. Definitely the moment when I decided I would very much like to learn more about this show. Kudos to cast & crew for all their memorable work.
Dahne: Eddie tells Buck that he trusts him. Oh, how to choose in this excellent episode. I was all ready to nominate Buck's confession to Eddie when the ending scene came on. Buck, after dealing with the insurmountable guilt over Christopher being swept away, has reached his end. That's when Eddie and Christopher show up at his door. To hear that Eddie still trusts him with his son is so unbelievable to Buck that he just can't deal at first. That's when Eddie gives him the pep talk of all time and throws Buck a life line. It was pure emotion and a great payoff to an episode that was heartbreaking at times. 911 has really done a great job letting Buck come full circle in these first episodes.
Klutzy girl: Eddie drops off Christopher at Buck's and tells him he trusts him more than anybody with his son, that he saved the little boy. I loved Eddie joking around with him and telling him to stick to something inland, and that they couldn't predict getting caught in a natural disaster. It was such a fantastic, sweet scene all around.
Ellys: Buck tells Eddie he lost Christopher.

A MILLION LITTLE THINGS, "Mixed Signals", October 10, 2019, Actors: James Roday, Chance Hurstfield, The Scene: Danny tells Gary how he feels
Marko: It was a simple short scene but Danny confessing he is terrified of letting go and everyone seeing who he really is was heartbreaking. Danny's coming out story over the season's short run is really well handled and makes me really sad to see what these kids have to go through.

AMERICAN HORROR STORY, "True Killers", October 9, 2019, Actors: Leslie Grossman, John Carroll Lynch, The Scene: The truth about what happened at the camp
WK: It brings me great joy seeing Leslie Grossman on my TV screen having adored her on Popular, but nothing could've prepared me for the biggest twist of the season thus far. As Margaret and Mr. Jingles reunited after years of separation, viewers learn the truth about what happened at the camp. Margaret was actually the culprit behind the massacre, setting up Mr. Jingles to take the fall. Naturally Leslie glows through her comedic timing, but watching her soar as an antagonist showcased new range for the actress as her cold switch truly left a jawdropping impression. Between the gruesome flashbacks and Margaret's twisted cover ups, Leslie shaped such a meek presence into a frightening yet memorable one.

BATWOMAN, "Pilot", October 6, 2019, Actors: Ruby Rose, Camrus Johnson
The Scene: Kate discovers the Batcave
Milo: Seeing the Batcave from a new perspective was an exciting moment that really ticked all the right boxes for me, and although we'd seen it before in the crossover, seeing it through Kate's eyes for the first time was a remarkable highlight of a really impressive pilot.

BLACK-ISH, "Feminisn't", October 8, 2019, Actors: Tracee Ellis Ross and more
The Scene: Bow realizes her feminist group might not be enough (picked by Luana)

EMERGENCE, "2 MG CU BID", October 8, 2019, Actors: Allison Tolman, Alexa Swinton, The Scene: The reveal about Piper
Laura B: The reveal that Piper is not human. Although it's unclear if Piper is 100% android vs being bio-synthetic, the plot thickens when this information is revealed to Jo and makes Jo second-guess her feeling about her. The show has been doing a nice job at pacing out its mythology and not dragging things out for too long, it just has to remember to give the characters enough time to grow, but so far, so good. Things feel well-balanced for this kind of episodic format.

EVIL, "3 Stars", October 10, 2019, Actors: Katja Herbers, Michael Emerson and more, The Scene: Kristen testifies against Leland in court
Laura B: Kristen testifies against Leland in court as a rebuttal witness. In the spirit of The Good Wife and The Good Fight it has been interesting seeing the series keeping a little corner of Evil's universe in the realm of legal drama; a place where Kristen and Leland can more actively fight. I chose this scene for so many reasons, but besides some fun little 'Good Wife' easter eggs planted with this particular court case and the episode's cast, this was where we saw Kristen not only get a little bit of win, but it showed the audience that she cared about the lives of other people.

GREENLEAF, "The Stranger", October 8, 2019, Actors: Lynn Whitfield, Jacob Gibson and more, The Scene: Lady Mae confronts AJ
WK: It didn't take long for AJ's untimely arrival to rupture the Greenleaf core. Upon being questioned by the police regarding AJ's whereabouts, Lady Mae confronted her newfound grandson about the theft accusations. Lynn Whitfield captivated viewers attention by conveying both intimidation and conviction as Mae refused to let AJ's lies heighten the friction among the family. It was a moment that was met with such refined poise. "You have NEVER met anybody more formidable than me."

GREY'S ANATOMY, "Reunited", October 10, 2019, Actors: James Pickens Jr. and more
The Scene: The patient reveal
Marko: The patient is revealed not to be Heather. As said in my reviews I could see that Pac North spin off happening. Seeing how Richard handled that whole situation was beautiful, but the twist I haven't seen coming. I was rolling on the floor as they revealed that they turned off the wrong person. We can't lose a Charmed one, can we?

LEGACIES, "I'll Never Give Up Hope", October 10, 2019, Actors: Danielle Rose Russell, Aria Shahghasemi, The Scene: Hope talks to a Landon projection
Marko: After fighting for months to get out of Malivore, Hope just wanted to be with Landon again. Seeing her this heartbroken and defeated was really moving. Danielle is the best in these type of scenes where she is at some sort of peace and realization of what is going on.

MR. ROBOT, "401 Unauthorized", October 6, 2019, Actors: Christian Slater, Jake Busey, Rami Malek, The Scene: Mr. Robot guides Freddy to the train compartment
Milo: This was a hell of a tense opening sequence that introduced us back into the world of Mr. Robot, in brilliant style that echoed The Bourne Ultimatum's legendary Waterloo Station chase scene. It's the show at its best when it comes to action, and when Freddy realises that Elliot can't save him, you know that things are about to go badly south and the show more than delivers, reminding everyone that this show - when it wants to - can really do action well.

NANCY DREW, "Pilot", October 9, 2019, Actors: Kennedy McMann and more
The Scene: The end scene
Zandarl: End Scene when she finds the dress and there appears to be a ghost behind her, it scared the hell out of me and firmly stamps the dark tone of the series.

POWER, "Like Father, Like Son", October 6, 2019, Actors: Omari Hardwick, Michael Rainey Jr., The Scene: The opening scene
WK: Power has had its share of off the wall moments during its final season, but this week's opener was outrageous! The episode opens with the nuisance Tariq waking up to a gun in his face held by his own father. "Sleepy time is over little motherf*cker, let's go...", Ghost said as he confronts his son about his involvement in Proctor's murder. As expected, Tariq lies out of his teeth prompting Ghost to devise a potential cover-up for his son's death - citing suicide as a result of Raina's passing. The scene was comical for a number of reasons, mainly because we finally saw Tariq get put in his place all the while looking foolish. Tariq's demise would be doing me a favor, but while I likely don't see it happening I live for the depletion of Tariq's inflated ego.

PRODIGAL SON, "Fear Response", October 7, 2019, Actors: Bellamy Young, Michael Sheen
The Scene: Jessica and Martin talk
Luana: I need more scenes between these two, I feel like there's a lot more about the past we don't know, so something's not sitting well with me about the tone, but both performers are amazing, it's just a joy to watch them together on screen.

RIVERDALE, "Chapter Fifty-Eight: In Memoriam", October 9, 2019, Actors: KJ Apa and more
The Scene: The final scene
Jamie: This was a very emotional episode but that final moment with Archie in the garage and the flashbacks of Fred, that's when I had to blink away tears. A beautiful end to a beautiful tribute.

STUMPTOWN, "Rip City Dicks", October 9, 2019, Actors: Cobie Smulders, Tantoo Cardinal and more, The Scenes: Dex decides to fight back at the end & Sue Lynn goes to see Dex
Klutzy girl: Dex tells the client that they're going to fight back against Randall and Artie, and make them pay for their actions. Cobie poured every ounce of emotion she could into this scene, especially when she was talking about how women have been fighting their entire lives for everything. I love that Dex wanted to make things right. It was a great scene!
DJRiter: Sue Lynn goes to see Dex to warn her off her latest case. The strained, near adversarial relationship between Dex and her almost mother-in-law, Sue Lynn Blackbird was one of the most interesting dynamics in the series premiere. To see their lives to continue to cross paths was one of the highlights of the third episode of the series. Sue Lynn goes to Dex's territory this time, at her home, to warn her off the new case she is apprenticing on in order to earn her P.I. license. There is just some sort of electric cat and mouse back and forth between these two women and watching Smulders and Cardinal dance around one another makes for compelling television. Seeing where this relationship goes is going to be a highlight of the show. Will we ever know if Sue Lynn truly hates Dex as strongly as she proports or is there something about the woman her late son loved that she is coming to respect? Watching where this leads is just one of the reasons Stumptown is one of the stellar series of this new television season.

SUPERGIRL, "Event Horizon", October 6, 2019, Actors: Melissa Benoist, Katie McGrath, The Scene: Kara tells Lena the truth
Justyna: I've watched so many superhero stories, both on TV and movies, but this is definitely one of my favorite secret identity reveal scenes that I've seen. There are two main reasons why this part felt especially powerful and memorable to me. One has to be the wonderful performance by Melissa Benoist. The viewers could absolutely see and empathize with every single emotion felt by Kara in this moment. Everything from the tone of her voice to the physical movement worked perfectly and I'm so glad for the opportunity to see this talented star shine. I also really appreciated the reaction from Katie McGrath, very true to her character. Her response was enigmatic, but it was also clear how much this confession actually hit and surprised Lena. It was really hard to guess exactly what she's going to do after Kara's speech. Apart from the acting, what I enjoyed the most about this scene was simply how genuine every single word said by Kara felt. It was such an honest confession. She expressed her fears and doubts, admitted why she feels guilty about hiding the truth, but also gave the exact right answer to any question about it. If you truly needed to apologize for a lie, also highlighting just how much your best friend means to you, this was it. That's what makes the reveal about Lena at the end much harder for me to accept. After Kara's confession and their scenes following it, there is simply no understandable reason for Lena to actively stand against Kara. Not for me at this point. Kudos to cast & crew for this true highlight of the great hour and one of my choices for Scene of The Week.
Milo: In what will no doubt be a popular choice this week, Kara telling Lena the truth about her identity was an emotional moment that wasn't brushed over as quickly as CW shows tend to resolve key story arcs. The confession gave way to plenty of emotional depth between the two, and it was made all the more interesting knowing that Lena isn't willing to let things slide as easily, playing to her strengths as a Luthor to manipulate Kara.
Zandarl: Kara tells Lena not knowing she knows.
Jamie: I have been waiting for this moment for years and it's finally here. And it was every bit as good as I hoped it would be. Stellar acting from both actresses. Kara tearfully tells Lena the truth, which Lena was not expecting anymore. This moment is a real gamechanger for these two. Lena hasn't quite forgiven her, understandably so, but I do believe that this moment will go a long way towards forgiveness.
DJRiter: Kara confesses identity to Lena. This had to be THE scene of the week that had everyone talking. Kara finally confesses her Supergirl identity to Lena in a tearful, emotionally charged moment that featured some of Melissa Benoist's finest work on Supergirl. Kara's tearful confession and apology to Lena brought everyone to tears. Benoist is often cited for how she handles the lighthearted tone and cheery optimism of her character, but people often forget what an incredible dramatic actress she is. This is a performance worthy of every award. From the tears in her eyes, the quiver of her chin, and waver in her voice, she hit every emotional aspect of this scene perfectly with Kara's heartfelt confession and apology. Kudos to McGrath who moments before had been prepared to expose Supergirl's secret to the world, but you see the moment that Kara's words strike true with her.

SUPERNATURAL, "Back and to the Future", October 10, 2019, Actors: Jared Padalecki, Jensen Ackles, The Scene: Sam and Dean talk at the end
Justyna: This is the moment that sets up the entire final season ahead. Dean helps Sam with his wound and the two get a chance to talk about everything they will have to fight against. There's a short part where Dean tries to comfort Sam with a bad joke that feels very much like their old selves. It's followed by a much darker and sad realization that maybe everything they've done doesn't really matter that much in the end. I do love how hopeful Sam still feels about it, though. He refuses to accept the statement, instead declaring that everything absolutely did matter, everyone they saved did. He sees a chance to make things truly better now, without Chuck around to influence them. As soon as they take care of this one little problem first - just another apocalypse with billions of spirits free from hell. "You and me versus every soul in hell? I like those odds." So do I. I really enjoyed the whole scene but the one thing that I didn't see coming was definitely the final shot - the callback to the pilot with "We've got work to do". That was such a short but perfect way to end the final season premiere. The shot from the beginning and the beginning of the end. Kudos to cast & crew for all their work on the show.
Klutzy girl: The "We got work to do" callback. It was a perfect scene bookended by a flashback to the pilot, which just made me emotional. The final season is off to a fantastic, nostalgic start and I'm looking forward to seeing how they wrap this up.

THE AFFAIR, "507", October 6, 2019, Actors: Anna Paquin, Tony Plana and more, The Scene: Ben makes Joanie look crazy in front of the authorities
Laura B: Joanie's timeline gave into a little bit of a plot twist on this week's episode, as she devices a plan to try and prove that Ben murdered her mother, but little did she or maybe even the audience know, Ben had been expecting her for some time and proves himself to still be quite the psychopath and not just simply a man recovering from PTSD. He not only openly admits that he killed her, although he does lie a bit about the exact circumstance, but he is able to make it look like she's one of his patients that he's treating when she brings the authorities back to his home. Not exactly what I was expecting.

THE FLASH, "Into the Void", October 8, 2019, Actors: Grant Gustin, Candice Patton, The Scene: Barry and Iris remember Nora at the end
Naomi: Barry and Iris enter the time vault and see Nora's jacket memorialized behind the glass casing. The loving couple embrace as they think about Nora's legacy as a speedster and what lies ahead for the West-Allen family. This scene was special because the version of Nora that was erased is missed very much by Barry and Iris. Losing her has been hard, so having an important reminder of her time as a hero provides meaning and comfort to them. Barry endured the danger of a black hole to retrieve the jacket for Iris and the "Barry and Iris Theme" played softly in the background, reminding us that West-Allen is one of the sweetest couples on TV.

THE GOOD DOCTOR, "Claire", October 7, 2019, Actors: Antonia Thomas, Sharon Leal and more, The Scene: Dr. Brown attends a therapy session with her mother
Naomi: After Dr. Brown is removed from her first surgery, she attends a therapy session with her mother. Having made a poor judgement due to projecting her own maternal issues onto a situation, Claire is disappointed with herself. Her mother turns to her and reminds Claire that she is someone who has always gone after her dreams and never gives up. She tells her daughter that she has always been her hero. What a powerful scene! Claire has taken care of her mother most of her life due to her mother's mental illness and addiction issues. They have had a very tumultuous relationship because of the reversal of caretaker roles. In this scene, Claire's mother is finally able to give voice to the gratitude she feels for having such a strong daughter.

THIS IS US, "Unhinged", October 8, 2019, Actors: Milo Ventimiglia, Justin Hartley, Jennifer Morrison and more, The Scenes: Kevin, Cassidy and Uncle Nick disrupt the AA meeting & Jack calls to thank Miguel
DJRiter: Kevin is finding it hard trying to take care of his Uncle Nick, and demands his uncle go with him to an AA meeting. At the meeting Kevin is surprised to see Cassidy, the intriguing woman he'd met earlier at the VA. When Kevin's sharing goes a little overboard Cassidy begins laughing uncontrollably at him as though she sees through his performance, which makes Nick laugh, then ultimately Kevin begins laughing at himself. It's a wonderful bonding moment even if the meeting leader kicks them out of the meeting. It's almost a sign that Cassidy can see through Kevin and know when he's being sincere or not. Could this first unusual bonding moment indicate there's more to come between Cassidy and Kevin?
Luana: Jack calls to thank Miguel. There was something so sweet about this call, it's hard sometimes for Jack to express feelings so it was nice Miguel got him, and it was a good reminder of the great friendship these two had and that Miguel might be the one Jack would've chosen to take care of Rebecca after his death.