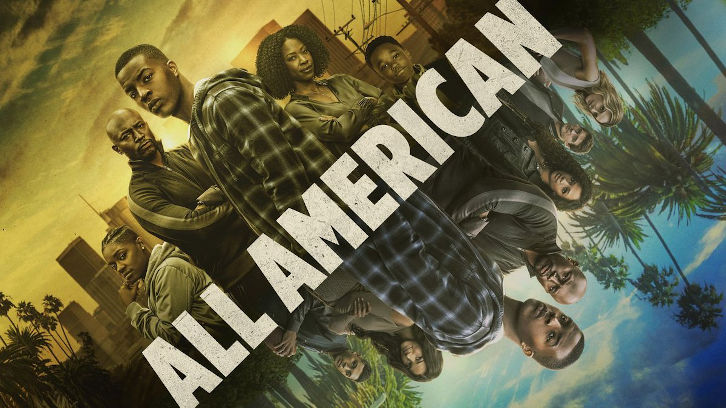 This week's episode of
All American
had more drama with our favorite characters including Layla, Jordan, and Spencer. I want to start off with Layla. I want to say that I think I was too hard on her in my last review. I wrote that she shouldn't push away Olivia and Spencer because they care about her, and I'm tired of her lying. While I do wish she hadn't lied about her dad, depression (and other mental illnesses like anxiety) sometimes causes people to do things that don't make sense. I applaud the
All American
writers for this story on mental health.
I am really worried about Layla, but it seems like Spencer is finally realizing something is going on. He knows that her increased spending and her attitude isn't normal. He also notices the cuts on her wrist after she screams for him to get out of her car. I was actually shocked when I saw the cuts. I hope Olivia and Spencer can convince her to get help next week.
Now, moving on to football (since, you know, this show is about football). When the episode starts, Jordan is using his dad's guilt to get out of playing hard and ending practices early. I was pretty irritated at Jordan at first especially since Asher is working so hard to get this team back together. I can completely understand why Jordan still has issues with his dad, but he shouldn't punish the rest of the team.
I loved that when Jordan asked Spencer if he was a distraction, he told him he was 100 percent a distraction and didn't even hesitate. Good friends tell you the truth. I'm glad that Jordan (finally!) realized he needs to fix his attitude about football. I'm also glad Coach Baker named Asher and Spencer as the captains. It was obvious Spencer was going to be a captain, but Asher truly deserves it. He has completely changed his attitude and has worked so hard to keep the team together and fix his mistakes from last year.
Spencer also decided to stay at Beverly! I always knew he would because he cares way too much about the people at Beverly to abandon them now. He also told Corey that he didn't want football to come between them. I'm glad that Spencer has decided to work on his relationship with his dad. But I was disappointed when Spencer gave Corey an ultimatum and made him choose between him and Darnell. He said Darnell wasn't Corey's real son. Luckily, Coop pointed out that Spencer isn't Coach Baker's son, but he's family. You don't have to be blood to be considered family. Plus, Spencer's issues with Corey aren't Darnell's fault.
I am liking the new direction the writers are taking Coop this season. Music is obviously her calling, and I liked how she used rap to stand up for the student who was being bullied. She was awesome in the rapping competition, until the other rapper shook up by bringing up Tyrone and Shawn. I hope she continues with her music.
Other Thoughts:
- I can't decide how I feel about Olivia's new story. On one hand, I like that she's trying to figure out who she is away from her dad and Jordan, and her mom is right, she's really good at helping people. But I don't know if So Cal Muse is for her or not. I guess we'll see.
- I'm probably the one that thought about this, but when Jordan was laughing at the idea of Olivia going to a Cotillion, I thought that Asher could be her escort.
- I applauded when Billy finally stood up to that booster. I was afraid that the booster was going to bring in the new receiver, and Asher would lose his position. And that wouldn't be fair to Asher. This is Billy's team, and I'm glad he's finally acting like it.
I think those are all my thoughts for this week. Next week looks like an amazing episode, and I can't wait. What about you? What did you think of "Never No More"? I would love to hear your thoughts!