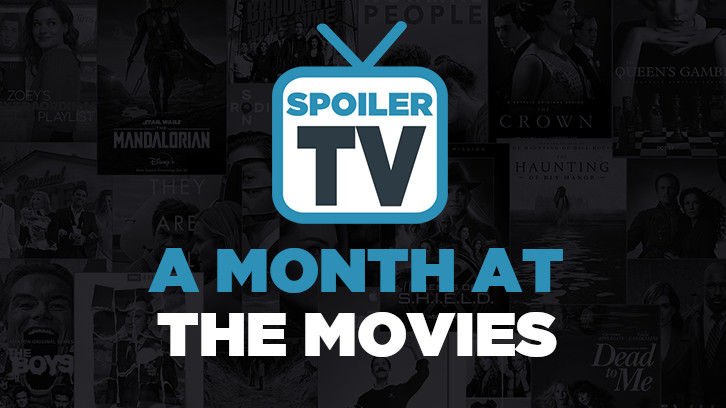 In a month dominated by the start of the pre-festival screenings at the London Film Festival, here's the second entry to my annual column that offers a brief reaction to every single movie that I watched in the previous month. If I gave a full review of the film for the site, I'll link it, and like before, feel free to let me know the films that you watched last month in the comments below, and if your views of the films that I covered here differ from my own I'd love to see your takes.
Mary Magdalene
(2018; Garth Davis)
On paper, a combination of Garth Davis, Joaquin Phoenix and Rooney Mara sounded like a match made in haven given how talented they are but unfortunately
Mary Magdalene
, about a free-spirited rebel who flees an arranged marriage and encounters Jesus, falls flat at almost every hurdle and remains about as exciting as watching paint dry. It lacks the brilliance of Davis' Top of the Lake and fails to capture anything close to the emotional impact of Lion, but to nobody's surprise, the star power of Phoenix and Mara alone almost do to make it watchable.
E+
Angel Has Fallen
(2019; Rick Roman Waugh)
The third movie in the
…Has Fallen
trilogy feels like a
Call of Duty
video game and not one of the better ones; generic, bland and dull that borrows from every action movie ever made. There is nothing original here and no risks are taken, and although Gerard Butler chews through bad guys like they were nothing it isn't exciting in the slightest. The film's finest hour is whenever Nick Nolte is on screen, as at last both him and Butler know exactly what kind of movie that they're in and enjoy bouncing lines off each other. At the very least, the film is smart enough to course-correct its xenophobic and racist politics from its previous outing in the Mike Banning adventures. I reviewed it
here
.
D-
Crawl
(2019; Alexandre Aja)
Director of oddball Daniel Radcliff starring horror movie
Horns
Alexandre Aja returns with a claustrophobic B-movie horror that reminds audiences how scary alligators can be. They look real, they feel real and the protagonists are rarely out of danger for long. Kaya Scodelario is fantastic, and an honourable mention for Sugar the Dog who steals every scene it's in. The film's held back by characters who make stupid decisions at times, but it's nervy enough to not completely kill your immersion. My review can be found
here
.
C+
Brigsby Bear
(2017; Dave McCary)
This ticked all the right boxes for me, an offbeat comedy that hit the ground running and never let up. Director Dave McCary's story hits similar beats to
Unbreakable Kimmy Schmidt
and feels like an ode to film-making and how it can have an effect on people's lives, with a brilliant performance by Mark Hamill who gets to bring his creative voice acting talents into full effect.
B
Logan Lucky
(2017; Steven Soderbergh)
One of the finest heist movies of the decade and Soderbergh's best film since
Out of Sight
(even better than
Ocean's Eleven
), a third viewing of
Logan Lucky
cements its status as a modern day classic with a
Game of Thrones
joke for the ages in a film full of spot on humour that delivers on the comedy part of the caper comedy as much as it does the caper part. Channing Tatum, Adam Driver, Riley Keough and Daniel Craig are all impeccable in a cast full of big names and brief cameos (look out for Sebastian Stan as a NASCAR racing driver) and the set-up, execution and follow through makes this one of the most rewarding films around. Take Me Home, Country Roads…
A+
IT: Chapter Two
(2019; Andy Muschietti)
A bloated and disappointing conclusion to an initially promising duology,
IT: Chapter Two
benefited from good performances particularly by Bill Hader, but otherwise felt far too conventional and formulaic in its horror movie structure, jettisoning the Maturin from the source material but throwing in a Stephen King cameo. Whilst I'm not against long movies (I loved
Avengers: Endgame, Once Upon A Time in Hollywood
and
Blade Runner 2049
for instance), the film really dragged and could have trimmed a few hours.
C
The Way of the Dragon
(1972; Bruce Lee)
Bruce Lee stars and directs this 1972 martial arts thriller that overcomes a slow start for an awesome final act. The plot is simple – it follows Lee's Tang Lung arriving in Rome to help his cousins in the restaurant business survive against the evil syndicate. Recognising Lung's martial arts skills, the syndicate hires the best martial artists in Japan and Europe to take him out. As ever, Lee is terrific, and the novelty of watching Lee go head to head with Chuck Norris rarely gets old. Whilst it takes a little while to get going, with little to no action within the opening half hour, The Way of the Dragon is still very much an entertaining Bruce Lee movie.
B+
Ferris Bueller's Day Off
(1986; John Hughes)
Every time I want to watch a new John Hughes movie, I just end up revisiting The Breakfast Club, which up until this point was the only Hughes movie that I've seen. But for now, I was able to resist the pull of the rewatch, and
Ferris Bueller's Day Off
more than delivers on any expectations that I had going in, confirming the viewpoint that it's a classic coming of age film no matter how insufferable Matthew Broderick's Ferris gets at times. Regardless of the title, the real star of this movie is Alan Ruck's Cameron, who grows in his own right as the film progresses and has more of an arc than Ferris ever did.
A
Phoenix
(2014; Christian Petzold)
Petzold's Phoenix has echoes of both Alfred Hitchcock and Rainer Werner Fassbinder, subtlety told and quietly devastating. The performances from Nina Hoss and Ronald Zerhfeld elevate the source material, with an ending that is unforgettable and very Vertigo-esque. Following a disfigured concentration camp survivor in the wake of World War 2 looking for her husband who may have betrayed her to the Nazis, with the film leaving a harrowing feeling on the audience as it blends both neo-noir and historical drama.
B+
Les Misérables
(2012; Tom Hooper)
Heavy handed with a cast full of hit/miss talent when it comes to singing,
Les Miserables
is too long, overstuffed and poorly edited. The BBC version – a mini-series that lacks the musical numbers, is something that I very much preferred to this. Eddie Redmanye is yet to impress me in anything that he's done – but Anne Hathaway is a scene-stealer. Verdict:
The Magicians
' delightful cover of
One Day More
is a better musical number.
D-
Friday the 13th Part 6: Jason Lives
(1986; Tom McLoughlin)
Unlike
Scream
and
A Nightmare on Elm Street
, I've never warmed to
Friday the 13th
, but I fell in love with
Jason Lives
. It's fun, entertaining, and picks its moments when to use Jason to great effect. The recasting of Tommy is played to perfection with Thom Mathews putting in a good effort, and Jennifer Cooke steals the scene as Megan, and the decision to give these characters agency – and a human foil in David Kagen as Megan's father, means that
Jason Lives
is lively, fun and entertaining, with a dash of on-point comedy.
B+
Monos
(2019; Alejandro Landes)
Lord of the Flies
by way of
Apocalypse Now
and
The Lost City of Z
, Landes'
Monos
is an intense, never-ending nightmare that shows the horrors of war through the eyes of child soldiers who protect a hostage and a milk cow on a mountain. Things go south when the cow dies and the hostage escapes, and what follows is one of the most raw, visually stunning and beautiful movies of the year. It kicked off my LFF coverage and a review can be found
here
.
A
Little Monsters
(2019; Abe Forsythe)
Alexander England and Josh Gad may be good in this zombie comedy that takes cues from
Zombieland
and
Shaun of the Dead
, but the real star is Lupita Nyong'o, who helps ensure that you'll never hear Taylor Swift or Neil Diamond the same way again. The film itself may play too familiar with convention at times but is self aware of what it's trying to be, which is enough to make it just about work, and will never not be boring. I reviewed it
here
.
B-
Bombay Rose
(2019; Gitanjali Rao)
Indian folklore and Bollywood make for a brilliant combination in this film that's beautifully animated but held back by its plodding and messy script that only really comes together in the final act, where the fireworks go off and the emotion hits home. Check out my review
here
.
C
Ghost Town Anthology
(2019; Denis Côté)
What do you get when you throw
Les Revenants
into a blender with
Personal Shopper
? The answer would be something like
Ghost Town Anthology
, which sees the dead starting to walk the Earth again in a small Canadian town. Taking the concept of "ghost towns" literally, this film is chilling and haunting, but doesn't really pick up until its final act and leaves too many questions unanswered. My review is at
this link
.
C
Zombi Child
(2019; Bertrand Bonello)
The natural heir to both
Twin Peaks: The Return
and
Suspiria
,
Zombi Child
takes a while to hit its stride, but the final act is absolutely worth all the set up that it takes to get there. By far and away the most original zombie film since
The Girl With All The Gifts
, Bertrand Bonello delivers a more than worthy follow up to
Nocturama
with an in-depth dive into the consequences and dangers of colonialism. My review can be found
here
.
B+
Ad Astra
(2019; James Gray)
Some movies should be watched on the biggest screen possible and Ad Astra is one of those, an awe-inspiring epic that sees Gray send Brad Pitt into space for a voyage of self-discovery. Pitt is one of the best actors currently working and he more than delivers, bringing his A-Game to the table in a film with utterly stunning cinematography and a beautiful Max Richter score. It's a slow burner of a sci-fi epic that goes against its marketing, but is absolutely worth it for that Natasha Lyonne cameo alone. I reviewed this one
here
.
A
The Purge: Election Year
(2016; James DeMonaco)
When a Purge film ends with David Bowie's
I'm Afraid of Americans
you know it's not trying to be subtle and this horror action franchise fails to do justice to either genres, offering a "what you see is what you get" approach that by default, remains the best of the series thanks to a compelling turn by the reliable human walking badass that is Frank Grillo who never fails to deliver in action movies, and this is no exception.
D
Bad Education
(2019; Cory Finley)
Thoroughbreds
was one of the best films of last year and Cory Finley returns with a brilliant follow-up, based on a true story of events that happened at writer Mike Makowsky's school. It involves the discovery of a corruption that extends to the highest level inside school buildings involving key players using the school's funding for their own personal gain, and although the film flounders at times in its first act, it is all about the set-up which works wonders in its second and third. Hugh Jackman's best performance since
The Prestige
can be found within the film's runtime, and
Blockers
actress Geraldine Viswanathan establishes herself as a star in the making, serving as the Lois Lane to Jackman's Lex Luthor, with his Frank Tissone putting on a charming face in public but not afraid to display his more ruthless side. Allison Janney too is exceptional, and it fills the void for
American Vandal
fans perfectly with a typecast role for Jimmy Tatro – who is ever so good at what he does best. Check out my review
here
.
B+
The Farewell
(2019; Lulu Wang)
A stellar debut film by Lulu Wang explores cultural differences between Japan and America when American-raised Billi visits her Chinese grandmother who is given a terminal diagnosis. Forced to lie to her about her illness, she struggles to keep her emotions in check to help her recover, and the film leads to a deeply powerful experience that is able to capture a range of emotions that are both uplifting and devastating. With Wang emerging as a new voice in film-making that has me eager to see what she comes up with next, this film is one of my favourites of 2019 so far, featuring a career best lead performance by the immensely talented Awkwafina.
A+
The Last Black Man in San Francisco
(2019; Joe Talbot)
Director Joe Talbot directs a deeply moving masterpiece about a man trying to reconnect with his childhood home with a poetic touch. Performances by Jimmi Fails and Montgomery Allen make for one of the best leading duos of 2019, and as a debut film,
The Last Black Man in San Francisco
is one of the best films not just of the London Film Festival but also of the year and simply needs to be seen. I reviewed the film
here
.
A+
Hustlers
(2019; Lorene Scafaria)
Jennifer Lopez puts in one of the best performances of her career to date in a Martin Scorsese-esque feminist revenge movie which has one of the best needle drops of the year. Every music choice works in the film's favour, the friendship between Lopez and Constance Wu feels real and authentic, and the ups and downs of the characters' lives feels completely believable. If only all movies were as fun as this.
B+
The Report
(2019; Scott Z. Burns)
More in line with
The Front Runner
in terms of quality than
Spotlight
or
All The President's Men
,
The Report
drags, feeling too by the numbers and formulaic even by journalism movie standards, taking shots at films like
Zero Dark Thirty
in the process. Adam Driver and Annette Bening deliver good performances and this is by no means a bad movie, just not an especially good one. Given the talent behind it it's disappointing that the best it can be is just... fine.
C
Total movies watched this month:
23
Best film
:
The Last Black Man in San Francisco
Films watched at the cinema
: 14