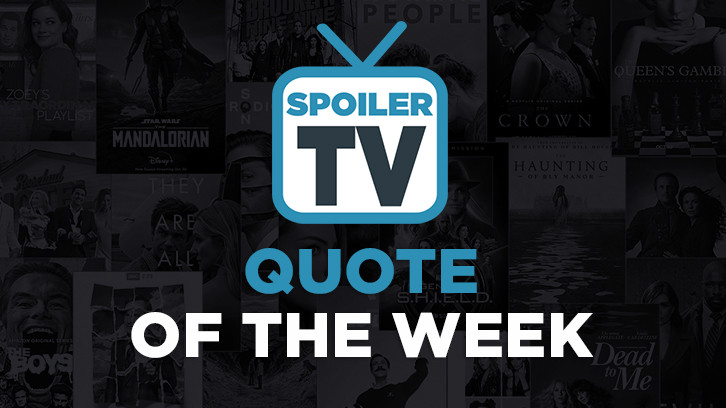 A weekly feature highlighting the best quotes on TV as picked by the Spoiler TV team. We'd love to hear your picks too so please sound off in the comments below.



BH90210 -
1. Shannen: "Siri, how many seasons of 90210 were there?" (popcultureguy)
Peaky Blinders -
1. Thomas Shelby: "There is god, and then there are the Peaky Blinders" (Milo M-J)
Reef Break -
1. Doug: "This is kind of sweet, isn't it? Mom and dad arguing over the kid. Maybe we should ground her, give her a timeout." Cat to Doug: "You know, I thought your prison fantasies would be a lot racier than a Leave It to Beaver scenario."
2. Wyatt: "Where are they? Where's Cat? This isn't a game. There are lives at stake here." Jake: "Yours included. This ain't a kid's game anymore. This is aiding and abetting hardcore fugitives. You know, just cuff her. Let's let the backup do the sweep." Petra: "You two losers have been sniffing around Cat since she came back to the Reef. Now she chose Doug." Wyatt: "You chose Doug. That decision's gonna haunt you."
3. Cat: "And you, you're working with him?" Petra: "I told you who I am. You didn't listen to me." Cat: "You know what you are? A dumb teenager. That's what you are." ~~~And I'd add, one of the brattiest and annoying characters on any show this summer. Lock her up and get her off my screen. Um, after you shoot Tori though and put her out of my misery. (Dahne)
Succession -
1. Cousin

Greg: "No, I'm not blackmailing you."

Tom: "You are though, you piece of shit!" Cousin

Greg: "I'm not!"
2. [going over the rules for a weekend with business adversaries] Frank: "Oh, two drinks maximum. Not big drinkers." Roman [looks to Kendall]: "That's okay, nobody here has any glaring substance abuse issues that almost brought down the company, right?"
3. [reaching the elevator at the same time] Roman: "After you, milady." Gerri: "Please..." Roman: "You know, chivalry is not..." Gerri [stops, forcing Roman to go first]: "Shit before the shovel."
4. Roman: "Mm, here comes Ken. Spiraling down."
5. Logan: "

Romulus, when you laugh, please do it in the same volume as everyone else. We didn't get you from a hyena farm."
6. Tom: "Oh, k
ing of edible leaves, His majesty, the spinach."
7. Logan: "W
ould you like to hear my favorite passage from Shakespeare? Take the fucking money."