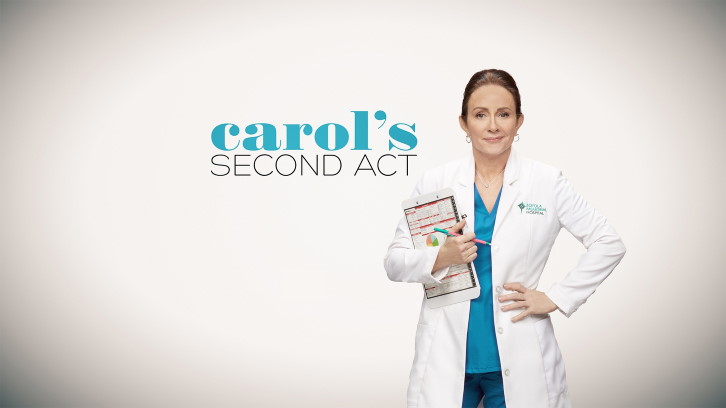 At one point in Patricia Heaton's new project, her character Dr. Carol Kenney informs another doctor that she's "not a meddling old woman. She's a meddling old doctor." The irony of her referring to herself as "old" in an episode where she kicks every scene up a notch is worth a smile. Heaton is an old pro when it comes to comedy, as her previous work attests. Her latest role here gives her enough space to create another unforgettable character. Indeed, the pilot's brightest moments all involve Heaton's Carol who is beyond thrilled to be starting as a resident at Loyola Memorial Hospital. The pilot sets up a perception conflict for Carol who tends to go on the defensive whenever someone brings up her age. She is amused at first when the other interns mistake her for the Chief Resident but hurt when the Chief Resident snaps at her for talking out of turn. Carol clearly has the knowledge and people skills to help her succeed.
Heaton is joined by an assortment of newcomers and familiar faces. The standout among the newcomers is Ito Aghayere as Dr. Maya Jacobs, the actual Chief Resident. She is an early antagonist of sorts for Carol, considering the latter's talkative eagerness to be out line. Carol is intimidated by the other doctor's authority and experience, although she does push back when she thinks that Dr. Jacobs has come to belittle her. One presumes the show will explore in future episodes what it will look like when Carol is wrong or doesn't know enough to handle a situation, and it will be interesting to see how receptive she is to criticism then.
The majority of the show's laughs are meant to come from Carol's fellow interns. On a second viewing, Lucas Neff's Dr. Caleb Sommers line delivery can be better appreciated. The disparity between the performances of relative newcomers Neff, Jean-Luc Bilodeau, and Sabrina Jalees when compared to the work of veterans Heaton and Kyle MacLachan is only natural, and the young people have room to grow.
Speechless
star Cedric Yarbough pops up twice in the episode very briefly, perhaps a late casting, and you want him to get in on the action sooner rather than later. The final member of the cast Ashley Tisdale appears in the last couple minutes as Carol's pharma rep daughter. Each of the three residents half-jokingly suggest dating her, of course.
Diagnosis:
For now, watch for Heaton. The next few episodes will be where the show finds out what its voice will be.
Exchange of the Episode:
"Did you crack the case?"
"Yes, by listening. I'm a regular Angela Lansbury."
"Stop talking about your friends."