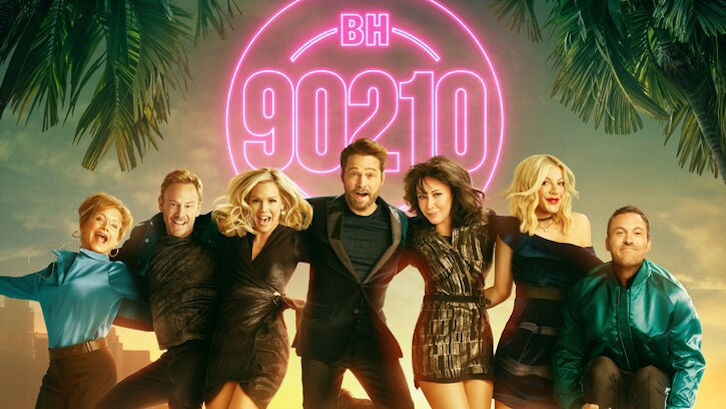 Picture's up
After filming was shockingly cut short and due to threats (eagle-eyed fans surely recognized the message).
The studio is nervous, and it looks like the reboot may never happen, so the gang put their heads together to come up with a list of potential enemies. Gabrielle thinks is short they only have over a hundred names between them. Its is one of the funniest scenes yet and gives them a chance to even a few scores so to speak once again at published media stories about certain cast members with other celebrities. Iain Ziering doesn't really seem to know why he offended Cheryl Burke who publicly said she begged producers to get him off the show when he did his stint on DWTS. Jennie Garth doesn't seem to think her DWTS star's partner liked her either. There are some notable names there and I am sure people were googling if they didn't know what the story was behind some of the names dropped. Of course, the lines being blurred between fiction and reality you know some were fictitious right…..

After their little meeting Tori's has an unfortunate trip down the stairs, thanks to Jennie insisting they take them (I adore the friendship between these to and you know a lot of the lines are unscripted). Tori has a light bulb moment, the words spray-painted on the stage door before the fire were the words of Ray Pruit. Beverly Hills 90210 fans will remember Donna Martina's obsessive boyfriend that pushed her down the stairs uttering those lines. James Walters the actor who played Ray Pruit had a number one hit 'Talk to an angel' from his previous show before he joined the cast of Beverly Hills 90210. However, after his role became that of an abuser to sweet Donna Martin the teen idol found his career came to standstill.
Of course, Tori and the rest of the gang think he is the obvious choice apart from Shannen who had left the show before his arrival. Her asking Siri how many seasons's there where is hilarious.

Tracking him down and going all scooby gang on him they realize they are wrong as he bears no ill will to the cast as when they confront him. Jason calls to tell them the culprit is found by the studio investigators. It would seem the owner of Donna's dress from the show, the one Tori stole, is an obsessive fan. Jennie Garth kind of let this tidbit slip in an interview so my money was on him from the start.
All is forgiven and some of the gang badly sing Talk to an angel with Jamie.
Back on set and the camera's start rolling with Jason in the directors' chair, but Tori can't get past her nervousness doing the love scene with Brian aka David and Donna who are still married. Brian has no problems rising to the occasion though. In goes to show the awkwardness of sex scenes and even hiring an intimacy coach doesn't help.
More secrets are revealed when consent forms are needed by HR as Gabrielle has slept with Christina Elise and Iain is getting cozy with the head writer Anna. Brain reveals to the cast Zach is his son but when you see someone collect one of Zach's discarded water bottles you know someone is suspicious of Zach's motives. Gabrielle admits Andrea's sexual awakening resembles her own.
Filming finally seems to be going but director Jason's happiness is shortlived when he gets a call from his wife that might be bad news.
The Long wait
The cast seems chilled now the pilot has been filmed. Jason is on holiday with his wife who is resting after a scare with her pregnancy. Jennie seems happy with her Bodyguard boyfriend Wyatt. Tori feels under-appreciated by her husband and Brian feels betrayed as his wife Shay reveals she had an investigator test Zach's DNA and he isn't his son. Brian gets angry at Shay for going behind his back and it causes a rift between them.
Now the pilot is out for testing it's up to Tori and the others to create a media hype which involves some Peach Pit signings and photo ops, after all the OC reboot can't possibly be made over theirs, they are the original. It's all about the social media and testing with Tori going to great lengths to get the audience comments but they might not be what the cast wants to hear. All this while dealing with her home life and financial woes.
At the peach pit event, Shannen's late arrival covered in blood has everyone panicked until they find out it's not hers she was saving a possum, all animals, not just the cute ones need saving, even Jennie must agree with her daughter Shannen is amazing. Christine informs them there is only one slot left and it's between them and the OC with the decision being made tomorrow.
The following day when all in attendance at a Barbecue at Brian's house they find out they have been picked up and are heading to the upfronts in New York. Jennie says goodbye to the bodyguard after he has her initials tattooed on his chest. Too soon Wyatt!
Shannen is stressing about going to New York and what's with the weird dream about her and Brandon... She has often said in the past of her first meeting with Jason Presitley she found him hot and wondered how she could play opposite him as her brother.
New York doesn't come without a few problems for the cast like introducing your Husband to your new lady lover or inadvertently sleeping with your potential girlfriends' mother. We also have a rehash of the dreaded red dress incident.
The girls all decide to wear the same color dress which is reminiscent of a story about them all falling out over a photoshoot for wearing red. Brian and his wife Shay are still in disagreement about Zach. Brian being a standup guy is going to be there for Zach even if he isn't his father but the picture he clings to with Brian and his mum has another castmate in the background, Could Jason Priestley be the Daddy. His marriage is over but he and his wife split amicably it seems she will still be his publicist. Gabrielle's husband seems an all-round cool guy who clearly loves his wife despite finding out she slept with Christine.
Iain meets up with Denise Richards who was a guest star on the original show before she hit the big times. Of course, they have a hotel hook up but later it is revealed she is Anna's mother…
Before they greet the public Christine reveals only 6 cast members can come back not 7 and we are left to wonder who won't be back.
The episode end's with the cast all on stage and I loved the scene before with them all holding hands before they go on. Friendships can come and go, life gets in the way but some experiences you can only share with the people you lived through it with. This is very true for the cast. Sadly like mentioned at the beginning there was a noticeable absence and you can tell he was greatly missed.
As the show took them back it also transported a Generation who watched it back with them, like the stars we have all grown up and some like them have families and children of our own. In a time when reboots are all the rage, this one, I found more nostalgic than all the rest.
Both Jennie Garth and Tori Spelling have stated in multiple interviews this show gave them a chance to write their own narrative, addressing speculation and stories heightened by the press. What better way than heightened versions of yourselves playing it out.
The fact they last few episodes has had the own entertainment newsreel gives us another glimpse into fact and fiction in the realm of celebrity gossip.
Gabrielle's story came across as the most relatable of all the cast's fictionalized versions of themselves. A mature woman struggling with her sexuality. However, all the stories reflect the challenges the generation x culture faces currently. Shannen and Brian's heart to hearts and friendship have made some wonderful scenes on the show, she seems to be the voice of reason when she isn't off saving the world.
It's clever, witty, funny and something fresh in a sea of endless reboots.
Despite its popularity, not all the fans have welcomed this reboot as some would have preferred a straight reboot. However, it has attracted a new audience of fans that have never seen the original and appeals to popular culture.
Whether it has done enough in its 6-episode run to give the studio the green light for more only time will tell.
Tori Spelling and Jennie Garth have given us a brilliant twist on a reboot and along with the original cast and have clearly had fun.
I can't wait to see more of BH90210 and hope it will return.
Would you like to see more of this series?
please share your views in the comments below