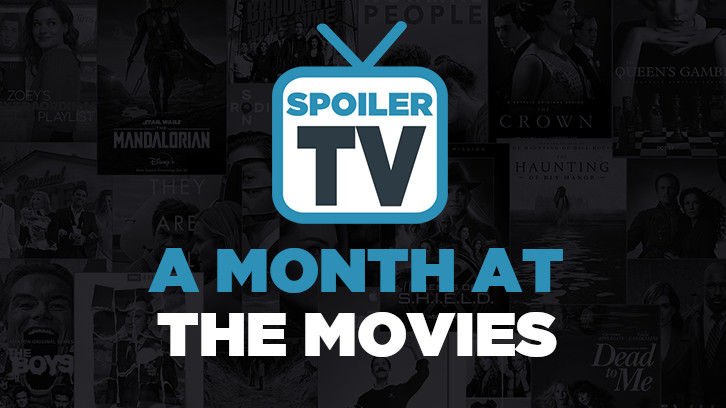 It comes as no surprise to regular readers of this site that I watch a lot of movies each month both at the cinema and at home so I came to the conclusion that a feature looking back at every film I watched in the previous month wouldn't be a bad idea. There's a variety of genres covered here from romantic comedies to westerns, sci-fi epics and everything in between, so if you're looking for something to watch or just keen to see what I've been watching for the previous month then be sure to keep reading.
Also, feel free to let me know your thoughts on these movies if you've seen them and let me know what you've been watching in the previous month in the comments below. I'll also link my reviews to any film that I've covered in depth for the site. As I've watched a lot of movies, I won't go into more depth than a paragraph for each film, but I'll do my best to keep things straight and to the point. Films will be rated on a scale from A+ to F, with A+ being an all-time great and F being at the opposite end of the scale, and it'll be listed in the order that I watched them with no particular ranking. Remember, these reviews are only my personal opinions, and yours may differ.
Gunman's Walk (1958; Phil Karlson)
I watched this as part of a preparation for
Once Upon A Time in.... Hollywood
and as it was one of Quentin Tarantino's suggested films to watch to get a sense of films of the time period and I instantly fell in love with it. I'm a big fan of westerns and I admired
Gunman's Walk
for its complex themes, anti-gun depiction and the fact that it doesn't hold back from the tragic consequences of what can come when guns are used recklessly, which is incredibly rare for its genre. On top of that, Phil Karlson's film packs a powerful punch with an unforgettable ending that thanks to the talented performances of Tab Hunter, James Darren and Van Heflin left more of an impact on me than I was expecting.
A-
Putney Swope (1968; Robert Downey Sr.)
I'm familiar with Robert Downey Jr's filmography – who isn't at this point? – but having not yet watched anything from Robert Downey Sr, the black comedy
Putney Swope
seemed like the perfect starting point, and I was not disappointed. It's a film that takes all kinds of risks with a Monty Python-esque balls to the wall style structure that has clear influences on 2018 gem
Sorry to Bother You
, holding up surprisingly well considering when it was made and offering a great look into what happens when businesses go wrong and the rulebook is tossed aside. Arnold Johnson gives a commanding performance and the film is every bit worth your time.
A
Terminator 2: Judgement Day (1991; James Cameron)
Possibly the greatest sequel ever made, it's a sci-fi classic that I was lucky enough to watch on the big screen at the Prince Charles Cinema in London and I utterly adored it. The 70mm cut looked wonderful, and it really captured the sheer spectacle of this movie that kept my attention on the screen from start to finish despite having seen it many times before. Cameron goes big and succeeds, expanding the universe and upping the stakes of the first film. It's no coincidence to see that every Terminator film released in the wake of this one has been a disappointment, with many trying to recapture the magic and none (so far) succeeding. In addition to this, its influence is felt on modern action cinema everywhere, so even if you haven't seen this film, chances are, you'll be familiar with what you see here.
A+
Mauvais Sang (1986; Leos Carax)
Worth watching for a David Bowie
Modern Love
scene alone that had a clear inspiration on Noah Baumbach's 2012 indie darling
Frances Ha
,
Mauvais Sang
is a romance story with light sci-fi undertones, combining both a romance plot and a crime plot that explores the dangers of being trapped in the criminal underworld that there is no escape from. Featuring a performance from a younger and incredibly talented Juliette Binoche, Leos Carax nails the romance but struggles with the crime elements, leading this movie to feel very much like one of two halves, meaning that whilst I may never declare it one of my favourite films, it has enough to like and recommend, with it having the potential to be a favourite film for somebody.
B
Eternal Sunshine of the Spotless Mind (2004; Michael Gondry)
This has been a month for ticking films off my list of shame and it's easy to see why
Eternal Sunshine of the Spotless Mind
has such a large following, it's an ambitious character driven anti-romance with a stellar cast from the penmanship of screenwriter Charlie Kaufman, who is one of the most talented writers in the business. Yet the film for some reason didn't meet expectations, as I never warmed to many of the characters and struggled to feel invested in what was happening before my eyes. The cinematography however is wonderful, and it's hard not to admire the film's imaginative and twisted romance told in reverse, boasting strong performances by both Jim Carrey and Kate Winslet.
C+
Martha Marcy May Marlene (2011; Sean Durkin)
Martha Marcy May Marlene
is a quietly brilliant underseen gem from 2011 that follows a woman recovering from her time spent with a cult, weaving an often-told story with rare subtlety that comes from a smart script and a compelling, understated lead performance from Elizabeth Olsen. The flashbacks here are ambiguous and the film keeps you in the dark about them for most of its runtime, creating a sense of unease and dread that gets you into the mindset of its lead characters perfectly.
B
Fast and Furious Presents... Hobbs & Shaw (2019; David Leitch)
There's only so much that the chemistry between The Rock and Jason Statham can do for this movie which feels too fake even by
Fast and Furious
standards, working nicely on its own without wider knowledge of the franchise required but all too predictable with little in the way of surprises, and even the action lacks the thrill of David Leitch's earlier works, namely
Deadpool 2
,
Atomic Blonde
and
John Wick
, the latter of which he co-directed with Chad Stahelski. Entertaining performances by franchise newcomers Vanessa Kirby and Idris Elba can't save this film, as although the cast are having a blast that fun factor is never really reflected in the audience. Read my full review
here
.
D
Blinded by the Light (2019; Gurinder Chadha)
One of my favourite films of the previous decade is
Bend it Like Beckham
and it should come as no surprise that the latest effort from Gurinder Chadha is one of my favourite movies of 2019, telling the story of a Pakistani student who discovers Bruce Springsteen for the first time in 1980s Luton during the middle of the Cold War. I'm a massive fan of The Boss so it was no surprise I loved this movie but even without that connection it hit all the right notes, not afraid to embrace its joyful cheesiness. Full of heart and passion, told with a clear distinctive voice, it's a hard film not to like that never takes the easy route. You don't even have to be a Springsteen fan to like the film, as evidenced by my family who very much enjoyed it despite not liking Springsteen's discography. I wrote about the film in more depth
here
.
A
Enter the Dragon (1973; Robert Clouse)
Before this movie I'd never seen a Bruce Lee film before which was something I wanted to rectify and I am
very
glad that I did, as the film is an instant favourite. The action is fast paced and the set-up feels very much like an early James Bond movie, as a marital artist finds himself sent to an island owned by a narcotics dealer.. It's a thrill per minute that makes the most out of its simple set-up, and contains a finale for the ages that will stay with you long after the film ends. There's a reason why
Enter the Dragon
is an action movie classic.
A+
Once Upon A Time in... Hollywood (2019; Quentin Tarantino
)
A fantastic 'day in the life' tribute to Hollywood's golden age with painstaking attention to detail in recreating the time period,
Once Upon A Time in... Hollywood
feels like the least-Tarantino movie yet, focused more on real characters and real people rather than revenge-driven anti-heroes, but although it does get a bit too self-indulgent at times and has a rocky transition into an otherwise good third act, the film is one of Tarantino's best to date, so full of life and full of detail that a second watch is pretty much required, with it only getting better the more you revisit it. I saw this one twice at the cinema in the same week and can't wait to rewatch it for a third time. I reviewed it in more depth
here
.
A
On Body and Soul (2017; Ildikó Enyedi)
Ildikó Enyedi's
On Body and Soul
earned an Oscar nomination for best international feature film and it's easy to see why, it's a tender romance about ordinary people who simply happen to share the same dream and discover it purely by chance. Both Alexandra Borbély and Morcsányi Géza's characters share a connection that feels real, helped by the fact that the film isn't afraid to highlight their flaws and humanise them, leading to a delicate, sombre touch that gives the film a unique energy that it thrives on. Laura Marling fans will appreciate a featured song that plays over the end credits, capturing the mood of the film perfectly.
B+
Bob & Carol & Ted & Alice (1969; Paul Mazursky)
A comedy that couldn't have existed at any other year other than 1969,
Bob & Carol & Ted & Alice
feels so perfectly reflective of its time period and era that it's hard to imagine it being made even two years later. The film follows a newly enlightened couple trying to get their friends to embrace their ideas, and not wanting to be rude, their friends go along with them but in a way that creates tension between all four characters. The cast is what elevates this movie beyond its script, with strong performances by Natalie Wood, Dyan Cannon, Robert Culp and Eliott Gould anchoring the film, but it's hard not to ignore that unforgettable final fifteen minutes.
A
Forrest Gump (1994; Robert Zemeckis)
I've been ticking a lot of films off my list of shame this month and this is arguably the most famous film I haven't seen in full, of course I have seen bits and pieces before as it's a regular feature on television but I've never sat down to watch the whole thing. Yet on a first full viewing of Robert Zemeckis' Oscar Winning 90s classic I was underwhelmed, loving the performances by Hanks and Wright but failing to be properly invested in the storyline that feels more contrived than anything else. There are moments that work wonders here and scenes where I think I'm going to fall in love with this film, but the whole drama never really clicked and as a result I'm going to have to mark it down largely as a well-intentioned misfire. Give me Zemeckis in
Back to the Future
mode anyday.
C-
The Wrecking Crew (1968; Phil Karlson)
The second Phil Karlson film on this list was a James Bond inspired caper comedy led by an ageing Dean Martin and featuring a role for Sharon Tate, where the film recognises the comedic talent that the actress brought to the table. For those interested, it's the film featured in
Once Upon A Time in... Hollywood
where Margot Robbie's Tate visits the cinema to watch a movie where she's the star, and takes in the audience reaction, an audience that were a lot kinder to this film than I was, as it feels largely contrived with a threadbare plot that feels designed to get Martin in as many awkward situations as possible.
D-
West Side Story (1961; Jerome Robbins, Robert Wise)
Another film that I wanted to tick off my list of shame this month in time for the Steven Spielberg adaption; I actually watched this in the early hours of the morning inbetween the end of a night shift and an early morning train that I had to catch with not enough hours to get home and back before I had to be somewhere else. I needed something good to keep me awake long enough to get my train and this more than delivered, as impressive as I was hoping it would be. The songs are great, the characters are great, and it seems so tailor made for a Spielberg adaption that I can't wait to see what he does with it.
A+
The Scar (1976; Krzysztof Kieślowski)
Krzysztof Kieślowski's
The Double Lives of Veronique
is one of my favourite movies so I was very much keen to check out his debut film
The Scar
, which evoked memories for me of Italian neorealist classic
Hands Over the City
, cited as an inspiration for
The Godfather
. This polish film has all the hallmarks of a first film and lacks the refinement that would carry into Kieślowski's later works, but is approached in a constrained, realistic manner. Filmed on location in Olechow, Poland,
The Scar
explores the disruption that a large chemical factory in his hometown has on the lives of the people that live there.
B
Camera Buff (1979; Krzysztof Kieślowski)
Kieślowski rises up my favourite director list with every film that I watch by him and
Camera Buff
is a masterpiece that showcases the influential powers that come with cinema, using it to showcase the real lives of a Polish town and its inhabitants when the only worker with a camera - who initially bought it for videos of his newborn child - finds himself assigned to create a film of a government-backed parade. The drama explores film criticism and looks at how directors learn from their past mistakes, but like
The Scar
, don't expect optimism here as it keeps its realist and bleak tone that is so common in Kieślowski's work.
A
No End (1985; Krzysztof Kieślowski)
Capping off the Kieślowski films that I watched this month, the director delivers a hammer blow with
No End
, a ghost story that explores how a woman and her child cope with the loss of her husband, a lawyer. It's chilling and heartbreaking to watch proving that ghost stories can take all manners of forms, and no doubt provided an inspiration for Olivier Assayas' wonderful
Personal Shopper
and calls back to Rainer Werner Fassbinder's
The Marriage of Maria Braun
. The film itself explores the ethics of personal freedom and political censorship with care and precision, always standing out and always being sure to leave a mark.
B+
The Dark Crystal (1982; Jim Henson, Frank Oz)
With the airing of Netflix's
The Dark Crystal: Age of Resistance
I wanted to go back and watch the original
The Dark Crystal
movie from directors Jim Henson and Frank Oz before I saw the series and although the pacing is a little off, this film catches the childlike wonder and imagination that is often missing from most modern fantasy films. It works nicely as a closed off viewing experience without knowledge of anything else required, standing on its own and feeling remarkably fresh, showing how much story can be told through puppets and their emotions in substitute of significant amounts of dialogue. Fantasy fans will be well versed with the simple chosen one trappings that its plot falls into, but the short runtime means that the film never overstays its welcome, and it has enough heart to feel like it matters.
B
Total movies watched this month:
20 (inc. a second viewing of
Once Upon A Time in Hollywood
)
Best film
:
West Side Story
Films watched at the cinema
: 5