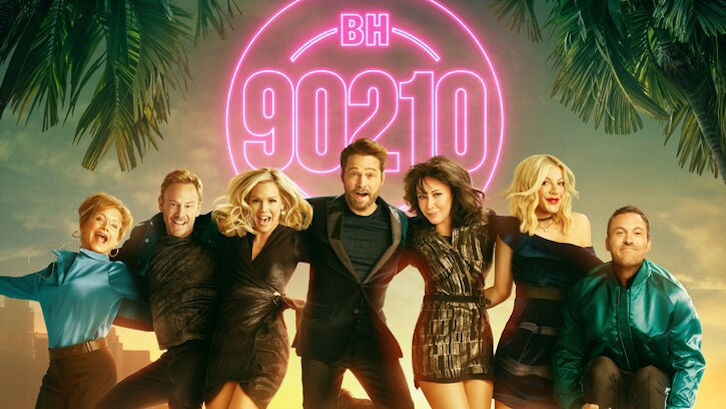 The BH90210 reboot with its novel concept of the stars playing heightened versions of themselves has become an instant summer hit for the Fox network. Not only does it have you laughing at some of the antic's as the characterization of themselves. The storylines are very relatable to how the world has changed from 30 years ago.

Let's look back at the last few episodes, The Pitch in Which Tori must convince the original cast to come on board. The photoshoot where old rivalries and some new ones came to light and last night's phenomenal episode The Table Read.

The pilot we saw Tori had the idea to reboot BH90210, as reboots are all the rage right now and no surprise the people at the studio are quick to jump on board. Of course, she needs to convince the original cast to get on board and the studio.

In The Pitch, after her antic's in Vegas, got them arrested her former castmates aren't too happy with her, the scene where Gabrielle Carteris flips Tori the bird going into the courthouse was hilarious. While it isn't a comedy it certainly isn't short of comedic moments like Brian Austin Green asking Shannen for advice while she is trying to save a seal. Jason trying to make amends with the actor he punched only to receive a not so pleasant kick to his manhood. However, this kick could reveal a secret in his household as he meets the new writer for the show. Jason agreed to come on board as director for the pilot.
Eventually, Tori manages to convince them all and they meet with their new boss at the studio, none other than Christine Elise (Who played Emily Valentine on the show) is now the hotshot executive at the studio.
Elise who guests starred on the show was famous for the girl that killed Chucky in Childs play 2 and has reportedly said her reception from the girls was frosty on set. Fans will also know she dated Jason Priestley for 5 years during the shows run. So, putting her in the mix is genius.
Another twist is the young guy who asked Brian Austin Green a question at the con, took his wallet and now seems to be stalking him. As mutilated 90210 dolls of their characters are sent to every cast member could he be responsible?

The Photo Shoot has Tori going to great lengths to get Shannen on board but first, she must put on her big girl pants, deal with the cast and fire the writer. Jason has discovered his wife's pregnancy can't be his but now it looks like it might be the new writers so it's him or writer Jack Carlisle (played by Tahmoh Penikett of Battlestar Galactica fame). While Jack seems to leave quickly, I don't think it's the last we have seen of him.
Therapy might be the answer to get the bickering cast on the same page who better than Mama Walsh, who is a therapist now. It was great to see Carol Potter again but even she can't keep this lot in the same room together without bickering for long and Shannen hasn't even arrived yet.
Gabrielle who asked Tori last week can Andrea explore her sexuality in the reboot is having similar feelings herself and after confessing to her husband about her kissing a girl and liking it in Vegas, her marriage looks rocky.
Do any of the cast have perfect relationships or is this meant to reflect just how hard it is to sustain a marriage in the limelight? Even Brian and his famous musician wife Shay seem to be having a few bumps. His hiring of an assistant in the form of the young lad we now know as Zach, a potential stalker who now has a key.
The studio asked the cast if they wanted bodyguards and only Jennie accepted but the lines between professional look to soon be blurring.
The final scene has Shannen arrive as they all recreate the iconic photoshoot scene and Shannen saying it's good to be back.
Last night's episode The Table Read, personally was the best so far of the series. Containing current subject matter along with at times comedic and dramatic outbursts.
We have Gabrielle dealing with coming to terms with her sexuality later in life, Ian learning its a new world and women value themselves over more than their looks, Jennie dealing with daughter issues and Brian and Tori balancing family and fame.
Each episode so far has started with one of the characters own Peach Pit nightmare, this week it's Gabrielle /Andrea's turn all highlighting current issues with past troubles on the set.
Jumping right in where last weeks left off it's time for the table read but knowing the series and actually living the series proves a challenge for the new writer especially with this volatile cast.
The cast photo has had a fantastic response but with the show still hanging in the balance, with each cast member still having a crisis.
Brian's wife has had a very raw uncut version of her latest song, could it be Zach or someone else.
Gabrielle is exploring her sexuality and looks like Christine might become more than just a friend even after the date is a misunderstanding.
Jennie and her daughter still crossing swords over her acting career and things may not be so smooth now her daughter gets a part on the show but it's not as big as she would like.
Jennie may end up getting very close with her bodyguard, Wyatt the bodyguard will be recognizable to Chesapeake shores fans and Hallmark romantic movies, actor Brendan Penny. (I do think this was a tongue in cheek casting as well). The dagger in Jennie's car tire could prove he is still needed but later he finds out it's the daughter's attempts at matchmaking.
Tori is still trying to be the glue that holds them all together but with her husband getting jealous about her being around her ex she has her own problems.
Jennie and Jason continue to snipe but deep down they care and throughout the series so far, they have been giving each other advice. After Jennie's encouraged Jason to make peace with his wife, after all, he did have a fling with her in Vegas. Jason returns the favor on advice this week with her daughter.
Ian keeps getting in hot water with the new writer which may not bode well for his character.
Shannen is still MIA as her deal with the studio hasn't closed yet.
The Table read is a disaster, they all hate it. So, the cast has less than 24 hours to rewrite the script. Jason suggests they go to his club to write.
At the club, the writer, Anna (Natalie Sharp) gets defensive and walks off, but Ian might be able to get through to her despite their previous disastrous interactions.
No rewrite, no reboot and they will be fired and sued.
After Gabrielle and Jennie get into it and we learn a few more insights into Gabrielle and their hostilities onset. The girls hug it out just as Shannen arrives, Ian secretly filming them all and sending it to the writer who is in his car with her laptop. It's not long before they freak Shannen out, more reveals on set dramas come to light and you do wonder how much is true. Later they learn she asked for double the salary than they did to do this reboot. Of course, it's all for a good cause.
Surprisingly after all their input, they come up with very little and are relieved when Anna comes back with a revised script that after a read through they all approve of.
Shay talks to Brian and after getting a private investigator to do some digging it seems it was her stylist, not Zach who stole the track. There is a video of Zach asking him a question at the con and Zach's apartment is photographed with some very damaging evidence including Brain's wallet. Brain confronts Zach at his apartment claiming he is the stalking them. Zach says he is Brain's son.
Next day they are all set for shooting the first episode but an ominous message saying, 'stop acting like I'm not even here' and fire on set proves their stalker hasn't gone.
The novel concept combined with little antidotes to what may have transpired on the original set makes this a much watch series for fans. New fans love the reality show type element that is a ratings winner .
I am sure like myself fans remember reading Tori auditioned for Kelly under a false name and I find it likely given the press reports that Shannen and Jennie got into it onset on more than one occasion. Gabrielle was older and I do believe she did conceal her real age. Like they say now they are 30 years older and wiser but can old rivalries really be put to rest to film the reboot for their heightened characterizations of themselves.
Like a spice girls reunion that people thought would never happen who would have thought we would be watching BH90210 30 years later.
This week gave us a cliffhanger ending and with only two episodes to go, I am hoping for more answers to the questions the series has raised so far.
What are your thoughts about the new version of BH90210?
Share your thoughts in the comments below