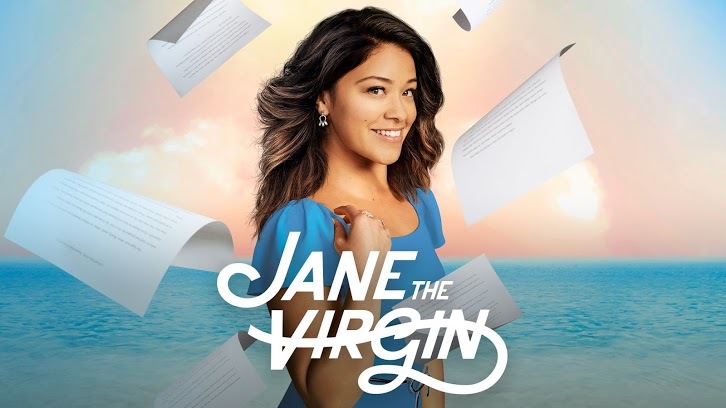 Jane the Virgin
"Chapter Nintey-Seven" was written by the team of Deidre Shaw and Chantelle M Wells and was directed by Melanie Mayron. Jane's (Gina Rodriguez) new Agent, Lily Lofton (Emmy Raver-Lampman) has some notes on Jane's novel that send Jane into a bit of a tailspin. This episode, however, firmly belongs to Ivonne Coll – and Alba! It also looks like Rogelio's (Jaime Camil) good deed is not going to go unpunished – as the saying goes…
The episode begins with our usual flashback that emphasizes that the one thing Jane never loved about telenovelas was the scary stuff. Cut to now and Lily Lofton tells Jane that her novel lacks a tension in the climax and needs an explosive ending. Lily offers to brainstorm with Jane and plants the idea that Rose (Bridget Regan) might have swapped Mateo (Elias Janssen) for another baby when she kidnapped him, sending Jane into a spiral of doubt. Eventually, even Rafael (Justin Baldoni) is sucked in because Rose is capable of anything – although Rafael does manage to pull back enough to realize that Rose never does anything for no reason. All is well by the end of the episode, when the two actually do a DNA test and we learn that they are Mateo's parents!
Jane continues to agonize over how to create more tension in her novel, but she eventually saved again by what's happening around her… But first, while Xo (Andrea Navedo) is trying to teach Jane and Rafael their wedding dance, Rafael brings up Pablo, and Alba is suddenly made aware that her entire life, including what happened in Venezuela and losing her virginity before marriage, is in Jane's novel! She forbids Jane from using any of it – and tells her to take it all out of the novel!
Jane is then forced to essentially re-write the entire novel, but Xo keeps assuring her that she'll get Alba to really read the novel and change her mind. Unfortunately, it doesn't work. In a truly telenovela shocking twist, however, it's Jorge (Alfonso DiLuca) who finally gets Alba to change her mind! I loved this scene between Jorge and Jane. Jorge is in his lazyboy, watching his football, and Jane comes in to thank him, but in true Villanueva fashion, she is dying of curiosity to know how he did it.
He clearly wants to keep watching the game, but he sweetly answers Jane – and the answer is wonderful. Once again, the show is able to illustrate a real world issue that is so devastating for so many. The show is able to put a human face on an issue that has so many people vilified right now. He tells Jane that living as an undocumented makes you view the world differently. You get used to living in fear and hiding your true self to protect yourself. Jorge knows better than anyone else in Alba's life what this is like. He tells Jane that he told Alba that he understands, but they need to trust now. I adored that he told Jane that he and Alba were working to bring down their WALLS together.
Petra (Yael Grobglas) is excited about a meeting with Clarissa James (Olivia d'Abo) who she wants to create a franchise of the Mirabella with. I loved her telling Rafael that he couldn't wear any cologne to the meeting! LOL! Good call Petra! I hate that too!
When Clarissa turns up, she has her guru in tow without whom she never makes any decision – and "Maggie" turns out to be none other than Magda (Priscilla Barnes)! Naturally, Magda tries again to shake down Petra for half of the Mirabella – or an outrageous amount of money. Petra does her best to side track Magda and keep her out of the negotiations with Clarissa, but locking her in a closet and putting a security guard (Freddy John James) on her! Petra is saved from a totally unexpected source too!
When Alba sees Magda, she is furious to see her back at the Mirabella. Her new resolution not to hide behind a wall has created a whole new Alba – and it was great watching Ivonne Coll really let Alba grow in this episode! She confronts Magda and manages to get a confession taped on her phone – and watching Alba struggle with her new smart phone for the whole episode was hilarious and created some unexpected tension as she then almost deleted the tape! I loved her telling Magda, "I'm an American now, bitch!" Taking away Magda's only leverage. Alba tells Magda to leave town and never come back or she'll go to the police – and Petra gets off with giving her mother $500 a month. In the end, we also see that Petra manages not to let Magda get in her head, so she has also really grown – and she got the deal for the franchise!
Jane is still working on how to find a way for her crime to climax, when Alba brings her an iced coffee. She tells Alba that she's even prayed to find an answer. Alba tells her that she's been praying for years to forgive Magda, but in the end, confronting her is what did the trick – and suddenly, this also answers Jane's prayer! She realizes that she doesn't need to build up the crime, she needs to build up the heroine! I love how it becomes the story of Alba.
Meanwhile, however, this has also planted the seed in Jane that she wants to confront Rose once and for all. No one thinks it's a great idea, but Rafael goes with her for support. Before they get there, however, Rose has put her escape plan into motion. She stabs herself in the leg to get sent to the hospital and has the ambulance hit by a van full of her crew wearing Rose masks. In the confusion, she gets away.
Dennis (Christopher Allen) shows up at the prison to tell Jane and Rafael what's happened – and he also tells them that Luisa (Yara Martinez) has been helping them all along. Unfortunately, when the police show up with Luisa to grab Rose, she uses Bobby (Tommy Dorfman) as a human shield, getting him killed, but getting away. Rose is on the loose again! Will she be able to forgive Luisa for this or will she finally be over her obsession with her and ready to kill her too!!???
Finally, Rogelio's dream is once again in danger because River (Brooke Shields) wants to pull out of the project even though This is Mars has finally been picked up to series. She tells Rogelio it's all because he convinced her that family was more important. PJ (Eden Sher) continues to hate River for missing her entire childhood. I loved that if you were paying attention, the dreadful situation on the border in America comes back really subtly in this storyline too. River tells Rogelio that it's because of him that she's let her walls down and tried to bring her family back together. Rogelio first suggests that the build her wall back up – it's an emotional wall here, but it's a wonderful metaphor for the wall that could separate so many families – and the families that have been brutally separated already.
On a lighter note, however, Xo tells Rogelio to be the daughter-whisperer that he is, so he tries to get through to PJ. He does learn that her deep-seated resentment really stems from a particular moment when she was young and had her girlfriends over to watch her mother win an Emmy. In a particularly hard to watch, self-centered acceptance speech – complete with two fake outs – River never once thanks or acknowledges PJ! How devastating for a child – and how embarrassing in front of your peers!
In classic Rogelio style, he recreates the entire moment, building an Emmy set and PJ's childhood bedroom (from that exact moment!) on set. He even has her three friends flown in from New York! PJ is utterly skeptical at first, but once River sincerely thanks PJ in her new acceptance speech, she is finally won over! The two finally make up. It's crazy – according to PJ – but it's also sweet.
As the episode ends, Xo has discovered that she was nervous about nursing school for no reason and loves it. And it's then that River calls Rogelio to thank him – and then break the news that she's moving the show to New York to film. She has control over the show – and it's stated in her contract that she can move it anywhere to film (fyi? Highly unlikely that she'd have that kind of power – a much too expensive concession for a network or studio! But, hey, it's a telenovela, right?). She tells Rogelio that she'd hate to have to re-cast him, so the choice is clear. Rogelio has to move or give up his dream!!!!
In true telenovela style, we have all kinds of new twists to worry about as we move into the final (SOB!) episodes! It looks like Alba's story is almost completely wrapped up - did you love it? Will Rogelio have to abandon both his daughters or commute to New York? Will Xo have to give up nursing school? What will Rose do? Is Jane in danger? What did you think of the episode? Let me know your thoughts and predictions in the comments below!