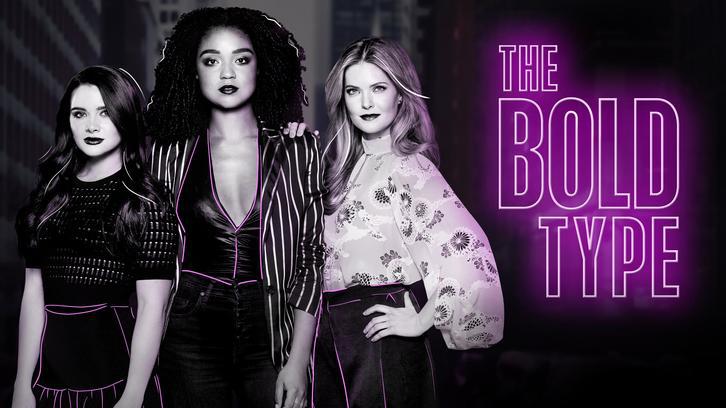 This week on The Bold Type, Kat has doubts about the election as she starts to realize she'll have to give up the job she loves. She goes to Adena for advice who reassures her that she'll do a great job as a city councilwoman. Jane and Jacqueline have to move up the timeline on the Pamela Dolan article after she tries to scoop them and end up having to give it to Patrick, which is not good for Jacqueline. Sutton spends the day taking care of Carly and shares some of her wisdom. Richard got a job offer on the other side of the country but turned it down. Ryan returns from his book tour to tell Jane that he kissed someone while drunk. The election is very close but at the end of the episode, it is revealed that Kat lost.

Decisions, decisions: Kat had a lot going on this week between the elections and Adena being back. And there was a lot of second guessing as well, which isn't what we're used to from Kat. Her decision regarding the election was made for her. She lost, which I didn't see coming. I really thought we'd end up seeing her as a city councilwoman. Instead, that jerk won. But at least she did everything her way. She never compromised her own values for the campaign. And it was a really close race so she should be proud of herself. Her love life is a bit more complicated. Kat and Tia have mostly hung out in a professional setting. Now that all that is over, they'll have to figure out how their relationship as a couple works. And then there's Adena, who Kat seems to be drawn to without even realizing it. I'm just going to say it, I think those 2 will end up together next week. They have this magnetic pull between them. They can't help but want to be near the other. And a lot of their issues have been hashed out now. Their separation might even make them a stronger couple. I guess we'll have to wait and see.

I smell trouble: Sutton handled herself really well while taking care of Carly. You could just see Richard think about how she's going to be an amazing mom. But speaking of Richard. It was a brief moment but I know that the job offer is going to come up again next week. Sutton might feel guilty that he's giving up a dream job for her. I wonder if she'll push him to take it and we'll get a long distance relationship storyline next season. Why can't dream jobs ever become available in the city you live in?
Blindsided: Damn you, Ryan, I was rooting for you. I must say, I really didn't see this coming. They were doing so well together. And, I mean, there are some extenuating circumstances. He didn't pretend as nothing happened but instead told her almost right away, and in person which wasn't easy since he's on his book tour. And maybe all of that talking about the single life made him nostalgic or something. But is it really that hard to not kiss someone? I felt so bad for Jane. She really missed him and then he pulls something like this. And couldn't he have waited until after the party? I think Jane might forgive him eventually, but regaining someone's trust like that is not easy.
Not fair: To make matters work for Jane, the article that was supposed to save Jacqueline's career went to Patrick. Of course, the most important thing was getting the story out there and getting justice for those models. But it was clear that Jane had been counting on this to keep Jacqueline at Scarlet. Now that Patrick is the one that got to publish it, and probably took credit for it, it seems to have the opposite effect. But the article is still a great feat for Jane and Jacqueline, especially after meeting with Pamela (yikes). This might even launch Jane's career as a journalist.
Best quotes: Jacqueline: "It's not easy to replace family, Kat."
Jane: "Food coma." Sutton: "What?" Jane: "Give her a big lunch and then she'll pass out in the conference room. I've done it many, many times." Kat: "I thought that those were power naps." Jane: "Maybe they were, maybe they weren't." Kat: "I see." Sutton: "Hmm, poisoning children, truly a new low. I love it!"
Oliver: "I'm not a woman, even though gender is a social construct and I can rock a fresh beat in a high pump in a moment's notice. I am not a woman and Carly needs strong women in her life. Thank you for being there for her." Sutton: "It was my pleasure."
That's it for this week. Check in again next week for an all-new review and let me know in the comments what you thought of this week's episode.
Please be respectful in the comments, any unnecessary rudeness isn't welcome.