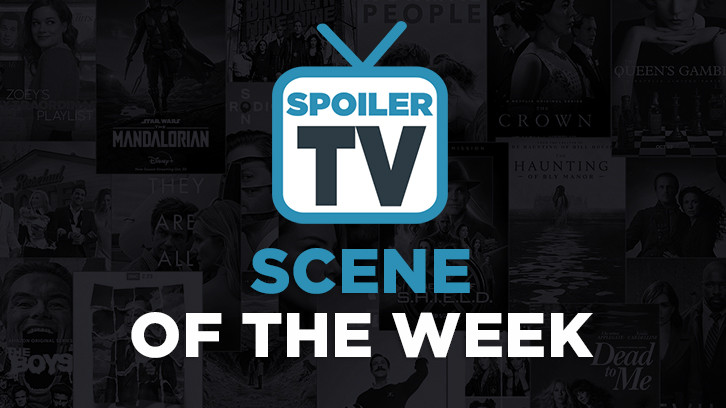 A weekly feature in which we're trying to find the most compelling, best acted, written, directed and just generally great, memorable scenes that we've seen in past seven days on TV.

CHERNOBYL, "The Happiness of All Mankind", May 27, 2019, Actors: Jared Harris, Stellan Skarsgård, Emily Watson, The Scene: Legasov, Khomyuk and Shcherbina discuss the Vienna testimony
Ellys: In a rare scene that puts most of the miniseries' leads in one room, Khomyuk meets Shcherbina and Legasov in a deserted building to share the results of her research. The mood is slightly hurried, since there's only a small amount of time they can remain unwatched and unheard. It's the moment of "mystery solved," but there's no sense of closure because what Khomyuk has uncovered means Chernobyl is only part of a much larger problem. A problem they can expose but potentially at another devastating cost. The scene captures in a few minutes what makes the entire miniseries so perfect. There's a terrible feeling of dread and tragedy, and righteous indignation. And one example of the Emmy caliber work is where Harris' character looks up with a completely broken expression on his face that is haunting. And Watson's character quickly buries a reflex of shock with renewed determination. The weight of their dilemma is transferred right to the viewers' chests.

ELEMENTARY, "Gutshot", May 30, 2019, Actors: Jonny Lee Miller, Aidan Quinn, Virginia Madsen, The Scene: Sherlock visits Captain Gregson in the hospital
Justyna: The last meeting between Holmes and Gregson started a chain of events that led to Sherlock being forced to leave New York. Now he's risking his freedom in order to find the person responsible for Captain's life-threatening injuries. It's quite incredible to see all the progress Sherlock has made when it comes to all the friendships in his life. Despite everything Gregson has done he's still a friend. It matters to Sherlock not only to find his shooter but also to, at least partially, mend his broken relationship with the Captain. I'm glad he was able to forgive him, hopefully it can bring some comfort to both of them (assuming Gregson really could hear him) after all these months of conflict and silence. It's clear how painful it was for Holmes to process his friend's actions at the end of the last season. The fact that Gregson chose to protect his daughter is understandable but it's much harder to accept him trying to put the blame on Sherlock or Joan, or simply not considering that his friends would offer their help if only he asked for it. "I would have helped you." If only... Also, it was nice to see Paige again. Her words meant a lot to Sherlock and it's comforting to know that the Captain really did miss his friends and was hoping to make amends. It's a touching scene overall, wonderfully done by Jonny Lee Miller. Kudos!

GOOD GIRLS, "King", May 26, 2019, Actors: Christina Hendricks, Manny Montana
The Scene: Beth shoots Rio
Claire: This was satisfying on SO many levels. I know that many people disagree with me, but I blame Rio for everything! He's cold, calculating and manipulative and I do not see how people can ship these two.

HIGH SEAS, "Cain", May 24, 2019, Actors: Ivana Baquero, Alejandra Onieva and more, The Scene: The Villanueva sisters confront their father
Milo: In a powerful, emotionally charged scene that wrapped up the first season of this addictive mystery drama, Eva and Carolina confronted their father about his actions that got the best out of Ivana Baquero and Alejandra Onieva, ending with a resounding spectacle that brought past sins to light in an effective way that made sure this drama was satisfying to the last moment.

JANE THE VIRGIN, "Chapter Ninety-One", May 29, 2019, Actors: Gina Rodriguez, Yael Grobglas
The Scene: Jane comforts Petra
Luana: The relationship between these two has been growing stronger by the episode and it makes me so happy, this shows true character development and shows us a friendship and sisterhood between two people who couldn't be more different from each other.

THE 100, "The Gospel of Josephine", May 28, 2019, Actors: Eliza Taylor, Bob Morley, Shannon Kook, Marie Avgeropoulos, Ivana Milicevic and more, The Scenes: The group learns the truth about Sanctum & Diyoza and Octavia get trapped in quicksand & Josephine introduces herself to Bellamy
Justyna: I couldn't quite decide which scene to highlight from the episode. Josephine's return resulted in quite a few memorable moments, with everything from her pretending to be Clarke to the parts where we begin to understand what kind of person Josephine Lightbourne truly is. And that's not even the only interesting plot of the episode. But since we already have a couple of powerful scenes covered in the article let me highlight the turning point of the hour as well. Jordan suspects that things aren't what they seem in Sanctum. However his search reveals far more than he could have imagined. Jordan, Bellamy, Murphy, Gaia and "Clarke" infiltrate Sanctum's most sacred facility and find not only a room full of skeletons but another secret one with old recordings that reveal everything they need to know about the Primes. Even though the viewers are already aware of what their new "friends" are capable of it's still such a powerful moment to follow our main characters' discovery. Everyone's reactions say it all, but Jordan's shock and pain are heartbreaking to watch. He's spent his life with no one but his parents, their stories and the "faces behind the glass". Learning the brutal reality, the truth about how far people are willing to go sometimes, and seeing it first-hand must be hard to process. In addition this is another scene where the group (and especially Bellamy) is starting to see the differences in Clarke's behavior. And Josephine learns exactly what she needed, that Clarke wasn't the only Nightblood in the group. This is the moment when our main characters realize that their new home is yet another nightmare to face. Such a haunting thought. "So much for doing better." Great work by all involved in the scene. Kudos!
María: Diyoza and Octavia get trapped in quicksand. Diyoza and Octavia formed a very unlikely team last episode and now while chasing Xavier, one of the Children of Gabriel, they got stuck in a sort of swamp. I really liked this scene since we've got to see a lot of the similarities but also differences between these two characters. They were both the villains last season and now they're on a path to redemption. I found it to be very meaningful, the fact that Diyoza was standing still and in a higher position than Octavia, who didn't listen to the warning ("The harder you fight, the faster you die") and was fighting to get out of the quicksand but that was just sinking her more and more, and this is the perfect metaphor for their current situation. Diyoza has accepted herself and she owns all of her mistakes, not fighting them anymore and just trying to survive for her child, while Octavia is still struggling with her past and that is just taking her deeper and deeper. Diyoza knows exactly what Octavia is going through (she's been there) so she confronts her with her dying wishes by pointing her gun at her head and then she gives her a piece of advice, telling her that she still can have hope. I'm looking forward to see how this alliance will play out.
Luana: Josephine introduces herself to Bellamy. Seeing Eliza play Josephine play Clarke is a lot of fun, and the whole thing was made even better by watching the others figure her out, especially Bellamy. I'm a bit disappointed he didn't realize what was going on sooner but I hope this is the beginning of the end for the Primes' plan.

THE BOLD TYPE, "Revival", May 28, 2019, Actors: Melora Hardin and more
The Scene: Jacqueline talks to the models
Luana: It was nice not only seeing another one of Jacqueline's inspiring speeches (horrible haircut aside) but it was also great that Adena recognized aloud the importance of having such an amazing role model in one's life, and how lucky Jane is because of it.

WHAT/IF, "WTF", May 24, 2019, Actors: Renée Zellweger, Jane Levy, The Scene: Anne reveals to Lisa she is her mother
Beth: The entire season, there was a mystery as to why Anne was so obsessed with Lisa's life. A familial connection made sense, but I never predicted that Anne was Lisa's mother given the show went to great lengths to talk about Lisa's deceased parents and her adoption afterwards. So when Lisa found out this woman who had ruined her life was actually her biological mother, I was shocked. It was the perfect twist to an already crazy show.