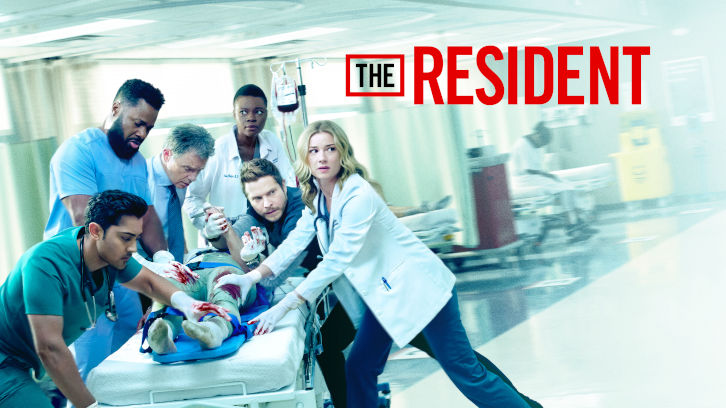 "Broker and Broker" was an enjoyable one. It was one part fun and games and the other drama and tension.
The episode started off at a club where Bell is partying it up in the VIP Lounge with Grayson and a rich potential donor. The hospital is having financial problems since the bad PR with Lane Hunter and Quovadis, and Bell is having difficulties securing funds. Chastain should advertise that they are the ones to have taken down both bad guys down. That would maybe help with the public relations nightmare. I found it amusing that while the board does not know about the hospital's money problems, Grayson does. They have become quite the pair. A solution to Bell's problem appears when Mina comes in with an injured lottery winner. Bell sees in him his golden goose, and pampers him throughout the episode before realising the patient is not worth the 36 million like he thought he was.
While Bell and Grayson are at the club, the rest of the team is still at the bar, where we left them at the end of last week's episode. They all seem to be having a good time. Even though Nic didn't show up, Conrad still played The Cure for her. The night doesn't end at the same time for everybody as Mina wakes up on a golf court, with no recollection of her night. When she comes in to the hospital with an injured lottery winner and a head injury, Devon puts him on brain rest. As can be expected, it is difficult for Mina, the overachiever, to sit around and do nothing, especially when she can't remember what she did the night before. À la Hangover, Mina thus uses her time to try to uncover what happened between the bar and the golf course. It was a fun one, especially since it doesn't fit into Mina's persona. Nic is the one that discovers the laundry tag on the suit that belonged to Bell which only drives the mystery further.
"Best night ever: karaoke duets, taking shots off of random stranger man's mid sections and the piece de resistance, crashing Daniel Lefkowit's Bar mitzvah. " –Grayson
It's Grayson, of all people, who was witness to Mina's party side. He explained to Irving, Devon and Mina what happened that night. He explained how she confessed her feelings about the Raptor. Mina, as expected, doesn't want to get into it. She brushes it off even when Devon tells her that by letting it out, she did the right thing. He is her mentor, it's as simple as that. She doesn't want to go there, and she's leaving it at that. It's who she is, but surely it's not the last we'll be hearing about it.
On the other spectrum of emotions, Jessi's health is deteriorating which makes Nic consider Alex's proposal to buy a kidney from an organ broker. At first Nic is firm, she will not exploit the people in need, but when Jessie's heart starts failing, she sees no other option. Her father is not answering her calls and she isn't a match. The desperation transpires through all of her being, and she questions herself during all the steps of the process.
Jessi is 60 days sober, but that is still 4 months away from being put on the transplant list. Nic begs Bell to put her on the list anyways, to bend the rules for her sister, but he won't. She will do anything for her sister, so she accepts to pay the 100 grand for a strangers kidney. Alex is there to guide her, he has done this before. He doesn't see it as a morally gray area, he believes it helps everyone involved, so he is not there to support Nic. Upon talking with Jessi, Conrad discovers what she is up to, what she is planning on doing. He tries to stop her from doing something she will regret. That demonstrates the difference between Alex and Conrad. Alex wants Nic to be happy, but Conrad wants what is best for Nic. He knows she will not be able to live with herself if she went through with it.

"Be honest. If it were me, and I needed a kidney, what would you do?" – Nic
Even if Nic had already tried, Conrad goes to Bell once more to try and sway him into letting Jessi on the transplant list. He offers him something that would benefit him in exchange for the favor. While the audience doesn't hear explicitly what Conrad offers, it is a safe bet to say he offered him lots of money considering his father is loaded. He would do anything for her.
Also, how could Nic so easily have 100,000$ lying around?
In the end, Nic decided to go against the organ broker. It wasn't right morally, and it wasn't the example she wanted to set for Jessi. She and Conrad will find another way to save Jessi, they seem back to being on the same page. There is hope for them still. This was Alex's last appearance. When Nic gets to the clinic the next morning, she finds Alex packing his bags, ready to leave. He's finally accepting that Nic will always love Conrad. This makes it even clearer that that he had only accepted the job because he wanted to be with Nic in ways non related to the clinic. Now, he's off to other adventures. I didn't dislike him, but I won't miss him.
I give this episode a 7/10.