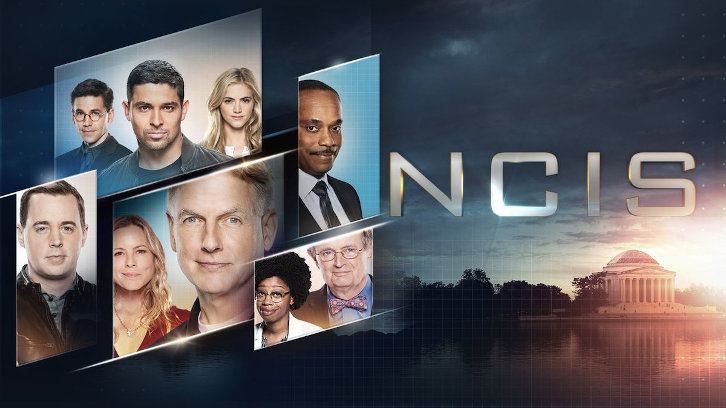 16.23 - " Lost Time"
Written by Frank Cardea & Scott Williams
Directed by Diana Valentine
Reviewed by KathM
What a great 40-something minutes of television! We really need to see more of Dr. Grace; I think I'd like her to have a chat with Bishop. The only way it would have been better would be if all of the Gibbs/Grace and Grace/Sloane stuff took place, but the other story would have been the team in Interrogation Lite talking about how they feel about the whole Pedro situation. The story we got isn't bad, especially the ending. I just think mine might have been more interesting.
The episode opens with two veterans living in a tent under a freeway. As they wake up and get ready for a day of panhandling (so sad, yet such a reality), a body falls from above and lands on one of the fence posts. It's Gunnery Sgt. Richard Wilson, whose team, known as the Zakir Five, captured terrorist Nazar Zakir along with $30 million dollars several years ago. Except Zakir always said there was $33 million. See where this is going?
Members of the team are being killed off: first Wilson then McCarthy, another member of the team. The only other living member of the Five is John Calfa, who denies killing his two "brothers" despite the fact that Wilson's widow, Lori, heard them arguing. Lori arrived home from the airport after visiting her mother in Florida to find her house trashed and her husband missing, then tries to attack Team Gibbs when they arrive on the scene to give Mrs. Wilson the death notification. Oh, and Bishop? NOT the time to snidely get Torres to give the notification when he says he's no good at it. It's a DEATH notification, Ellie. To SOMEONE'S FAMILY. A big deal that needs gentle handling. She just irked me throughout the whole episode.
Lori kind of attaches herself to the investigation, watching Calfa in Interrogation and hanging out in Interrogation Lite until Team Gibbs either catch the murderer or remember that they have safe houses.
Torres seems to be strangely interested in her; not in a romantic way, but attentive. Lori also seems to be working on him in a very subtle way, which might say something about her relationship with her husband. But it turns out that there is no husband! At least, not for this woman. Redheaded Lori is actually former Russian agent turned con artist Inga Petrov, who posed as McCarthy's girlfriend and was trying to get her hands on the $3 million that the Zakir Five did, in fact, steal. This is actually a pretty clever reveal; I'm impressed at the depth of the end of this storyline. Torres drops FauxLori off at "her house", then sees a car pulling into the Wilson driveway. Turns out that it's none other than RealLoriWilson, who has in fact just gotten back from Florida. She wants to know what happened to her house and her husband. When Torres asks if the Wilson had mentioned any kind of savings Lori checks the family safe and tells Torres that a "very valuable" brooch is missing. Kasie finds out that the thing FauxLori was wearing that I thought was a hideous bedazzled daisy is actually a brooch worth $2.8 million. It was given to Queen Victoria by the king of Spain, which means whenever he visited she had to wear it. Ick. Again, I find this way of "hiding" the money the Five stole original and smart. It hasn't been stolen, so they can easily sell it again without arousing suspicion. A BOLO on Inga/FauxLori is on her way to Costa Rica with the brooch, but Torres stops her. She invites him to go with her, but he declines. And that is the end of that.
But where has Gibbs gone? He drove away from the scene of McCarthy's murder and hasn't been seen since. It rattles the team because Gibbs never just wanders off. They check his house, the cabin, even put out BOLOs. Not that anyone else is really at their best right now, even Gibbs. Pedro is with them, a murderous elephant in the room, and nobody knows how to talk to Gibbs about it or even one another. They say they're okay, but they aren't.
Now that the team knows Gibbs's secret, 2/3 of them still have issues about it. Or not. Since nobody wants to talk to anyone about it, we can't be sure. But Torres is all Team Gibbs on this one. He understands and accepts what Gibbs did and, he tells Tim and Bishop, any one of them would do it for the same reason. Bishop disagrees; you might say that you'd do it, but you wouldn't actually do it. You can tell she's going to be the potential burr in the side of this issue. She and McGee haven't been sleeping for worrying about what they should do about what Gibbs has told them. They aren't good at talking about it, and neither is Gibbs. I'm disappointed in McGee. He and Gibbs have worked together for 15 years and endured so much during that time you'd think he'd be able to come over to Gibbs's house and talk it out with him.
Gibbs is also worried about what his team thinks. One of the things he's trained his agents to do is to take responsibility for their actions. But here he is, 30 years later and he never did take responsibility for Pedro's murder. So, surprisingly, Gibbs decides to talk about what's going on with him. With an actual person. Someone who is the right kind of person to talk to when you toss away the one Rule that had been holding you up. I'm talking about Laura San Giacomo as Dr. Grace Confalone, one of the few people who has even gotten Gibbs to talk about anything. He gives her directions to a dive bar not too far from a police station where he's considering turning himself in for Pedro's murder.
I was really proud of Gibbs for calling her to talk about what was going on (as much as he could). Old Gibbs would never have done that. Old Gibbs would be in the basement sanding something, drinking whiskey out of a jam jar. Grace had a client but rushed over when she realized who needed her, and she and Gibbs proceed to have a several-hour therapy session where a lot of things we've been mulling about all season are examined. He broke Rule 4, he burned Rule 10 because of Bishop. He doesn't want to face his team; he isn't sure what they think of him and he isn't sure of what he thinks of himself. He trained them to be responsible for their actions, then they learn he hasn't done the same thing. Thirty years ago he killed a man literally to watch him die.
Grace has all of The Rules written down in a little book, which is totally what I'd need to keep up. She manages to maintain and refute Gibbs's worries until he tells her about Pedro, then she orders a drink. Can't blame her, though. It is way worse than stealing your neighbors cable. But she recovers and gets back to the place where she's able to help Gibbs see that he isn't as bad as every single criminal he's ever put away, and to talk about the "firewall" that used to separate Gibbs from his emotions. Now that the wall has come down, everything that he's ever felt about himself doubt-wise since his family died as well as all of the cases he's been involved in rains down on him. As I said before, his life is a series of compartments, and now there's just big chunks of broken walls and feelings. I think that's why he was so angry when he saw the notebooks Ziva had in her office; she was able to take each case and process her emotions about them. Gibbs just pushed everything down until it burst.
I've thought about the idea of Gibbs retiring, but never really saw what that would look like. I agree that right now he needs the structure and the job to help center him. Like the rules of the Corps provided the structure and reiterated the values that helped carry him this far. I think that now Gibbs has to work on feelings and the future and what that might look like, and I'm sure that right now it looks like a whole lot of scary.
Back at the Navy Yard we find that the client Grace left to go and see Gibbs is Sloane, who you knew wasn't going anywhere near the dentist. Instead of going out for a drink (Sloane's suggestion that is quickly shot down by Grace), they curl up on Sloane's sofa and talk about her frustration with being unable to see her daughter and general birth mom things. Then she mentions that she likes someone, but she isn't sure if they like her back. Grace is interested in who is it and Sloane goes all shy and gives a small smile of possible hope. Maybe if she passes a note to the person in question they'll let her know if they like her back.
Gibbs has returned to the office! The team looks at him in surprise when he tells them that he took some "lost time" and wants to know if they caught the guy (the story discussed earlier). Yeah, they caught her. So Gibbs tells them to go home. Unless there's something they want to talk about. No, not really. I hope that the way Torres looks Gibbs right in the eye convinces that one of his team has no issues with what he did. Then again, Nick still has a lot to learn about compartmentalization.
On his way out Leon shouts at Gibbs, asking where he's been. No matter, he has to get to the hospital immediately. It's Fornell.
See you next week!