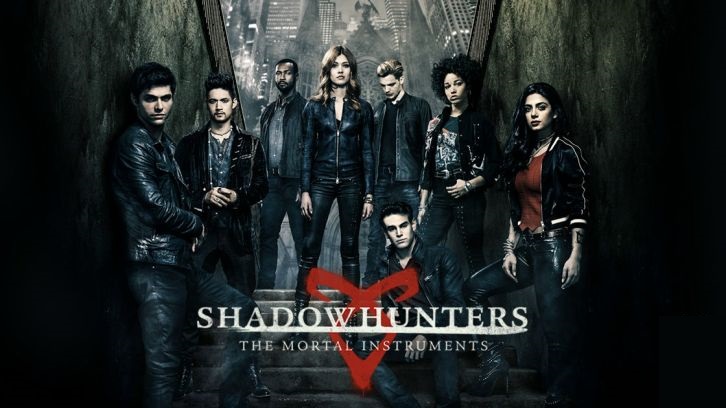 Previously on Shadowhunters, Simon went undercover to find out more about Glorious and Heavenly Fire, Izzy took down Aldertree, Clary found out more about Jonathan and Alec planned to propose to Magnus.

This week in New York, it's Halloween! As it's the one night of the year that the Shadow World can celebrate and go out without any glamours, the Hunter's Moon is having a party. As Halloween has previously been a big thing for ex-mundanes Simon and Clary, Simon's sister Becky is in town for the holiday and eager to know more about the Shadow World. Unfortunately for both Becky and the Institute, Halloween isn't a great night as demon attacks are happening throughout the city which keeps most of our Shadowhunters busy.

Whilst these attacks are happening, there's also the pesky business of the twinning rune to be handled and thanks to Simon and Izzy's intel from last week's episode, Izzy now thinks she has the cure. With everything in place to remove the bond between Clary and Jonathan, will it actually work or will something go terribly wrong?


With Magnus having lost his magic a second time and Alec realising how much he means to him, we all saw the planned proposal that unfortunately didn't happen. With '
The Beast Within
' taking place the following night, this is the first time that they try to address Magnus' feelings about his loss of magic, and the atmosphere is tense. Knowing how much Magnus is suffering, and wanting to help, Alec turns to the only person who could possibly restore Magnus' actual magic - Asmodeus. The only problem with that, is that Asmodeus agrees to give Magnus back both his magic and immortality, as long as Alec breaks up with him for good. Alec turns to advice from both Jace and Izzy as he tries to consider Asmodeus' offer, but the decision isn't easy as he tries to weigh both his love for Magnus with Magnus' long-term happiness. As he receives some slightly conflicting advice from the pair, he struggles with which choice is the better one to make.
Better late than never.
Elsewhere Maia returns and contemplates on how best to rebuild the New York pack.
As we near the end of the original 3B, this episode throws in some emotional twists and turns that may leave you needing to reach for the tissues and in some cases could lead to larger consequences. Shadowhunters airs Mondays at 8.00 on Freeform.
And with that I'm going to leave you with a few teasers to tide you over until the episode:
- Sparks are flying, but will they be acted upon?
-
"I wouldn't just abandon him."
- Something that has been teased at this season is finally happening.
- There are finally some really good Lightwood sibling scenes this week.
-
"I underestimated your loyalty"