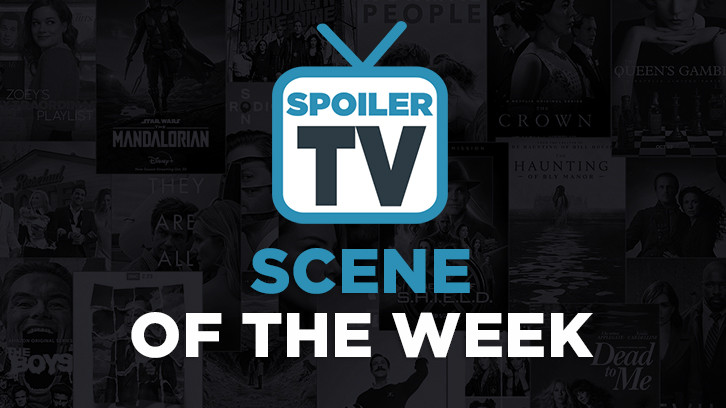 A weekly feature in which we're trying to find the most compelling, best acted, written, directed and just generally great, memorable scenes that we've seen in past seven days on TV.

9-1-1, "Fight or Flight", April 1, 2019, Actors: Jennifer Love Hewitt, Oliver Stark, Angela Bassett, The Scene: Maddie tells Buck she didn't give up
Beth: It would be easy to say Buck and Athena 'rescued' Maddie but that is not what happened. She saved herself and when she saw her brother, she was able to breathe and tell him that she didn't give up. Buck was there to hug his sister and make her feel safe, but Maddie, like Athena said, fought like hell to get to that moment and it showed what a strong and resilient woman she is.

CHARMED, "Surrender", March 31, 2019, Actors: Melonie Diaz, Madeleine Mantock, Sarah Jeffery and more, The Scene: Mel, Macy and Maggie face the Elders
Milo: Mel, Macy and Maggie face the Elders to try and get Harry's powers back. This was a good scene in a show that is only going from strength to strength, building on its lore and establishing its world in a way that adds depth to both its characters and its surroundings. Ultimately the Elders failed to listen, but the intent was there.

CRAZY EX-GIRLFRIEND, "I'm in Love", April 5, 2019, Actors: Rachel Bloom, Donna Lynne Champlin, The Scene: The last song
Marko: Rebecca explains to Paula what goes on in her head. A beautiful moment to conclude this phenomenal show. Crazy Ex-Girlfriend was always build on these two women bonding over their bad shit plan to get Becca with Josh. It was very sweet that they bonded one last time as Rebecca confided in Paula about what really goes down in her head. Beautiful song to end this story.

FOR THE PEOPLE, "One Big Happy Family", April 4, 2019, Actors: Hope Davis, Ben Shenkman and more
The Scene: The children testify
Marko: So powerful, so emotional, so many goosebumps!!!! A perfect conclusion to a heavy story. The kids' words were like razor blades.

SCHITT'S CREEK, "The Hike", April 2, 2019, Actors: Noah Reid, Daniel Levy, The Scene: Patrick proposes to David
Beth: This scene was so adorable as Patrick described how he used to come there alone when he realized he was falling for David, so it was a perfect place for him to propose to him. David's reaction was so pure when he asked Patrick if he was sure. Cap that off with Patrick's perfect choice for engagement ring(s) and it is so obvious why these two are a perfect match.

SPEECHLESS, "The S-t-a-Staircase", April 5, 2019, Actors: Micah Fowler, Kayla Maisonet
The Scene: JJ and Izzy discuss how he didn't impress her
Marko: JJ and Izzy discuss how he didn't succeed to impress her as a man, while they faked it for her father. This show breaks the taboos on disability so hard and so strong. Izzy and JJ are such a great match and the writers slowly provide them depth with each episode.

STAR TREK: DISCOVERY, "Through the Valley of Shadows", April 4, 2019, Actors: Anson Mount and more, The Scene: Captain Pike sees his future
Laura B: Captain Pike sees his future in order to obtain the time crystal. Anson Mount continues to be a delight in playing this third incarnation of Captain Pike, but what's more interesting is how from the get go with Mirror Lorca and his beliefs, the series has been debating the concept of fate & destiny and as many know, none so tragic as the fate that awaits Pike. But more harrowing still is how this episode adds so much more weight by telling viewers that Pike knew about it, nor does it stop him from doing what he believes is right! Obviously it remains to be seen if canon is going to get retconned with some kind of catch 22 where Pike's fate is concerned, but I'm definitely curious over Discovery's long hall, what is really going to stick and if it's possible to see Pike again later or in another time?

SUPERGIRL, "All About Eve", March 31, 2019, Actors: Melissa Benoist, Chyler Leigh, Katie McGrath, The Scene: The apology
DJRiter: After finding more Harun El in Eve's secret lab Supergirl starts to overreact to the discovery. Then, after Alex points out the good Lena did by making it, especially saving James' life, she catches herself and in a rare vulnerable moment apologizes to Lena saying that with Superman off world she's feeling the weight of the world on her shoulders and that it's growing heavier and she's reacting to anything that could make her appear weak. This is a big step in healing their rift and is beautifully underplayed by Melissa Benoist.

THE GOOD FIGHT, "The One with Lucca Becoming a Meme", April 3, 2019, Actors: Rose Leslie, Michael Sheen and more, The Scene: Maia stands up to Roland Blum
Laura B: Maia stands up to Roland Blum by also throwing a computer through the glass office walls. There's quite a lot going on during this latest episode of The Good Fight; and Roland Blum is not so much of a relatable character, as much as he's a destructive tour de force that threatens to tear down the fabric of the firm from the inside out, in a chain reaction kind of way. But not since Kalinda's baseball bat smashing days or when Will shoved all of Alicia's things off her desk back in season four of The Good Wife, have viewers seen such ferocity from this universe's characters and Maia was the least likely to expect this from, which is what made her doing it all the more delicious and heartbreaking to watch, since ultimately, thanks to Jay and Lucca getting into race disparity concerns, Maia was fired.

THE MAGICIANS, "The 4-1-1", April 3, 2019, Actors: Jason Ralph, Olivia Taylor Dudley, The Scene: Quentin talks to Alice about what happened between them
Milo: Quentin, in the body of his younger self, talks to Alice about what happened between them to make him unable to trust her. This was such an effective callback to Season 1 and reminded us how much had changed since the early days of the series. Both Jason Ralph and Olivia Taylor-Dudley especially were fantastic slotting back and forth between the two roles seamlessly.

THIS IS US, "Her", April 2, 2019, Actors: Mandy Moore, Sterling K. Brown, Justin Hartley and more, The Scenes: The final montage & Kevin's advice for Tess
Justyna: I'm not all caught up with the show (yet) however I've seen this final montage a few times already. It's beautifully done, very emotional and as always, wonderfully connecting the past, present and the future. First of all, it's a relief seeing that Randall and Beth found their door and are together years from now. We also briefly meet Kevin's son as his relationship in the present comes to an end. Things are not looking great for Kate and Toby but it looks like their son is going to be okay and baby Jack finally goes home with his family. And then there's that final walking down the corridor towards Rebecca. I loved the parallel between the kids going to visit their injured mom in the hospital (along with Jack) and Randall visiting her in the future. The music in the background ("Hold Your Head Up High" by Darlingside) completes the scene perfectly. After many theories about the future, it's all about Her. As hard as it will be to watch Rebecca die, hopefully this time everyone will get to say goodbye. Kudos to cast & crew for all their great work on the show.
Klutzy girl: After Tess asks Kevin for advice, after realizing she doesn't yet know who she is, he tells her that she'll find her life piece by piece, like he did. I've always loved Kevin's relationship with his nieces and this was such a sweet moment.

YOU'RE THE WORST, "Pancakes", April 3, 2019, Actors: Aya Cash, Chris Geere, Desmin Borges, The Scenes: Gretchen and Edgar talk in his car & Gretchen and Jimmy decide to choose each other every day
Giulia: Gretchen and Edgar talk in his car. The show's series finale is a masterclass in what a finale should be. Perfect in every way, with references to the pilot (the wedding, the food, the cigarettes!) and with incredible performances across the board. But the moment between Gretchen and Edgar (who's sitting in his automobile, which would function as getaway car if needed) was really painful. She didn't hold back, probably because she was mad at him, but I feel like she reacted like that because she knew that Edgar was right. A moment that Gretchen used so she could vent her personal frustrations. It kind of broke my heart, because Edgar has always tried to be the moral compass of the show and the moral voice in Jimmy and Gretchen's heads. In that moment, he felt powerless and small. Gretchen, on the other hand, was the one in control. I know it was hard to watch, but I loved every second of it!
Beth: Gretchen and Jimmy decide to choose each other everyday. This was the best possible outcome for this couple and it stayed true to who they were for 5 seasons. They didn't need a ceremony or rings, they have each other and the decision to not get married was the right one. I loved this spin on the traditional 'endgame' story.