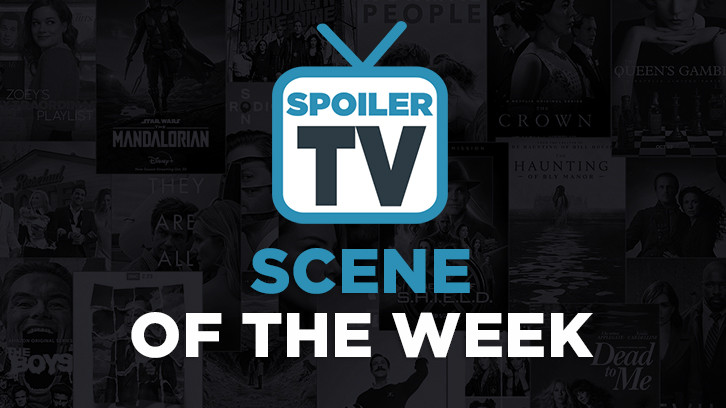 A weekly feature in which we're trying to find the most compelling, best acted, written, directed and just generally great, memorable scenes that we've seen in past seven days on TV.

COBRA KAI, "Mercy Part II", April 24, 2019, Actors: William Zabka, Martin Kove
The Scene: Johnny and Kreese's fight
Zandarl: The return of John Kreese. Johnny Lawrence and Kreese face off for the first time in 30 years. We all remember Kreese attacking Johnny in the movie and Mr Miyagi saving him. This is one snake I definitely don't trust.

DOOM PATROL, "Frances Patrol", April 26, 2019, Actors: Matt Bomer, Tom Fitzpatrick
The Scene: Larry and John talk after decades
Klutzy girl: Larry and John finally talk after the former pushed the latter away after his accident. It was such a sweet, hilarious moment and I'm thrilled John made Larry laugh - something he hasn't done at all. I'm so glad they got to have this closure, and Larry was able to tell John that he loved him.

DYNASTY, "Life is a Masquerade Party", April 26, 2019, Actors: Sam Underwood, Elizabeth Gillies and more, The Scene: Adam and Alexis unveil her new face
Samantha: I was honestly expecting the show to keep us in suspense for a few episodes & even then for no one to actually acknowledge that she's essentially Fallon 2.0, so the fact it all came out this week was a nice surprise. Blake & Fallon's reactions were the absolute best. Adam genuinely being pleased with his work just goes to show how messed up he really is, and Elizabeth Gillies is completely owning this duel role.

GAME OF THRONES, "A Knight of the Seven Kingdoms", April 21, 2019, Actors: Gwendoline Christie, Nikolaj Coster-Waldau, Maisie Williams, Joe Dempsie and more, The Scenes: Brienne is knighted by Jaime & Gendry and Arya sleep together
Justyna: The list of scenes that I enjoyed and found to be memorable in this week's episode is a really long one. But when it comes to highlighting just one it's a surprisingly clear choice. An interesting group gathers in a room and spend together the last hours before the battle. During their conversation it's mentioned that despite all her skills and experiences Brienne is not actually a knight. In fact no woman could ever be one because of tradition. That's when Jaime offers to go against it and knight her himself. It's his right as a knight to name another and he doesn't hesitate when it comes a fighter as talented, loyal and honorable as Brienne. Even though she initially declines this offer it's clear how much it actually means to her and encouraged by the others she decides to take this opportunity. "In the name of the Warrior, I charge you to be brave. In the name of the Father, I charge you to be just. In the name of the Mother, I charge you to defend the innocent. Arise, Brienne of Tarth, a knight of the Seven Kingdoms." This was such a beautiful and heartwarming moment, no matter what happens next. Brienne's reaction is a wonderful one. The genuine smile on her face, one that we've never seen before, and everyone clapping in support makes this especially memorable to me. A scene as powerful as this one deserves all the praise. Kudos to cast & crew for all their great work on this part & episode overall.
Milo: In true Game of Thrones fashion, it reminded us of how great all the characters that we've come to know and love were, putting them in the same place as each other before preparing to kill them off en masse next week. I could pick any number of scenes from this episode but my number one pick has to be Brienne being knighted by Jaime. It was fantastic to see both characters together at the end and although it is likely that their deaths are just around the corner, the show gave us one crowning moment of awesome for both characters in a scene that ranks up there with the show's best.
Laura B: This was one of those really great heartwarming scenes that I think most fans will appreciate having before going into next week's seemingly treacherous battle at Winterfell, where casualties are expected! The other cool thing about this scene is how it resonates with the episode's title, A Knight of the Seven Kingdoms, which happens to be the title of a collected novellas following the adventures of Brienne's alleged relative Ser Duncan the Tall and his squire Aegon V Targeryen!
Mads: Gendry and Arya sleep together. I'm not even caught up on GOT right now but I saw everyone talking about this scene and had to watch it for myself. I've been rooting for these two since the beginning and even if everything goes to hell I'm glad we got such a fantastic scene between them.

GOTHAM, "The Beginning...", April 25, 2019, Actors: David Mazouz, Lili Simmons, Ben McKenzie and more, The Scenes: The ending & Selina and Bruce meet on the rooftop
Justyna: This was a great series finale and a memorable final season overall. I loved how throughout the episode we were getting glimpses of Batman as he protects the city. Everyone's reactions to his appearances were brilliant. But it's the ending itself that stayed with me the most. After stopping Joker from his attack on Gordon and his daughter and meeting with Selina, Bruce heads towards his friends. He's briefly noticed by Penguin and Nygma who managed to escape and are already plotting their revenge against the new enemy. They're both clearly frightened and it's just fun to see them quickly considering their chances and opting to try again "tomorrow". Gordon lights the (bat) signal with Harvey by his side and Alfred appears to say thank you on Bruce's behalf. Thank you to Gordon for giving hope to an orphaned boy who lost his parents all these years ago. And finally, a few buildings away from the group, on another rooftop, there's Batman. In the last shot of the series the viewers get to see him in full costume and ready to begin his story as the Dark Knight. An ending that makes you truly want to go on. I think it might be time for me to rewatch one of my all-time favorite trilogies. Kudos to cast & crew of Gotham for all their work on the show.
Marko: Selina and Bruce meet on the rooftop.

JANE THE VIRGIN, "Chapter Eighty-Six", April 24, 2019, Actors: Gina Rodriguez, Elias Janssen
The Scene: Mateo comforts his mom
Luana: This was such a sweet scene, after so much heartbreak and confusion, Jane gets the best gift for her birthday. In spite of being angry at her for messing up their perfect little family, Mateo holds her when she starts to cry and they talk about her day.

LEGENDS OF TOMORROW, "The Eggplant, the Witch & the Wardrobe", April 22, 2019, Actors: Caity Lotz, Jes Macallan, The Scenes: Purgatory is Ikea & Sara tells Ava that she only wants her
Prpleight: Purgatory is Ikea. I almost fell out of my chair. Ava is forced into purgatory to be weakened enough to allow her body to be taken over by another demon. Sara goes in after her. When she arrived it was immediately apparent to me that she was in Ikea...which made a delightful kind of sense because I've been stuck trying to follow the signs to the "Exit" and ending up everywhere except the door out of the building. How perfect.
Samantha: Sara tells Ava she doesn't want any other woman and only wants her. Honestly this whole episode was brilliant and made my shipper heart beam. These two have come such a long way since their relationship first began, this episode delved into a lot of their issues and Ava's face of happiness when Sara declared her feelings was such a wonderful moment for her.

LINE OF DUTY, "Episode 4", April 21, 2019, Actors: Stephen Graham and more, The Scene: John Corbett is betrayed and killed
Milo: The death of Corbett is the only correct choice. It was a shocking, sheer WTF moment that really acted as a turning point for the show. Jed Mercurio continues to be the master of the twist and this episode was no exception. Stephen Graham delivered his A-Game throughout this episode (a POTM nominee for sure) and it worked as a perfect send-off to his character who has helped the show deliver a contender for its best season yet.
DarkUFO: John Corbett is betrayed and killed at the end.

NEW AMSTERDAM, "Happy Place", April 23, 2019, Actors: Tyler Labine, Anupam Kher, Lauren Ridloff and more, The Scenes: Margot explains why she wants her implant removed & Margot wakes up after surgery & Jemma tells Iggy she doesn't want to see him anymore
Justyna: There were several significant, emotional and memorable moments in this episode. The one that I decided to highlight is the part where a young woman explains to her wife and Dr. Kapoor why she wants to remove her cochlear implant. He's worried about her choice and he informs her that this decision will not only require a risky surgery but it will also result in her losing her hearing again. That's when she tells him about her life before and after the implant. The way music felt, the way she experienced the world, the way she could understand her loved one without hearing a sound. "I loved hearing Tori's voice. But I heard you better... when I couldn't hear your voice at all." It's deeply moving and beautifully acted by the cast involved. I can't even begin to imagine such situation but in that moment it was impossible not to understand Margot and feel for her. Kudos to cast & crew for all their work on the show.
Luana: Jemma tells Iggy she doesn't want to see him anymore. Just like a parent, Iggy comes to the conclusion he did his job so well he's not needed anymore, he's actually a reminder of the darkest times in Jemma's life, and though it doesn't diminish at all the work he did with her, he does realize it's time to step aside, no matter how painful, and keep helping other kids like her to also move on.
DJRiter: Ironically the most powerful scene in this emotional episode was done without noise or dialogue. When the deaf woman awakened after having her implants removed, she was happy to once again be in the world where she felt she thrived, one of complete silence. And to illustrate what that world meant to her the producers let the entire final scene play out without a single sound. It may have been silent, but it spoke volumes as you could see the joy on her face.

ROSWELL, NEW MEXICO, "Recovering the Satellites", April 23, 2019, Actors: Amber Midthunder, Nathan Parsons, The Scene: Rosa is resurrected
Mads: I honestly wasn't expecting this twist at all! I don't care that much about Max, to be frank, but it was satisfyingly dramatic to have him die to bring her back - despite it being a somewhat foolish and stupid move. I'm really curious to see how the show incorporates her into the fold moving into season two.

SEAL TEAM, "Medicate and Isolate", April 24, 2019, Actors: Tony Curran and more, The Scene: Brett is diagnosed with TBI
Prpleight: A doctor confirms the likelihood that Brett has a TBI. This scene was simply heartbreaking. This former Tier One operator has been suffering with a myriad of mental issues. He's seen an overworked psychiatrist several times and was handed drugs to treat them. He finally sees a medical doctor who tells him that, yes, his combat experience combined with his symptoms would indicate he has a TBI. Brett is overjoyed that with a diagnosis comes real treatment. Watching his hope destroyed was just heartbreaking.

SUPERGIRL, "Crime and Punishment", April 21, 2019, Actors: Melissa Benoist and more
The Scene: The return of the thunderclap
DJRiter: Instead of it being a one-off superpower used only in the Crisis of Earth X crossover, the producers of Supergirl wisely brought back the thunderclap. Supergirl uses this power to knock the rioting prisoners off their feet and saved them from being attacked by the Army outside. Great call-back and great use of this little used power. Also picked by Zandarl

SUPERNATURAL, "Moriah", April 25, 2019, Actors: Rob Benedict, Jared Padalecki, Jensen Ackles and more, The Scene: Chuck unleashes hell
Klutzy girl: Chuck gets so angry at the Winchesters for not following his plan that he unleashes hell - everything they've fought over the past fourteen years - on them. I loved the callbacks to season one and am so excited to see what they do next season with this storyline because so many fan favorites can return. It was an amazing twist, and I'm looking forward to seeing how the final season handles this.

SUPERSTORE, "Quinceañera", April 25, 2019, Actors: Ben Feldman, Isabella Day and more
The Scene: Jonah tries to protect Emma
Mads: Even though Jonah wound up making himself look like a fool at Emma's Quinceañera, I thought it was SO sweet how he was willing to further tarnish his reputation by screwing up the father/daughter dance just so Adam wouldn't figure out Emma was high.

THE BOLD TYPE, "Stroke of Genius", April 23, 2019, Actors: Matt Ward, Meghann Fahy, The Scene: Alex asks Sutton for advice
Luana: Alex's story this week was an intense one, one that absolutely needed to be told, and though I loved every scene, I particularly liked how Sutton tried to give him some perspective, to show him that pretty much every woman, no matter how strong and outspoken you think she is, has had a bad experience where they went farther than they wanted to because of some unseen pressure. And Meghann Fahy was so good, when she mentioned some Brooklyn apartment you could see the whole story behind her eyes, the memory of it even taking her breath away for a moment. "We have all been Kristen".

THE FLASH, "Snow Pack", April 23, 2019, Actors: Grant Gustin, Candice Patton, The Scene: Barry and Iris argue about Nora
Naomi: Barry and Iris argue about Nora going home. Iris confronts Barry about sending Nora back to the future without telling her. Barry counters that he didn't think he needed to tell her because he made the right choice. An angry and hurt Iris reveals that she has taken issue with many of the more emotion-driven decisions that Barry tends to leave her out of. In response, an angry and hurt Barry tells Iris that she is just as guilty of being driven by emotion because if the offenses committed by Nora had been committed by anyone else, he believes she'd be on his side. Wow! This performance by Grant Gustin and Candice Patton is the strongest we've seen from them, and that's a mouthful. These two actors often give their all in West-Allen scenes, but they are usually professing their devotion or unending support to one another. Here, they are taking major issue with each other's choices and ideas about parenting; the result of that is heart-wrenching and painful to watch but superb nevertheless.
Marko: Iris and Barry discuss him sending Nora to the future.

THE GOOD FIGHT, "The One Where Diane and Liz Topple Democracy", April 25, 2019, Actors: Cush Jumbo and more, The Scene: Lucca finds out the truth about Blum's assistant
Laura B: Lucca finds out that Blum's assistant is not an attorney, but an actor. I don't know whose brilliant idea it was to bring 'Downton' and Deuce alumni Gary Carr on board to play a fictional version of himself, nor do I know how long the character will stick around, but what a fun and timely choice for Lucca's new love interest! It was also the first time all season I didn't cringe at the school house rock-inspired cartoon numbers, since the song was going over his and Lily James' Downton roles featuring class, race, and forbidden romance issues, instead of harping away at Trump so heavily this week. I thought it was much needed break, despite the voting machine/resistance case being pretty intense. This episode just felt a little bit more about the characters this week!

THE ORVILLE, "The Road Not Taken", April 25, 2019, Actors: Halston Sage and more, The Scene: Alara's return
DJRiter: All season long this show has been carving itself a place in the science fiction genre. It's evolved into a thoughtful, serious and intriguing science fiction series. The season finale was no different and featured the, all be it, brief return of one of my favorite characters, Lt. Alara Katan. Even though it wasn't the Alara we knew, she was still a quiet leader and it was great to see Halston Sage back on the series, even as a guest star.

THE VILLAGE, "Yes or No", April 23, 2019, Actors: Grace Van Dien and more
The Scene: Katie finds out the truth (picked by Marko)

WHISKEY CAVALIER, "Hearts & Minds", April 24, 2019, Actors: Scott Foley, Vir Das, The Scene: Jai decides to bond at 3 am
Prpleight: Many jokes have been made about Will's touchy-feely approach to life. Jai is a man less touchy-feely than Will's partner (and co-team leader) Frankie. Will's usual approach is to be nice and work to connect with his co-workers whether they want him to or not. While Jai monitors the bug he planted on Will, so that he can inform the rest of the team if Will's situation goes from bad to worse, Will begins to share details about his family and childhood and Jai cannot disconnect. As predicted, Jai does decide to reciprocate and share some of his background with Will.... at 3 o'clock in the morning. As Will desperately searches his apartment for the speaker, Jai tells Will about his family, favorite ice cream and love for Bollywood. Revenge is a dish best served cold, indeed!