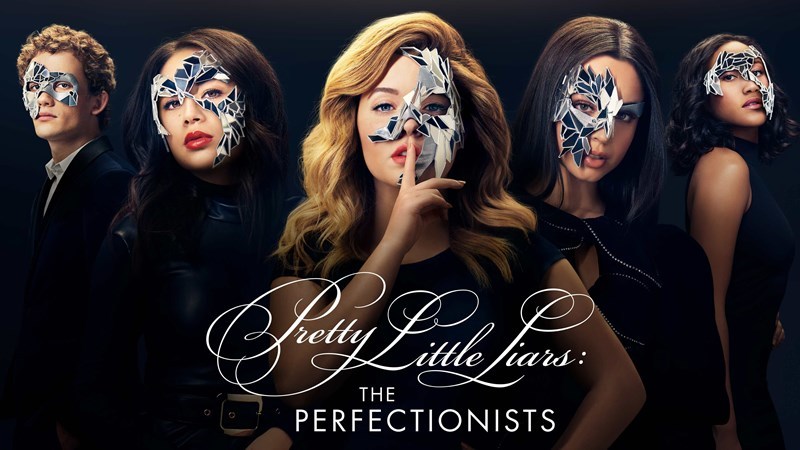 Full Spoilers Follow
Your regular Perfectionists reviewer could not be with us this week. I promise they are probably not locked up in a dollhouse somewhere. While you could have just watched the promo for this week's installment and gotten nearly all the highlights, several juicy details and a new suspect were saved for the episode itself. Our baby liars must figure out if they should be friends before they can get down to being detectives. A good first step might be teaming up with Alison.
Last week, Alison saved the liars' bacon by giving them an alibi. She invites them over for real to make sure they are all on the same page. Of course she has figured out how to unplug the Beacon Guard system monitoring her house. Despite the fact that Alison clearly has all the wisdom, the baby liars aren't about to actually start trusting her. They are excused this one time because it's still so early after Nolan's death they still have a lot to process. Someone who doesn't appear to being have trouble processing is our resident Red Herring Mason Gregory. Nolan's former #1 is now apparently taking Alison's class, and he sits right down in Nolan's spot. Ava freaks out at him. She is barely restrained by Dylan. The incident puts Mason on Alison's radar. She questions him about his past life as Nolan's runner-up and best friend. He claims to be chill with it. Even if Mason weren't pretty, we would know he's lying.
Even though other people caught in Nolan's web haven't been revealed, his tangled strings are still pulling on his former "perfect posse." I almost laughed when Caitlin mentioned that she had her big volunteer project to complete. She assumed they would be helping until Dylan reminded her that he was only helping because Nolan was making him. Nolan's influence was also the only reason Ava had volunteered her assistance too. It's an interesting note that Caitlin was actually benefiting in some ways from Nolan's actions. No one was being made more miserable than Dylan, and he is holding his secret very close to the vest. This episode hints generously that we shouldn't take any of the baby liars off our suspect list. However, it is far too unlikely that any of them killed Nolan. On the other hand, meet Zoe. She's maybe a friend/roommate of Ava's, the kind who expresses concern over Ava's drinking but who also takes Ava's coat without asking and shoots disgruntled glances at the baby liars. Does this girl have a bigger issue with Nolan's "friends"?
Security Chief Booker couldn't be more determined to pin the murder on our baby liars if she was actually wearing a t-shirt with their wanted posters. However Claire Hotchkiss isn't so certain. She is ultra chill about her son being dead and ultra chill about him blackmailing his friends. Far be it from me to call someone a bad parent, but let's just say Nolan didn't have great role models. She does insist though that Caitlin couldn't have done it. Claire pushes Booker to use the dirt Nolan had to nudge Caitlin to come to Claire for help. If that's not devious, what is? Caitlin does end up asking Claire to keep the (fake? her use of that word confused me) pictures of her mother having an affair hush hush. Claire is happy to help, as long as Caitlin finds out what dirt Nolan had on Ava and Dylan. She also gives Caitlin a birthday present that was found in Nolan's room. But Caitlin realizes it was meant for Ava, who thankfully does not walk in on Caitlin reading her diary. Ava and Dylan do end up helping Caitlin with her volunteer project, and they enjoy a brief interlude of levity.
Ava reveals to Caitlin and Dylan that she followed Nolan to a cabin the night he died. She saw him with some blonde woman. They drive out to the cabin only to realize someone else was following them. That someone is, of course, Alison. She saw a picture in an old yearbook of Mason and Nolan at a cabin and went from there. (The picture was titled "Secret Days.") The baby liars can't believe they didn't notice her following them or seeing their vehicles. Queen Alison be all:
"I parked down the road. When you don't know what you're going to run into you, it's best not to announce your presence."
The baby liars do not get out their phones to take notes, but they need to start doing that. The cabin appears completely deserted, so everyone leaves. However, on the drive home, Dylan notes a weird smell. He makes them stop the car. Nolan's stash box is in the trunk with a dead rat inside. And a note that says one of the Liars is a rat and if they don't tell the Rat Killer will.
A rat is not a murderer, so one wonders if this note was meant for Caitlin, since Claire wanted her to dig up dirt on the others. Regardless, the moment belongs to Ava who snatches the dead rat with her BARE HANDS and flings it away. Caitlin and Dylan are in awe. These three are closer than ever to being friends, and another hallmark of that is Dylan inviting them to listen to the cello piece he composed himself. It's for his anniversary with Andrew. It is a beautiful piece. Afterwards, Ava records her interview for Vogue, with the theme of the consequences that come from chasing perfection. Are the baby liars growing up already?
The ending note for the episode was rather anticlimactic, with Caitlin picking up a gum wrapper that Mason threw away. It's the same wrapper that they found in the woods, and Dylan found a similar one in the cabin. The problem with that is that the episode already showed us that Mason used to hang out there with Nolan. Was he the one in the woods that night? He could have been. Half the characters on the show could have been in the wood that night too! It hardly matters. Far more interesting is the clue Alison finds in the cabin. She finds a rose lying on a shelf, a rose she later matches to one that was on Taylor Hotchkiss's crypt. This sends her straight to Mona, who has spent the entire episode staring at her computer trying to regain access to BeaconGuard, to announce that Taylor could be alive. Also, Alison adds that there is something bad happening around these parts. Something worse than whatever bad you were imagining before. (Something worse than murder?)
Thoughts to Chew On:
No appearances from Jeremy or Andrew this week, although I did think of Andrew when Claire made that comment about having old buildings around campus renovated. Seems like the sort of thing a budding architect would be interested in.
Why is Claire so convinced of Caitlin's innocence/overall goodness? And that comment "It's not in her DNA" was more than a little strange.
There's the briefest moment where Mona looks at her chess board before this peppy romantic tune starts playing. I still think her big opponent might be herself, but it could also be the equally tech savvy Taylor.
At this point, there are no good suspects who aren't the Baby Liars.
Should we really rule any of them out?
Your Turn! What possible clues did you pick up? Was there enough Alison and Mona in this episode? Share your thoughts in the comments below.