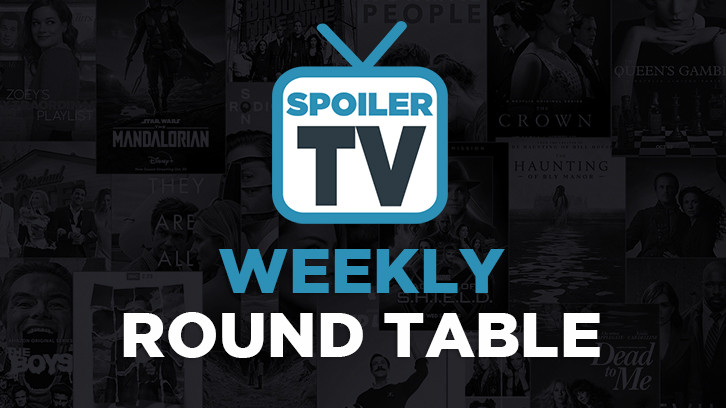 Hello and welcome to a new edition of SpoilerTV`s Weekly Round Table. Joining me this week is Klutzy Girl (KG), Kollin Lore (KL), Marko Pekic (MK), Sam Disnmoor (SD), Milo (MJ), Lisa Macklem (LM), Mads, Michele (MI), Jamie Coudeville, Cecile, and me (Yon). You just have to sit back enjoy the read and join the discussion in the comment section down below.
Last week it was announced that yet another long running show will be ending, with Supernatural to finish after its 15th season. For fans of the show how do you feel about it coming to an end, what are your favourite moments and what are you hoping for in the final episodes. And given that the show is now joining the likes of The Big Bang Theory, Criminal Minds, Arrow and Modern Family, which long running show do you think will be the next to finish?
Yon:
I've never even seen so much as one episode of Supernatural, but even I was a little stunned by this news. It's just one of those shows you assume will go on forever, because even when it suffers a decline in creativity, it is still extremely enjoyable for viewers to watch and you can tell from the casts chemistry they have a great time together. In many ways it feels like we are reaching the end of an era in television, because these types of shows that are ending? They're literally shows that people have grown up with. I look back on shows such as One Tree Hill, which was on the air for 9 years and during that time my life did a 360. In the time that the likes of Supernatural have been on air, my life's done another 360, I've massively grown as a person and moved home at least 4 times! We can say that it's only ever a TV show, but these are shows in which you fall in love with characters, dedicate a great deal of time to watching, immersing yourself in the world and carry these shows with you through events in your life, so whilst I've never been a fan, I can sympathize with those that are and be respectful to the period of sadness they're currently going through. As for the next show to finish, my bet is on Grey's Anatomy. It's a show that I've barely watched because medical dramas aren't my thing, and whilst its ratings are still a powerhouse for ABC, it's the only other long-running show currently on air that I can think of.
KG:
here are way too many favorite moments to list, although I do love the "chick flick moments" between Sam and Dean - especially the hugs!
Not too sure about everything I want in the final season but I do hope Rachel Miner returns as Meg - she's one of my favorite characters and I love her relationship. And I hope Danneel Ackles continues to recur since I love her and want to see more Anael. Jake Abel too, so the Adam situation finally gets resolved. And Jeffrey Dean Morgan! After he returned for the 300th episode, he mentioned he hoped he could come back for the final episodes, whenever they aired.
I don't know what long running show will end next - maybe Grey's Anatomy? It's really hard to say.
KL:
Supernatural has been part of almost HALF my life. To put into perspective, my other favourite show of all time Angel (its ending seemed like a lifetime ago) will be celebrating 20 years since its first episode, Supernatural is only 5 years younger and it is still airing. Crazy. Life without Supernatural filling my nightly hours will feel very different.
As far as favourite moments. Sam and Dean on the road laughing and singing Night Moves in 'Baby' first come to mind. Just such a heartwarming scene and the fact it was all improvised gave it so much more meaning. It was as much J2 as it was Sam and Dean. Supernatural had its best run in its first 5 seasons, but 'Baby' which aired in its 11th season has a special place in my heart and it reminded me why I still watch this show despite its many downs post-season 5.
For the final episodes Jeffrey Dean Morgan needs to return and not in a purely sappy way like his last return, we need to see Papa Winchester kicking arse beside his two sons and I'll be satisfied.
Lastly, what long-running show do i see next ending? I think The Blacklist is next, I really don't see how they can go beyond 7 seasons. The mystery of who Reddington really has been dragged out sooo long.
MK:
Supernatural is a cultural phenomenon and the show ending after 15 seasons and over 300 episodes is still a heartbreaker. Despite their ups and downs this show left a big mark on TV history and showed a level of viewer loyalty rarely seen on TV. Favorite moments: everytime the brothers thought they would loose each other, Jared and Jensen always brought their A-game in those moments. I expect the show to end on an explosive and possibly apocalyptic way. The show was always about hope, family and the fight for a better tomorrow. So a lot of that.
SD:
I was a big-time Supernatural fan in the past. I dropped off after season 7, which feels like it was airing just yesterday. I still can't believe they made it to 15 seasons. I'll probably be tuning in again for this final season and what I hope to see are all the fan-favorite characters from the past. I'd like to see Jo and Ellen, get another appearance from JDM, Bobby, and even the yellow-eyed demon just for kicks.
As for long-running shows that could be next, I'm not sure. The ones on the air right now don't seem to be running out of steam any time soon. I could see something like It's Always Sunny or South Park ending in a couple of years if the creators want to end them. Grey's Anatomy could go in another couple of years as well.

MJ:
Supernatural was the first CW series that I started watching and quickly fell in love with it and caught up quickly. Those first five seasons are still top notch TV and anytime this show does a meta episode it's usually worth watching, especially that legendary Scooby-Doo crossover. The earlier episodes too reminded me of how scary the show could be at times and how good it was when it went into full on horror mode. I'll miss it a lot, and it's truly an end of an era. I'm not caught up yet (still only watched the first few episodes of the current season) but am hoping for a memorable finale (a Magnificent Seven-style last stand would be great) that ends on a satisfying note. As to what long-running show will follow suit it's hard to say - Supernatural is the longest running ongoing series that I watch and I don't think I've came anywhere close to 10 seasons, let alone 15 with any other show.
LM:
I started watching in the first season, mainly because of Kim Manners who I loved from The X-Files. I was quickly hooked on both the horror and the brothers. I mean, you've seen my online handle, right? I started reviewing shortly after that. In fact, Supernatural is why I'm a reviewer in the first place. I've covered them at SDCC and Paleyfest. I worked at the fan conventions. I wrote my MA thesis on the first five seasons - the Kripke-years are still the best for me. I'm now co-editing two books of collected essays on the show and I've presented countless academic papers on the show and its fandom. I've also written 100s of fan fics. I think that it's safe to say that I've participate in this show in every way possible, and just last weekend, I finally met Eric Kripke. I will admit that over the years - and the different showrunners - I lost a lot of my passion for the show and it became as much a habit as anything, but in the last few years, they've had the odd bright shining moment of an episode that helped to underscore why I fell in love with the show. Even though I'm not as passionate as I once was (or obsessed- go ahead, you can say it!), the announcement that it was ending really did feel like a punch to the gut. I will miss the show - but we have SO many episodes to re-watch! My ONLY hope for the final episode is that Kripke returns to write it. Robert Singer should direct.
Mads:
It feels like so much is ending between 2019-2020 I'm kind of sad about it all. I have a feeling SVU is going to be the next behemoth show to end but I also think Grey's Anatomy is going to be done sooner rather than later as well.
Jamie Coudeville:
As sad as many may be, I think everyone who watches the show agrees that it's time it comes to an end. Show can't go on forever, not without losing much of story quality. For me, my favorite season was the third one with Bela and Ruby 1.0. As for what shows I think will be next. It would make sense for Grey's Anatomy to end soon since it's also been going on for a while but I don't think they're done yet. I think The Flash will be ending soon, now that Arrow has announced it's ending as well. They've started to write themselves into a corner.
CL:
I'd rather have shows quit while they're ahead, Six Feet Under being a perfect example. Shows that drag on just because the ratings aren't low enough for it to get cancelled and lose all quality in the process... not a fan. That said, I've been rewatching Grey's Anatomy and it's gotten me through some tough times recently, and even though it's far from being the can't miss show of its first 3 or 4 seasons, it's still quite entertaining and an easy watch. So I hope it goes on as long as it's entertaining.
As another week passes we have another Dynasty casting announcement, with Michael Michele tapped to recur and no doubt fill the Nicolette shaped hole in the show. Whilst the show has already been renewed for a 3rd season, viewing figures are dwindling, so can a show really hope to keep marching on with so many casting changes? And given how last nights episode ended, do you think the character of Alexis will be written out or eventually recast?
Yon:
Dynasty is just like one big, gigantic revolving door! There have been a few jokes about the cast constantly getting trimmed, new people coming in and the sets being so basic because the ratings are so awful that The CW is relying on Netflix money to keep it afloat and I only mention this because Dynasty is somewhat like one big joke. Soapy, delicious fun and Elizabeth Gillies in without a doubt the star of the show, but there's so much going on with it that it's hard to keep up. Michael Michele joining the show has been on the rumour mill ever since eagle-eyed fans noticed some social media activity, but am I excited for her to join the show? Can't really say I am. The Colby's tend to be treated more as an afterthought with Jeff and Monica in some cases treated more as an afterthought than main characters on the show. Cecil left the show ages ago to only be heard of but never seen again, and the show rarely ever mentions the Colby's connection to the Carrington's. The build-up to Nicolette Sheridan's introduction as Alexis wetted the appetite just that little bit more, and I think that'll be difficult to repeat. During the shows first season Alexis had so much potential to be a mega bitch, but then she was somewhat watered down and throughout this second season has just been there and that's it. Even in her seemingly final episode, she wasn't really given much to do with Blake acknowledging that Alexis only stays around because they pity her. She'll seemingly face no consequences whatsoever for causing the accident which led to Cristal losing her child, and another life was taken because of her so at the end of last week's episode I couldn't help cheering as she was forced head first into the fireplace. Down the line I think they will obviously recast, but if they do, they need to work on fine tuning to character first.
MK:
Even in its fiering messiness Dynasty is one of the most refreshing shows currently on air. I don't expect them to recast Alexis atm. All will depend on how the status with her mother develops and if she may return during season 3. I expect an announcement in that regard during summer. As for its longevity, this show has 4 seasons in the bag, anything else is just more blessings we all deserve.
SD:
It looks like Alexis is being recast. I think she's just going to get a "new face" since the old one is basically burnt to a crisp. But I'm honestly just surprised that Dynasty has lasted this long. With the horrible ratings from seasons 1 and 2, Netflix must be paying a lot of bucks to keep it going, which means it must be popular somewhere. I don't know what's making it so popular, but I don't think the casting changes have anything to do with it, so I imagine it will keep going for as long as it's making money.
Mads:
I think The CW has proven it will keep Dynasty around if not just because it's cheap and they have the international deal with Netflix to support renewing it. It must be doing well enough on the streaming service to warrant keeping it. I do think Alexis will be recast, which is a shame since I loved Nicolette but you can't really have Dynasty without Alexis Carrington.
Jamie Coudeville:
I still think that if it wasn't for the Netflix deal, Dynasty wouldn't have gotten a third season. I enjoyed the first season, it was kind of a guilty pleasure but I haven't enjoyed this season at all. If all this casting drama continues, I don't see it going past a third season (Netflix deal or not). As for Alexis, that ending was brutal. I hope they write her off the show and not recast her (but I fear they will). I heard the actress was leaving to take care of a sick family member, she shouldn't lose her job for that. But like I said, considering that ending, I think a recast is likely.
Last week Disney completed its takeover of Fox, and with that we got our first post Fox/Disney merger promo. What were your takeaways from it? Is it any indications of what shows could be renewed or cancelled? And with the May upfronts soon to be upon us once again, which shows are giving you the old cancellation jitters and which ones will have the biggest outcry if cancelled?
KG:
I have a bad feeling a lot of FOX shows are about to be part of the usual Upfronts bloodbath, just like last year.
I'm really worried about The Kids Are Alright - it's become one of my favorite shows (which I'm still surprised about) and the ratings aren't that great. Most of my other shows are safe because they've already been renewed.

KL:
I was surprised to see The Passage featured so much in that promo along with the likes of such staples as Family Guy and The Simpsons. Surprised, and elated more like it, as The Passage was truly one of the best new shows in the first quarter of this year and I hope a renewal is around the corner. Some will talk about the abscence of The Gifted too, but meh, I stopped watching and following news about it after Season 1, the show just didn't do it for me and I think Amy Acker could do better. My prays are with the fans though.
MK:
Not sure what to expect from the New Fux. Disney will surely try to put their style upon them. Cancellation wise Fux can not be trusted, so everything is possible. Gifted and Orville should be gonners but with Fux U never know.
MJ:
Not sure if there's going to much in the way of casualties that I care about in the show department as I don't think I watch anything on Fox at the moment apart from Gotham which is ending soon anyway, and it sucks that there's going to be a lot of lost jobs as a result of this move. Sure, the X-Men and the Fantastic Four may be 'coming back home', but chances are, we'll lose more than we've gained. The biggest loss so far has to be Elizabeth Gabler's Fox 2000, the unit responsible for the brilliant The Hate U Give, Hidden Figures, Love Simon and Bridge of Spies among other such films. There could be worse companies than Disney to take care of these companies, Fox wasn't always the best choice at times, but it isn't exactly ideal.
LM:
The Disney-Fox merger is having ramifications that we aren't even seeing yet. Along with the AT&T/Warner merger we are increasingly seeing all media in just a few hands. Vertical integration is highly unlikely to be good for anyone and especially not independents or diversity...
MI:
I saw a meme last week depicting Disney as Thanos wearing the gauntlet collecting infinity stones - a.k.a. multimedia platforms. I feel like that sums this merger up pretty well. I'm totally here for it since I know Disney takes care of it's people/shows, but it does feel like Disney is just trying to compete for something it's already winning.
If we lose Agents of Shield in this process, I'm going to be very upset.
CL:
This merger is scary and dangerous for the industry (in that Disney now controls most everything... and we'll lose all the creativity from Fox). I'm not sure what it'll mean for specific shows but yeah, probably nothing good.
Riverdale aired what now seems to be turning into its yearly musical episode last week, and The Magicians will be airing one on Wednesday. How do you feel about shows taking a break from the norm to pull off a special episode? Is it a great way to showcase the actors & actresses abilities or have you reaching for the fast forward button? And from shows that have done musical episodes, what's been your favourite one?
SD:
Most musical episodes are annoying to me. If they don't push the plot forward, I really don't care for them. To me, the only acceptable show musical that's ever been done is Buffy's Once More with Feeling. At least it had big twists and was relevant to the ongoing storylines.
MJ:
It should be mandatory for every show to have at least one musical episode, or at least one musical number. I'm still not over how good The Magicians' Season 3 cover of David Bowie & Queen's Under Pressure was.
LM:
I generally hate these types of episodes because they pull you so far out of the world of the show - typically a total jump the shark moment. Supernatural, however, has managed to do it several times without jumping the shark. "The French Mistake" in which they parody themselves is the classic example. Even more so, of course, is the "Scoobynatural" episode. I really did think that I would totally hate it - but it was terrific. They managed to do a musical episode with "Fan Fiction" by having a high school stage a musical of the book series in the show. The only disappointing thing was that Ackles can really sing - but then Padalecki and Collins... not so much.

Mads:
I love when shows take a break from the norm, I mean a lot of times it gives us some of the best, creative, and most interesting episodes of a show. Look at Breaking Bad and the infamous bottle episode with the fly or Buffy the Vampire Slayer with Once More With Feeling. It's nice when shows are willing to shake things up or give a side character their day in the spotlight and I always welcome it. Even though sometimes it doesn't work out the way they intended, I think being creatively adventurous is always a positive thing on television.
MI:
I honestly thought I'd dislike musical episodes more, but I overall I actually haven't hated them. Riverdale and Grey's Anatomy are the two shows that stick out in my memory, and in all of those cases - I thought the actors' voices were pretty good and it didn't detract from the story. Now, would I watch them every week if it was a musical - probably not. But as a special episode once a season (or once in the series), I'm totally okay. In regards to this seasons Heathers musical on Riverdale, I cannot stop listening to "Seventeen" or "Beautiful" - so I'll have to say it's been my favorite thus far.
Jamie Coudeville:
I hate musical episodes, so far there hasn't been one that I've enjoyed (except maybe the upcoming one on The Magicians because if anyone could pull it off, it would be them). So I can't really tell you my favorite. My least favorite, however, was the one on Once Upon A Time. Lots of fast forwarding there.
CL:
Musical episodes are more often miss than hit (that GA one was... yikes), the Scrubs one being an exception. That said, it is fun when shows break from the norm, as long as it still feels organic and moves the story along.
That's a wrap from us for this week! Sound off on all your thoughts in the comments below, and adios until we read again....