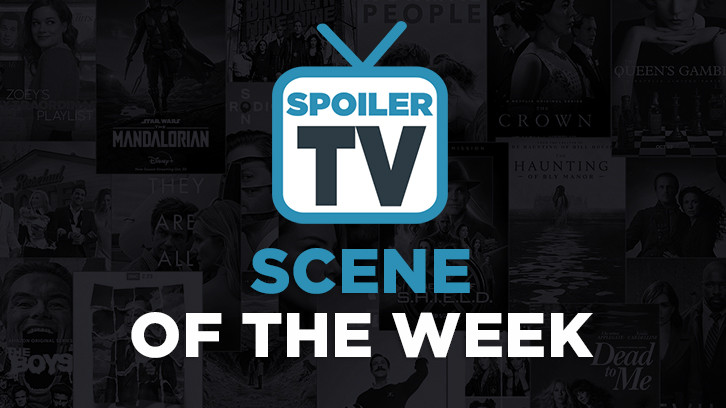 A weekly feature in which we're trying to find the most compelling, best acted, written, directed and just generally great, memorable scenes that we've seen in past seven days on TV.

ARROW, "Star City 2040", March 18, 2019, Actors: Katherine McNamara, Emily Bett Rickards, Ben Lewis,
Katrina Law, The Scenes: The training sequence & William and Felicity reunite
DJRiter: Mia's training sequence with Nyssa. What a wonderful surprise during the sequence of Mia being trained to fight as she grew up that her teacher was none other than Nyssa Al Ghul! How great to see Katrina Law back in the Arrowverse universe recreating her iconic character.
Jamie: I loved this sequence and seeing Nyssa again. I've missed her character so much, it's a shame we don't see more of her. And it was a nice way to show how Mia grew up.
Marko: William and Felicity reunite.

GOOD GIRLS, "You Have Reached The Voicemail Of Leslie Peterson", March 17, 2019, Actors: Allison Tolman, David Hornsby, The Scene: Mary Pat runs Boomer over
Claire: David Hornsby has been killing it in his portrayal of creepy bad guy Leslie Peterson. He has been a thorn in everyone's side and is basically a horrible human being (rapist). But he finally gets his comeuppance in the form of a minivan backing up on him. He will not be missed though I have a tiny feeling that maybe he isn't really dead??? The wonderful Allison Tolman as Mary Pat; our 'hero' van driver and Leslie's fiancé who also despises him. Though it seems that Mary Pat has a few screws loose, too. Love this show!

GOOD TROUBLE, "Less Than", March 19, 2019, Actors: Zuri Adele, Maia Mitchell and more, The Scene: Malika explains why she has to be there for Jamal
Luana: This subject is not talked about enough in TV, the fact that Malika had to find a way to love herself, in spite of the fact that everywhere she looked she saw portrayals of women like her chosen by other people. She tells Callie that she understands Jamal's feelings because she had them herself before she learned to love it all. And the fact that he didn't have time to learn about it because he was gunned down, is all the more reason to fight for him, even if he didn't have warm feelings towards women like herself.

LEGACIES, "I'll Tell You a Story", March 21, 2019, Actors: Danielle Rose Russell, Aria Shahghasemi, The Scene: Hope admits she loves Landon
Prpleight: Hope talks to Simu-Landon and admits she loves Landon. Hope confesses her struggles with losing people; that she feels like it's her fault somehow. She finally gets her apology out inadvertently admitting that she loves him as she does so. It was a sweet scene and the expression on Hope's face when she realized what she'd said was priceless.

NCIS LOS ANGELES, "Till Death Do Us Part", March 17, 2019, Actors: Eric Christian Olsen, Daniela Ruah, Linda Hunt and more, The Scenes: The wedding ceremony & Hetty's entrance
Justyna: This was just a genuinely beautiful scene, the long awaited wedding of Marty Deeks and Kensi Blye. These two have been through so much together as the viewers of the show are well aware of, and they very much deserved this moment in the sun. I've seen quite a few TV weddings and the ones that work best are those that manage to highlight the little things about the characters, making the ceremony just right for the couple. There is a scene earlier in the episode when Deeks reads Kensi's letter that is probably one of their best moments so far and the wedding vows complete it perfectly. Of course Hetty would be the right person to officiate the ceremony, Callen and Sam would walk the bride down the aisle, Kensi would show up as Deeks' "fight-club angel" and the vows would include the gunpowder reference. "You are my favorite thing. And this, right now, is my favorite moment." "You were right, it turns out it's a love story." Absolutely perfect for these two. Kudos to cast & crew for this moment of pure love and hope. Couldn't have asked for a better one.
Ellys: Crashing Into the Wedding. Something's been missing even from the strongest episodes this season. Something or should we say someone. At the end of a wonderful wedding day fight sequence, where every team member got a chunk of the action and champagne bottles and fire extinguishers doubled as weapons, Linda Hunt made her smashing return, as Hetty plowed through a wall (in someone else's new car) to save her team again and later officiate the marriage of course. The scene hit the perfect triumphant note. Welcome back, Hetty!

RIVERDALE, "Chapter Fifty-One: Big Fun", March 20, 2019, Actors: Vanessa Morgan and more
The Scene: Toni sings Dead Girl Walking
Mads: It was tough to choose between this one and the Seventeen duet/reprise because both songs have been stuck in my head all day but I went with this one because Vanessa killed it in her solo and she looked AMAZING in that red outfit.

ROSWELL, NEW MEXICO, "Songs About Texas", March 19, 2019, Actors: Jeanine Mason, Nathan Parsons, The Scene: Max and Liz's first kiss
Ellys: The (future) couple have come a long way since their almost-kiss in the pilot. Now being in a much more honest place with each other and Liz being moved by Max's dedication to his sister prompts her to confess that she worries he only sees this fictional version of her, a Liz that is too perfect to be a real person. Max respectfully reassures her that he does see all her flaws, listing them off and reiterating that they are part of why he cares for her. Liz responds with a kiss. It's just a lovely scene that highlights the chemistry of Jeanine Mason and Nathan Parsons and it's a refreshingly mature conversation as well.
Prpleight: Liz is certain that Max's declarations of love are leftovers of a boy's crush. Max responds with a litany of what he has observed about her. It feels like information gathered, not just sense she returned to Roswell, but what he saw when they were kids as well. Max sees the real Liz and loves it all. Easily.

SCHITT'S CREEK, "Meet the Parents", March 19, 2019, Actors: Noah Reid, Daniel Levy, The Scene: Patrick shares his fears about coming out
Beth: The tenderness and care put into this scene can not be understated. Seeing Patrick share his fear about how his parents will react was heartbreaking and instead of David being upset that he hadn't told them who he was to Patrick, he comforted him with the love and care Patrick needed. That is why these two work, they love and respect one another. This is one of the best moments of the show.
Saloni: Patrick shares his fears of coming out to his parents with David. Patrick knows his parents are good people but he's nervous about changing the dynamics with them if he tells them the truth & they don't accept him. This was just such a well-written, well-acted scene. I love that David was just there to support his boyfriend and guide him tenderly.

SHRILL, "Pool", March 15, 2019, Actors: Aidy Bryant and more
The Scene: Annie attends an inclusive pool party
Mads: This was my favorite episode and scene of the first season because it was so amazing and inspiring to see a group of plus-sized women, women who actually look like me, embrace their bodies and have fun together without fear of judgment. It was also a pivotal character moment for Annie on her journey to self-love. An excellent and empowering episode all around.

SPEECHLESS, "P-r-o-m-p-Promposal", March 22, 2019, Actors: Micah Fowler, Kayla Maisonet
The Scene: The wheelchair dance
Marko: JJ and the other kids in wheelchair dance for Izzy.

STEP UP: HIGH WATER, "Vogue", March 20, 2019, Actors: Naya Rivera and more
The Scene: Collette shows what sexy is
Luana: I loved this episode, and when the whole focus became finding everyone's sexy, I knew Naya Rivera would have her moment, and, boy, did she! You just couldn't look away, and Sage next to her was pretty much a prop.

SUPERGIRL, "O Brother, Where Art Thou?", March 17, 2019, Actors: Jon Cryer, Andrea Brooks, David Harewood and more, The Scenes: The end reveal & J'onn's nightmare
Justyna: The entire last scene when we discover the truth about Lex's scheme and Eve's allegiance was wonderfully done. Of course throughout the episode the viewers can expect that there's more to Lex's situation than he allows anyone to see. He manages to temporarily trick his sister by sharing a story he knows will have a powerful impact on her. When she finally confronts him and he admits to being responsible for Jimmy's condition it seems that Lena might have seen through his lies just in time. This hope, however, does not last for too long. It wouldn't be Lex if he wasn't already ten steps ahead and fully healed. Then there's the famous "Ms. Teschmacher!" and the truth hits Lena harder than she would have expected. Eve's lie wasn't something that I could see coming but the second it happened it made all the sense in the world. After Lena is captured and hidden in the invisible Luthor Mansion, Lex proceeds to escape with loyal Otis by his side. The entire sequence, first with the reveals and then with taking down the guards made me immediately think that this is exactly Lex Luthor and what an entrance this has been. Wonderful work by Jon Cryer in the episode and especially this moment. It was quite impossible not be impressed with this twist. Kudos!
DJRiter: J'onn J'onzz nightmare of zombie Danvers Sisters. Since someone else took the wonderful Miss Teschmacher reveal I'm going to choose the eerie and disturbing scene where J'onn J'onzz is visited by zombie versions of his beloved space daughters Kara and Alex Danvers telling him they're dead because he did nothing to save them. David Harewood was amazing as the haunted Martian Manhunter and Chyler Leigh and Melissa Benoist were wonderfully menacing. Kudos too to the make-up department for the awesome zombie make-up job.
Zandarl: The Miss Teschmacher reveal. The sweet little assistant clearly hid a much darker side. Her quick shooting of the guard and turning gun on Lena without a flicker of emotion to her boss as we learn she has been in league with Lex Luthor.
Jamie: I got spoiled for this moment by Tumblr (or more accurately, by me going on Tumblr even though I know better) but it still was a very shocking reveal. I had no clue anything shady was going on with her all this time. Now I feel like I have to rewatch her scenes to see if I missed anything.

THE FLASH, "Time Bomb", March 19, 2019, Actors: Tom Cavanagh, Jessica Parker Kennedy, Grant Gustin and more, The Scene: Sherloque reveals Nora's secret
Justyna: As much as I've been enjoying Nora's story and the character, especially when it comes to building a relationship with her parents, there have been so many chances for her to share the truth. The moment she learned that Eobard Thawne killed her grandmother this lie became impossible to dismiss. Which is why this moment feels like it's been a long time coming and ended up being even more powerful than I expected. After his long investigation Sherloque was able to confirm his suspicions and reveals to the entire Team Flash that Nora's choices weren't her own, but made in agreement with her teacher - Thawne. I loved the editing choices for the scene, with all the little pieces coming together to show the painful truth. But nothing was harder to see than everyone's reactions, especially Barry's. This betrayal hurt him deeply and there are no words that could express what it must have felt like to learn that his daughter has been working in secret with a man who murdered his mother and destroyed his life. It's no surprise that he would decide to put her in the pipeline, no longer able to trust her words or actions. The very last shot of the scene is the heartbreaking consequence of this series of events - Nora breaks down in tears and falls to the ground, unable to say anything and watching her father walk away. I'm glad everyone finally knows the truth and we can truly begin to understand the reason why Nora would have made these choices in the first place. This was such a powerful and memorable scene. Fantastic work by the entire cast, special shout-out to Jessica Parker Kennedy who beautifully portrayed Nora watching her world fall apart around her.
Naomi: Nora's secret is finally revealed by Sherloque. In front of Team Flash, Sherloque details Nora's betrayal by telling everyone that she has not been making her own decisions about how to catch Cicada, but that she has been working with Eobard Thawne. A stunned Team Flash looks on, but a heartbroken Barry and Iris are beyond devastated. Barry reacts to the news by locking Nora in the pipeline, which is a place reserved for those who can't be trusted. Though it was jarring to see Barry react so quickly and harshly, any less of a reaction to news of the Reverse Flash being his daughter's teacher would have been hard to swallow.
Marko: Sherloque reveals Nora's secrets and Barry puts her in the pipeline.

THE GOOD FIGHT, "The One Inspired by Roy Cohn", March 21, 2019, Actors: Rose Leslie, Michael Sheen and more, The Scene: Roland Blum takes Maia back to his place
Laura B: Michael Sheen has gotten off to a fantastic start as the season's new diabolical villain, a Roy Cohn-esque figure that embodies the kind of manic corruption that our culture has to contend with, but I loved this character even more so, because it also calls back to The Good Wife where Blum is a personification of some of the former series' most destructive characters, including Will's and Diane's sexist former partner, Jonas Stern. Even the fact that it's Maia he has taken under his wing and has brought her back to his bedroom, where he undresses, and offers her a LSD lolly pop is no accident, as this sets up a plot for Diane to save Maia in a way she never did for Alicia.

THE OA, "Chapter 4: SYZYGY", March 22, 2019, Actors: Brit Marling and more
The Scene: Prairie convenes with a telekinetic octopus
Laura B: Prairie convenes with a telekinetic octopus in front of a crowd of strangers at a secret club. It wasn't so much that this scene dramatically affected the plot, but it was such an unexpected and semi-creepy moment that also nicely tied into the show's nautical themes. There was just no way I could let the absolute insanity of such a memorable visual go!

THE ORVILLE, "Lasting Impressions", March 21, 2019, Actors: Scott Grimes, Leighton Meester, The Scene: Gordon says goodbye to Laura
DJRiter: Gordon says goodbye to his simulator created girlfriend. In a wonderful episode exploring the past found in a cell phone in a time capsule, Gordon's romance with the owner of the phone, recreated in a simulator, was a wonderful love story. Scott Grimes was honest and touching, a far cry from his normal wise-cracking character and gives a lovely performance. He and guest star – Leighton Meester shared a wonderful chemistry. However, the most heartbreaking moment is when Gordon realizes he must say goodbye to her and goes into the simulation to do so. It was a sweet moment, highlighted by an impromptu duet between the two and a final irony of a photo, much like the one that sparked his interest in the first place, is taken.
Prpleight: Gordon is the character that, for me, most frequently takes a really good episode and drags it down. (I'm not a fan of Seth MacFarlane's tendency toward sophomoric humor.) I've seen other shows play with the idea of people from the future and what they would make of us. But this approach of using the contents of someone's phone to explore another character really worked for me. I loved getting to see Gordon as a charming man, taking the time to get to know a woman who intrigued him. After witnessing the changes his decision to edit her life made in her personality, he decided to say goodbye. The final scene where he joined her on stage, then told her he was leaving town was really sweet. (I had no idea Scott Grimes had such a nice voice.)

THE OTHER TWO, "Chase Drops His First Album", March 21, 2019, Actors: Molly Shannon, Case Walker and more, The Scene: Pat tells the world how her husband died
Mads: I can't stop talking about this show because it's so hilarious and heartfelt. I wish more people were watching. Molly Shannon is at her best in this week's episode where she finally comes clean on a livestream about her husband dying because he froze on a roof while drunk. After Chase mistakenly tells everyone he thinks his dad died of cancer (a lie the Dubek's have been perpetuating to hide the truth about his father's alcoholism) they realize (after numerous meetings in the bathroom) they have to come clean. Surprisingly, it inspires a hashtag #MyDadFroze.

THIS IS US, "Don't Take My Sunshine Away", March 19, 2019, Actors: Justin Hartley, Melanie Liburd, The Scene: Kevin tells Zoe he chooses her
Klutzy girl: Kevin tells Zoe he chooses her, no question, when they have a discussion about kids and whether or not the relationship can continue. It was a sweet scene that made me emotional.

YOU'RE THE WORST, "Four Goddamn More Days", March 20, 2019, Actors: Aya Cash, Desmin Borges, The Scene: Gretchen breaks down in front of Edgar
Luana: After realizing Gretchen had been fired, Edgar spent all day trying to get her to admit it. When he finally confronts her, her first instinct is to lash out at him, but he sees she's in pain, he says he knows what's going on and she completely breaks down, she says she feels like she really tried for the first time, and she failed, which, in her mind, means nothing will ever work out for her, not even Jimmy. Aya Cash was pure gold here, and then when she just hugged Edgar it was so sweet, it's heartbreaking to see her so sad, but I'm glad they're finally giving Edgar a better place in their lives even if it's still a struggle.