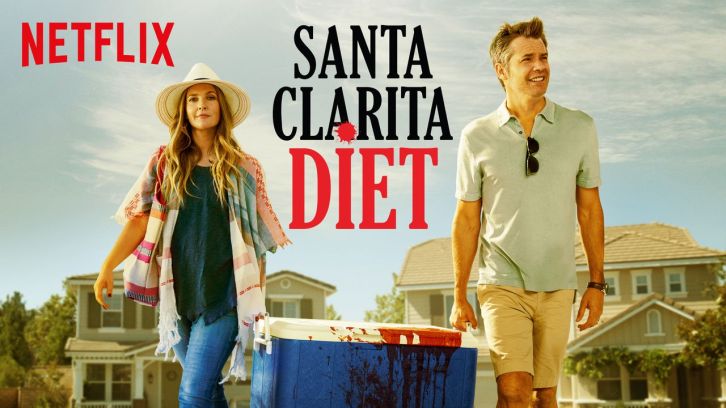 Previously on Santa Clarita Diet, Joel and Sheila tiptoed dangerously close to exposing Sheila's secret and appetite. Anne had the couple dead to rights for the murders of Dan and Gary but some dumb luck masked as divine intervention convinced Anne that Sheila was a vehicle for GOD. Elsewhere, Abby and Eric blew up a trailer the fracking site.


It is a rare feat for a show to continue to surprise and entertain with every frame, but
Santa Clarita Diet
does just that thus far in season 3. In the six episodes I was lucky enough to view of the upcoming season, I am happy to report that everything one may love about this show is present and they've outdone themselves once again.
For The Next Thousand or So Years
Timothy Olyphant, Drew Barrymore
) and season three makes them confront the reality of Sheila's immortality and Joel's mortality. The writers of course broach this subject with the same wit and hilarity that we've come to expect, but it is something they have not really thought about and now it looms in the distance, waiting to jump up and bite them (no pun intended). Joel is hesitant to join his wife in the ranks of the undead, and his reason is quite honest and endearing.
Santa Clarita Diet has always had smart writing and built upon its mythology quite well. Season three continues to expand on what the undead being out in the world means and that puts a target on Sheila's back. An organization called
The Knights of Serbia
are introduced and their presence forces Joel and Sheila down new paths loaded with obstacles while they try to keep their secret intact. This of course leads to many gut-splitting moments of pure comedy. The purpose of the organization also makes them cross paths with an even bigger issue that will most likely take centerstage in the latter part of the season. What I will say about the
Knights
is that while they are against our favorite couple, their presence tees up some of Sheila and Joel's most hilarious scheming to date.
Abby and Eric..... Criminals?
Other Teases:
* We learn some new mythology about
Mr. Ball Legs
which makes so much sense.
* Joel and Sheila's nemisis Chris and Christa are back. Anne being on their side actually gives Joel and Sheila a leg up on their feud temporarily.
* One of Sheila's meals gives the Nazis and pre-dead Gary a run for their money in the
asking for it
department.
* Abby and Eric get some help when they desperately need it from a very unlikely source.
* Joel is running out of alias names and it is hilarious.
All Episodes Start Streaming March 29th on Netflix
That is about all I can tease for now! Are you looking forward to season 3? What are your hopes? Let me know!