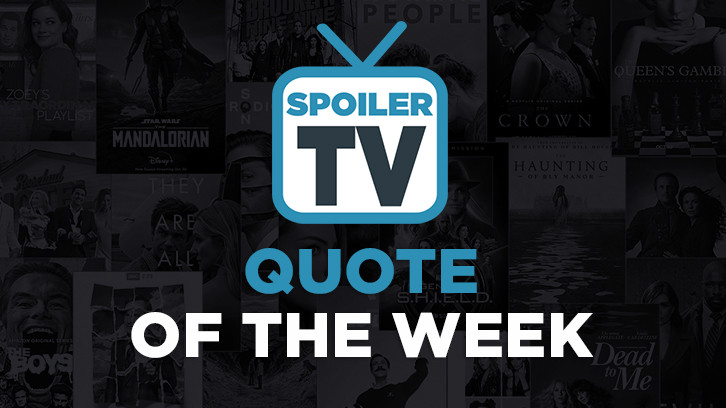 A weekly feature highlighting the best quotes on TV as picked by the Spoiler TV team. We'd love to hear your picks too so please sound off in the comments below.
Arrow -
1. Felicity: "Being a hero Mia, means putting other people's safety above your own, including your family."
2. Felicity: "This is Mia, this is mine and Oliver's impeccable genes." (Donna Cromeans)
The Cool Kids -
1. Hank: "This book is like my baby cause it's been gestating in my brain uterus for, like, ten years. Now I'm ready to squeeze it out and present it to the world." (Prpleight)
Law and Order: SVU -
1. Olivia: "Nobody helps the wolf when he's bleeding." (Donna Cromeans)
The Orville -
1. Dr. Sherman: "Look at this. She's clearly asking her friend where to find the nearest repair service for her device, but instead instead of writing "wireless telecommunications facility" she just wrote WTF."
2. Kelly: "Humans are social animals. When we're born, we're a blank slate, and over the course of our lives, we expand and grow as a result of external stimuli."
Gordon: "Pretty dry philosophy."
Kelly: "Sounds it, but it's not. Every single one of us are shaped by the totality of our relationships. People we love and people we hate all make their mark. Whether we like it, or not, it's who we are; it's reality. You can't just pick and choose which parts of your past you want to change and be able to know how it's all going to turn out." ("There are days I wish I could." - Prpleight)
The Rookie -
1. John: "You were right. I was selfish. I got her killed."
Talia: "No. Don't do that. Don't make this about you. She didn't die because of your choice. She died doing her job the only way she knew how. Look at it any other way, you diminish her."
2. Gray: "She asked for you to be assigned to Mid-Wilshire. You know that?"
John: "No. Why? She didn't even know me."
Gray: "She felt your experience would make you a valuable addition to our house."
John: "Guess I got a lot to live up to."
Gray: "We all do." (Mads)
Roswell, New Mexico -
1. Kyle: "So you overthrow your father, sent him to Africa, and brought a
girl
into the clubhouse."
Cameron: "I'm 28 years-old, served two tours, and could break 12 bones in your body in less than a second and a half."
2. Cameron: "If you push me out I go to the sheriff or I'll tell Jesse Manes."
Kyle: "Did you just threaten to tattle to our parents?"
3. Liz: "For ten years you have loved a girl that doesn't exist anymore. The smart, perfect girl who believes god and- and love an humanity. I am different now. I'm a mess. I run away from everything-"
Max: "And you're overly defensive. And you're sometimes selfish, and you're always muttering in Spanish like you think it's some secret language that no one understands but you. Hello, we're in New Mexico. We all speak Spanish. You always have to convince everyone that you're the smartest person in the room like we don't already know. You think our sister was hard to love, and so you think that being perfect and the smartest, that you're easier to love. Easier for your mom, easier for your dad. But you're not perfect. I see your faults and I love you. Easily. You believe in the good in me when I can't see it. So is it so crazy that I believe in you too? Without evidence. I just....know." (Prpleight)
Single Parents -
1. Douglas: "Six pairs of the same sunglasses?"
Angie: "I'm gonna lose half of them. You always have more sunglasses than you need because some of them aren't gonna make it. Like with babies at the turn of the century."
2. Poppy: "Will, you are the item! Can I put you in the auction?"
Will: "You mean like be someone's butler for a month? Sure."
Poppy: "No, but it's weird that you'd be okay with that."
3. Rory: "Because, like Monica Lewinsky, K-pop singer Min-ho, and Jack Nicholson as the Joker, I have style." (Mads)
Supergirl -
1. Lex Luthor: "MISS TESMACHERRR!" ("Took me right back to Gene Hackman shouting it in the original 1978 Superman." - Zandarl, seconded by Donna Cromeans)
2. Alex: "Where are you exactly? Catco? Because I called there and they said you hadn't been there all day."
Kara: "I'm helping J'onn with a lead." Alex: "J'onn needs a reporter to help fight Manchester Black. What are you going to do exactly – you going to interview him?"
3. Kelly Olsen: "Jell-O really is the perfect hospital food. It's a metaphor for trauma. If you shake it, it wobbles but still holds its form. If you dig in too deep it's never the same." (Donna Cromeans)
Superstore -
1. Cheyenne: "Oh, you look so sad right now. It's, like, haunting. Can I take your picture?"
2. Customer: "Do you have a landline I can call my family from?"
Glenn: "Sure."
Customer: "And can I also use it to call my mistress?" [s
ilence]
Glenn [hesitantly]: "Is she nice?"
Customer: "She's okay."
Glenn [frostily]: "Well that's good."
3. Glenn: "Spending this much time together can make us a little bit bonkers."
Dina: "It's true. Do you know how many murders happen on submarines?" (Ellys Cartin)