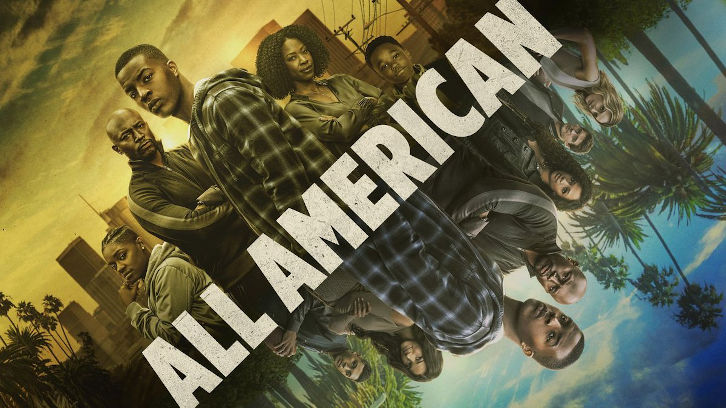 This episode of All American certainly had no shortage of drama! The secret of Billy and Grace's affair is out, and everyone's life is changed forever. Spencer found out last week, and he spends most of this episode trying to process the news. He's angry, and he confronts Billy about the affair. He threatens to tell Billy's family, but later decides that it's not his place.

He also has to decide whether or not to let Corey back in his life. He also has to decide if it's a good idea for Dillon to have a relationship with Corey. I know that Spencer was just trying to protect Dillon, but I think Dillon has the right to make his own decisions about his father. I'm glad he did meet Corey. I know he has his issues, but he does seem serious about trying to make up for his past mistakes. Maybe one day Spencer can forgive his father for walking out on their family.
After meeting with Spencer and Corey, Billy decides to tell his family about his affair. He thinks the only way for everyone to move forward is to have everything out in the open. He tells Laura, and she's hurt. She thinks the only reason he's telling her now is because Corey's back in town, and it may have come out in Laura's campaign. I kind of agree with Laura. Would Billy have told the truth if Corey hadn't come back? Why didn't he come clean all those years ago?
Laura informs Jordan and Olivia about their father's affair. Even though the two are upset, they still attend Chris' party. This party was supposed to be fun, but it quickly turns disastrous when Olivia learns Spencer and Layla knew about the affair and didn't tell her. Olivia gets so upset that she almost loses her sobriety. I was so proud of Asher when he took those cups of beer away from her and stopped her from drinking. She's worked so hard to turn her life around, and it would have been sad if she had thrown that all away. Asher was a good friend to her. Unfortunately Chris and Asher fight with each other over Olivia, and she leaves.
After learning that Spencer didn't tell them about the affair, Jordan tries to get into a fight with him. Then he actually gets into a fight with a player from Crenshaw after he tells Jordan he's only QB1 because he's the coach's son. After the fight Chris tells everyone that it's time for Beverly Hills to leave. I usually like Chris, but he disappointed me this episode. I was expecting him to help Olivia and listen to her feelings, but he didn't. After this episode, I'm kind of thinking that Asher might get in the way of their relationship. Anyone else feel this way?
Even though Jordan and Olivia are upset, they still want to have their photo shoot for their mom. I was proud that they pulled themselves together and did this for Laura. She still deserves to run her campaign, and she shouldn't have to give up her dreams because of Billy.
Although this entire situation is Billy (and Grace's) fault, I did feel bad for him when he was sitting on the stairs crying, trying to explain all of this to Olivia and Jordan. He was so broken in this moment; trying to process that he could lose everything because of his actions. This was fantastic acting by Taye Diggs. In fact, I thought the entire cast had excellent performances this week.
The other story this week revolved around Coop and the gang violence. Patience and Spencer help Coop realize that she can't let Preach kill Tyrone. Spencer and Coop try to warn Tyrone and get him to leave town. They think they're successful, but unfortunately this backfires and Preach is shot. This is not good. I'm really scared to see what happens next week. I'm afraid that Coop and Crenshaw can't escape Tyrone and this violence.
We also learn that Layla is still struggling, and she can't stay at home by herself. At the end of the episode we see her sitting at a diner that's opened all night. I guess she felt like she had no where else to go since Olivia and Spencer were both dealing with family issues. I feel for her, and I think she needs to get some counseling. I hope she gets help soon; I don't want her to suffer.
I liked this episode, and I think it was a nice way to set up the season finale. I can't believe that the next episode is the last. I've gotten so attached to these characters, and I'm sad the season is almost over. What do you think will happen in the season finale? Will Billy's family forgive him? Will the violence end? Will Jordan finally be successful as a QB?
What did you think of "Best Kept Secret"? What do you want to see happen in the next episode? Let me know!